Going the extra mile and focusing on your clients goes a really long way in terms of closing a deal. People appreciate additional assistance and feel that their input is of value when they are serviced with care. Lunarpages understands this principle, and thanks to their "customer first" approach, they are a prime example of a hosting company that really listens to their clients.
"At Lunarpages we are committed to provide a "customer first" experience. By offering our customers the ability to communicate with us via LiveChat, we are able to provide that experience."

– Alfonso Fernandez, Marketing Manager at Lunarpages
Lunarpages is a hosting provider company located in California. Founded in 1998, the company services over 150,000 customers from all over the world. According to Mr. Fernandez: "Lunarpages' suite of services are designed for organizations seeking scalable, secure, robust and enterprise-grade hosting solutions that can be quickly provisioned or tailored to meet unique requirements."
He also adds, when it comes to Lunarpages' main aims, that their main goal is to "provide our customers with a reliable infrastructure that will reduce their risk, increase the ROI in their IT investment and reduce the time it takes to reach their goals."
Problem: Converting traffic into leads and clients
A lot of companies allocate a great portion of their resources into various advertising and marketing campaigns to drive traffic to their sites. However, when visitors eventually reach the site, many companies make the mistake of wasting it. It is important to make use of the opportunities you have. Lunarpages wanted to convert a portion of their on-site visitor activity into leads and sales.
"We wanted to leverage our website traffic and transform those visitors into sales. We understand that many online shoppers would rather complete their purchase without having to pick up the phone and providing them the option to place an order over chat with a live representative is definitely an asset."
Another portion of their implementation should address support needs of their visitors, 24 hours a day, 7 days a week.
Solution: Using LiveChat to convert a portion of the traffic
Lunarpages decided to use LiveChat as a way to transform some of their traffic into prospects and leads. With an implementation consisting of 50 agents on lunarpages.com, the Lunarpages team decided to further promote their "customer first" approach in the way they handle their chats.
LiveChat implementation allowed Lunarpages to reach larger portion of their visitor base, engage a greater number of those visitors in the sales process, which transferred into greater conversion rates for their lead generation and sales.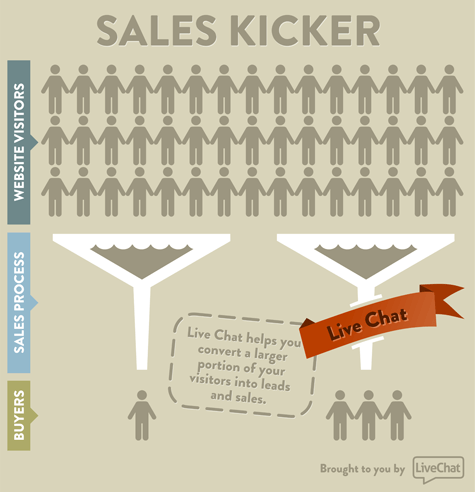 Such an approach to business is commendable and other business should take it as an example of good business practices. Learning through conversation what your client needs and making sure that they end up with a best fitting solution creates a satisfied and faithful client whom appreciates the way he or she is treated.
Mr. Fernandez also notes that, when it comes to support, "customers are very pleased with having the option to simply chat with one of our admins to get their issues resolved."
Being able to directly solve an issue with the help of a trained specialist is an option many of us would like to see in the services we use. The feeling of direct attention a user receives really goes a long way in terms of trust-building.
Results: Increased conversion rates and customer happiness
The decision to use LiveChat to drive traffic into the sales channels was a correct one. According to Mr. Fernandez, they "saw more conversions from the sales perspective" and visitors have reacted very positively to the implementation.
"Visitors were very content for having an additional way of getting in touch with us other than phone and e-mail. Many of the live chat users use this feature because often times they are working on other things while in front of their computer and this allows them to multitask while chatting with us."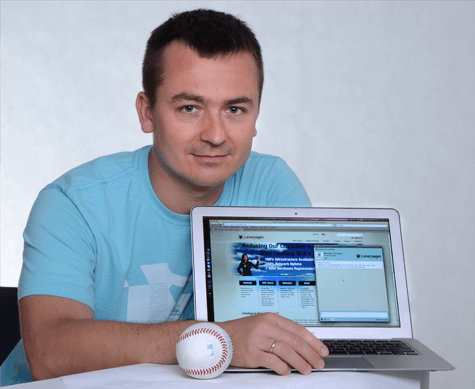 LiveChat implementation transferred directly into positive figures for Lunarpages. According to Mr. Fernandez, "on-site sales increased 15% and leads increased 30%". This is a huge boost and as Mr. Fernandez states "the ROI of having this feature is definitely positive."
Mr. Fernandez also states that the monitoring aspect of LiveChat helps to make more precise offers:
"We are able to use the monitoring feature to get a quick picture of where the customer is located, how they were directed to our page and which keywords they used to find us. This allows our sales representatives to have a better idea of the type of solution the prospect is looking for."
If you want to put your customers first, you ought to have tools to make it possible. Being able to directly chat with your customers and address their specific needs is definitely a way to achieve this high level of customer service. Lunarpages with their "customer first" philosophy understands this and chose LiveChat to display that philosophy in their contact with clients. Choosing LiveChat over other solutions because of short implementation time, cloud based web application and constant addition of new features, the Lunarpages team is on the right path to amazing customer service.