As an organization that set out to create better and more fair marketplace, the Better Business Bureau deals with a lot of inquiries. Be it a question about a particular business, an inquiry about the way BBB works or complaint-related matter, BBB needed a solution that would allow for fluent communication with consumers.
See how BBB Serving Eastern MA, ME, RI & VT adopted LiveChat to handle its customer service and what kind of features are used to make it all happen.
"LiveChat was easy to deploy and manage with very little issue on the user end."


— Deanna Liberti, Vice President of Operations at BBB Boston
Creating trust in the marketplace
Better Business Bureau is an organization that helps consumers make educated decisions about their purchases. To receive BBB accreditation, a company has to "agree and adhere to the organization's high standards of ethical business behavior," said Deanna Liberti, VP of Operations at the Boston BBB branch.
"BBB provides objective advice, free BBB Business Reviews and educational information on topics affecting marketplace trust," Liberti reported.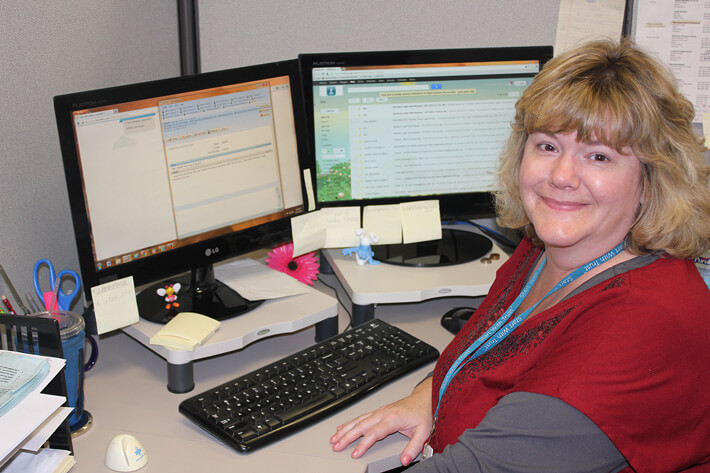 Improving communication
In order to provide another way of contact beside phone and email, BBB Boston decided to implement LiveChat on their site. "LiveChat provides another method for consumers and businesses to contact BBB to learn more about programs and services or to ask questions," said Liberti.
In addition to increasing the volume of inquiries, BBB wanted to improve its customer service too. As Liberti reports, a number of features were crucial for this aim. "There has not been a feature that we do not find useful," she said. According to her, canned responses, which are short, pre-made snippets of text, "made responding to multiple chats easier". Another feature that proved to be useful was the reporting and archives, which "helped to measure our success," Liberti comments.
The BBB Serving Eastern MA, ME, RI & VT also uses three LiveChat integrations to boost their customer service efforts:
Facebook: Visitors can log to chat using their Facebook profiles, giving the agents a lot of additional information,
join.me: Agents can start screen-sharing sessions whenever there is a need for direct resolution of a case,
Google Analytics: This integration allows agents to keep a closer track of the effectiveness of a LiveChat implementation.
Implementation results
Liberti reported that when the chat function went live "consumers and businesses started using it immediately". She also added that "This method of customer service has proven to be quite successful."
On average, 1200 chats are handled via BBB's LiveChat. Inquiries vary from case to case but usually revolve around accessing particular data on the BBB website. Additionally, consumers ask questions about complaints, while businesses ask how to update their information on boston.bbb.org.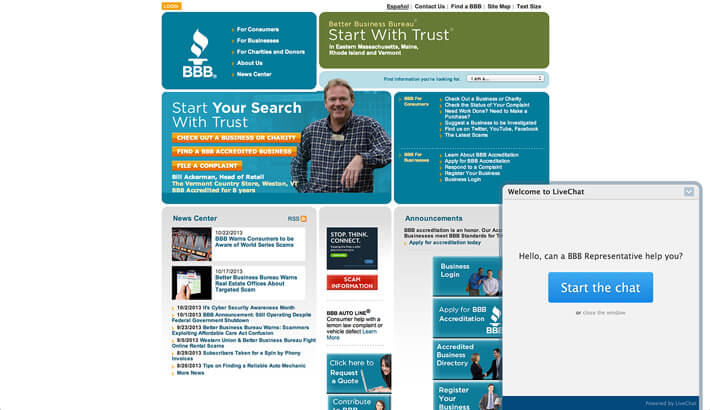 BBB has a LiveChat team consisting of 16 agents, which grew considerably from the initial 5, who handle chats on boston.bbb.org. They plan to keep this level of support for the foreseeable future.