Challenge:
Decreasing the number of calls; making support easier for customers.
Solution:
Using LiveChat to scale the company's support more effectively.
Results:
Lower number of calls; less friction in customer support.
Every time you call support, you need to provide some kind of identification. The answers you are looking for are delayed with each identification question.
EasyCompanies, an Australian company that helps people set up businesses, discovered this kind of inefficiency in their customer support.
See how they used LiveChat to cut down the number of calls they get and started to provide faster customer service.
"We had many of our bigger clients start using chat instead of calling us which was better for them as they could speak to us sooner rather than waiting on the phone."


— Alex Whiteside, Managing Director at EasyCompanies
Helping with the paperwork
EasyCompanies is all about convenience – both when it comes to setting up a business and answering customers' questions.
The company helps its customers deal with all the formalities of setting up a business which, according to Alex Whiteside, Managing Director at EasyCompanies, can be a real bother: "Going through the government it can take up to 2 weeks to register a company," Whiteside said. EasyCompanies takes care of all the hassle, and makes it possible to "register a company within 2-3 minutes."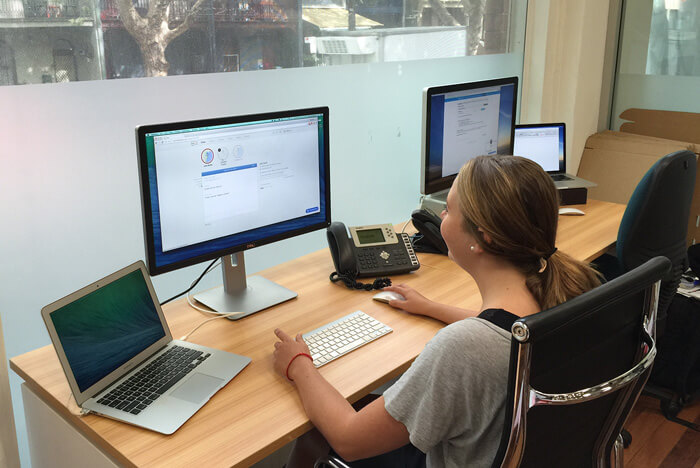 Cutting the number of calls
To offer the same convenience for customers contacting them, EasyCompanies decided to move some of its customer support to LiveChat to "reduce the number of phone calls whilst still providing a time sensitive support method," Whiteside stated.
This switch helped EasyCompanies in two ways:
Agents can offer help to several customers at the same time when chatting.
Basic information about the customers whereabouts on the website are readily available.
Even though phone support has its merits, it's one of the least scalable customer service channels. When an agent answers a call, they can't really do anything else without sacrificing the quality of support. With LiveChat, agents can easily hold multiple chats at a time. "Multi tasking is also a benefit as we are able to answer more live chats at once we need less support staff," Whiteside stated.
Just as EasyCompanies takes out the hassle out of setting up a business, LiveChat can eliminate the need to get the customers' information. Data like the current page address of a customer or their email are available in the LiveChat app. According to Whiteside, this makes support easier since agents can "see what exact page the customer is on in addition to finding their current session/application."
To make their support operations even smoother, EasyCompanies integrated their LiveChat with Zendesk. This allows their agents to create tickets straight from chat.
Another feature the EasyCompanies team relies on is the message sneak-peek. It allows agents to see what customers are typing in before they send it over, which "is great as they can already start writing their responses, making for a quicker chat."
Implementation results
EasyCompanies simplified the way customers get their support. According to Whiteside, many of their bigger clients switched to using chat instead of phone, which was "better for them as they could speak to support sooner rather than waiting on the phone."
The company also reached their original goal of reducing the number of calls they were getting: "We have found by split testing live chat been on or off that we receive more calls on the days that live chat is off," Whiteside said. "Therefore we notice that more customers will attempt live chat first before reaching for the phone," he added.
In the future, EasyCompanies wants to use LiveChat to scale customer support in their other brands, using the "nifty grouping option," Whiteside mentioned.