The challenge
GreenState Credit Union runs lean, relying on strong talent and highly efficient processes across the cooperative. GreenState is then able to give back the savings from their efficiency to their members in the form of better rates and lower fees, and was rated within the top 1% of credit unions for doing so by Callahan and Associates.
For instance, it is more efficient for one employee to chat with four members than one employee speaking with one member over the phone. That's why GreenState needed chat as an option. LiveChat integrated well with their platform with an excellent user experience and comes with robust reporting tools for tracking their efficiency gains. Sierra Woodall, Member Assistance Center Service Supervisor, says:
LiveChat has been very willing to work with us in furthering our efficiency. We'll soon roll out a verification system compatible with LiveChat that will save us roughly $6,000 worth of time per month just by being able to authenticate someone by seeing that they're logged into their online banking. Our relationship with LiveChat is very valuable to us because of efficiencies like those.

Sierra Woodall, GreenState Credit Union
The solution
When GreenState started using LiveChat seven years ago, the software wasn't as popular as it is today among its members. However, the use of LiveChat has grown significantly, and GreenState directs inbound contacts to it whenever possible because of the efficiency of being able to speak to multiple people concurrently. GreenState's inbound contact center, Member Assistance Center (MAC), has only seven chat specialists; less than 20% of the department. Those seven specialists take more than a third of the MAC's total contacts for the year.
GreenState has been working on a new identity verification system in LiveChat. A specialist can authenticate a member by seeing that they are signed into online banking within LiveChat, allowing GreenState to skip the normal verification process They won't have to spend the additional time asking identity verification questions, improving not only the member experience, but the already efficient nature of LiveChat.
LiveChat had a significant impact in GreenState's ability to adapt and respond to the pandemic
At the beginning of the pandemic, GreenState began taking major steps to assist in flattening the curve, including instituting work from home policies. It was around this time when a lot of employees first heard, "Pack up your computer. You're going to work from home." GreenState sent their entire chat team home in one day, and, overnight, they were able to connect and operate as if nothing had changed.
Woodall says that LiveChat has been a fantastic tool for business continuity. The chat specialists GreenState sent home are still working remotely, and they're still some of the MAC's highest performing and most efficient specialists. Woodall thinks that that's owed to 1) LiveChat's ease of use and availability — "I can't remember the last time that LiveChat went down," she says — and 2) — the efficiency of the tool.
I know that our chat team loves LiveChat's reporting tools. They look at their stats every day, their average response time or their average chat ratings. And having that available to them in a super simple way is really great.

Sierra Woodall, GreenState Credit Union
In 2020, GreenState closed their branch locations for a few months in response to the pandemic. Chat volume went up substantially, and GreenState only had to add a couple of people to handle the additional volume because of how efficient LiveChat is.
Being able to direct those members to chat was an incredibly valuable action. We had messages on our phone system that said, "Hey, we're experiencing longer than normal hold times, if you want faster service go to www.greenstate.org and chat with us online." Directing that traffic to the website and to LiveChat helped GreenState tremendously in being able to serve all our member contacts.

Sierra Woodall, GreenState Credit Union
See LiveChat in action on your website.
Free 14-day trial No credit card required Easy setup
The result
Efficiency is the cornerstone of GreenState's business model
The Member Assistance Center has several goals. One of them is their number of member contacts. LiveChat allows GreenState to serve more member contacts more effectively.
GreenState also tracks their Net Promoter Score (NPS) closely. Traditionally, their NPS for contacts that come through LiveChat are higher than those that come over the phone. Woodall says it's easy to develop a personal connection over chat. Saying that chat is more personal than over the phone may sound strange, especially considering chat specialists may be chatting with four people at a time, but chatters can see the agents' names and pictures, whereas over the phone a member may hear someone's name and immediately forget it, not attaching the voice on the other line to an individual. That personal connection is incredibly beneficial for creating a lasting impact, leading to higher NPS.
The efficiency metric is the cornerstone of their business though. GreenState's Member Assistance Center measures its cost per interaction, which is the cost to the credit union for taking a member contact. The MAC lumps it all together — calls and chats — but the cost for a chat is substantially lower than a call. So, LiveChat substantially lowers their overall cost per interaction. That's what is most important to GreenState and how they measure their success — by driving traffic to LiveChat on the website, GreenState is better positioned to create lasting value for those they serve by reducing operating costs to improve the products they offer to their members.
GreenState also finds tremendous value in Message Translator. They have a high Spanish-speaking population among their membership. They originally thought, "We're going to have to hire a chat specialist who speaks Spanish." But Message Translator made it so any specialist can assist a Spanish-speaker on chat. GreenState is still introducing their Spanish-speaking members to LiveChat, but having the ability to assist those members in the language they prefer is crucial to GreenState's mission.
One of the most important initiatives GreenState has deployed is their emergent bilingual strategy — meeting members where they are, with their culture, and helping them find financial success. If members start chatting with specialists in Spanish, GreenState wants to chat back in Spanish. If members chat with specialists in French, they want to chat back in French.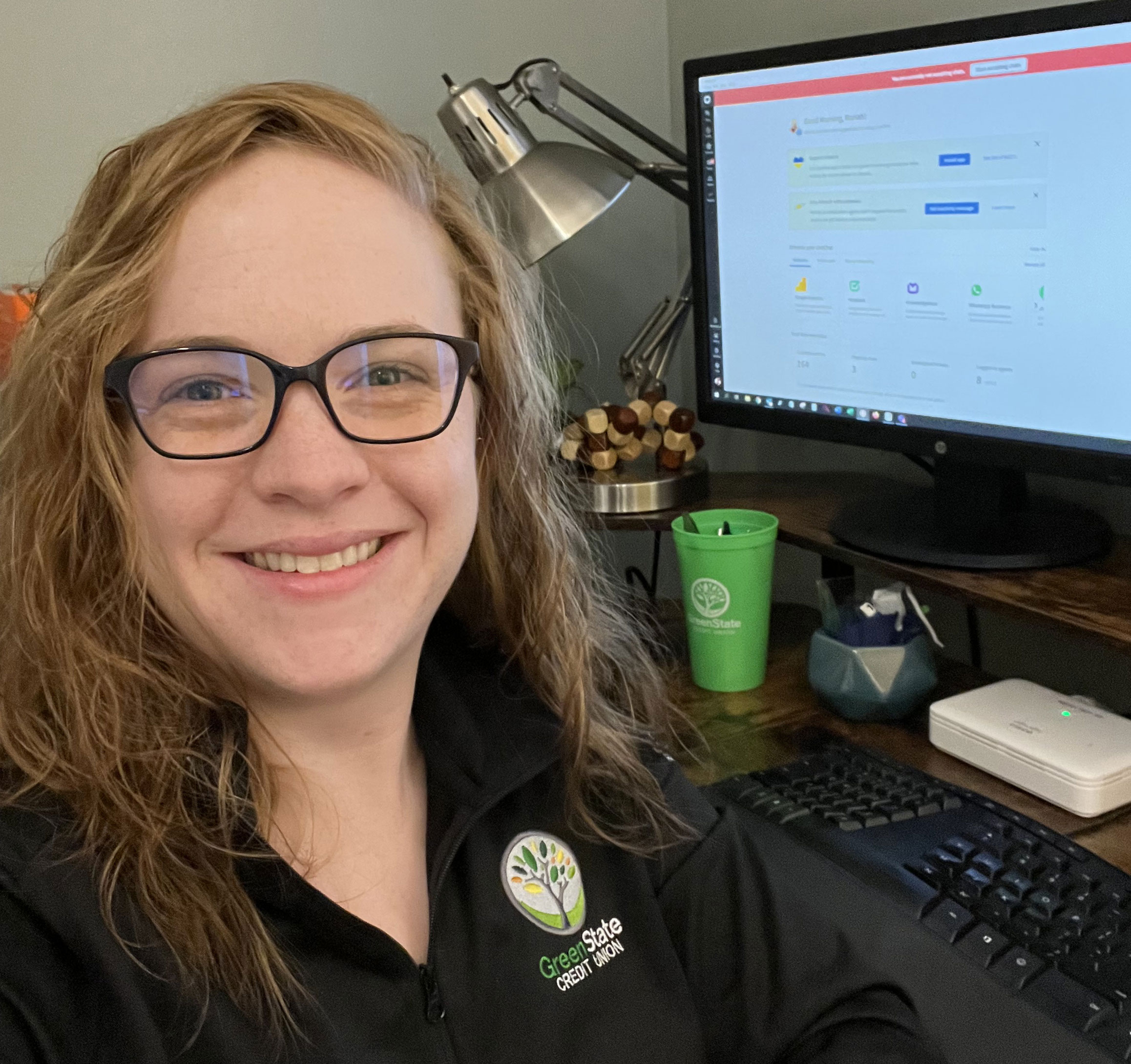 The GreenState Approach – connecting members with products and services to improve their financial well-being
The GreenState Approach is a philosophy embedded deep in GreenState's culture. It focuses on determining each member's financial needs and making every effort to recommend products and services to the member — meeting those needs and improving their financial well-being. GreenState's chat specialists love to recommend helpful products and introduce their chatters to additional services, and GreenState tracks those recommendations very closely.
LiveChat enables GreenState's chat specialists to make substantially more recommendations and introductions than their phone counterparts, by both the sheer volume of members they serve and through the efficient use of pre-written messages.
When Woodall says that the number of submissions that they get for recommendations and introductions is substantially higher through LiveChat, she means it, but improving the success rate of the recommendations is an area of opportunity. That said, the value of the volume of recommendations and introductions made cannot be understated.
Every attempted recommendation or introduction teaches chatters about their options in pursuing financial success – whether it's a loan or credit card, or through working with GreenState's service departments: Insurance, Wealth Management, Treasury Management, and Trust Services, to name a few.
Further, those recommendations and introductions help members see GreenState as their trusted financial partner, always keeping their best interest at heart.
Those recommendations and introductions through LiveChat are incredibly important to us, even if our chat specialists are not closing a sale. One of the things that we're looking forward to is the integration of LiveChat with Salesforce. With LiveChat integrated into Salesforce, our chat specialists will have a constant, 360-degree view of our member relationships, better positioning us to personalize our interactions and create lasting value for those we serve – which in the end, is our mission.

Sierra Woodall, Member Assistance Center Supervisor at GreenState Credit Union