Developing new ways to contact your customers is important for every business. Rushcliff, a patient and practice management software developer decided to make LiveChat a part of their offering to improve their communication with clients.
Subscribe to LiveChat channel to get the newest content.
Read on to see how this decision affected their ability to stay in touch with their customers and even further shorten their response time.
"Prior to using LiveChat, we did explore and integrate a few competitors in the system but we found a lot of them to be complicated, bloated and a little on the slow side. We went with LiveChat because it can be customized completely to your own needs and preferences."

Chatting in the medical software industry
Private Practice Software, or PPS for short, helps private and independent clinics manage their practices with ease and in a centralized way. According to James, the software is aimed at multiple disciplines like Physiotherapists, Osteopaths, Chiropractors etc. Additionally, "it is also widely used in some of the top cosmetic procedure companies worldwide."
Using the software, medical personal can, for example, keep a detailed treatment history, manage appointments, handle billing and much, much more. It is a great tool for any practitioners who are in need for a centralized way to handle their daily affairs.
Having the satisfaction of their clients in mind, the company decided to put a live chat on their site as a way to answer any pre-sales questions customer might have. As James reports, they expected that it would make the service appear more friendly and connectable.
"Some clients are often too busy or a little daunted by having to contact by telephone. LiveChat captures queries from clients we may not have heard from previously."
New angles for customer service
When the initial implementation on Rushcliff's site turned out to be a huge success, the company decided to put it on the PPS Knowledge base and within the product itself. This provided an additional way for existing customers to get information they need.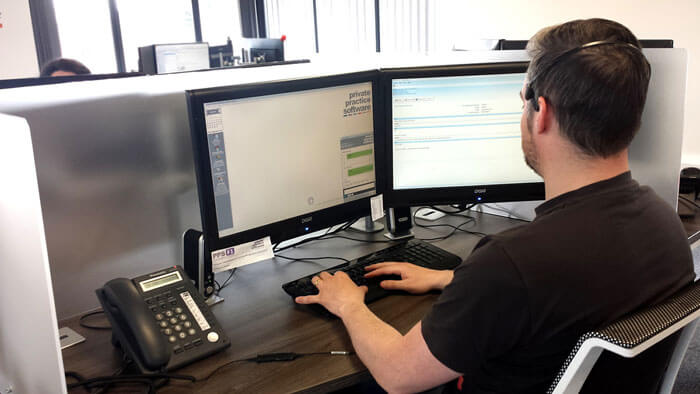 This way of handling customer service is almost instantaneous. Whenever a client using the software has a question, a single click is all it takes to connect with an agent. And that's fast!
Currently, as much as ten agents handle the inquiries that come from the Rushcliff website and the PPS software itself.
Rushcliff's recipe for customer service success
The integration of LiveChat into the PPS, allowed the Rushcliff's help desk to progress by leaps and bounds. It is now an integral part of the offering.
"Implementing LiveChat into our own software has been a roaring success. We didn't expect to get such great feedback from our clients however it truly has revolutionized the Support desk."
The Rushcliff customer service team utilizes canned responses to their full benefit. Using them, Rushcliff agents can provide pre-made, yet informative, answers that will lighten the workload on more busy days.
James names one additional factor that made Rushcliff's implementation of LiveChat a hit: the ease of use.
"The most important thing about the implementation was the ease of use which is something Live Chat offers. When our customers log in to the software they are initially welcomed with a non-intrusive pop-up bubble just asking if they need any assistance."
Results speak for themselves
The implementation was well received by the customers. According to James, "the feedback from our customers has been great." Customers seem to like being able to work on the software in-between responses.
"We've seen a real increase in good feedback from our clients. It's improved the number of clients who access our Support desk now which is always great."
Even though the new live chat function is still very young, it already has produced tremendous feedback from the customers and is sure to be expanded upon in the future.
"As live chat support has arrived in a very latest update to the software I expect the usage levels to rise dramatically the more clients update to the latest version."

"Like the software, I expect the live chat facility to evolve based on the continued feedback from our client base."