Challenge:
Increasing sales and improving customer satisfaction on their website.
Solution:
Offering LiveChat as one of the main communication channels.
Results:
Sales increased by 20% and customer satisfaction hit 94%.
PureVPN is a VPN service loved by millions of users around the world. The VPN provider operates a self-managed VPN network that currently stands at 750+ servers in 180+ locations.
PureVPN helps users stream their favourite content instantly, browse websites without facing any hurdles, download safely, avoid hackers, ISPs monitoring and geo-tagging by third parties.  
When it comes to customer service, PureVPN always had a customer–centric approach from the get–go. To better serve its users, PureVPN wanted a communication tool that's easy to use for its users. That's why they decided to try out LiveChat, which offers a real-time communication channel on a website.
Why did they decide to go with LiveChat?
According to PureVPN Customer Service Team Manager Sarmad Hussain, the initial tools they tested didn't provide the adequate features to satisfy their requirements. They wanted to efficiently assist their growing subscriber base and most tools lacked the key element of mapping internal metrics for their Customer Success Agents. As Sarmad said:  
LiveChat not only fulfilled our requirements but also provided guidance and metrics on how to create a great, value-filled experience for our users."
PureVPN uses LiveChat to assist the visitors on their website, including existing and new customers. Their support team is now more than 30 people strong.
PureVPN's favourite LiveChat features
PureVPN's Customer Success Agents use many LiveChat's features to help them provide better customer service and measure their sales.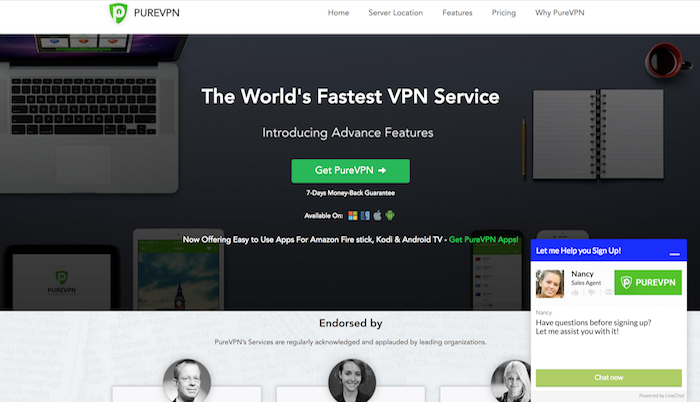 They particularly like LiveChat's reports. One of them is monitoring the agents' performance, as they claim it's "one feature we cannot do without." They monitor the effectiveness of chats and customer satisfaction: it helps them improve their processes.
Read more about reports here.
They also use the Goals feature embedded in the LiveChat solution to track all the chats that led to a sale.
PureVPN agents set a goal to see how many visitors were able to successfully conclude their checkout. Based on the data, they can improve their website usability, or start a chat during the checkout process to guide users to a sale.
They also like the Sales tracker feature to measure the revenue they generate from the chats. That's how they know they were able to increase overall sales by 15-20% due to LiveChat interactions.
Besides analytics and reports, PureVPN customized their chat window by displaying their company logo. They also give the chat window a custom colour, so it fits their brand theme. This way website visitors are sure they're contacting the right people. This extra trust is important, especially in the software industry.
To contact PureVPN agents, a website visitor needs to fill out a form to choose the department they want to reach: pre-sales or support.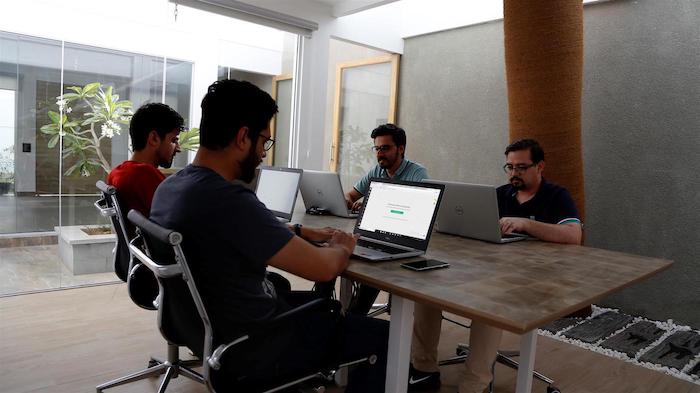 While talking with their users, agents use canned responses which are pre-made answers to popular questions that can be recalled with just a few keystrokes. It saves agents' time.
To encourage visitors to chat they use automatic and personal greetings that invite visitors to chat, for instance:
"Having second thoughts before purchasing our service? Let me help you out."
"Are you finding it hard to understand a particular feature? Allow me to help you out."
At LiveChat, we love their creative greetings and the personal language they use, and it seems their users agree.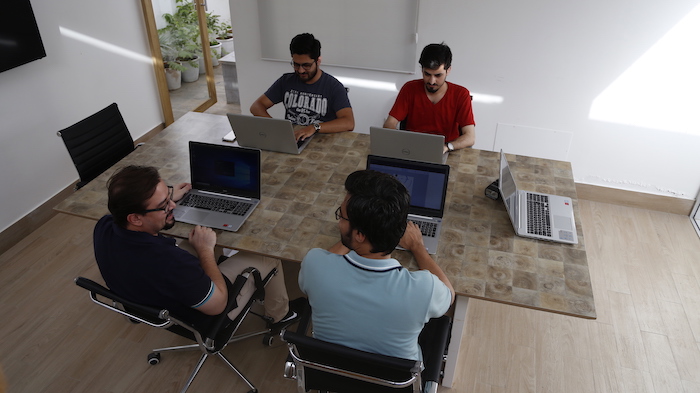 How they won a big customer thanks to LiveChat
PureVPN's Customer Service Manager told me that they have a lot of conversations via LiveChat every day. These situations impact the bottom line with customer retention.
However, what stands out is the fact the some of their biggest wins, in terms of generating new business have been achieved using LiveChat. Here's the story in a nutshell:
One of PureVPN's biggest B2B customers loved the fact that they have a 24/7 live chat option and insisted on using one to communicate. This made PureVPN employees understand the limitless potential of our solution. All we can say is – our pleasure :)
Increased sales by 20% and improved customer satisfaction
According to Sarmad, customers appreciate a live chat option on the website.
We have received great feedback from our users for having a 24/7 live chat option available on our website and our customers find it very convenient to reach out to us for any pre or post-sales queries. They certainly prefer it over emails and voice calls.
Sarmad further added that LiveChat has increased their customer satisfaction by 34%. Their sales team also reported an increase in overall sales by 15-20% due to LiveChat interactions.
PureVPN and LiveChat – what else?
PureVPN agents also appreciate the work LiveChat's team puts into developing and innovating the product. As Sarmad said:
We're very happy with LiveChat, especially because LiveChat itself has a very great team behind it, who are eagerly pushing out new and innovative features.
We're more than happy to hear that and we want to brag about our team.
In the future, PureVPN plans to keep on providing customer service through LiveChat and make the most out of its features. Hope you'll get a chance to talk with them and experience the great service they provide!