The challenge
When email customer support is not enough
Appsvio creates Jira apps that they distribute through the Atlassian Marketplace. How did they come up with this business idea? Even though Jira's base product is robust, there are certain areas, like time tracking, that the Australian software company doesn't touch. That leaves a lot of room for third-party vendors like Appsvio to build upon and enhance Jira's functionality with their apps.
Initially, Appsvio dealt with all customer communication via email. At one point they realized they had too many communication channels. On top of email, they used Jira Service Management and Hubspot's live chat. The latter was underwhelming because they couldn't track their chats in Jira Service Management.
The solution
Getting closer to customers, making customer communication more effective, and implementing real-time communication were the three main reasons that pushed Appsvio toward using LiveChat. By doing so, the company decided to do something in the marketplace they hadn't seen before. Chris Skoropada, CEO at Appsvio, said:
We embedded LiveChat inside our apps and on configuration pages for our products so that users can chat with our team directly from those places.

Chris Skoropada, Appsvio
A customer using a specific Jira app can contact Appsvio via live chat while configuring the feature. This helps Appsvio's team to support their customers instantly with no delays in response.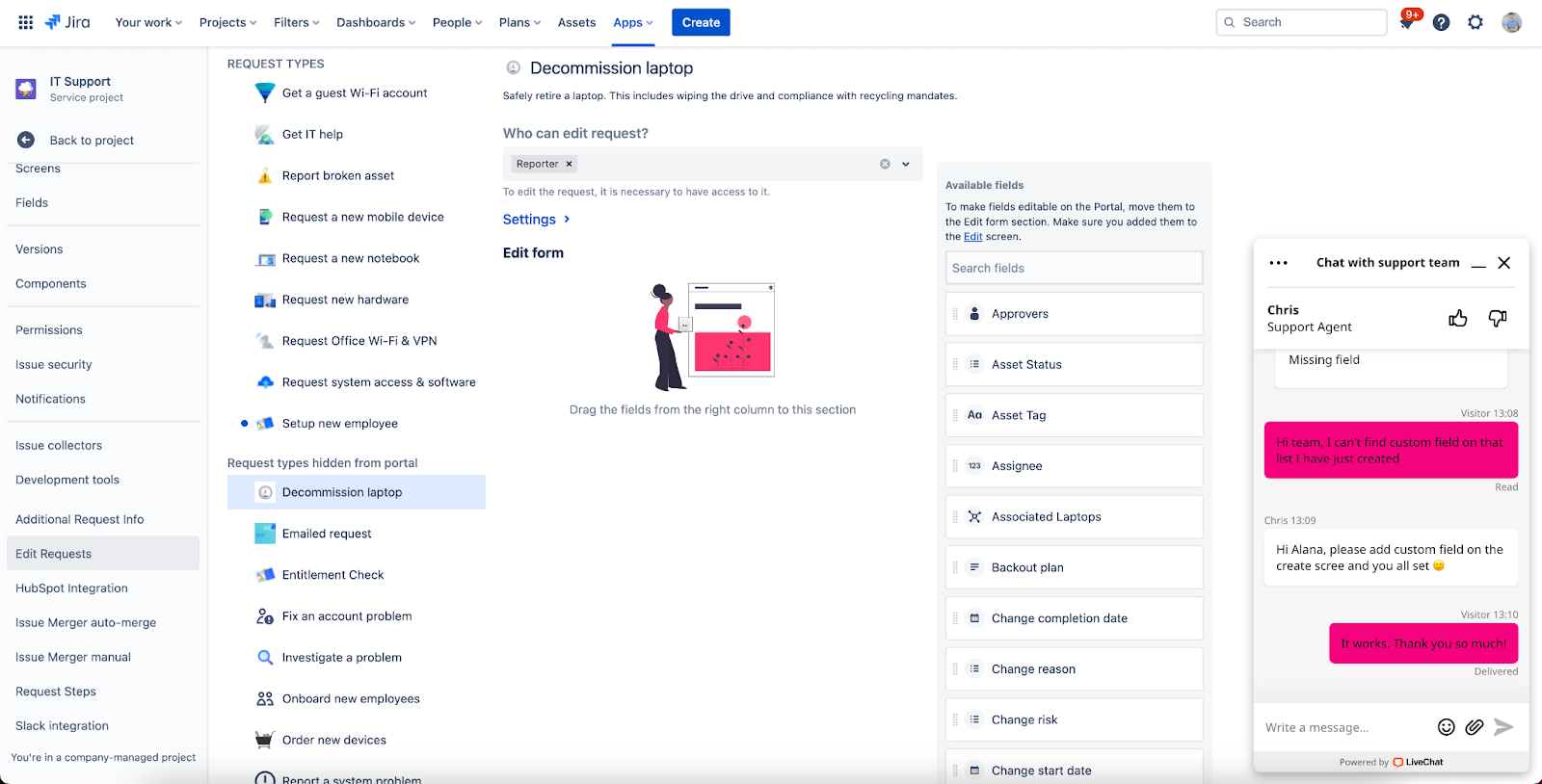 The company doesn't need a dedicated support team at the moment — chats are run by three of their co-founders, which is invaluable from a customer perspective. All co-founders are Jira-certified, which means they have tremendous knowledge and experience that they can share with customers via chat. They all use the LiveChat mobile app, enabling them to support global customers virtually 24/7.
Appsvio considers chats with customers a huge asset. They're a source of inspiration for new apps and features. Kate Pawlak, Chief Product Officer at Appsvio, added:
For us, customer support isn't just about solving tickets — it's an ingrained part of our product development.

Kate Pawlak, Appsvio
Frequently asked questions
Appsvio customers mostly ask about app configuration, but they also come with more general questions about the pricing or capabilities of specific apps. Surprisingly, some questions from people who don't know the ins and outs of Jira are related to using this platform in general. The Appsvio team helps with those questions too.  
Users tend to ask about the capabilities of specific features. If an app can't do this or that, the Appsvio team won't shy away from admitting it, and they'll go the extra mile and inform a user whether it's possible with any other app in the marketplace. That's how well they know their market — they can give their customers recommendations reaching far beyond their own products.
Favorite LiveChat features and integrations
As far as favorite features go, Skoropada mentioned screenshots. They significantly help with solving the bugs that customers come with. These screenshots help them understand how a customer configured a given app and help identify potential fixes if they had a problem along the way. 
Appsvio uses HubSpot extensively in their daily work, so they are glad that the integration with this tool is available. Their team can quickly check the client's license, what products they use, and whether they've already contacted them. 
They also use a Calendly integration to book product demos and troubleshooting sessions, which are more useful for more complicated customer questions. 
The result
Customer support that's as fast as lightning
How quickly they react and solve problems makes Appsvio's customers happier. It can be seen in the reactions to the support they receive and additional demo sessions with a nice flow and level of understanding. Skoropada concluded:
LiveChat helps us provide above-and-beyond support to our customers.

Chris Skoropada, Appsvio
And customer reviews like the one below from Anna Momkova best reflect that:
"Appsvio support team has always prompt answers to our requests in a very short time - which promise great collaboration also for future."
Customers and other vendors mention that they've never seen live chat support inside apps on the marketplace before. Appsvio boasts a 4.7 out of 5 rating on the Jira Service Desk, and the reviews on the marketplace encourage potential customers to use Appsvio's apps.
They still do email support, and when it comes to quantity, they get more questions from customers via email. Still, when it comes to quality, live chat support beats email support — customer communication and getting information from them is much quicker with live chat. 80% of all questions from live chat are answered during the chat. The rest are converted into Jira tickets for the dev team consultations.
Being close to customers is paramount to Appsvio. The company gets invaluable customer feedback through LiveChat, and the feeling they have with customers and the knowledge they get from them is impossible to get via email.