Challenge:
Replacing inefficient custom-made chat solution for in-app support.
Solution:
Integrating LiveChat with the application and providing live help for users.
Results:
Faster and easier technical support and efficient problem solving.
There was a time when the support team at Innovations for Learning, a nonprofit organization that focuses on teaching kids how to read, was using an in-house chat solution. It was built into their application called TutorMate, which is used for one-on-one online tutoring. TutorMate is used for a project that connects kids in urban classrooms with volunteer tutors from corporations across the country. The support team was helping kid's teachers and tutors with technical issues that kept popping up.
As more and more people were joining the project, the custom-made chat solution started to be a burden. The chat traffic was slowing down the application. Tutors and teachers were chatting with the agents in a shared channel, which made managing issues really hard. The support team was losing sight of the real problems in the ensuing chaos.
Their frustration lasted until they brought LiveChat on board. They integrated it with their application and organized faster and easier technical support.
"We needed to break up chat support to one user per channel. We needed to have a record of all chats at our fingertips. We wanted to tag and import chats into our own application for further review. And I wanted my agents to work comfortably without stepping on each others toes."


— Randy Burgess, CTO at Innovations for Learning
Picking up LiveChat
Getting a new chat solution was a top priority for the organization. They needed an easy-to-use tool for agents that also enabled deep integration with their application. Randy Burges, responsible for the development of TutorMate and bringing tools to the support team, took LiveChat for a spin. "Immediately I knew how to use LiveChat," said Randy. "Within an hour I was like 'Oh, I know how to use the system pretty well!'"
Randy also mentioned giving the LiveChat's API (Application Programming Interface) a closer look. The API makes it possible to easily prepare custom integrations. "The API was pretty attractive to me," said Randy. "The API access gives me all the power I need to build upon the application and bring LiveChat into our system."
After trying LiveChat out, Randy decided to implement it in their organization.
Implementation
Innovations for Learning's LiveChat is available in every part of the TutorMate application. Tutors and students can reach out to the support team whenever they have a problem.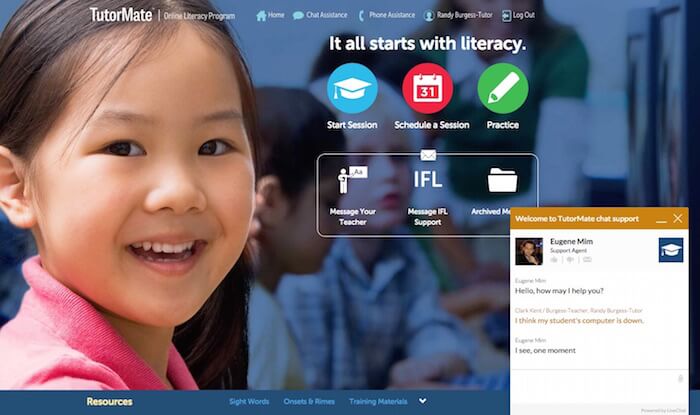 There are two full-time agents and one back-up person working in the TutorMate's support team. Everyday they handle around 80-100 chats. The support team is available for a chat during the office hours and clients can leave messages using a contact form after hours.
Innovations for Learning's LiveChat was integrated with Zendesk and their own system. The integration allows all the necessary information to flow easily between the three systems. Agents have access to all the necessary data and can swiftly deal with the clients' issues.
Chat window has been tuned to the look and feel of the application to make it an integral part of the app.
Tagging feature brought out the big picture
When Innovations for Learning settled with the basic usage of LiveChat and the team could easily handle many chats at a time, they were ready to dig deeper into analytics and identify common issues across the TutorMate platform.
The support team started using the tagging feature, which allows agents to mark a chat or a ticket with a tag, to categorize chats and tickets. It turned out there were a lot of requests that kept popping up time and time again. "The most common issue we have is Skype at children's computer," said Randy. "Every time Skype is answered, the window sits there in front of the screen. As an adult you would be like, 'Oh it's in the way I'm gonna minimize it,' but the kids don't really know how to do that."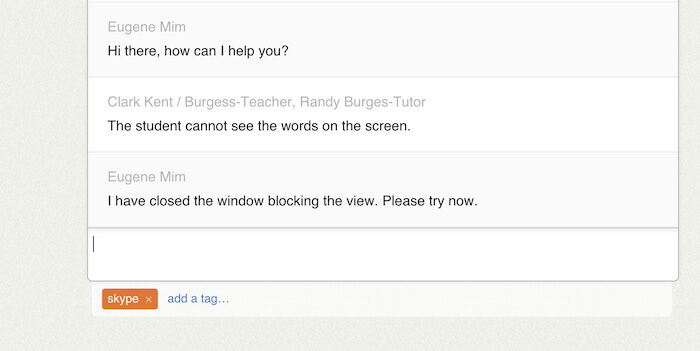 Agents started tagging chats with a 'Skype' tag and after a while noticed that a certain classroom had a lot of problems with this particular issue. As a result, they could solve the problem right at it's source instead of dealing with separated cases.
Speeding up the response time
When dealing with requests, the team noticed that it would be easier and faster to identify the issue if they had detailed information about the visitor at the beginning of each chat.
Randy used custom variables to provide that kind of information in LiveChat. Custom variable is a piece of code placed inside an application or on a website that changes when a certain action is taken, for example logging in to an application. LiveChat can pick that up and display the login information during a chat. "When a tutor or student logs in, the system imports his or her specific ID and shows that information in the chat application," explained Randy. "Our guys can respond to the classroom name that is related with user ID and this way react quicker to the problems that occur."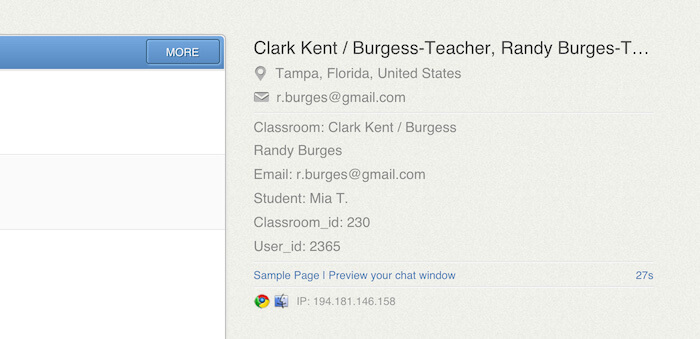 Swift service
Switching from custom-made chat solution to a professional chat system was a move towards swift and precise service. "LiveChat has successfully covered the entire feature set I was wanting to find in a chat platform," said Randy.
LiveChat provides a secure and private communication with the TutorMate support for each tutor and teacher. "Clients like it," said Randy, "and by far the chat experience is better for them than the need to use the phone."
The small support team easily handles many chats at a time and solves technical issues on the spot. "Our agents like the way LiveChat lets them take chats, hand them off to others, see data and identify the client," said Randy.
The tagging feature along with analysis lets the agents track the problems that occur and step ahead of them.
With LiveChat, the support team for TutorMate app can bring quick service, so that kids can meet with tutors without having to worry that they couldn't make it because problems in the application.