Challenge:
Customers where seeking another form of contact in addition to phone and email.
Solution:
Offer LiveChat as a preferred method of support.
Results:
Reduced the number of phone calls and emails and reached 95% customer satisfaction.
AWeber powers the email marketing campaigns of more than 100,000 businesses around the world. It allows the creation of great-looking emails, sending and tracking newsletter campaigns, creating automated campaigns and much more.
Thanks to Aweber, customers enjoy world-class email delivery, 24/7 live chat and email support, and phone support 5 days a week.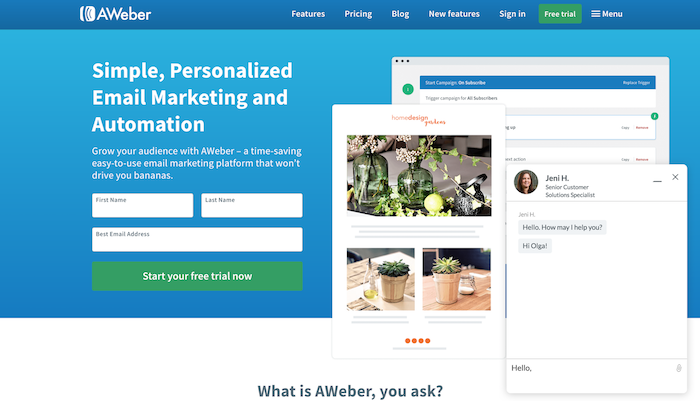 The road to live chat support
AWeber noticed a discernible trend in their customers' behaviour that indicated "live chat" was fast becoming a preferred method of support.
According to Chris Henrich, Director of Customer Solutions at AWeber:
"None of the platforms we looked at offered as intuitive a user experience that LiveChat does."
Additionally, they paid attention to analytics to help them assess the performance and state of customer service in their company. As Chris explained:
"It was immediately clear that the customer service team at LiveChat would be a clear differentiator. Concise, prompt, and thorough support was a welcome change."
We're always happy to hear that our team makes a difference because good support was always our priority. That's why our Support Heroes are available on chat 24/7 (even during companies retreats – we switch roles sometimes).
How AWeber uses LiveChat
LiveChat allows Aweber team members to proactively engage with prospects while continuing to support their current customers. According to Henrich, it has been a huge asset and helped them scale out to 24/7 support, which is important for an email marketing company. After all, they have customers all around the world, needing support at every hour of the day or night.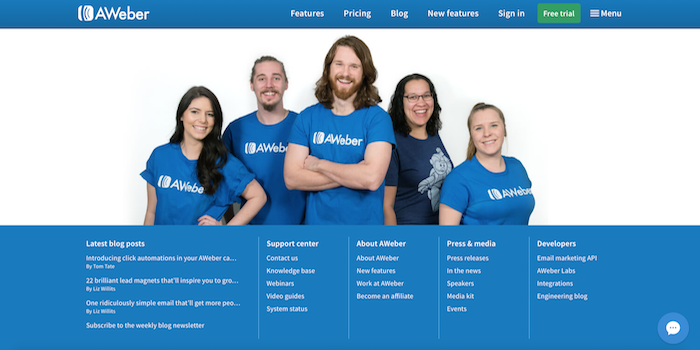 AWeber has a team of 35+ Solutions Specialists that use the LiveChat platform around the clock in shifts of three of four team members at a time. They are integrated across all areas of their website and platform.
Support agents training
For AWeber employees, LiveChat is very intuitive and they don't need much training with it. They use tags for segmented reporting. They teach team members to use macros within the LiveChat platform. They show them how to review transcripts. It's one of the many ways to learn support in a company – read previous conversations, common questions, and proper responses.
AWeber also caps each agent at three concurrent chats at a time, as they believe quality is paramount, and splitting focus leads to degraded experiences.
Favourite features
They really appreciate customer feedback. To gather it, they use surveys after each chat. Customer can leave their opinion whether they like the conversation and if their issue was resolved. It helps the Aweber team to improve their service.
Another features they like is reporting. Reports help to analyse agents' performance and the state of customer service. They can check the customer satisfaction in particular date, how many chats did they have, how long did they last and many more.
They also use visitor tracking, which allows them to gather data about people on the website. For example, where they are from or what webpage they are visiting right now. This data helps provide personalised and more efficient service through chat.
They also like the option of customizing a chat window. It can be adjusted to best fir the website. For example, AWeber's chat window is a blue bubble in the bottom right corner. It looks like an integral part of the website, and that's great!
AWeber team members also found integrations useful. As Chris said:
"There is a direct correlation between our increased chats, and the reduction of tickets fielded. Our chat satisfaction has increased from 92% to 95% – I am convinced it is in large part due to ease of use of LiveChat."
No wonder such a great team achieves such outstanding results. Look at them. PJ Day? They surely are happy at the office.
The plan for the future
AWeber is happy with the way LiveChat has evolved: "We love the new UI, which really eliminated the few nitpicks we had with the platform."
They plan to use proactive chat moving forward. As Chris explained: "We do intend to expand its usage into sales, as well as use it for QA/User Interviews within our email marketing platform."
Last but not least, Chris once again highlighted the value of LiveChat's support team in the decision process of choosing the live chat software.
"The LiveChat support team was a big factor in choosing this solution. They rock!"
We're happy to hear that, and hope you will get a chance to talk to us too and experience our awesome support.