The challenge
The road to live chat support
AWeber noticed a trend in their customers' behavior — live chat was quickly becoming a preferred support method. Chris Henrich, director of customer solutions at AWeber, mentioned that none of the platforms they looked at offered a user experience as intuitive as LiveChat.
Additionally, they paid attention to the analytics to assess their company's performance and state of customer service. As Henrich explained:
It was immediately clear that the customer service team at LiveChat would be a significant differentiator. Concise, prompt, and thorough support was a welcome change.

Chris Henrich, AWeber
The solution
How does AWeber use LiveChat?
The AWeber team members proactively engage prospects while continuing to support their current customers. Henrich said this has been a huge asset that helped them scale out to 24/7 support, which is essential for an email marketing company. After all, they have customers worldwide in need of support 24/7.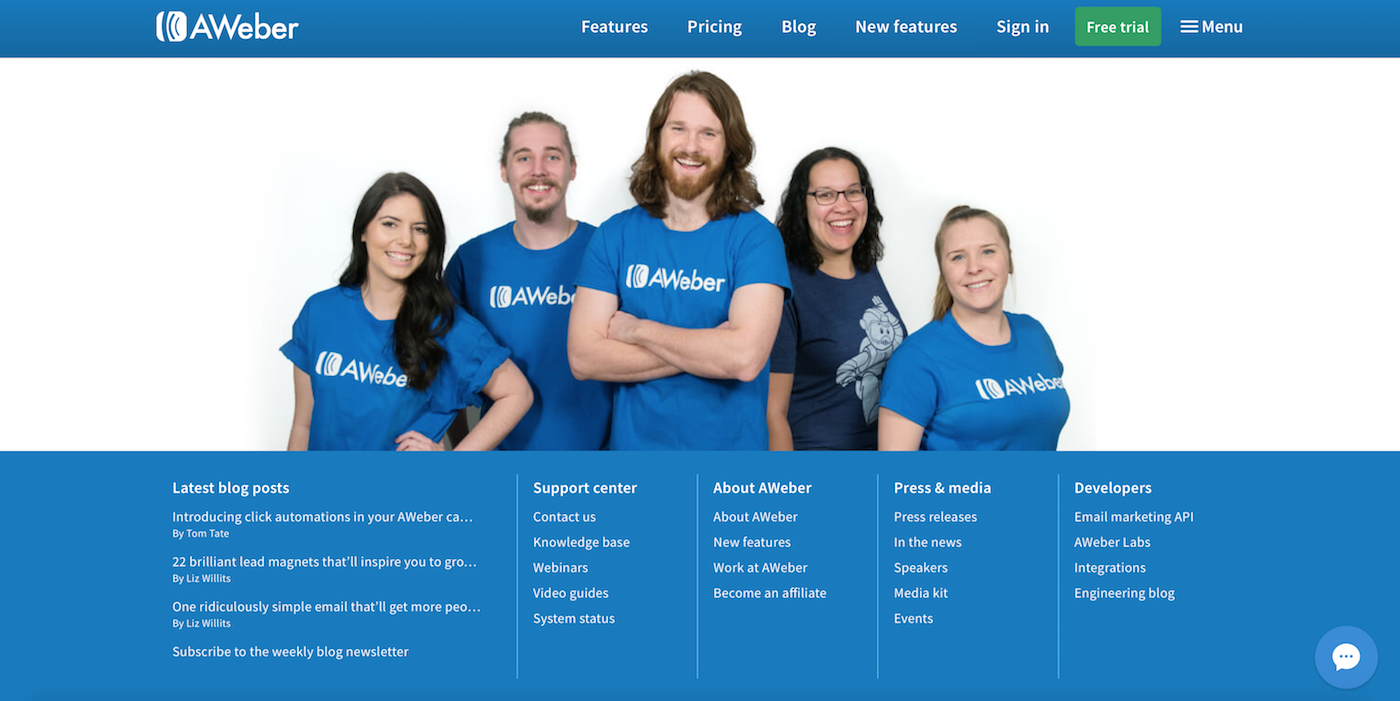 AWeber has a team of 35+ solution specialists that use LiveChat around the clock in shifts of three or four team members at a time. They are integrated across all areas of their website and platform.
Support agents training
The AWeber employees find LiveChat very intuitive, and they don't need much training with it. They use tags for segmented reporting, learn how to use macros within the LiveChat platform, and review transcripts. One of the many ways to learn support in a company is to read previous conversations, common questions, and proper responses.
AWeber also caps each agent at three concurrent chats at a time because they believe quality is paramount, and having too many chats at once leads to degraded experiences.
Favorite features
To gather customer feedback, AWeber uses surveys after each chat. Customers can share whether they like the conversation and if their issue was resolved. It helps the AWeber team to improve their service.
Another feature they like is reporting. Reports help to analyze agents' performance and the state of customer service. They can check customer satisfaction on a particular date, the number of chats, their duration, and more.
Our chat satisfaction has increased from 92% to 95% — I'm convinced it's in large part due to the ease of use of LiveChat.

Chris Henrich, AWeber
AWeber agents also use visitor tracking to gather data about website visitors, including their location or what page they're browsing at a given moment. This data helps provide personalized and more efficient service through chat.
They also customized their chat window, which can adjust to match a website's design. With a blue bubble in the bottom right corner, it looks like an integral part of their website.
See LiveChat in action on your website.
Free 14-day trial No credit card required Easy setup
The result
The plan for the future
AWeber is happy with how LiveChat has evolved, especially the new user interface that eliminated the few nitpicks they had with the platform.
They plan to use proactive chat moving forward. Henrich added that they intend to expand its usage into sales and use it for quality assurance and user interviews within their email marketing platform. Once again, he highlighted the value of LiveChat's support team, which played a huge part in choosing the live chat vendor.