Challenge:
Providing great support 24/7 for users around the world.
Solution:
Using LiveChat groups and languages to provide constant support globally.
Results:
Closing more sales and retaining customers.
Benchmark helps time-strapped marketers and business owners quickly and easily nurture their relationships with their email list.
They offer engagement tools to guide users through the customer journey – bringing customers in with sign-up forms, and staying in touch through automated and triggered follow-up tools. In short, "target, test and track success" is what Benchmark stands for.
Why they were looking for a live chat solution?
As an Email Marketing Service Provider, Benchmark uses LiveChat to give its users an additional channel of communication with its team. Before they chose LiveChat, they tried other providers along the way.
As Daniel Miller, Marketing Director at Benchmark said:
"We were using ProvideSupport at the time. They had very limited features. As we grew to more languages and into 24/7 support, we needed a chat software that could handle our growth without breaking the bank. We tested LiveChat vs. Olark and LivePerson. LiveChat won by a long shot!"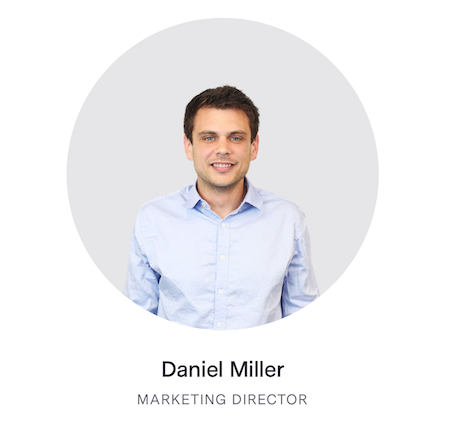 Benchmark is one of LiveChat's early customers. Another reason why they chose us is because of the features LiveChat provided and competitive price. According to Daniel:
"We were impressed by the advanced functionality LiveChat provided. From auto chat routing, chat groups, and languages, to pop-up message automation. These things may sound common now, but at the time we were looking for a chat software, they were exclusive."
How Benchmark uses LiveChat
For customers, LiveChat is another channel of communication with Benchmark's team. If users run into an issue or need help with something, they know to jump on chat to get help within seconds. As Daniel admitted:
"We are a global company who needs to support our users 24/7. LiveChat allows us to easily create groups for and setting to properly route all of our chats to the correct department and language automatically."
Benchmark recognizes the importance of being represented locally, having native speakers to assist in support. They have offices in 15 countries and speak in 9 different languages.
When it comes to that, the LiveChat window translates into 45 languages, now including right-to-left Arabic and Hebrew. That allows agents to greet international customers in their native tongue. Daniel also added:
"Without LiveChat groups and languages, we would be lost! Having the ability to set a language for each group has given us maximum flexibility!"
Benchmark's customer service agents also like the pop-up messages and reporting. With the reports, they can easily see conversion goal, trends, and improvement opportunities.
Daniel admitted that "LiveChat has also shown to help with sales." To increase the chances of gaining a customer, all sales chats can be routed to the sales department. Dividing LiveChat into groups (like sales and support) also allows filtering chat archives and reports to show data for those groups, but also provide better and personalized service.
Benchmark's customer service agents training
Benchmark employees are given a training course on LiveChat with simple instructions on how to use it. As Daniel explained:
"We have a buddy system in place where a more senior employee will supervise chats, to ensure the new employee is up to speed and providing accurate answers."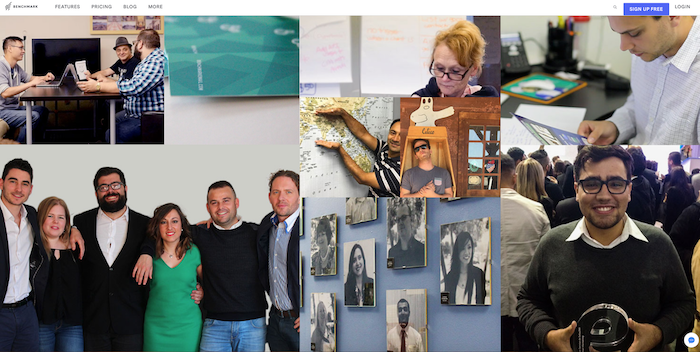 LiveChat helped us close more sales and retain customers
As early customers of LiveChat in 2011, Benchmark has seen how LiveChat continues to grow and evolve. It wasn't smooth all the time, as Daniel admitted:
"We had minor issues when we first signed up but LiveChat's team has done an excellent job at responding to our needs, fixing bugs, adding great functionality and keeping their product up to date with the industry changes and requirements."
Since they've used LiveChat, the customer satisfaction rating has gone up by 25%. Now, they have 90% of satisfied customers.
LiveChat also helped Benchmark close sales, improve their site and retain customers. In case of the latter, Daniel said, "In order for a customer to cancel their account, they need to speak with us over chat or phone. Most customers choose chat. With LiveChat, we are able to understand the customers' issues and in most cases, get to a resolution that saves the account."
LiveChat is Benchmark's most common communication channel with their customers. It's easy, non-intrusive and very responsive. They are happy with how everything works, and so are we. We wish them many more years of chatting!