Challenge:
Simplyfying and organizing communication with online students.
Solution:
Using LiveChat as an organized chat and ticketing system for communication with students.
Results:
Clutter-free communication with students and reduced number of returned phone calls.
When running an online school, it is important to keep an organized and clear communication with current and future students. Students need to get quick answers to their questions about the school and courses and get immediate help with technical issues. However, for the school administrators, getting along with hundreds of students' questions and issues in a week is quite a challenge.
American Business and Technology University, an online university from the USA, struggled with chaos in communication with students. The students' administrators were getting lost among emails, tickets, and yahoo chats coming from all directions. To free themselves from the clutter, ABTU started using LiveChat as a centralized chat and ticketing system.
"In the dark ages, before LiveChat, I had no idea what tickets, yahoo chats, emails were coming and going. Most importantly I didn't know what was being said and how long it was taking to get back to students."


— Lute Atieh, Chief Operating Officer at ABTU
Beginning with LiveChat
ABTU was looking for an easy-to-use chat system, which everybody in their organization could use without pain. At the same time, they needed an advanced tool with a ticketing system, history tracking, visitor details, good managing options, and analytics. The system aimed to help them administer all incoming and outgoing communication with students. Lute tried a few chat solutions and picked LiveChat. "It was intuitive and easy to set up," he said. "I could manage it and administer without training."
LiveChat is on
The ABTU's LiveChat is available on every page on their website, and a big yellow sign "Chat With Us" lets visitors know that they can start chatting right away. For current students LiveChat is available within learning platforms and they can reach out to the support during their online classes. ABTU also reminds all students, in every email they send, that they can chat with the support day and night.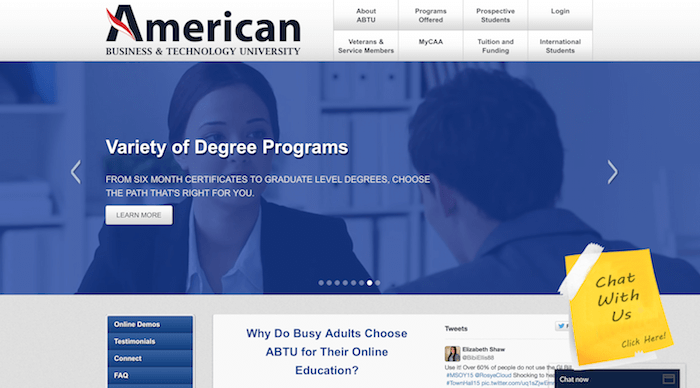 Students, who prefer sending messages than chatting live, get help by submitting help-desk tickets. They fill in a detailed form on a dedicated page. Then a support team receives it as a new ticket in the LiveChat app and deals with a case in an appropriate manner.
ABTU's support team works around the clock so no matter when a visitor or student needs help, there's always someone waiting to offer help on the other side. Usually there are 6 to 8 agents logged in during business hours and 1 agent logged in overnight. When agents are away from their desks, and still at work, they use LiveChat mobile app to stay connected with students.
Keeping high quality service
Lute and the support team keep track of their customer service performance with a LiveChat dashboard. The dashboard provides key information about metrics related to support activities in real-time and from the last 7 days. "It is brilliant and we have it displayed all over our building on TVs," said Lute. "This tells us exactly what is going on at all times."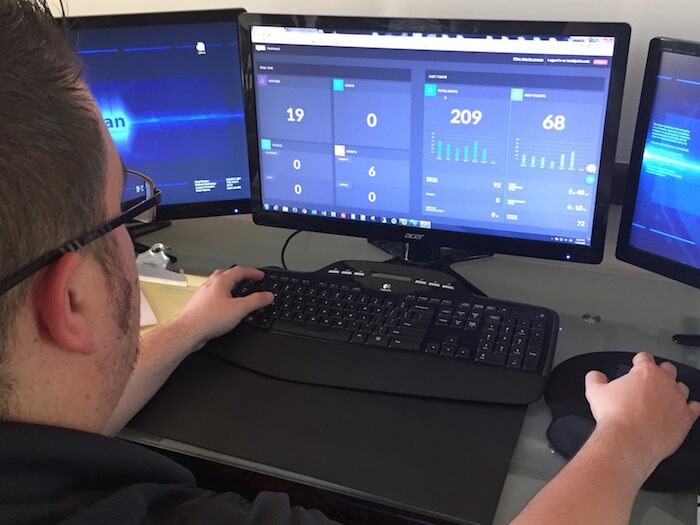 Lute also recalls using chat history to improve the quality of the customer service. "I had a student complain once that he did not get the customer support he deserved," said Lute. "I was able to pull all chat history and find the chats in question. Then, I was able to train our staff to deliver a better service via Live Chat. It ended up as a great opportunity for us to update our templates, as well."
Clutter-free communication
Since having LiveChat on their website, ABTU receives positive feedback on the feature from visitors and students. "It's a great feature and they love it," said Lute. Students started reaching out for help via chat instead of making a phone call. It resulted in 50% decrease in the number of received phone calls and reduced the costs of returned calls.
Lute is very happy with LiveChat and the way it helps his organization keep communication clean and tidy. "It keeps me in the know with the most common customer issues by looking at tickets and chats," he said. "It also allows me to see how active the staff is with regards to responding to chats and tickets and how friendly they are being in their chats."
As the business of online training grows, ABTU is ready to offer help to their current and future students via LiveChat and keep them all well-informed and serviced.