Challenge:
Making customer service more proactive in a large customer service department.
Solution:
Inviting users to chat after a set amount of time automatically.
Results:
More conversations, visitors get the answers they need.
Well-trained agents and quick answers are the backbone of any big LiveChat implementation. When you have 100 agents servicing your clients with chats, you need software that is simple and easy to introduce to your staff.
Tele2, a major telecom player from Sweden, is a great example of a business with an important LiveChat implementation. See how they manage to tie everything together with 100 agents handling chats on two websites.
"We can see that our customers like this channel because they were quick to adopt it and continue to use it. We also have a high customer satisfaction in this channel."

— Josefine Forssell, Customer Operations Manager at Tele2
Value-oriented mobile services
Tele2 is one of the largest telecom provider in Sweden and the company created a vast network of 2G, 3G and 4G services for both business and private clients. According to Anabel de la Peña, who works with Customer Management Solutions, the company always strives to provide "customers what they need for less," and to become the most value-oriented provider on the market.
Tele2 recognized the need for a tool through which their customers could easily contact customer service. The company decided to use LiveChat as the main channel of such information. "We wanted to have a feedback channel for both sales and service where we could reach out to our customers – no matter their location – via our website," said de la Peña.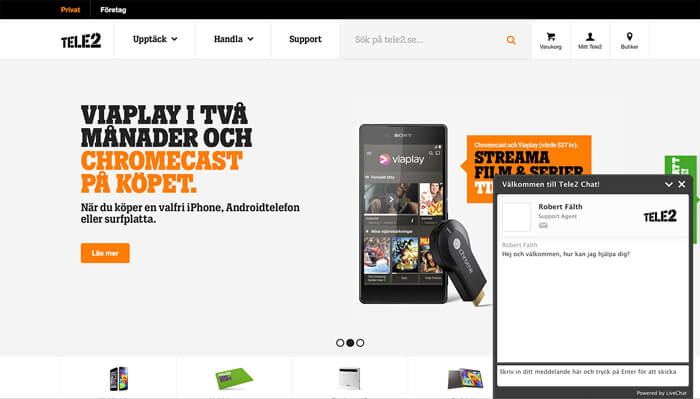 Implementing LiveChat on a large-scale
Despite the size of the implementation, switching to LiveChat went very smoothly. According to de la Peña, "it was easy to deploy and user friendly, which resulted in reduced training needs for the agents." The reduced training needs seem especially important for a team of this size. LiveChat applications, which de la Peña described as "easy to support," have been prepared with that kind of ease-of-use in mind and should pose no problems even for new agents.
Tele2 agents are divided into smaller teams to coordinate their work more efficiently. Forssell reported that each agent has to "follow a three week training" before servicing customers via LiveChat. Once their training is complete, agents can start offering advice on products offered via tele2.se and comviq.se websites.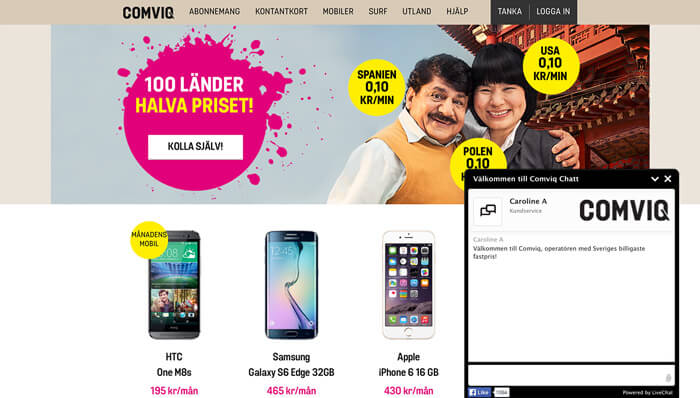 To gather feedback, Tele2 enabled surveys at the end of each chat. In the surveys, they ask if the problem has been resolved and how the client would rate the agent. Using the answers, the managers can calculate KPIs (key performance indicators) for each agent. For example, they can calculate how well a particular agent has performed to resolve a case in one touch (First Contact Resolution).
The final piece of the feedback puzzle is the custom integration via LiveChat's API, which is used by Tele2 to gather valuable chat statistics. Using these statistics, the company can calculate a range of additional KPIs like Average Handle Time (how long does it take for an agent to resolve a case via chat) or Performance (how many chats an agent can handle at a given point in time).