In the business of online loans, there's really no time for any kind of delays. Customers looking for cash need it right now for all kinds of unexpected expenses and are in no position to wait for a prolonged answer.
Wizzcash.com, an online loans company from UK understands the need for speed of their customers and is all about providing quick answers as efficient as possible. See how they implemented their LiveChat to get great results quickly.
"We appreciate that our customers are looking to borrow money fast and therefore when they have questions, they want them to be answered fast. LiveChat allows us to accommodate our customers' needs."


— Daniel Tannenbaum, Digital Marketing Manager at Wizzcash.com
Subscribe to LiveChat channel to get the newest content.
Quick and painless online loans
Online loans are a great way of getting out of a tight spot when we are hit with unexpected expenses. Companies like Wizzcash.com help us get through the difficult times by offering quick online loans. "Our customers are typically looking to borrow up to £1,000 (around $1,600) through our website to pay for emergency expenses such as bills, rent and broken down cars.", said Daniel Tannenbaum, Digital Marketing Manager at Wizzcash.com.
When approached by customers in such unfavorable situations, the last thing a company wants to do is stall and make the customer wait. The speed, efficiency and quality of the service are key for those customers and it is quite a challenge to meet their expectations.
Over time, Wizzcash.com has started to receive more and more enquiries via phone and email, even with the most basic questions. Processing thousands of applications each day became increasingly difficult for the company. To solve their communication problems, they chose to implement a live chat feature on their website. "We needed a robust and effective platform to respond to customers in real-time," said Tannenbaum.
Getting competitive through good service
The company started providing LiveChat on their website after a short implementation process, which Tannenbaum described as "very straightforward" and one that required "not much testing and trial and error." The chat is available on over 300 pages. A team of three dedicated agents use their desktop computers, mobiles and tablets to chat with customers.
To make sure that they reach their goals, the team closely monitors the satisfaction levels of their customers: "One of the best features is the daily report showing us the level of customer satisfaction from our conversations," Tannenbaum said. "This allows us to go back and review the conversations between our agents and our customers allowing us to do customer research and monitor the quality of the customer service we provide," he added.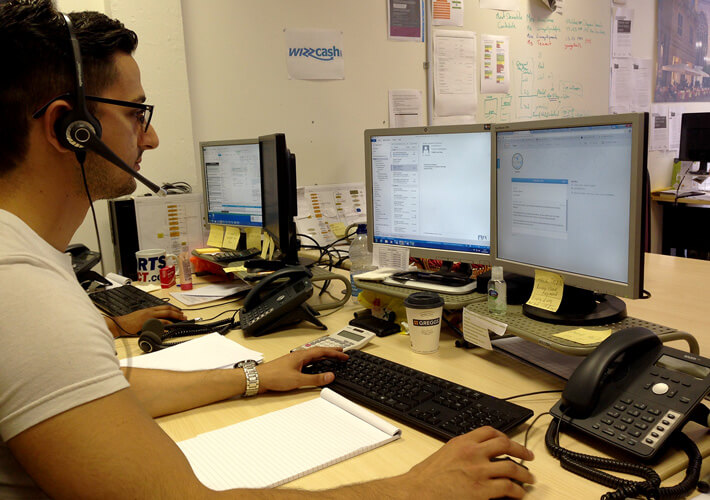 As a result of the implementation, the company is able to respond much faster to a higher number of inquiries. "We find the system to be robust, reliable and essential to our company's competitiveness," Daniel stated. Happy customers are also more likely to return, bringing more business to the company.
"We see a strong return on investment. If we speak to over 100 people a day on LiveChat before they make their application, we see a great return if a high percentage respond positively to the chat," Tannenbaum reported.
Overall, Wizzcash.com managed to reach great results, both in terms of conversions and customer satisfaction. "We are confident that working with LiveChat has improved our sales and conversion," Tannenbaum stated. Customers have been providing positive feedback "the moment LiveChat became live on the site."
Wizzcash.com plans to expand their LiveChat use in the coming year, doubling or even tripling it. Currently the company is conducting a big TV and radio campaign and uses LiveChat to its fullest to handle all the extra queries.