Growing companies have to put a lot of effort to keep customers happy, especially when they get too many enquiries to handle via the communication channels they are using.
Pickaweb, a company offering a full range of hosting services, faced this kind of scaling problem. They decided to deal with it by shifting the majority of their communication from phone to chat and the results surpassed their expectations.
The switch allowed them to multiply the number of cases they can resolve and gave them the reputation of a company that cares about customers.
"I sincerely believe that if you have a website with traffic and you are not using LiveChat then by starting to use it you will experience an ROI in minutes, rather than days or weeks or months."


— Tony Messer, CEO and co-founder of Pickaweb
Subscribe to LiveChat channel to get the newest content.
Hosting with remarkable support
Pickaweb was founded in the year 2000. The company became a part of a fast-growing web hosting industry and started offering domain names, servers and other web hosting services. The company grew and expanded to provide its services in the UK and, in Spain via the Merkaweb brand. Currently, Pickaweb is hosting over 20,000 business customers.
Here's how Tony Messer described the message behind the company: "Our main goal is to get our customers online as quickly as possible and to help them grow their businesses, using the power of the internet."
Dealing with the growing number of enquiries
From the beginning, Pickaweb focused their efforts on one major goal – making sure that their clients are happy and taken care of.
Even back then, when good customer service was not as popular, they knew that the strength of a company comes from good relations with its customers. They wanted to focus on helping their customers as quickly as possible, both in terms of pre-sales advice and post-sales support.
Back when the company launched, the most popular ways of communication were still phones and emails. Pickaweb's traffic was steadily growing and they realized that making customers wait in queues or asking them to send emails can discourage them from making enquiries and purchases. "Many potential customers could feel nervous about asking questions over the phone or they could lose interest waiting in a phone queue," recalled Tony. "Likewise for existing customers, if they had a question or have an issue with their hosting they wanted to speak to someone immediately," he added.
It quickly turned out that the workload was too high to keep up. Pickaweb had to scale their support. They decided to test live chat software to get an advantage over companies using only phone.
After trying several providers, they've scored a bullseye by implementing LiveChat. "We have tried various other live chat tools but LiveChat is the perfect balance of ease of use, features and sensible pricing," stated Tony.
Pickaweb quickly realized that chat is the best support tool for their needs. With LiveChat, one support agent is able to chat with several customers at a time, which helped to reduce the queue time to minimum and increase customers' satisfaction. To improve their customer service even further, Pickaweb added short surveys at the end of each chat to ask for feedback.
Currently, Pickaweb and Merkaweb employ 7 agents, who are working in shifts to provide 24×7 support. They get thousands of conversations per month. Handling that kind of volume of calls would not be possible in the peak hours.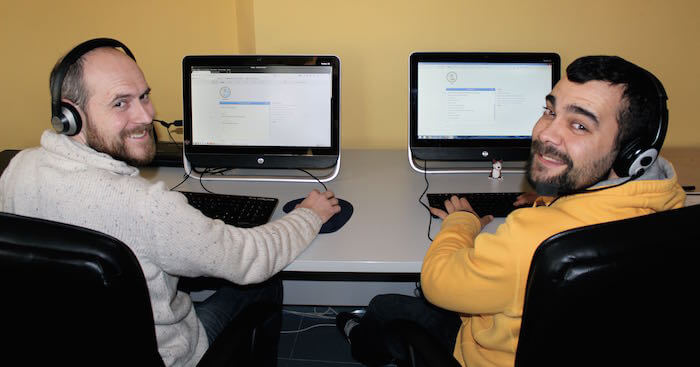 To be able to keep high customer satisfaction, Pickaweb's support team uses a number of LiveChat's features to train new hires. They are especially fond of the ability to monitor chats, which is important for training and passing on knowledge as chat's supervisors are able to give instant help to less experienced agents. It cuts down the response time and eliminates mistakes.
Pickaweb's agents also like canned responses – a feature allowing them to set up pre-made answers for the most common questions. It saves their time, allows them to help several customers at one time and provide a consistent level of service.
Customers love Pickaweb's chat. The key point was ability to check customer's satisfaction level immediately after chat. "Our customers love LiveChat and they constantly tell us this in their reviews," said Tony and added: "If they are happy, we are happy!" He reported that customer's satisfaction reached 95% in the last 3 months.
He also mentioned economic aspects of using chat instead of phone: "I consider LiveChat to be about the best $ for $ investment we have in terms of the toolset we use on a day to day basis to serve our customers." He also added: "If we had to calculate the cost savings it would not be expressed in terms of the phone bill or systems, but in staff costs because one person can handle three chats simultaneously."
The right tool for the job
Pickaweb needed a scalable customer service tool that would facilitate immediate service. LiveChat turned out to be a perfect match: it helped Pickweb's agents to be more efficient by allowing them to handle several chats at one time instead of one phone conversation. Now, agents are available for help whenever a website visitor needs it.
Pickaweb's experiment with LiveChat produced great results. LiveChat turned out to be a great fit and an effective tool for communication with customers. As Tony concluded: "We could not run our business without LiveChat. It is as simple as that. Communication with potential and existing customers is the lifeblood of our business."