Challenge:
Reaching out to the majority of online customers.
Solution:
Using LiveChat's mobile apps to help customers from their stores.
Results:
1000% rise in conversion rates for customers accessing chat.
Any retailer with an online presence can benefit from using a live chat service. By answering the questions your customers have about your products, customer service agents are able to deal with any doubts and pave a way toward a sale.
Take the story of Jerome's Furniture as an example. The company received a huge return on their investment after implementing LiveChat – a 1000% increase in conversion rate for customers who used their live chat versus visitors that did not engage in chat. That equated to much more sales as well as phone calls thanks to a widget on their website and the skill of their agents.
Read on to see how Jerome's Furniture uses LiveChat to reach an amazing sales and customer service results.
"We found people who engaged in chat had an ecommerce conversion rate 1000% higher than non-chat users."

— Scott Perry, Director of Ecommerce at Jerome's Furniture
They like using LiveChat so much they even made a TV commercial about it!
Low prices all year round
Jerome's Furniture is one of the largest furniture retailers in Southern California. Founded in 1954, the company has shops in twelve locations, including San Diego and Los Angeles area.
The company is known for its very fair approach to business: they keep the same, low prices on their furniture and mattresses. When typical businesses offer low prices during select time periods only, Jerome's keeps the prices low all year round.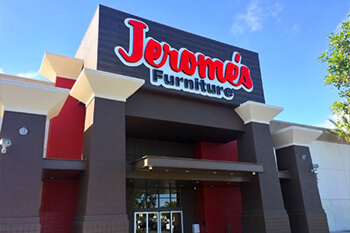 Jerome's has also a considerable online presence. According to Scott Perry, Director of Ecommerce at Jerome's Furniture, 75% of their customers come to their website to find a new piece of furniture.
With such a huge following online, it simply made sense for the company to reach out to their customers on the website. "We wanted to 'be there' for our customers," said Perry. "We wanted to answer questions right at the time they were doing research."
Reaching out to online customers
Jerome's wanted to work both on their customer engagement and experience. To that end, they opted to implement LiveChat. "Our expectations were that we would see a lift in online conversions in both E-commerce sales, and non ecommerce conversions like 'Click to call' or 'Click to get Directions'," said Perry.
The company's LiveChat is manned by 2-4 agents, seven days a week. Customers can come to the Jerome's website any time between 7AM and 11PM to ask questions and get advice on buying furniture.
One of Jerome's locations at Anaheim.
What's interesting about Jerome's implementation of LiveChat is that they don't have a separate department for online customer service. All agents chat with customers from stores while also attending to on-site sales activities.
Staying on premises allows the agents to quickly provide undecided customers with additional photos of particular pieces of furniture via the LiveChat iOS and Android apps. "We use tablet app so we can snap in showroom pictures and send it to customers right there on the spot," said Perry. A quick photo from an agent helps to dispel any doubts a customer might have and opens up the road to a sale.
Jaw-dropping results
Customers seem to be really appreciative of the extra effort Jerome's agents put into chats.
According to Perry, the company saw a huge increase in the conversion rates after a customer has accessed their chat. To measure that, Perry told us he created a segment in Google Analytics for LiveChat to "see how it stacks up against non chat users." Perry found out that customers who used chat are 10 times more likely to make a purchase than those that didn't. He also stated that non-ecommerce conversions for their 'Click to call' and 'Get directions' also went up by a huge margin, contributing to even more sales.
Customers praise Jerome's LiveChat and provide positive feedback on it both online and when going to one of their stores.
Although Perry can't share exact numbers when it comes to revenue or the number of customers, he said that LiveChat had a "huge impact" and it has paid for itself "many, many times over." With these kind of amazing sales results, we can't wait to see how the LiveChat for Jerome's Furniture will develop.