A good idea, based on personal experience, has sometimes the chance to spark into a business. HomeExchange, an alternative to pricey hotels for every avid traveller, is an example of such company.
The idea behind the company is simple – instead of spending tons of cash on expensive hotels, HomeExchange members can swap houses with other members, allowing for a great way to see different parts of the world without the need for a big budget.
Subscribe to LiveChat channel to get the newest content.
Choosing a live chat provider
Ed Kushins, HomeExchange's founder and president, turned his own experiences with home exchanging into a business. These kind of first-hand experiences can turn out to be a great way of creating or improving your current business. Ed learned about live chat in a similar matter. Thanks to his wife, who liked the idea of chatting with clients, Ed decided to try and implement live chat on HomeExchange's site.
When looking for a chat solution, they were searching for a company that would provide them with just the right functions and offer a lot of flexibility. The chat was supposed to be a channel for solving any technical inquiries, helping with billing and answering general questions.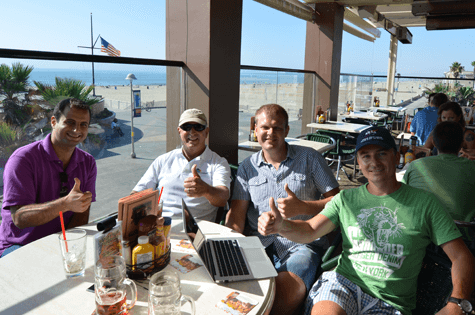 The choice came between LiveChat, which was found online when Ed's CS and IT team searched for possible solutions, and LivePerson, which was referred by a friend. Eventually, LiveChat was chosen because it seemed it would be easier to setup and didn't force them to jump through hoops, making the implementation process painless and much more fluent. Another thing about LiveChat that Ed liked was how easy it was for him to contact us and learn more about our solution.
Flexible solution makes customer service easier
Starting with a 5 seat implementation, HomeExchange's live chat quickly picked up speed and loads of visitors started to pour in. Currently, they receive as many as 500 chats a week and the number continues to grow.
"We've been encouraging people to use live chat, it's become a really significant marketing tool for us. We are implementing additional ways of encouraging people to use it."
The flexibility of LiveChat really hit the spot for HomeExchange. Having a worldwide CS staff, HomeExchange needed a system that was easily manageable and deployable in any place – even at home.
"Our customers and our customer service people LOVE IT!"
Apart from the flexibility, HomeExchange benefits also from the multiple language support, having a chat option for 5 languages. Another part of the solution that HomeExchange is using are the integrations with Google Analytics, which allows for a more in-depth look into the visitor base, and Facebook, which lets visitors login to chat with their Facebook accounts.
Both integrations are very useful since they provide a lot of additional information about customers, which can be used to provide more precise support and prepare better offerings.
Live chat as a main communication tool
LiveChat has pushed out phone and email communication and has became an important communication tool for HomeExchange.com. Their Team plans to continue to think of ways how to have even more clients chatting, one being a 24/7 support.
"You guys have been great! We've referred the service to our colleagues."
HomeExchange seems to have scored a home run with its implementation of LiveChat. Simplifying communication on both ends – for customers and customer service reps, it continues to provide new opportunities and clients every day.