If this is the beginning of your adventure with LiveChat, you've come to the right place. If you've been using LiveChat for a while, it's high time we introduce you to all the ways the experience can be even better for you and your customers.
Our Marketplace offers over 200 integrations that will help you take your customer engagement to the next level. They can:
save your agents' valuable time.
enhance your customers' experience.
unify your customer support across various channels.
save leads directly from chat.
collect newsletter subscriptions before the chat has even started.
and much more!
This article is divided into two main sections. The "Starter pack" introduces our customers' favorite free integrations so that you can expand your customer engagement from the get-go. "Our top picks" contains our team's recommendations for apps and integrations that will help take your business to the next level.
Starter pack
The integrations in this section are all free and can be used to scale. They'll help you make the most of LiveChat.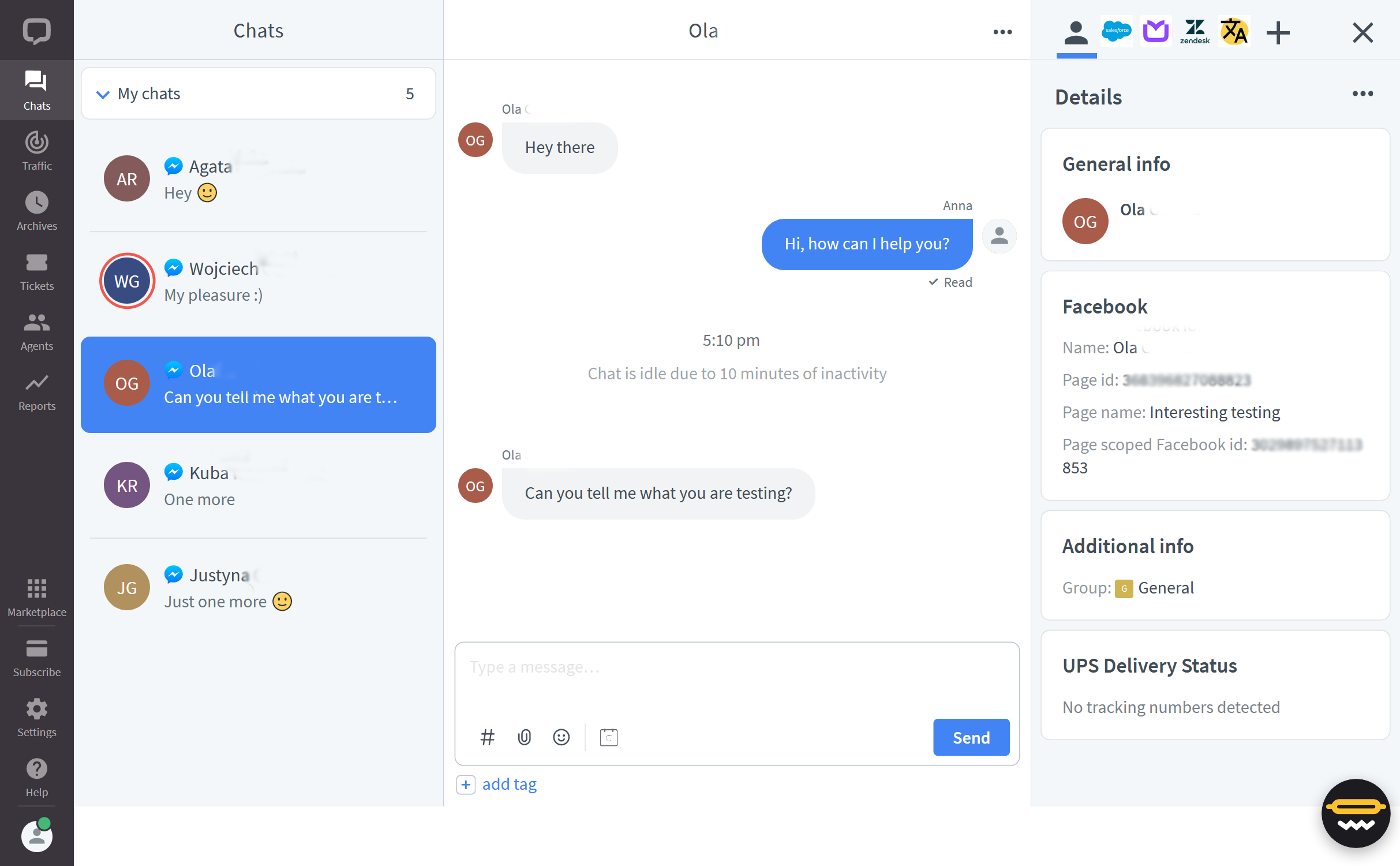 Seamlessly add LiveChat to your website
Our Marketplace offers a number of plugins that let you add LiveChat to your website with just a few clicks and with no coding necessary. The WordPress plugin, for example, lets you effortlessly add a chat option to your website or blog.
All you need to do is log in to your WP admin panel, find LiveChat on the list of plugins, and connect. The chat widget is added to your website, and you can increase your sales and build stronger customer relationships by engaging your customers and visitors on chat.
The full list of CMSs and website builder plugins available in our Marketplace can be found here.
Let customers contact you from where they are
When your customers visit your website and engage you with our chat widget, you can track their movements on your website, identify returning customers, use engagement features, etc. However, these are the customers that already decided to come to your website. What about those scrolling through Facebook or searching in browsers for the service you provide? With integrations like Facebook Messenger or Apple Business Chat, they can contact you from where it's convenient for them.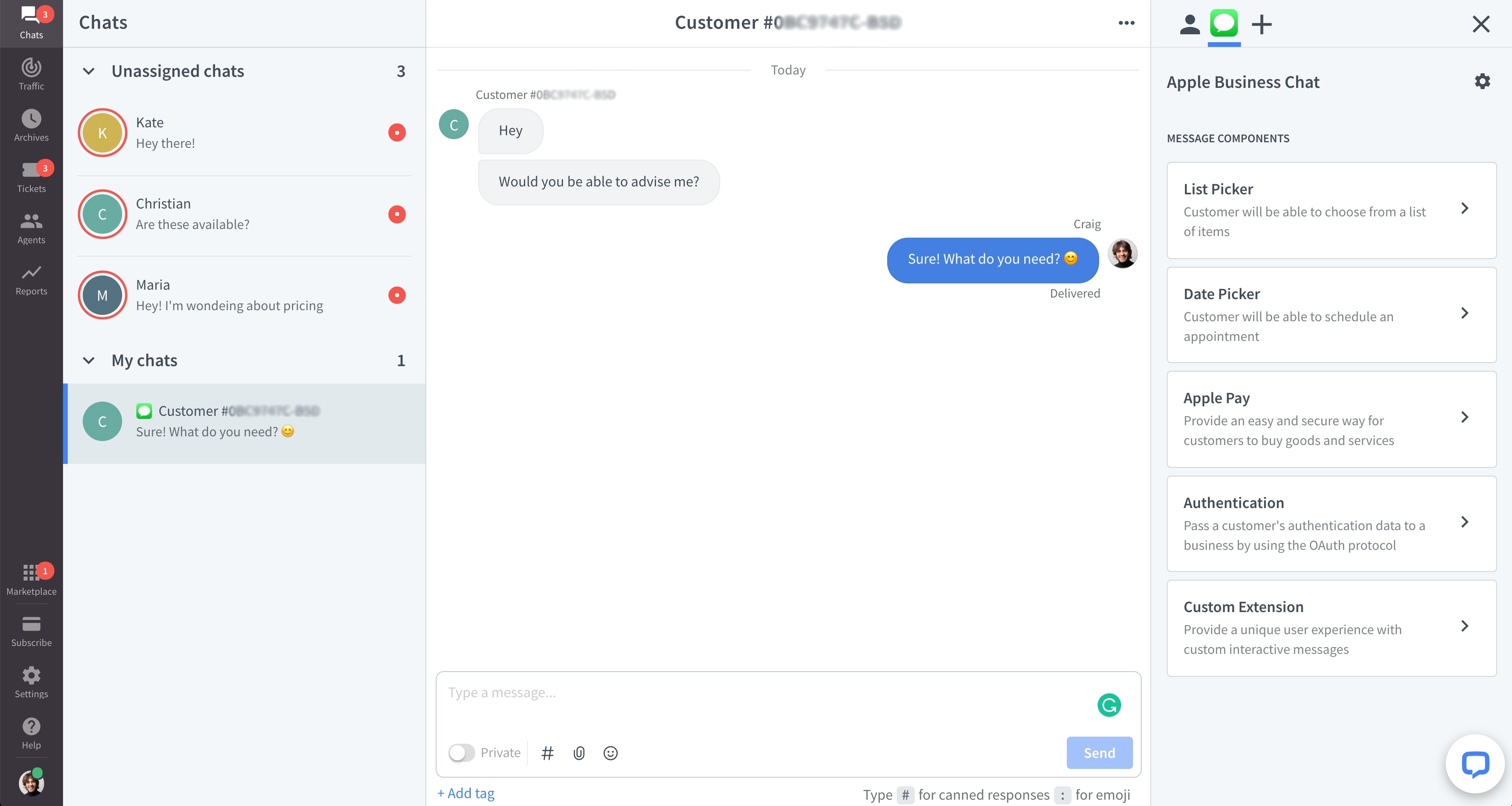 Your agents still handle all these chats in the LiveChat agent app. If you have a dedicated team for these channels, you can use the Groups feature in LiveChat to route these chats to the specific teams.
Other social media integrations are listed here.
Let LiveChat help you build your lead base
Tools like Mailchimp help you expand and engage your lead base, which in turn, will grow your reach. You can use the pre-chat in the LiveChat chat widget to let the visitors on your website sign up for your newsletter. If it's the quality of the leads rather than the quantity you're after, our integration with Mailchimp lets you set up a double opt-in. This way, the customers have to confirm that they want to join your email list.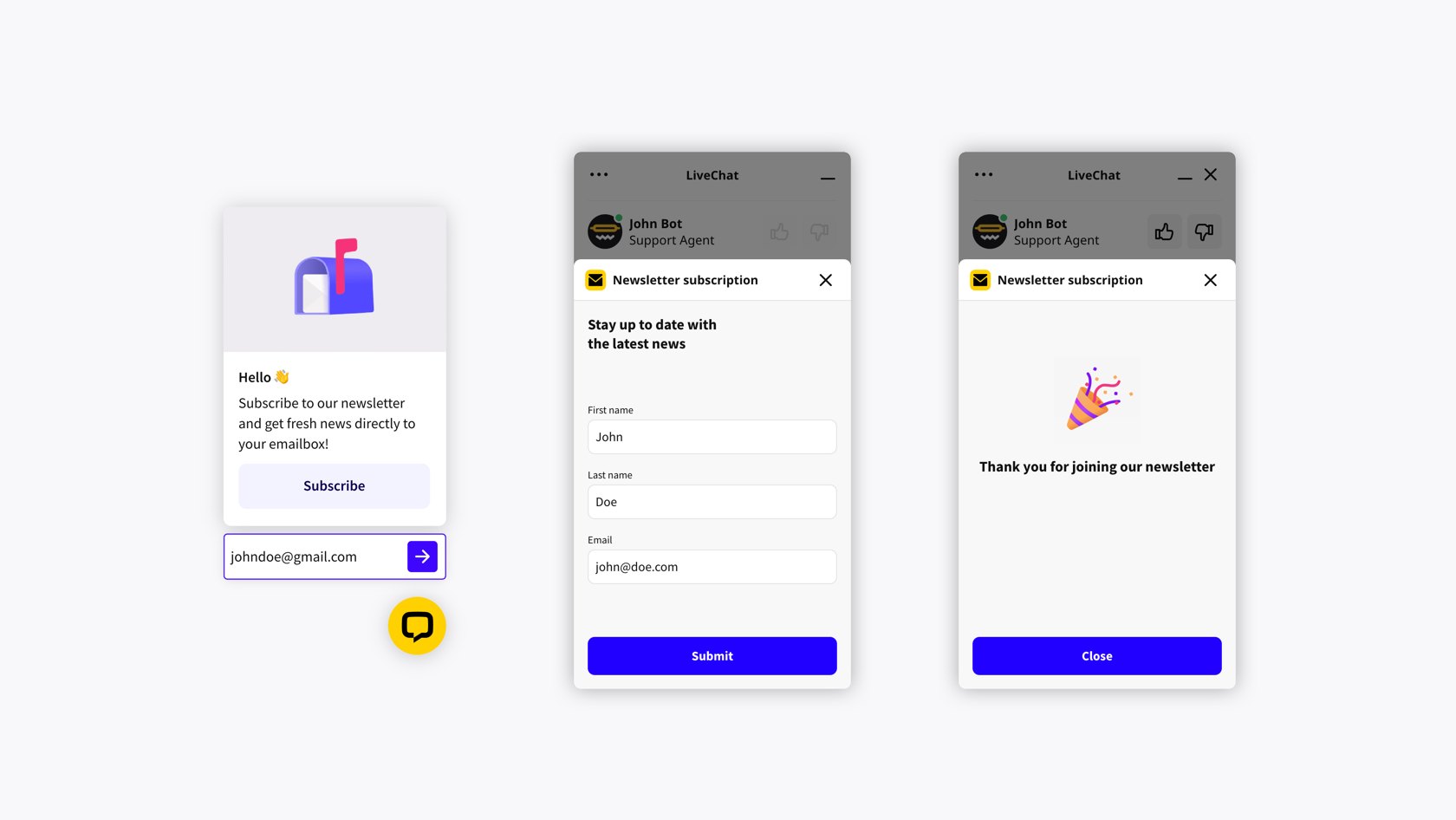 If you'd like your customers to be able to sign up for your newsletter before they even start a chat, you can use the Mailchimp Newsletters integration to send automated targeted messages with a "Subscribe" button.
See our Marketplace for more email marketing integrations.
Create leads from chat and see your customers' details in the agent app
With integrations like Salesforce or HubSpot, you can harness the power of your CRM right in the LiveChat agent app. These integrations let you see your customers' details in the LiveChat agent app so that your communication is tailored for a particular customer. They also enable you to add leads and contacts to your CRM from chats and archives, add chat transcripts to your customer information, and more.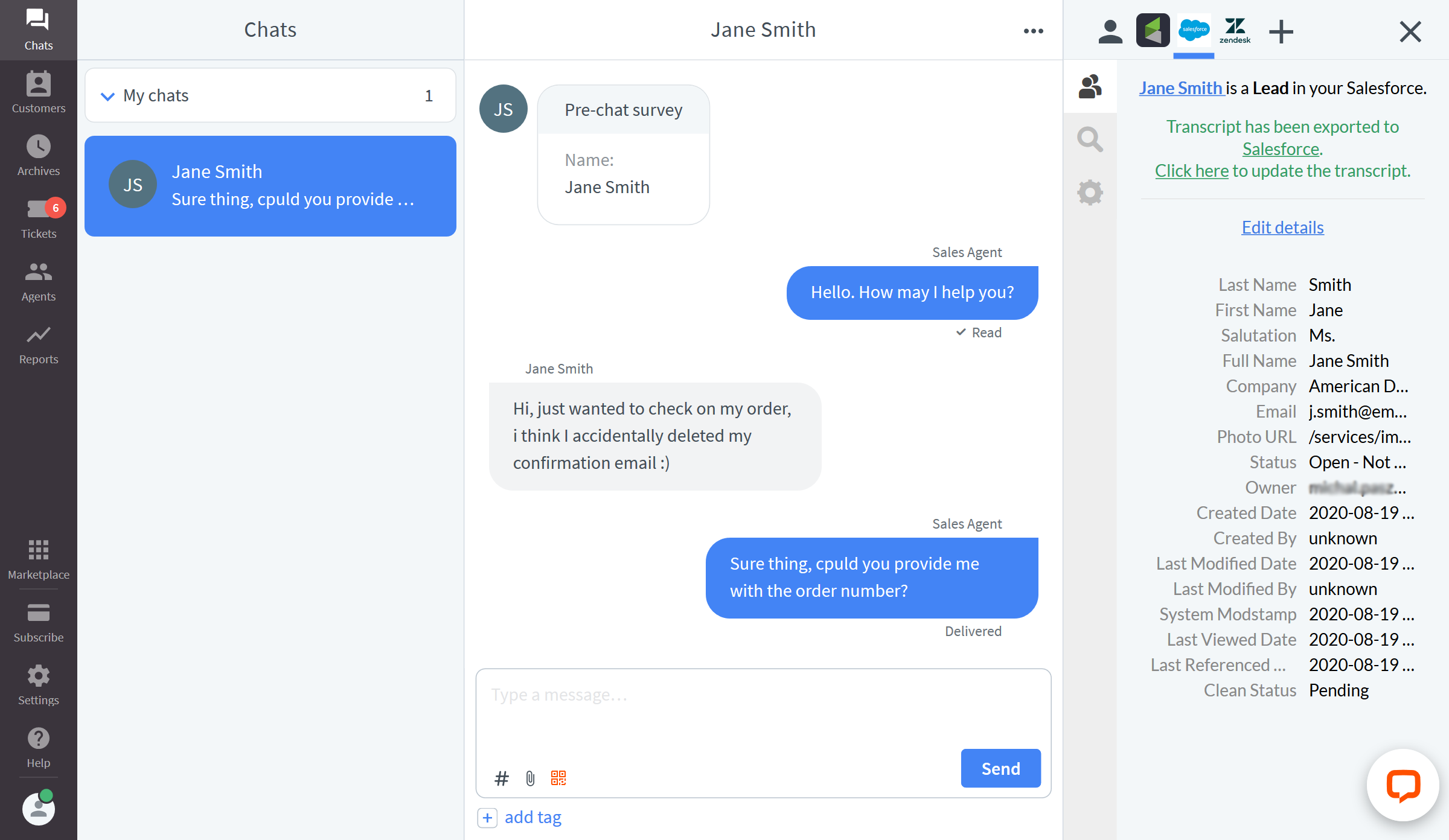 More CRM options are available in LiveChat Marketplace.
See your customer's cart and information right in the chat
Our ecommerce plugins allow you to do more than just add LiveChat to your online store with just a few clicks. They're a powerful tool in building customer relationships and growing your sales. With plugins like WooCommerce, Shopify, or BigCommerce, you can see your customer's cart right in the chat. What's more, plugins like Shopify and BigCommerce allow you to suggest other products and show you the customer's order history in customer details in the LiveChat agent app.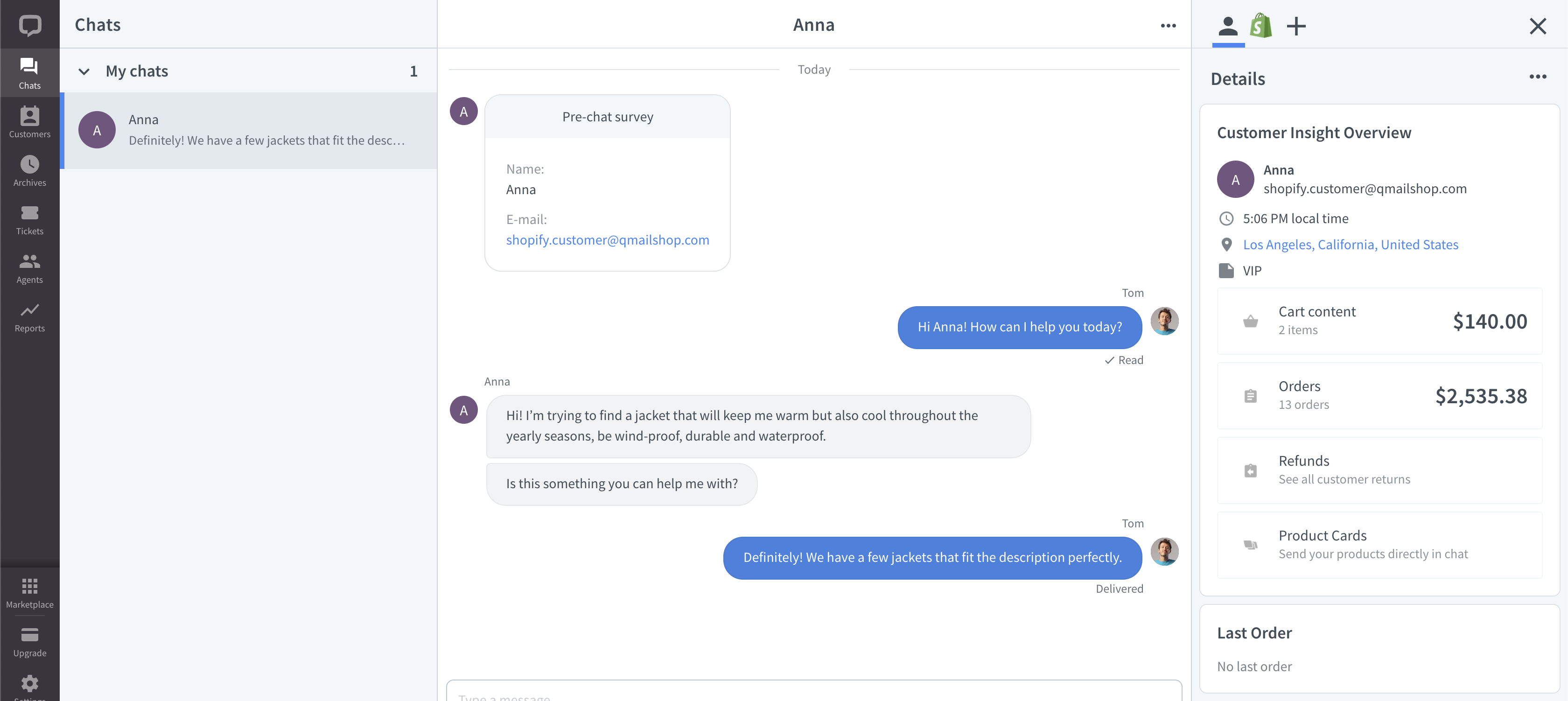 No need to switch between tabs or visit your store's admin panel. All you need to engage with your customer is right there in the LiveChat agent app when you need it. This gives you more time to focus on the sale.
Other ecommerce integrations are listed here.
Make your customer service smoother
If you're using a customer service platform like Zendesk, make sure to integrate it with LiveChat. You'll be able to create Zendesk tickets from an ongoing chat or from Archives in the LiveChat Agent app. If the customer on chat provides an email that has already been used to create a ticket in Zendesk, the ticket history will automatically be displayed in LiveChat. On top of that, you can forward offline messages in LiveChat as tickets to Zendesk.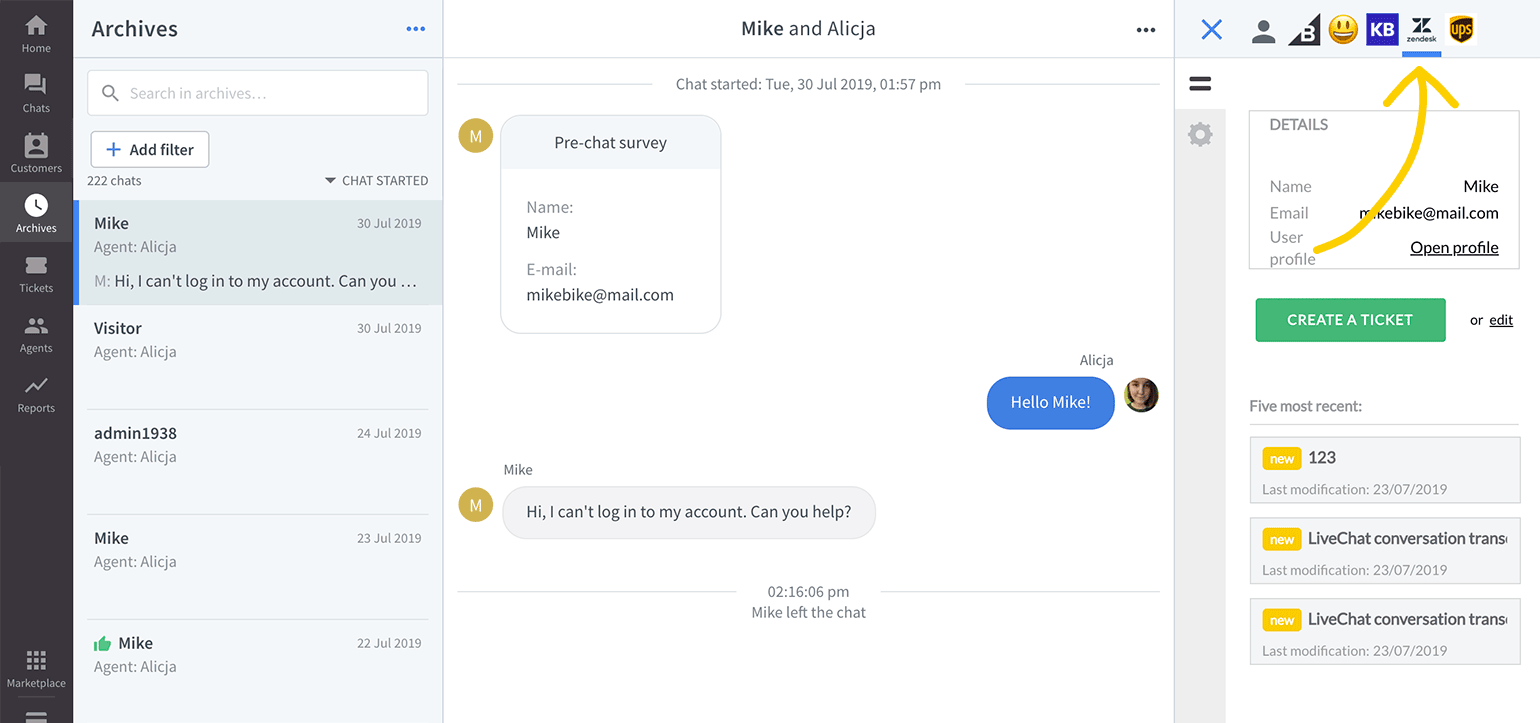 More help desk integrations can be found here.
Make your team's job easier
Our Marketplace offers an array of solutions to make your agents work smarter, not harder. If you often need to share files with your customers, why not use the Dropbox integration and share links to files right in the chat. When you install it, you'll be able to send links to your Dropbox files straight from the LiveChat agent app, which will save some time.
If you use chat to schedule meetings and appointments, use the Calendly integration to let customers set a date right in the chat widget. This will also save some of your agents' time by eliminating the back and forth involved in finding a suitable date and time.
Enhance the chatting experience for your customers
The LiveChat agent app supports emojis, but you can go even further by reflecting your company's tone of voice in your chats with your customers. If your voice is informal and playful, definitely try the Tenor GIF Keyboard integration and find the right GIF to reflect exactly what you want to express.
Our top picks
Our Marketplace Team has selected their favorites among the paid integrations.
Automate
Whether your business is a one-man army just starting out or you have an army of agents looking after your customers online, you'll do well to automate. Our ChatBot can provide interactive support to your customers when you can't be online. It'll also answer all of those frequently asked questions your agents sometimes get bored answering. This will give your agents more time to spend on more complicated cases and, in effect, allow you to provide more personal customer support.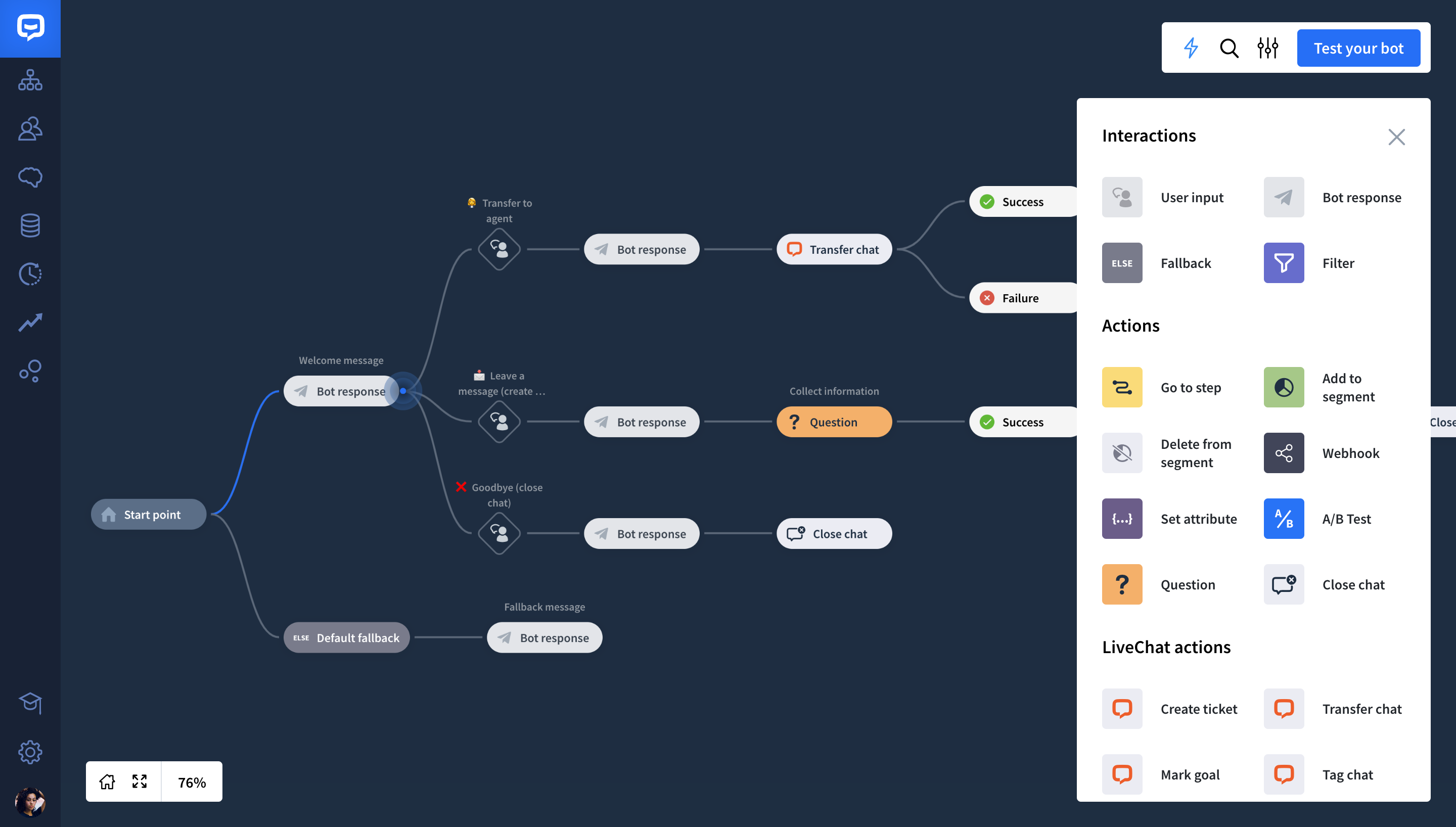 No coding skills are required to create a ChatBot that will engage your customer with a mix of text messages, images, buttons, and quick replies that show off your brand, products, and services. ChatBot can take 1,000 chats at a time, so your customers never need to queue again. It can also easily transfer your customer to a live agent or create a ticket in LiveChat if needed. It's our in-house product, so you know that it will integrate smoothly, and you'll also get our famous 24/7 support.
Enhance your customer support
Tickets section mentioned in this article is a part of the old LiveChat ticketing system available to new customers until 05.30.2023.
Tickets section mentioned in this article is a part of the old LiveChat ticketing system available to new customers until 05.30.2023.
You know that when your agents aren't online, you can let your customers leave an offline message that your agents can handle in the Tickets section of the LiveChat agent app. However, if your team needs a more advanced solution, our HelpDesk is what you need. HelpDesk is embedded inside the LiveChat Agent App, making it easy to handle chats, emails, and ticket form messages in one app. You can find out more about the differences between HelpDesk and LiveChat's built-in ticketing system. Take a look here.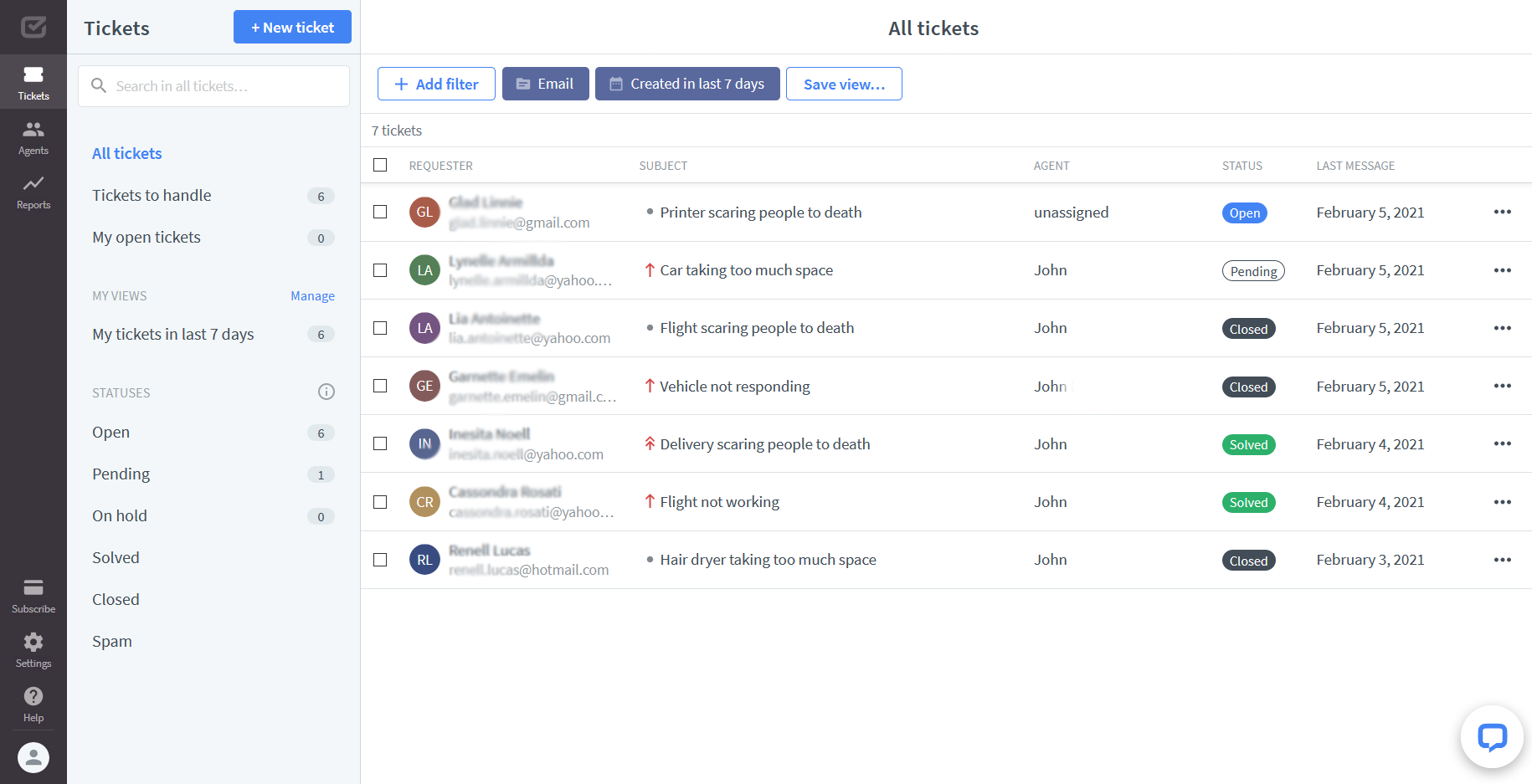 Another way that you can support your customers even better and make your agents' lives easier is our KnowledgeBase integration. Like Chatbot and HelpDesk, it is our in-house solution made by LiveChat. It's a tool for managing and sharing your team's internal knowledge and building a public help center for your customers.
Engage with more channels
We'll be praising the benefits of text chat until the cows come home, but we all know that there are situations where a voice call is what's needed. Whatever the case, it's always good to keep your options open. That's why we are cooperating with SnapCall to provide you with an option to offer voice calls right in the chat without switching tabs. There's no need for phone numbers and no additional cost per call for you or your customers.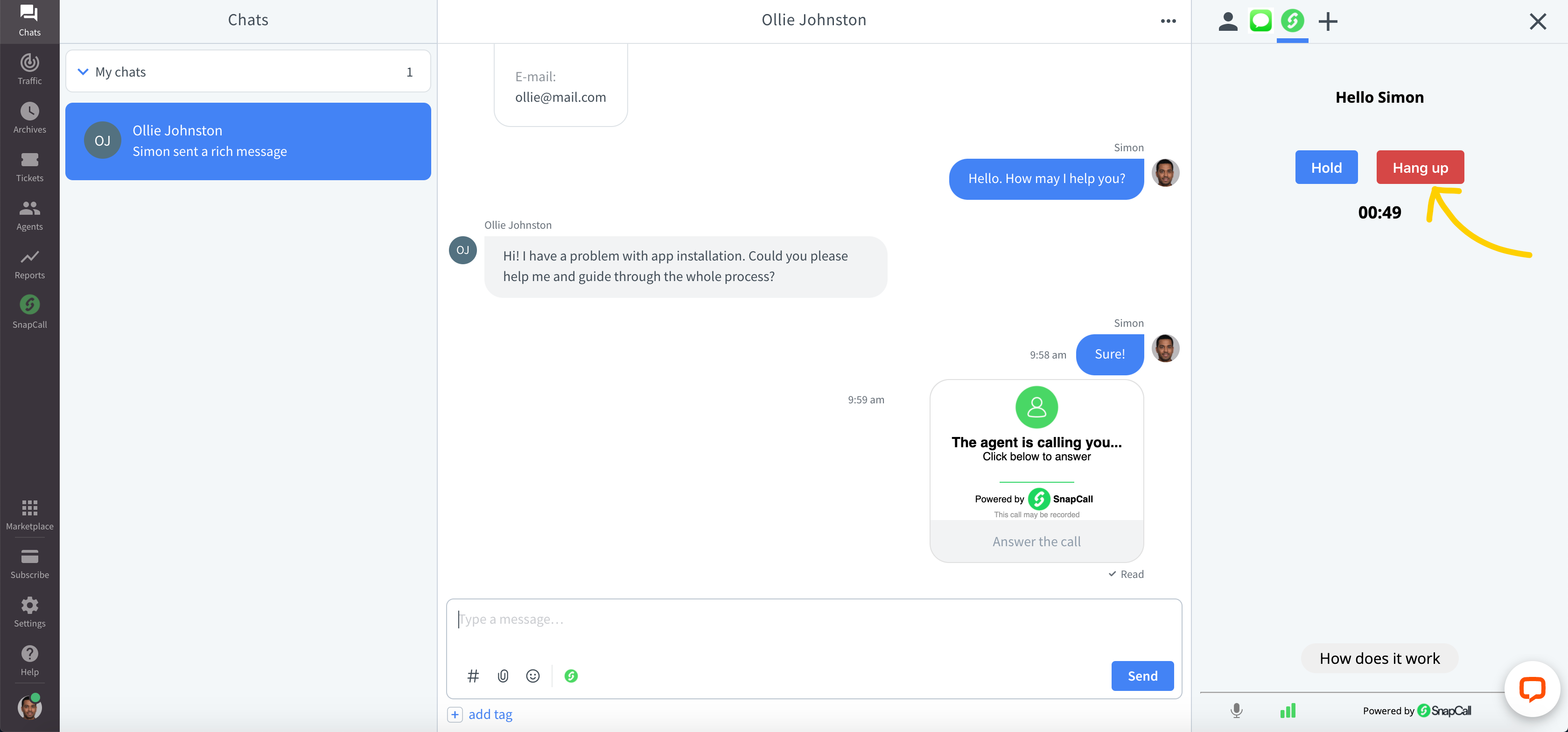 The chat widget on your website is a must-have in this day and age, but we want to help you reach your customers where it's convenient for them. Once you do, it'll be easier to adapt your customer support to the current situation.
With the 2way SMS or OAPPS for WhatsApp integrations, you let your customers contact you from where they are, on the device of their choosing, and at a time that they find convenient. Also, you can send messages back to them that will be delivered as text messages or WhatsApp messages depending on how they contacted you.
Keep your finger on the pulse
If you're using Google Analytics to track your website traffic, install our Google Analytics integration to store data from LiveChat in your Google Analytics account. You can track the number of chats, post-chat surveys that were displayed, targeted messages, and even the number of clicks on buttons in targeted messages. Learn more about your customers' browsing habits and measure LiveChat conversion to have a detailed insight into how much you can earn with LiveChat.

If your workflow includes supervising your team or if you're responsible for onboarding new team members, Super Vision is the tool for you. It lets you observe up to eight ongoing chats on one screen. If your agents need help, you can "whisper" to them, i.e., send messages in chat that are visible only to the agent. This way, you can make sure that your customer service is consistent throughout your team.
Engage your customers
One way to engage your customers is with the people skills of your agents, and another is by using chat that goes beyond text. The Rich Messages integration enables you to send images, clickable buttons, and quick replies, making your customer communication more personalized, engaging, and intuitive than just plain text.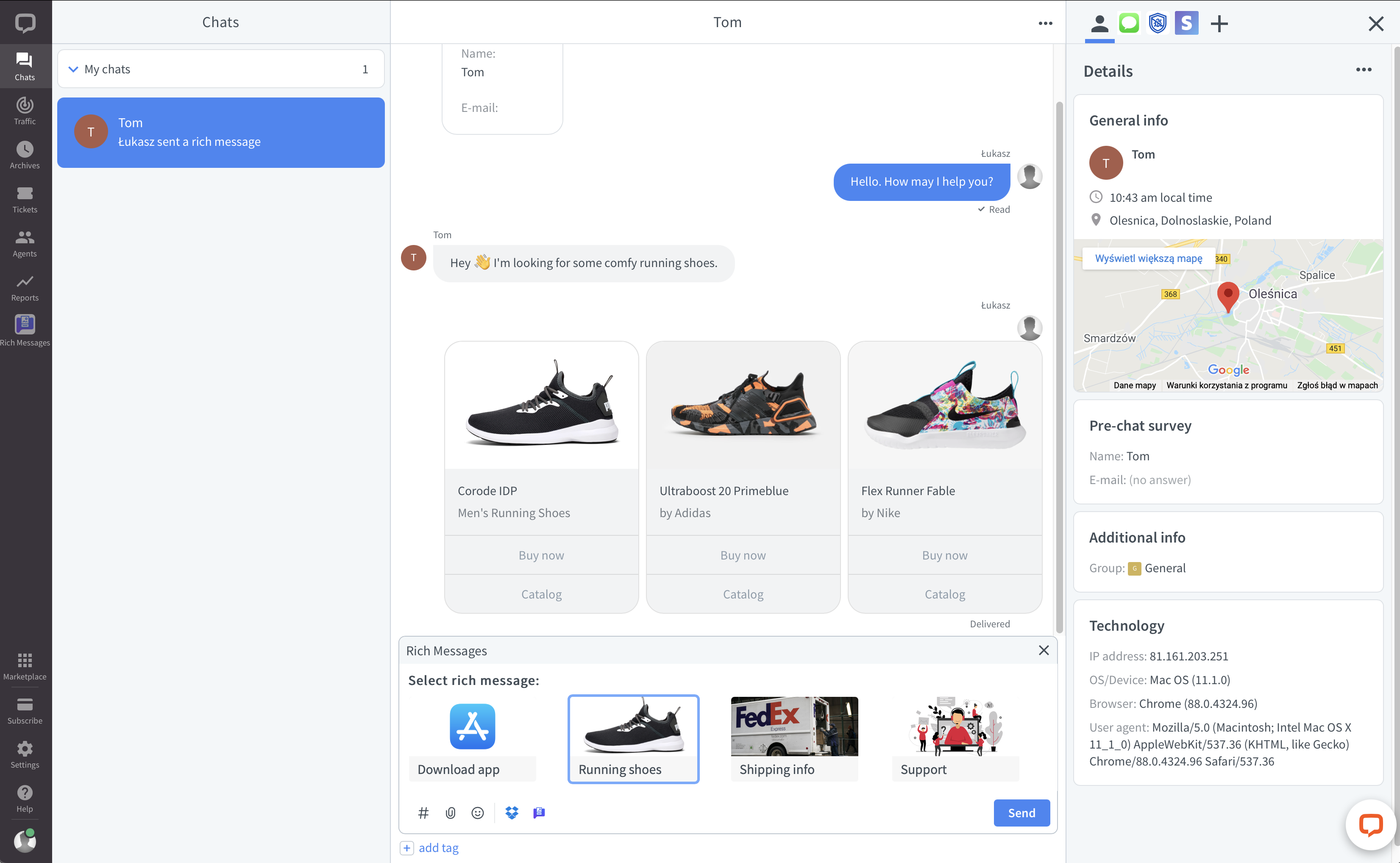 There is no engagement without listening. With the Surveys integration, you can ask your customers for opinions, input, and feedback about the things that matter to them and to you. With Surveys, you can create your own custom surveys, send them to the customers directly in the chat widget, and review the results in the LiveChat agent app.
Make life easier for your agents
Our Marketplace offers an array of apps and plugins to make the day-to-day work of your agents easier. Among these, we recommend Chat Translator, My Bookmarks, and Quick Notes.
If your team helps multilingual audiences in their work, you should definitely check out Chat Translator. Once it is installed, your agents access it in the LiveChat agent app without switching to another tab and have the chat translated in real time. Chat Translator supports over 100+ languages, enabling you to serve customers all over the world.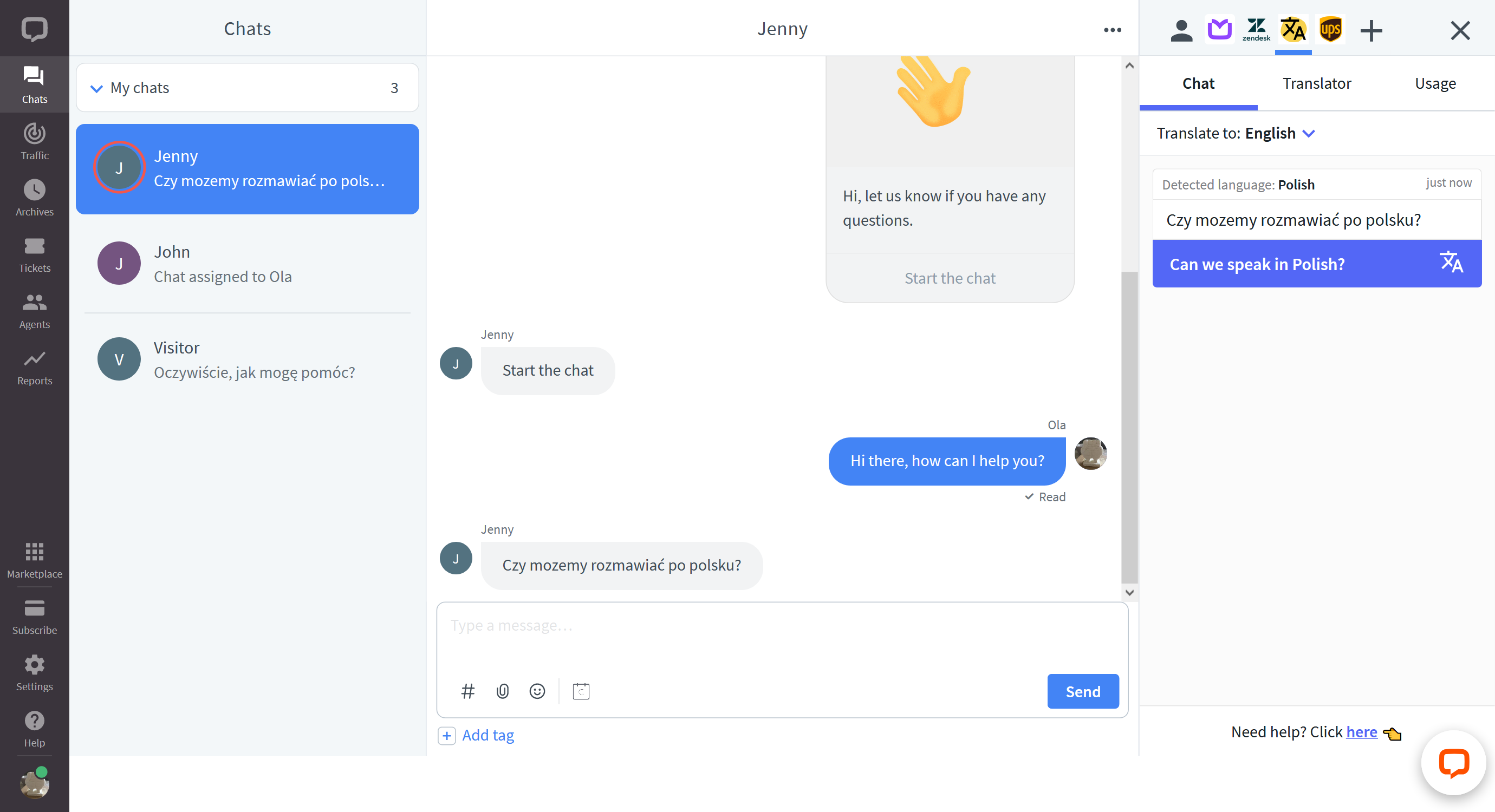 If you find yourself repeatedly visiting the same pages in the course of your work with customers, My Bookmarks is the app for you. It gives you and your team quick and convenient access to frequently visited pages, right from the chat. This saves you and your agents' time and effort and helps ensure your whole team provides the same level of service and information to customers.
While we are on the subject of creating consistency for your customers and your team, Quick Notes is a tool that will help with that. With Quick Notes, agents can save private notes inside chat threads. Notes are saved in the Chats and Archives sections. This way, when a customer starts a chat with your agent, the agent can see the history of your communication with this customer. They can also see additional notes other agents made about this customer and the communication that took place.
Get paid
You have built relationships with customers, you have shown your product or service to be the best, and now, the last thing you want is for the payment process to be bumpy. That's why you need an integration with Stripe. It allows you to check your customers' payment details and process payments right in the chat. With Stripe, your agents don't have to leave LiveChat to check subscription details, and your customers can also make quick and safe payments without leaving the chat.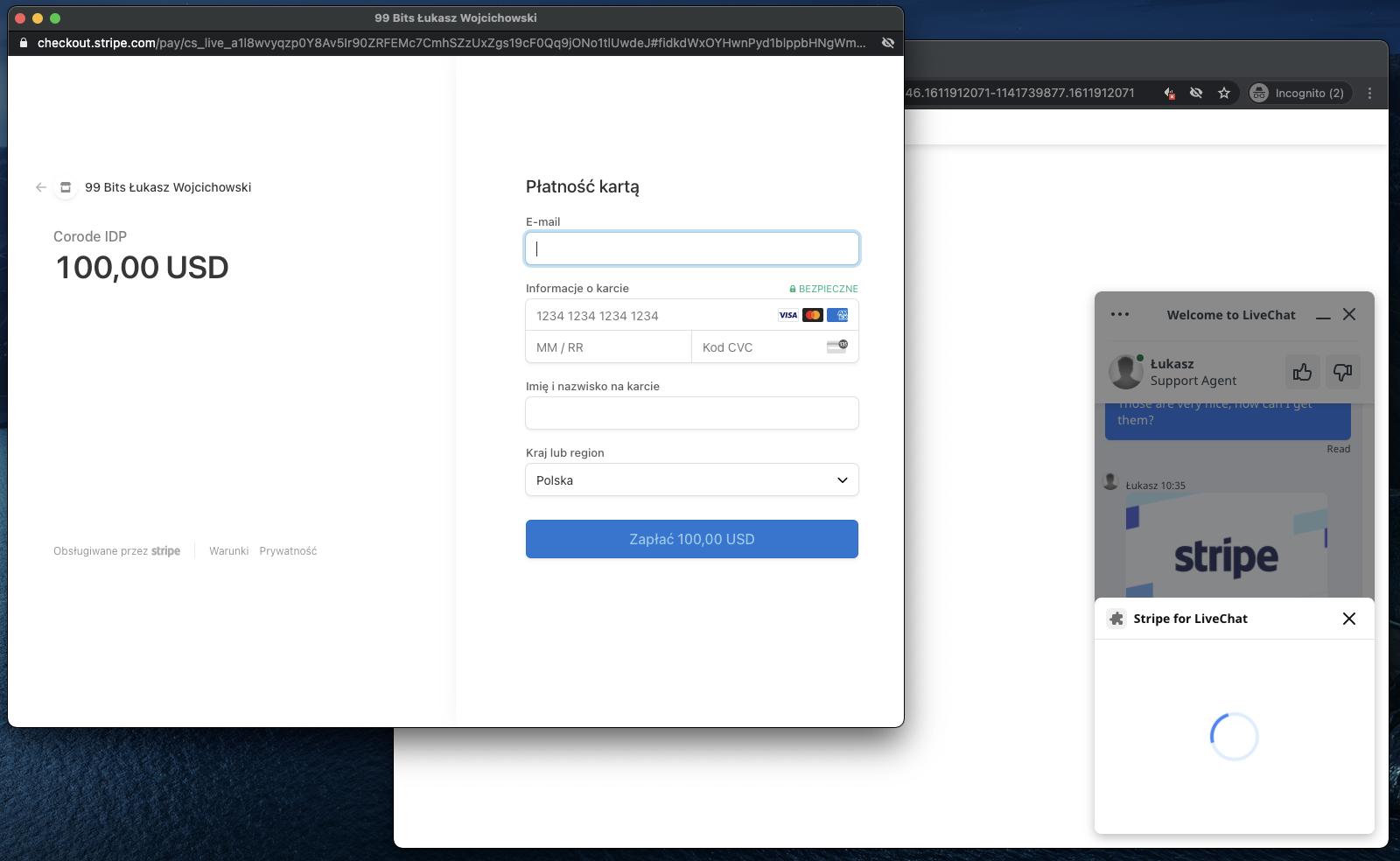 The uses presented above are just a few examples of the many ways LiveChat can be customized to match your workflow. Make sure to check out our Marketplace for all your integration needs. And if you have any questions, don't hesitate to start a chat with our Support Team, we are here 24/7.