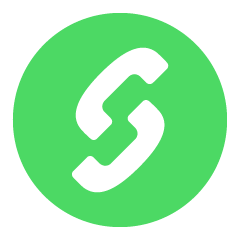 SnapCall
Unlimited voice and video calls right inside the chat.

SnapCall is the first call solution for LiveChat, enabling a fully digital omnichannel experience inside the chat to accelerate online sales and deliver an extraordinary customer experience.
Take advantage of the special paid trial offer : We're running a one-time deal to get you access to unlimited voice/video calls and screen sharing until July 31, 2021*. Normally reserved for LiveChat customers on the Enterprise plan, we're "making the call" to help you begin summer by testing a new channel of acquisition. Book a consultation with us to speak about the offer and start transforming your customer experience today ! *After this time, SnapCall video calls and screen sharing will only be available to those on certain LiveChat plan tiers. SnapCall voice will be available on all plan tiers for $20/month per agent.
The integration allows your team to effortlessly start a voice or a video call with the customer and share their screen right inside the chat widget, without the customer needing to relocate to a different page or explain their situation to another agent all over again.
Calls are fully digital, no phone number or any additional equipment is required. No need to install anything. Calls are free for customers worldwide.
While using SnapCall, your team has full control of who and when is provided with the possibility to get on an audio or video call and enable screen sharing. You'd like to help your customer go through a more complicated setup by sharing your screen? Jumping on a video call would allow you to show the actual product and sign a deal faster? You decide in which situations SnapCall can help you and enhance the experience for the customer.
Key Features
Effortless integration
Just a click to start offering voice and video calls directly from the chat widget. Nothing to install for your team and customers.
Easily switch from chat to call
Offer your team to call customers directly inside the chat conversation with just one click. Nothing to set up, no additional equipment required. Calls can help you solve complex queries faster, boost sales and create stronger relationships with your customers.
Fully digital and free
Launching a call from the chat widget is completely digital. This means you don't need a phone number or any additional equipment to offer voice and video interactions to your customers. Calls are completely free of charge for the customer, anywhere in the world.
Ensure continuity in the customer journey
SnapCall makes it effortless to switch to a call with the same customer you are currently chatting with. This allows both customers and your team to save time and enhance efficiency. If you get disconnected, it's easy to get back on a call with just one click.
Full power in your hands
Your team decides who and when is granted the opportunity to get on an audio or video call and enable screen sharing. It's easy to offer to your most valuable customers only.
Get immediate customer feedback
SnapCall offers a convenient way to get valuable feedback. Customers can rate the call right after they finish the conversation with an agent, so your team has an insight into their performance.
Statistics dashboard
Easily track and analyze the most valuable data on how your team is using SnapCall (location, start time, call duration, agent activity KPIs).
Provide exceptional support directly from the chat widget
Provide the customer support experience of tomorrow – effortless and fully digital. Switch to voice or video call in cases where a live conversation could improve resolution time and boost customer satisfaction.
Improve sales conversion rate with voice
Bridge the gap between your physical and online store by switching to video calls in situations where live interaction could positively impact the deal or help create a relationship that would motivate the customer to buy again.
Benefits
For your company
Accelerated growth and reduced cost
Improved sales conversion rates and customer satisfaction
No telecom costs, zero maintenance expense
For your customers
Exceptional customer experience
Most queries solved right away by the same agent, all within LiveChat
Free calls anywhere in the world
For your team
Enhanced productivity
It's easier to provide a great customer experience & achieve KPIs
Improved employee satisfaction
Tutorial & Support
Contact
to get help and support. You can also suggest improvements or request new features in the upcoming versions of SnapCall.