Showing top

0

results

0

results found
Showing top

0

results

0

results found
LiveChat for Managers: Features You Simply Can't Miss
5 min read
Jul 29, 2019
Many awesome products we use have plenty of features which sometimes we don't realize. Just recently I found out that if we mistype a digit in an iPhone calculator, there's no need to cancel with "C" or "AC" and start all over again. Swiping left or right at the top of the screen removes the last number we entered.
I'm sure you also have those Eureka moments with different products you use. Curious if that's the case with LiveChat? Let's dive into the features you simply can't miss out on as a Manager. They will help you and your agents provide better support and sell more products. Once agents get familiar with these features, their experience will change for the better. Without them, it's like they haven't explored the basic magic of the tool.
Tag breakdown to categorize your chats
Let's start with tagging. Tags are often used on every social media channel and they help us find topics that interest us. In LiveChat, agents can also use tags for each chat or ticket they have. Tags should be the words that identify the topic of conversation best. Watch a short video to see how to use them:
https://www.youtube.com/watch?v=LygkGYj1vqY
Tags can be used as filters that show you only specific cases. For example, if agents used tags such as #bug or #complaint, they can later filter cases by those tags and identify weak points within your product. Having that kind of feedback allows you to work on improvements.
Our Head of Support, Grzesiek, shared with me an interesting tag example our agents use.
They use a tag called: "#s_cancel_rescue" when they "rescue" a customer who wanted to resign from our product but eventually decided to stay.
It happens when, for example, a customer wasn't aware of a specific feature, naming it the main reason for leaving LiveChat, but thanks to the conversation with our agent, they discovered this feature, learned how to use it and decides to stay with us. Our agents tag that kind of cases #s_cancel_rescue, which later allows them to filter all conversations by this tag and have an overall view of the main reasons customers wanted to leave.
Summary: Start tagging your chats according to the topic they apply to. You can later filter chats by the cases and gain information about your product.
Canned responses to provide faster replies to customers
Canned responses are pre-made answers to the most popular questions customers ask you on a chat. They shorten response time and minimize repetitive typing. Canned responses are created once, and they can be reused whenever you need. It's another feature that changes the basic use of LiveChat and makes it more smooth.
It's also a great help–feature for rookies in your company. They probably don't know all the answers, so having those ready-to-use answers save them a lot of stress (and time).
Here's a short video that explains how to create canned responses.
https://www.youtube.com/watch?v=8bZ2pqv0EaE
How to decide on the first set of canned responses? Your agents know best which questions appear the most, so you should decide on canned responses with the whole team.
With time, once they're familiar with this possibility, agents can create as many canned responses as they want on their own.
It's all to improve their performance and customer satisfaction at the same time.
Summary: Talk with your team about the most repeatable customers' questions. Create the first set of canned responses together. #easypeasy
Greetings on chat to initiate conversations with customers
Greetings are the messages that pop up in your chat, encouraging visitors to talk to you. It's an online version of approaching a customer in a store and asking if they need any help. Almost every store does that, so why not do it online - to show people you're there, ready to talk? Greetings can be set up on different webpages with personalized messages.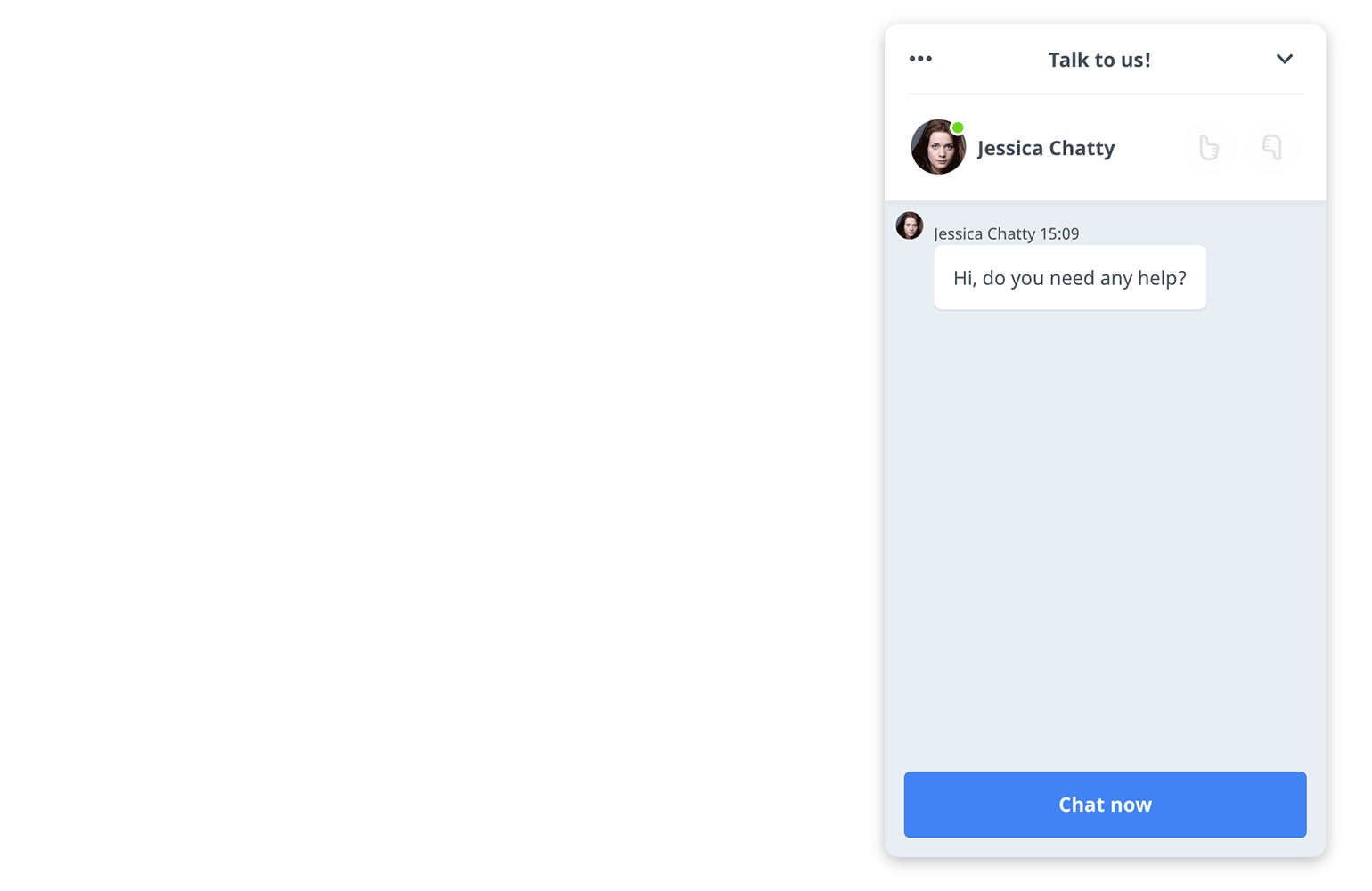 Here are popular examples:
Ecommerce Website that offers jewelry

"Hi, are you happy browsing, or do you need some assistance?"
Web Hosting Website where you can create a blog

"I see you're interested in creating a blog. I would love to help you get started. Do you have any questions?
Travel Website where you can buy a trip

"Hi, I see you're looking at a trip to Mexico. Let me know if you have any questions while planning it."

You should know that the top 10 greetings sent by US companies are responsible for generating 10% of all the US chats. The more personalized greeting, the better. Also, half of the top 10 greetings display from 45 to 100 sec after a customer enters the website. Keep that in mind.
Here's a handy tip for setting up the first greeting:
Check how long customers spend on your website on average (you can use Google Analytics). Then set up a greeting using the time on the page condition, around 20 sec before they tend to leave. See how it works and create more greetings with time.
Check out a detailed guide on why and how to set up greetings.
Summary: Greetings pop up in your chat and encourage visitors to talk to you. The more personalized the message, the better.
Features that make chatting easier? Checked!
I described three basic LiveChat's features you shouldn't miss. Starting the customer service strategy with them will make everything easier along the way. The work of customer service agents, the level of customer satisfaction, measuring metrics in the Reports, setting up goals, and improving your product.
Consider talking to your agents about it, you may be surprised when they will have that Eureka moment. That's it for now. Soon, we'll talk about LiveChat sales tools to help your business grow.