Reports are useful both when you are just starting your journey with LiveChat and want to set up your account. And any time after the initial set-up, as they give you an overview of how LiveChat and your agents are performing.
Reports available on the Team, Business, and Enterprise plans
Reporting is available on the plan 'Team' and higher. If you are on the Starter plan and want to check out the reports before upgrading, start a chat with us.
Last 7 days report
Gives you a general idea of what is going on your license, showing metrics like the number of chats, sales, or ticket and chat satisfaction. Perfect for quick checks to see if everything is the way it should be.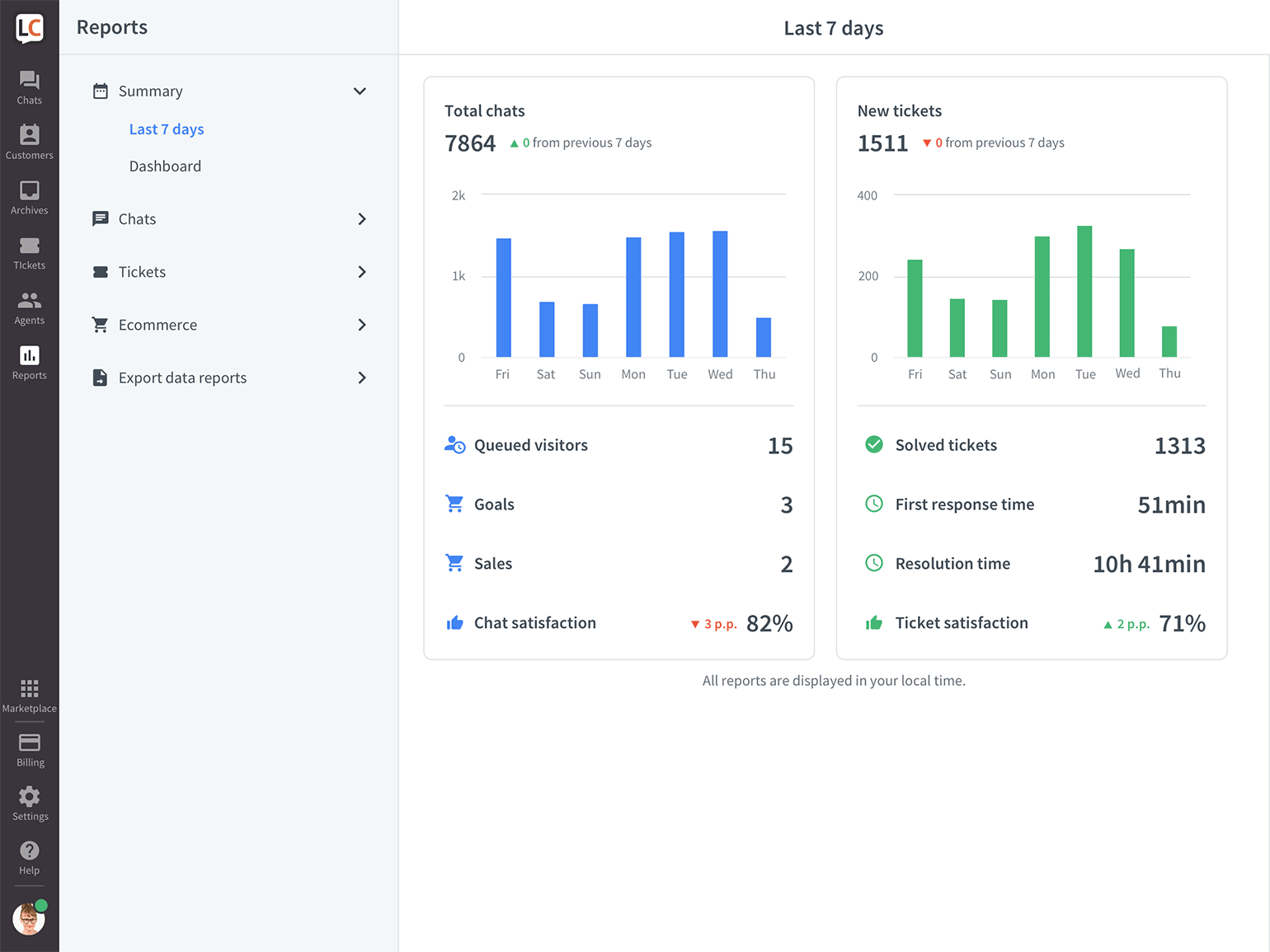 Total chats report
View how many chats are coming your way on a particular day and at a particular time. It's handy to see if your efforts to increase/decrease the number of chats are working and to estimate how many agents you need on a specific shift.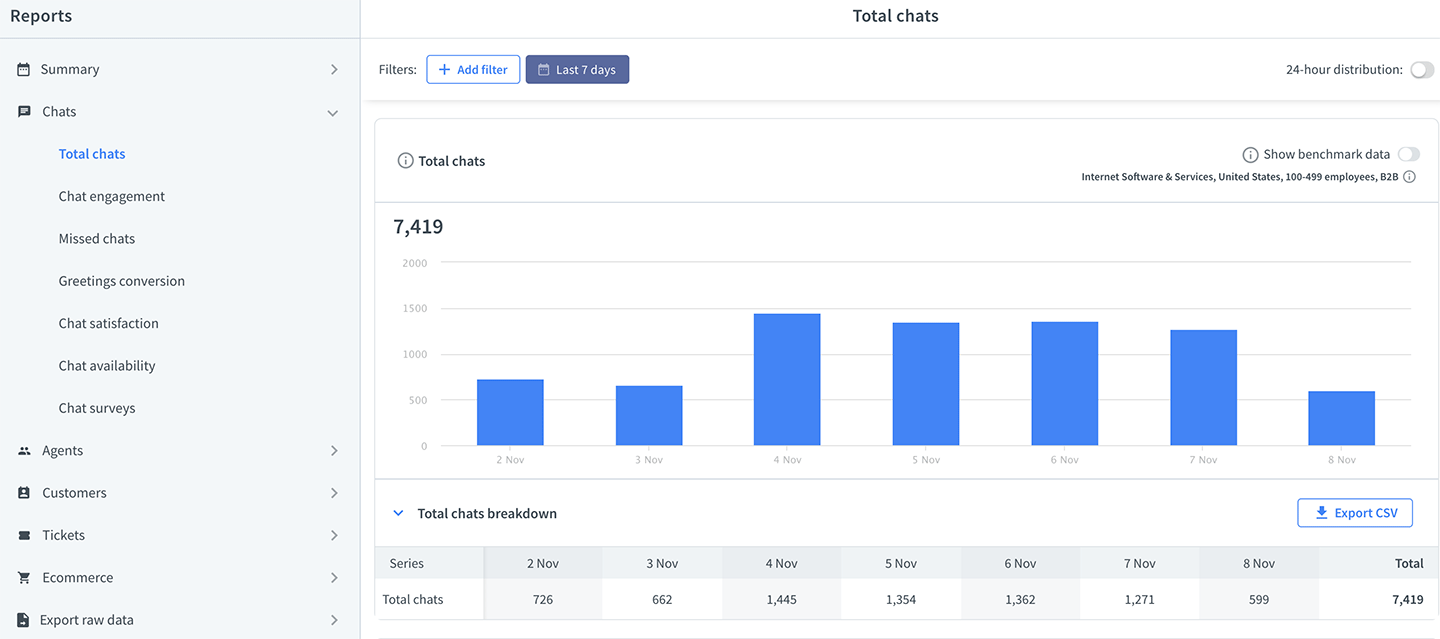 Chat engagement report
Check where your chats are coming from. Depending on your team's process, you might want to track the number of chats started from 'greetings.' The higher, the better as it means your agents can talk to your targeted audience.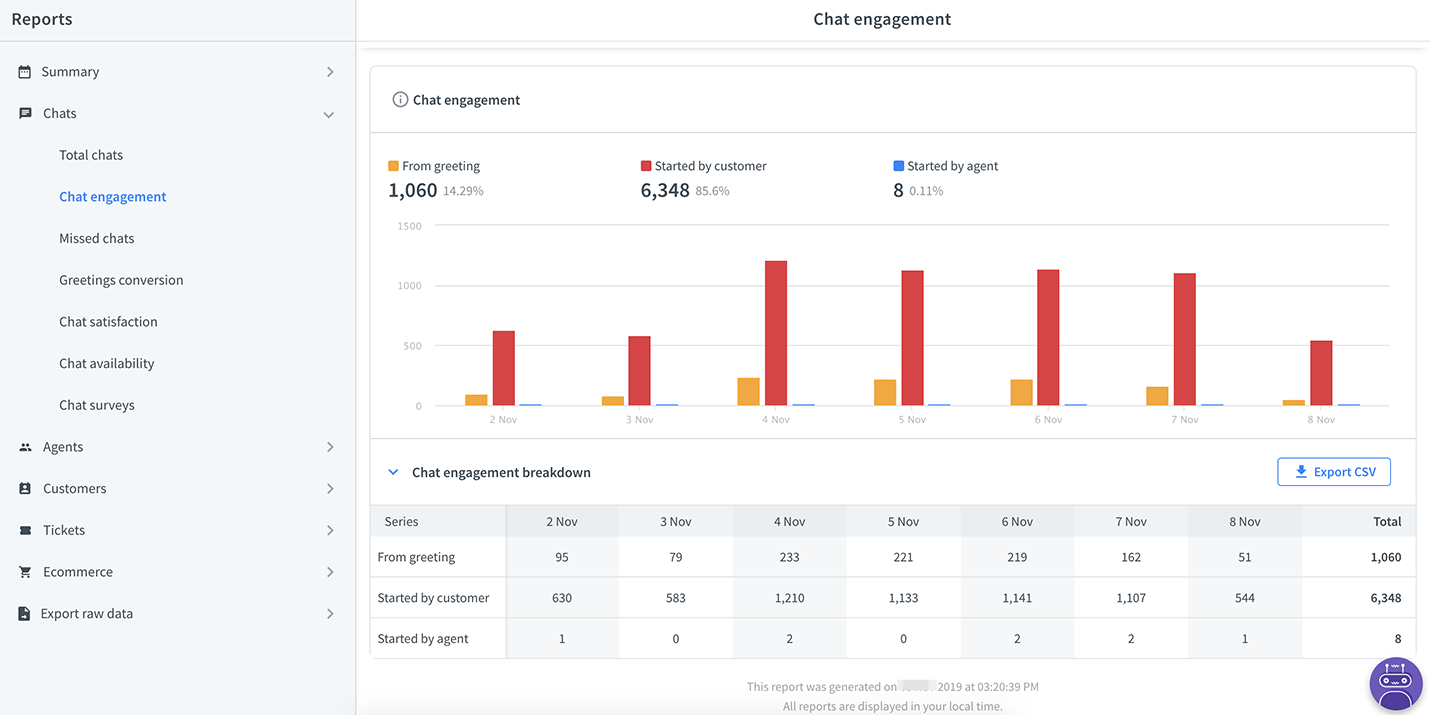 Greetings conversion report
Using greetings is the most effective way to get more chats. Apply filters to see how specific greetings are performing. Do tests to see if changing the greeting's copy or trigger helps with the conversion rates.

Tags usage report
If you use tags to segment the types of queries your team handles, this report will show which topics are the most common, or which teams are the busiest.
To see chats with a specific tag in Archives, choose the tag from the table and click on the chart.
Chat satisfaction report
View how customers rate your agents. Use the agent rankings to find the top performers and let them teach less experienced teammates.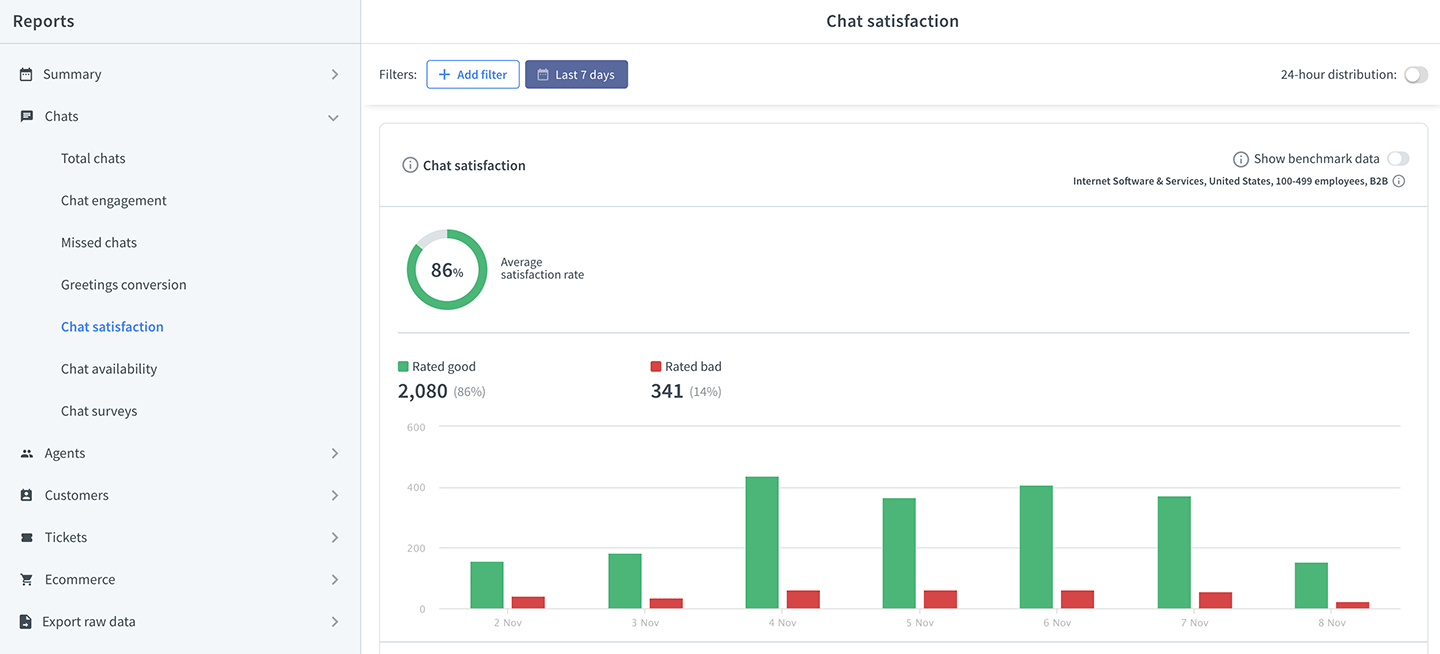 Chat availability report
Check for how long live chat is online on your page. The longer you are available to your customers, the more opportunities you have to make sales.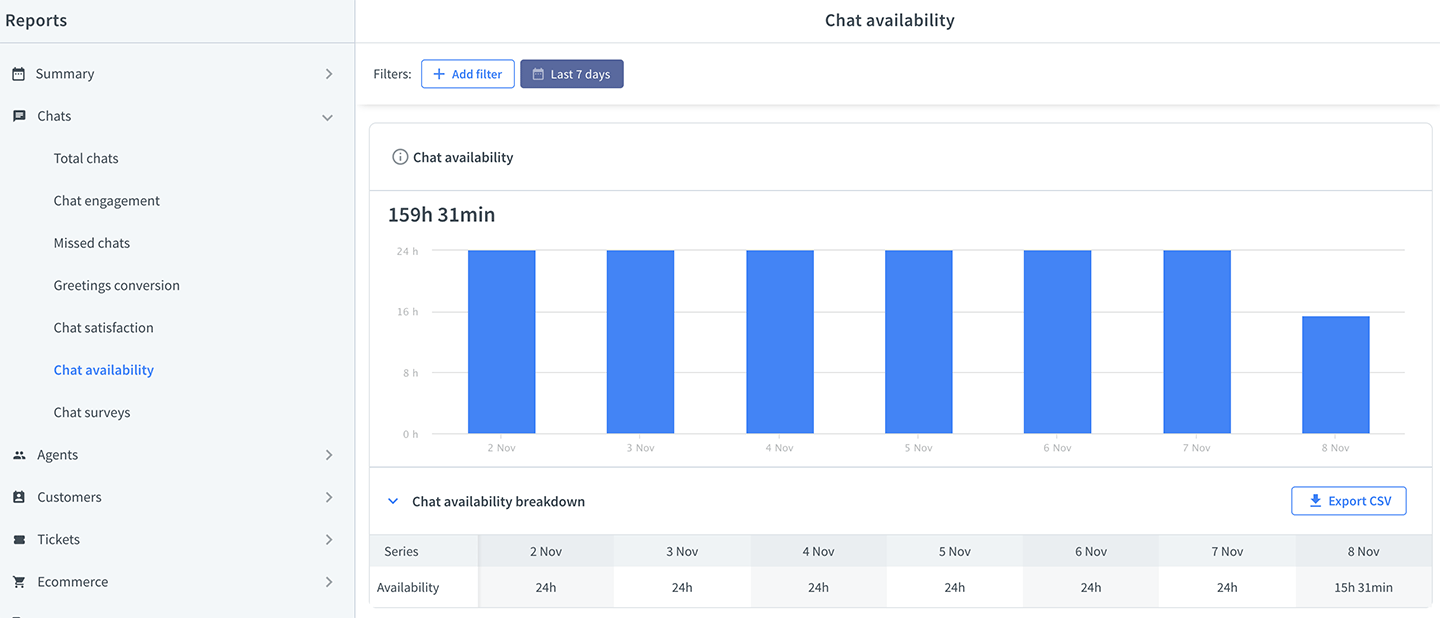 Queued customers report
See how many customers waited in the queue and how many left before getting connected to an agent. Check the average waiting time before entering a chat, and how long it takes for your customers to get impatient and leave the queue.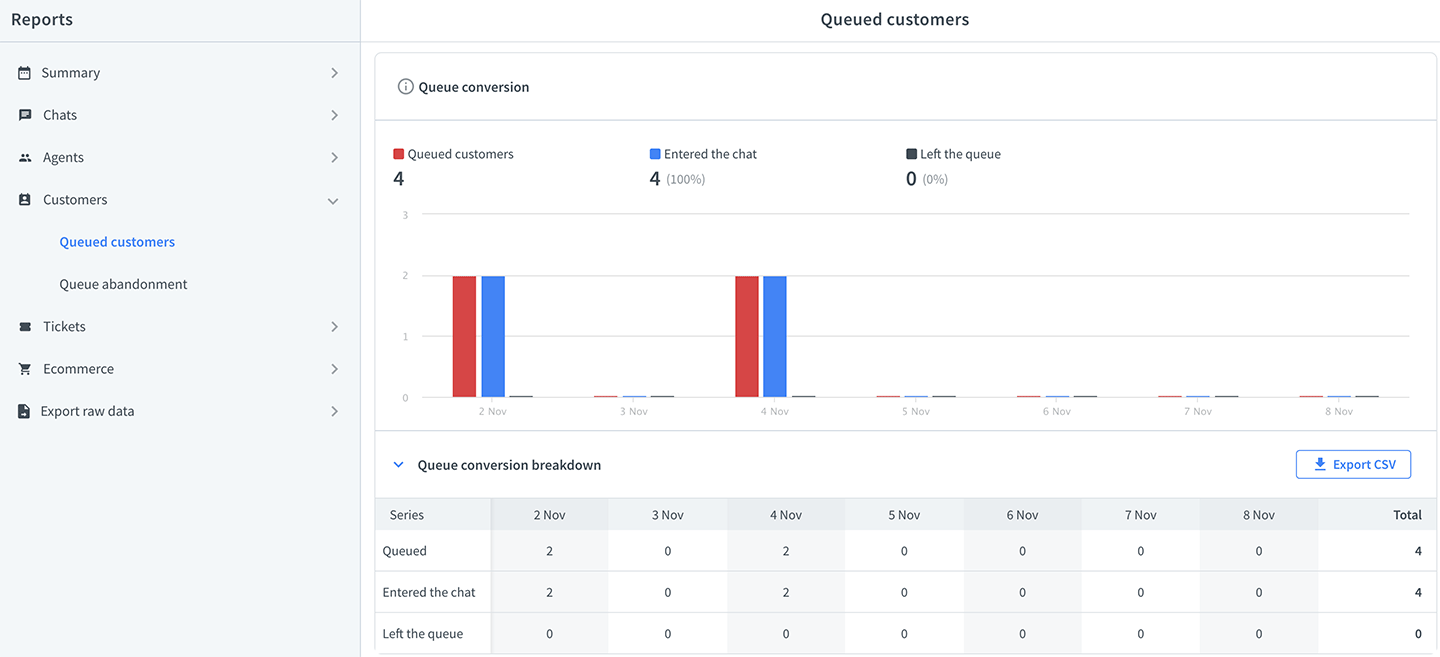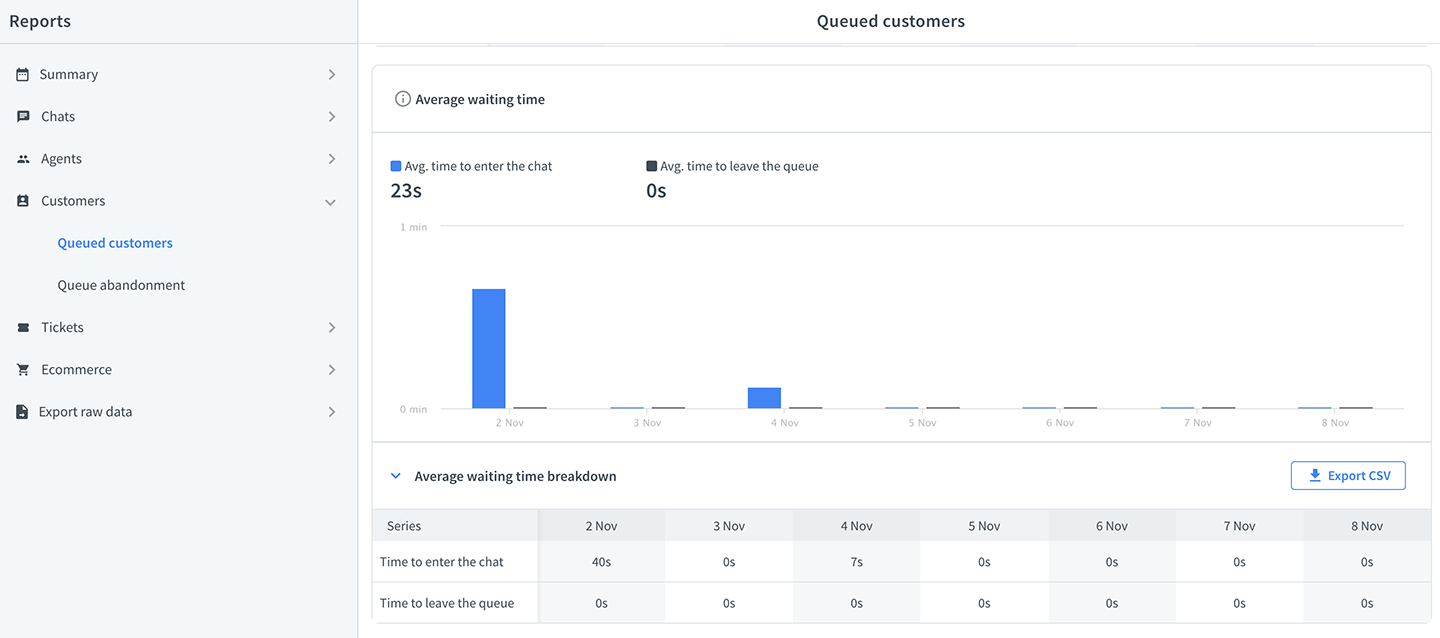 Queue abandonment report
Check the list of visitors who left the queue before talking to an agent. You can follow up on them and catch potential customers that slipped through the cracks.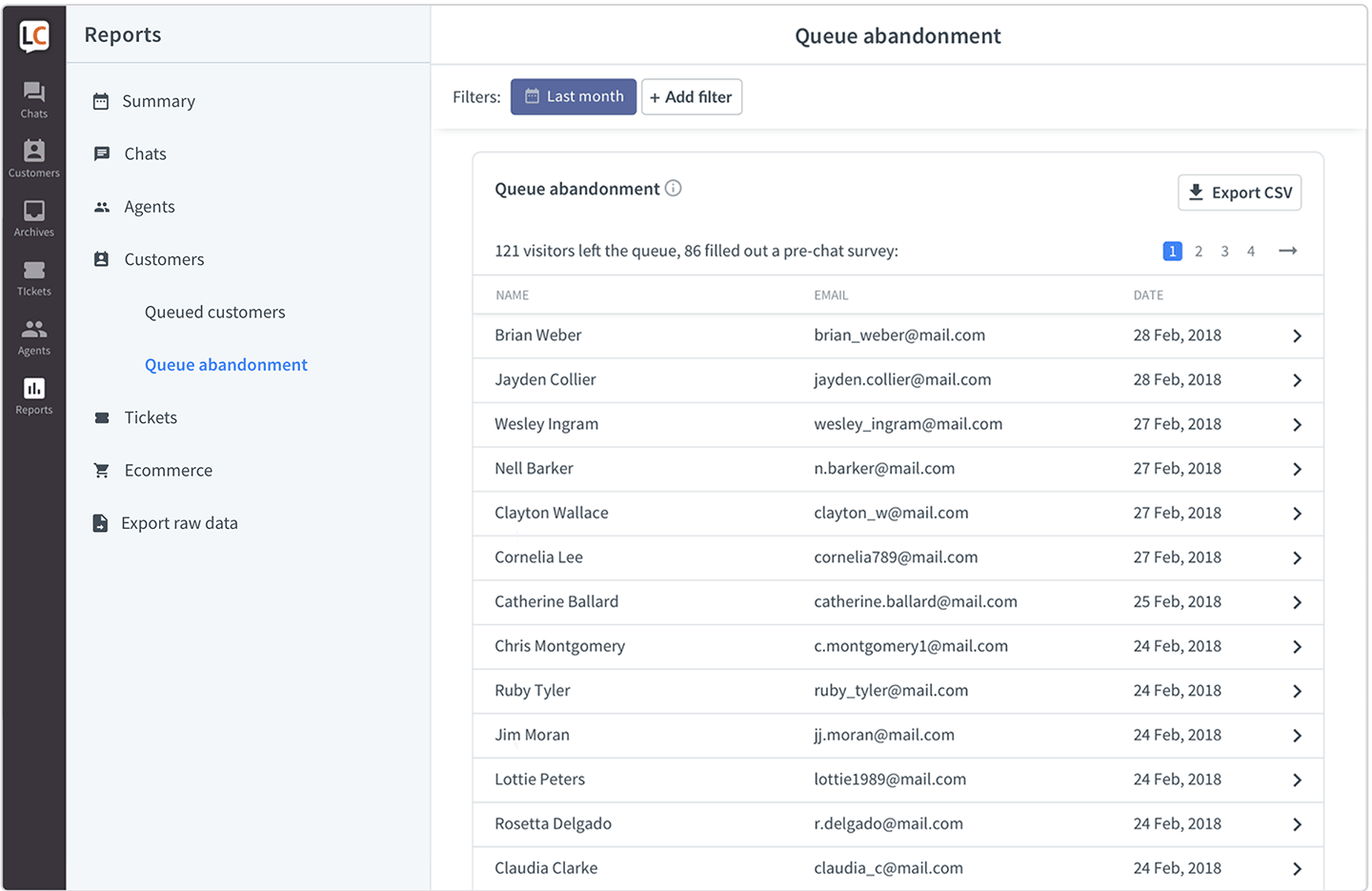 Chat surveys report
If you have any chat surveys set up, this report will tell you what kind of answers you get in your pre-chat and post-chat surveys.

New tickets report
Check how many tickets you get and where they are coming from. If the number of tickets from the ticket form is rising, then you should consider extending your work hours.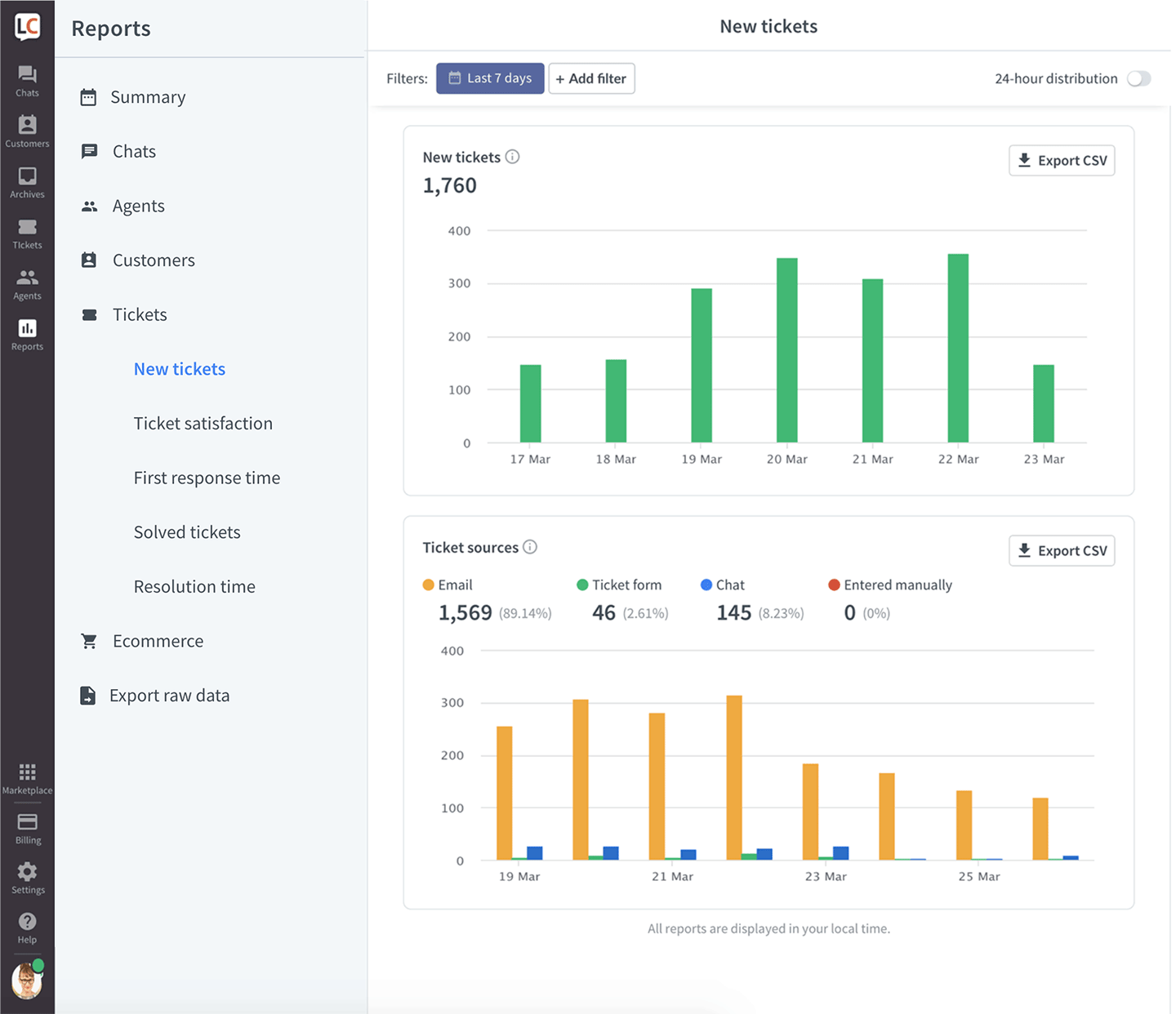 Ticket satisfaction report
See if your customers are happy with how your agents take care of the cases via email.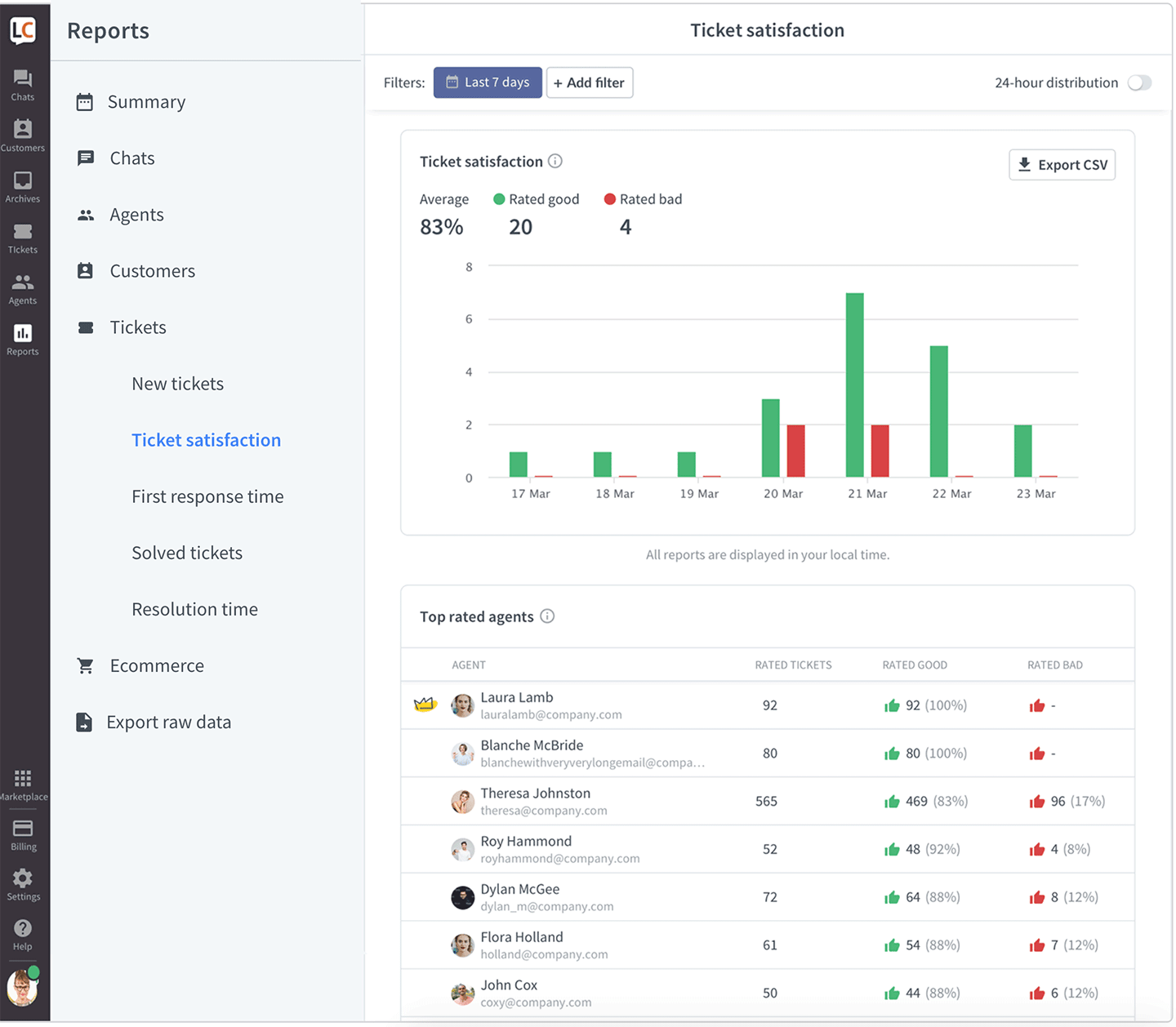 First response time report
Check how long it takes for your agents to respond to a ticket for the first time. Keeping these numbers low is important for high customer satisfaction.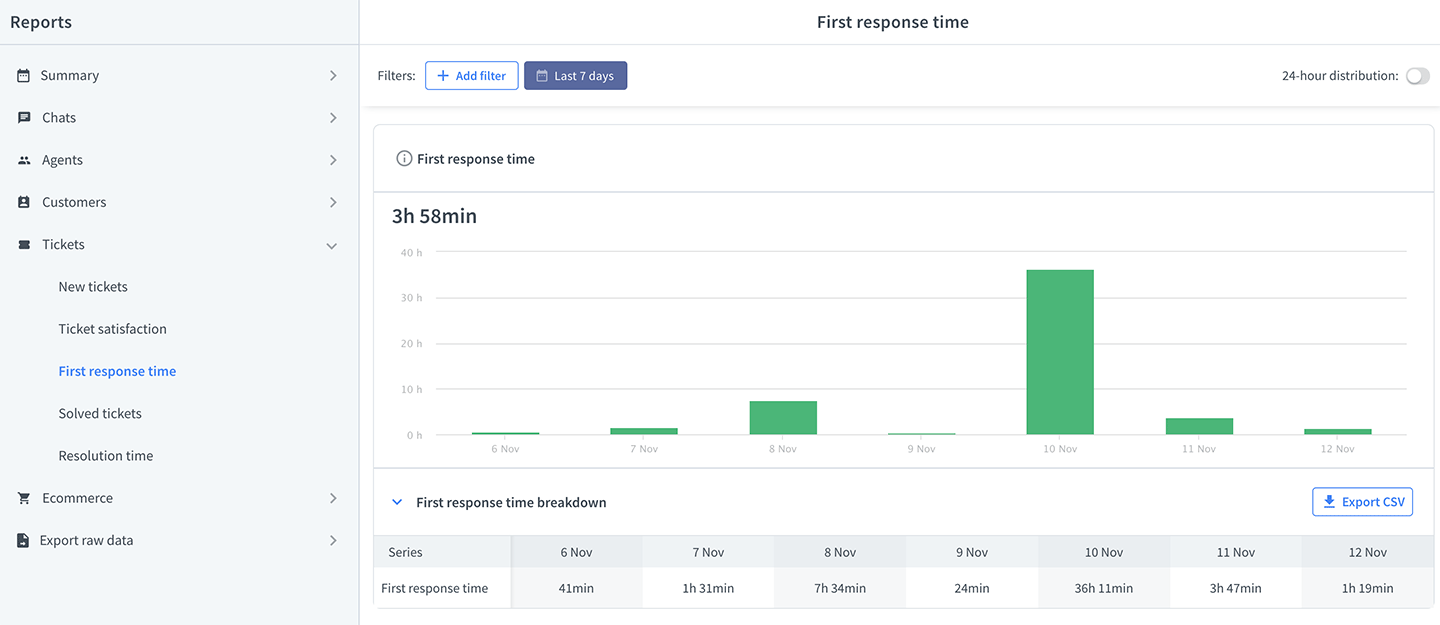 Solved tickets report
View how many tickets your agents solved, compare the number from agent to agent, and from group to group to see if there are any differences.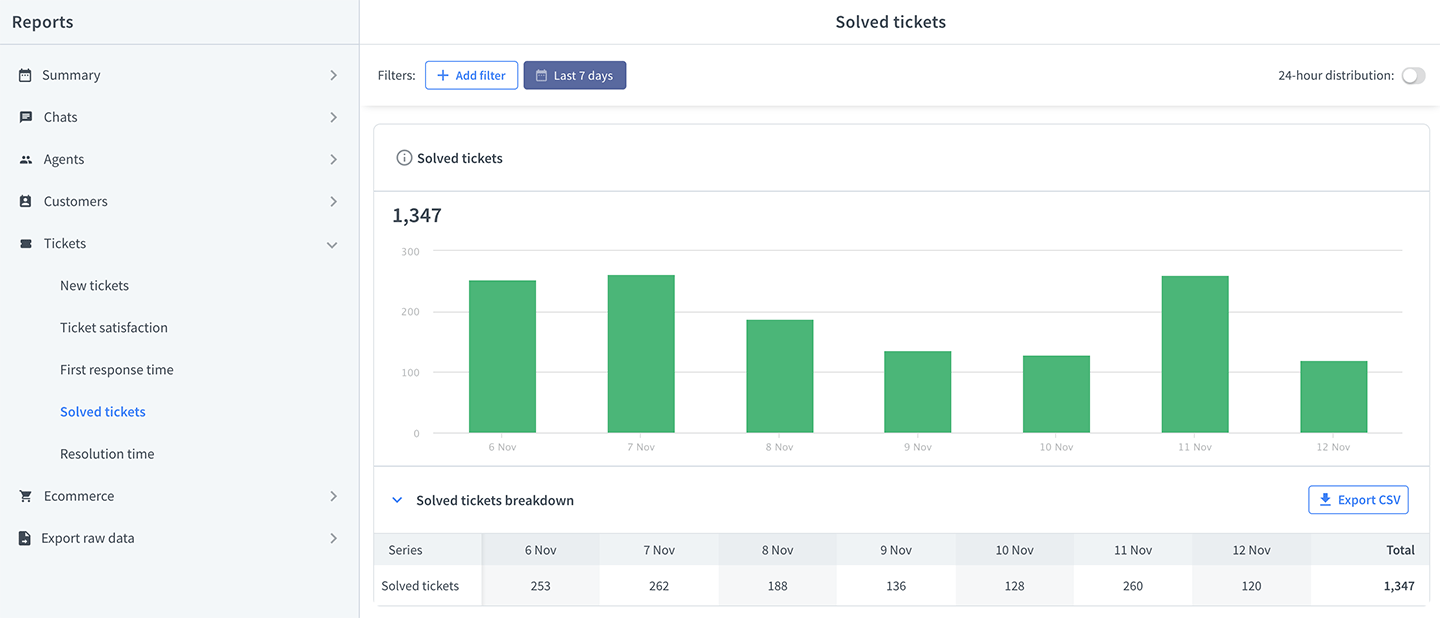 Resolution time report
See how long it takes for your agents to solve a ticket. The faster your agents solve cases, the happier your customers are.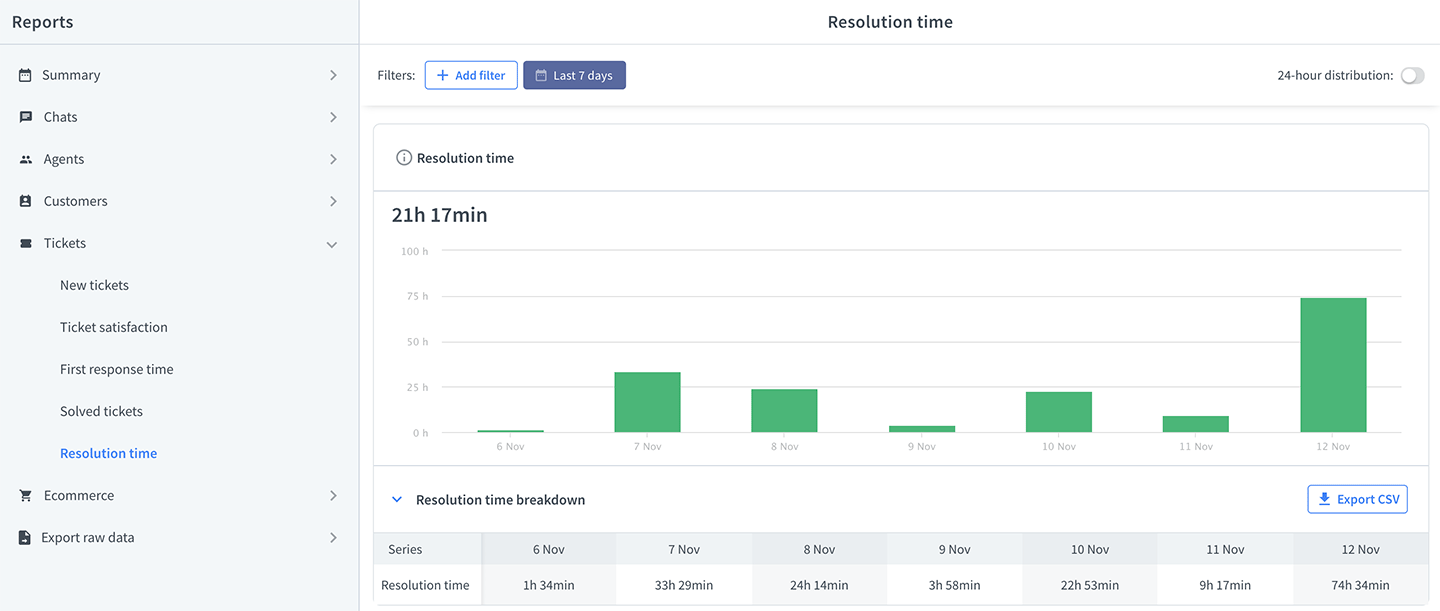 Achieved goals report
Set up measurable goals for your chats to get a precise view of how your operation performs.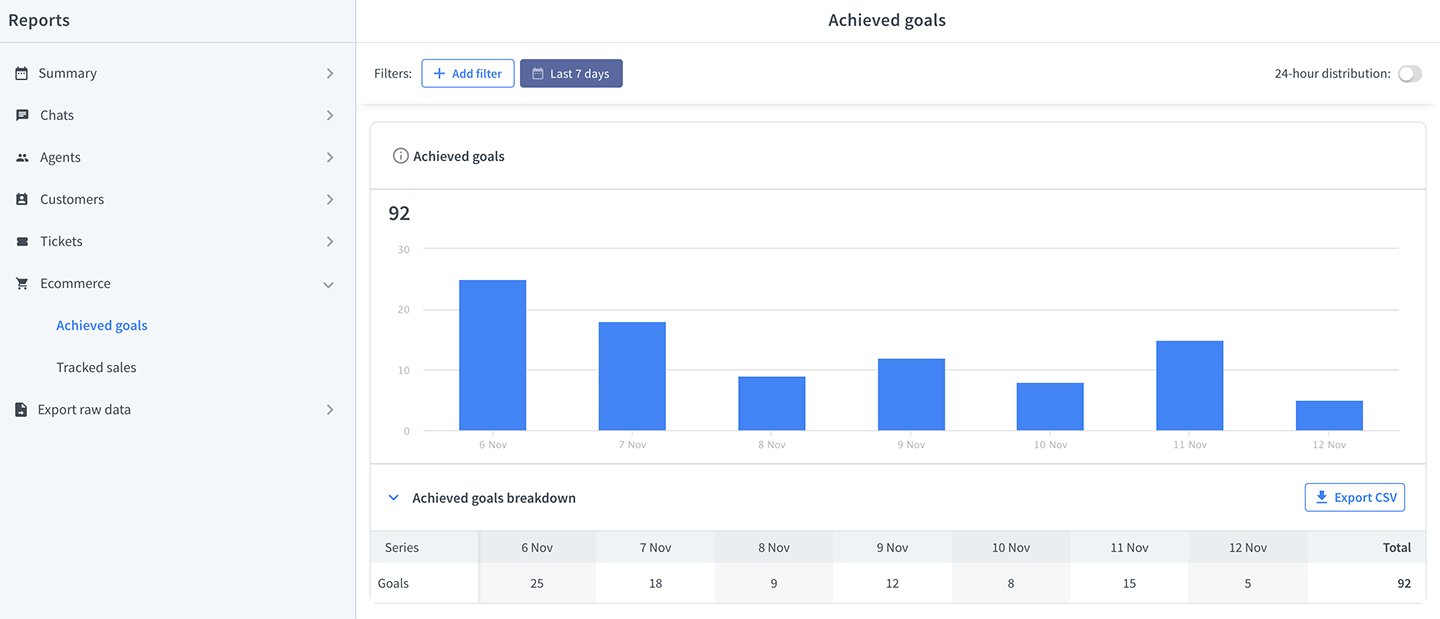 Check how many goals you achieved with LiveChat reports. Compare your results weekly to see if there is an upward tendency.
Tracked sales reports
Tie the Sales Tracker to your online shop and see exactly which chats bring you revenue.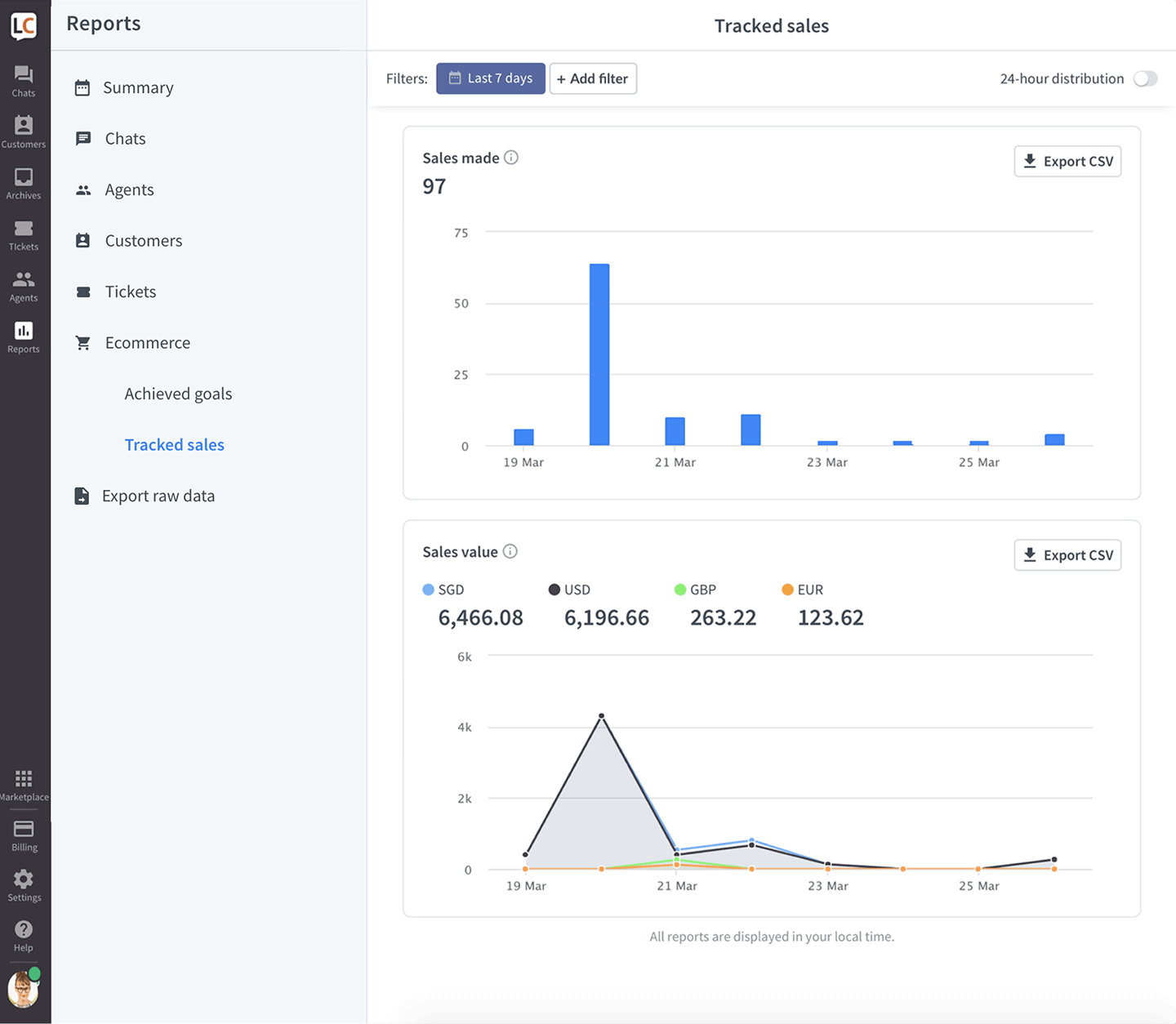 Measure how many sales you made and how much money precisely they brought to your business. If sales are an essential part of using LiveChat, keeping track of this report is a must.
Reports available on the Business and Enterprise plans
There are an additional four reports available only on the Business and Enterprise plans.
Chat duration report
Learn how long your chats take on average and check the times for each one of your agents to make sure that they solve cases as quickly as possible, but not rush through. Agent chatting time is the time your agents spent with the customers. Chat duration time includes agent chatting time plus the time spent in queues and chatting to bots.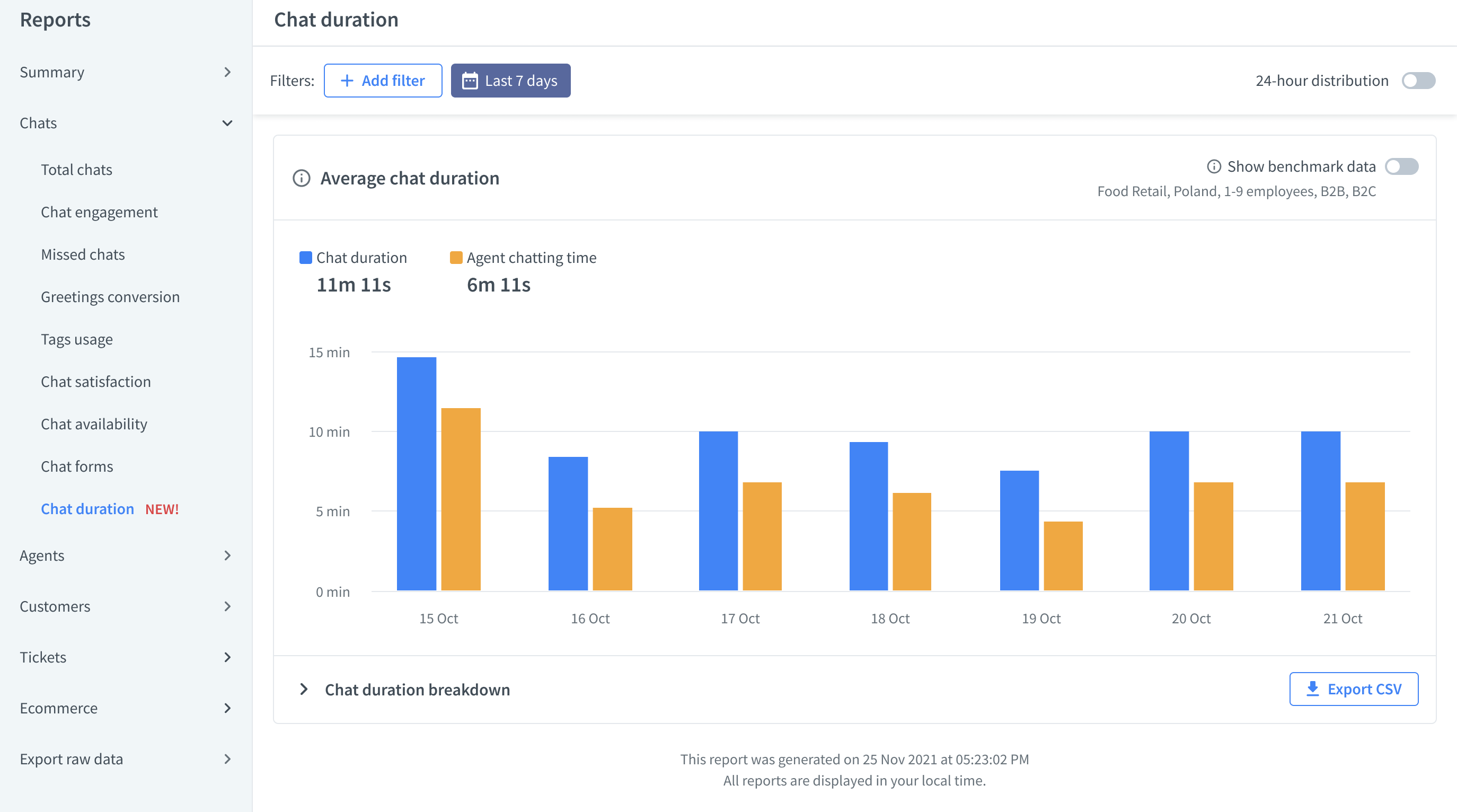 Response times reports
See how fast your agents answer for the first time, and in general. Customers don't like to wait, so it's best to keep these numbers low.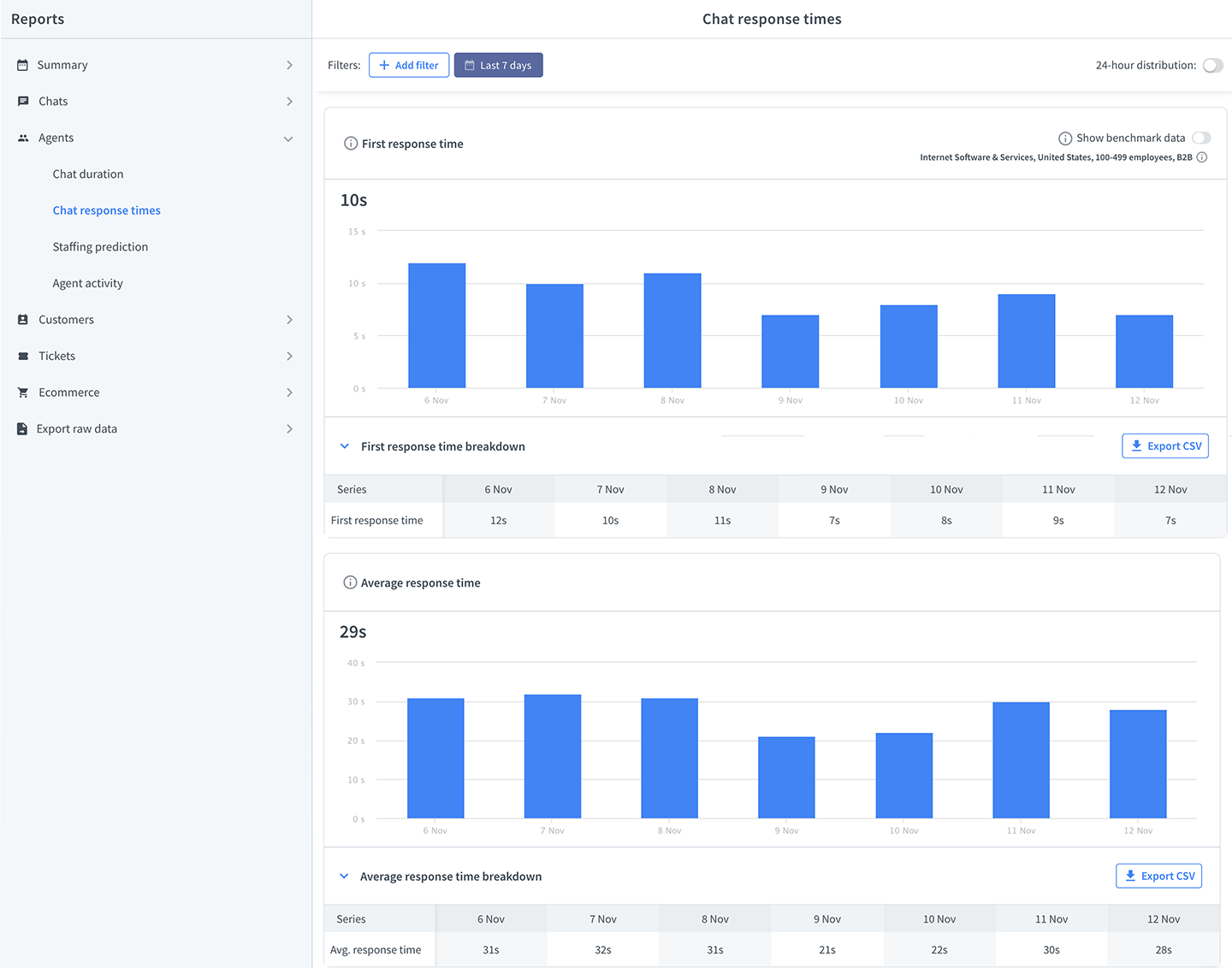 Staffing prediction report
Check how many agents you need to handle all incoming chats effectively. Shows hourly data for the next 7 days.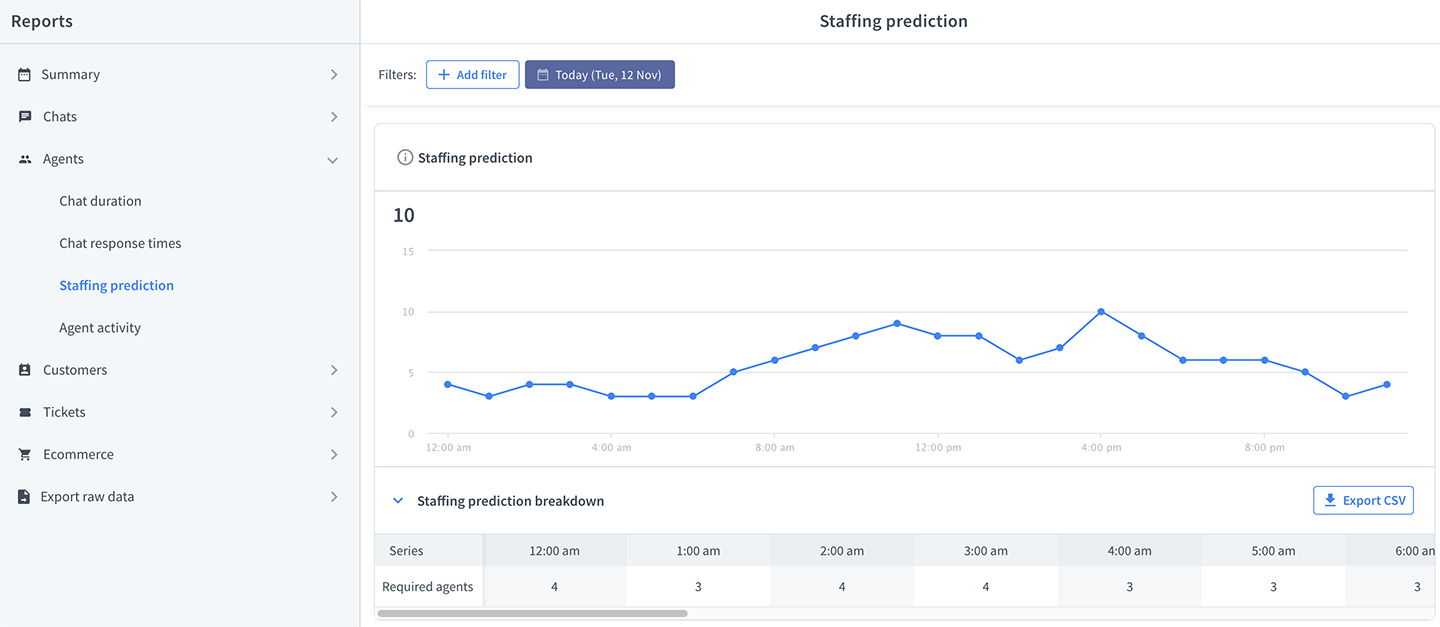 Agent activity report
See when your agents were online and if they were accepting chats. Keep track of your teammates' statuses in real-time.
Using reports with different goals in mind
Depending on what metric you want to track, you can use a different set of reports. Some of the reports can also be used to serve different purposes. For example, you can use the chat satisfaction report to evaluate an individual agent's work, as well as keep track of the general satisfaction of your customers.
Optimize your account
These reports are useful at any time but are especially important when you are just starting with LiveChat:
Track LiveChat's performance
When you added LiveChat to your site, you probably had a goal in mind. Maybe you wanted to increase sales or provide better customer support. Here are a few examples of how you can measure how LiveChat is performing:
Track your team's performance
Manage your team
All reports mentioned in the previous section can be used to view and improve your agents' performance, but also to know if you don't need extra people on board. We also have dedicated reports that can help you plan shifts:
Advanced reporting features
All reports come with a set of additional features that will help you get precise information on LiveChat's performance. The results can be filtered by e.g, tags or date.
You can also export data, so you can create your own analytics tools using a spreadsheet.
Learn more about advanced reporting tools.
Configuration API documentation
You can create custom reports by pulling LiveChat data using our Configuration API. The API is fully documented, which will make the task easy. Simply create a request and save the results to a file that can be later on interpreted using Excel.
If you are not familiar with using APIs, we have an introductory article ready.