Getting a chat
When a customer starts a chat the first message they receive is an automatic message set up in the LiveChat Agent app. This way when you get a chat, you have a bit of time to get ready.
When the customer starts to type their message, you'll see what they are writing in real time. When you write a response, the customer can see that you are composing a message, but they can't see what you're writing.
Where do chats come from?
Chats are started by the customer. The customer can send a message in the Chat Widget on your company's website, on the chat page, or in your company's mobile app, if the Chat Widget has been implemented there.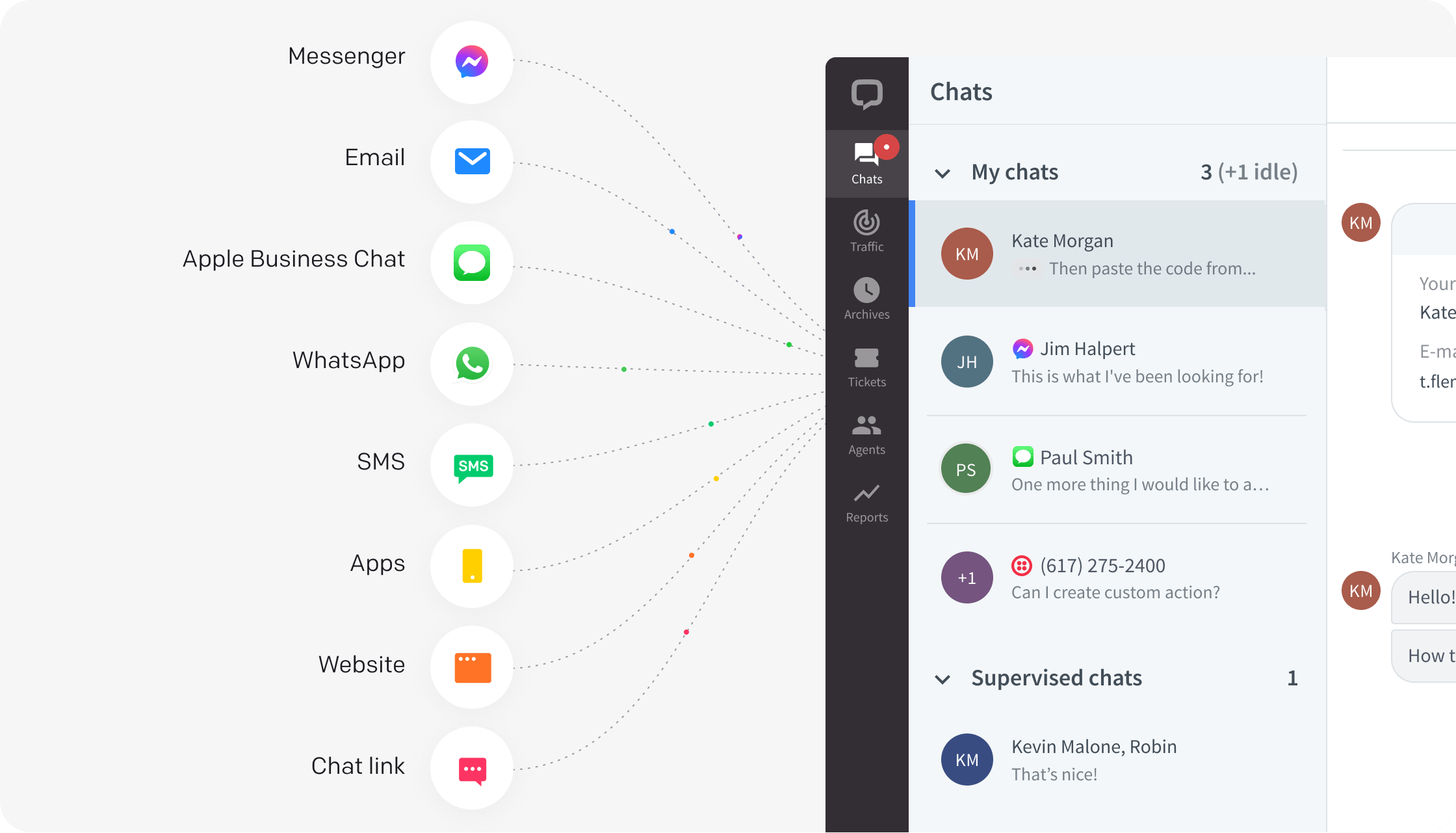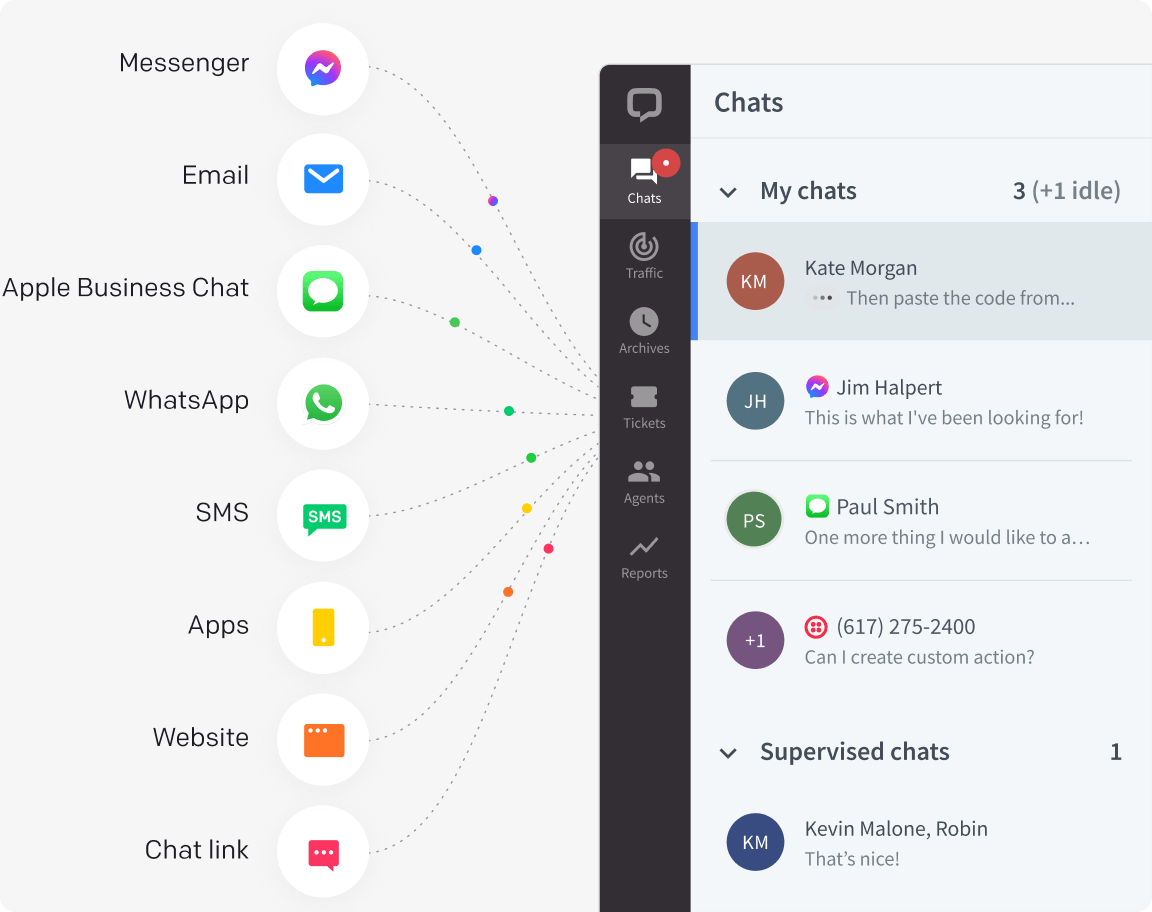 Additionally, LiveChat can be integrated with social media messengers, Apple Messages for Business, or SMS. Check with your team leader which channels you use as a company.
One more source of chats is the chat transfer. A colleague can transfer a chat to your team, or to you specifically. You can read more about it in Team collaboration below.
Check it for yourself
Start a chat on your company's website to see what the experience is like for the customer. You can ask your teammate to transfer the chat to you, and try having a chat with yourself.
While technically the chat starts when the customer sends a message or clicks on a button in the Chat Widget, LiveChat lets you invite customers to chat. This can be done automatically, with targeted messages, or manually, from the Traffic section of the LiveChat Agent app.
How to start a chat manually?
In the Traffic section you see customers as they browse your website in real time.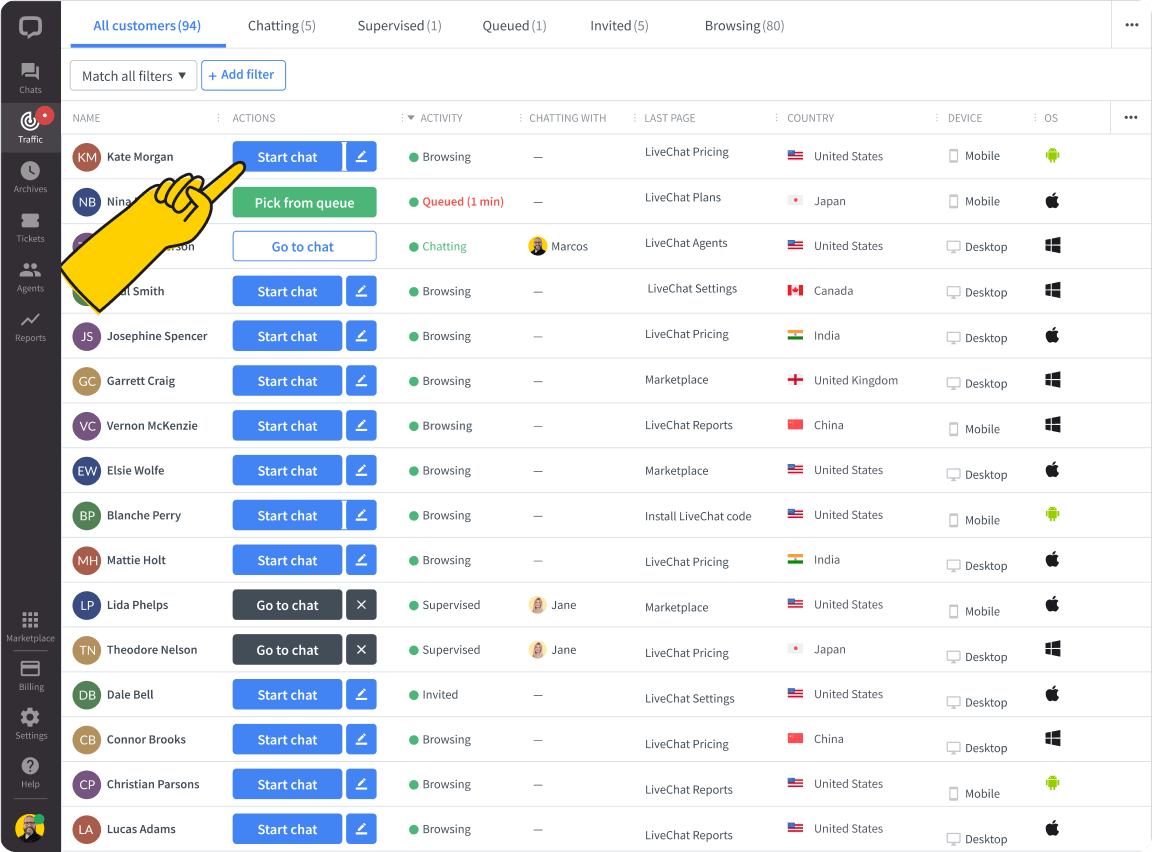 Click on Start chat to send a preset welcome message or on the pen icon to customize the message you want to send to the customer. Once you do, you'll see the chat on the list in the Chats section.
Chat with your leader
Sending manual invitations is a strategic choice, so check with your team leader if you should use it.
Chats section in LiveChat Agent app:
Chat lists
On the left of the Chats view there is a list of all chats that may require your attention.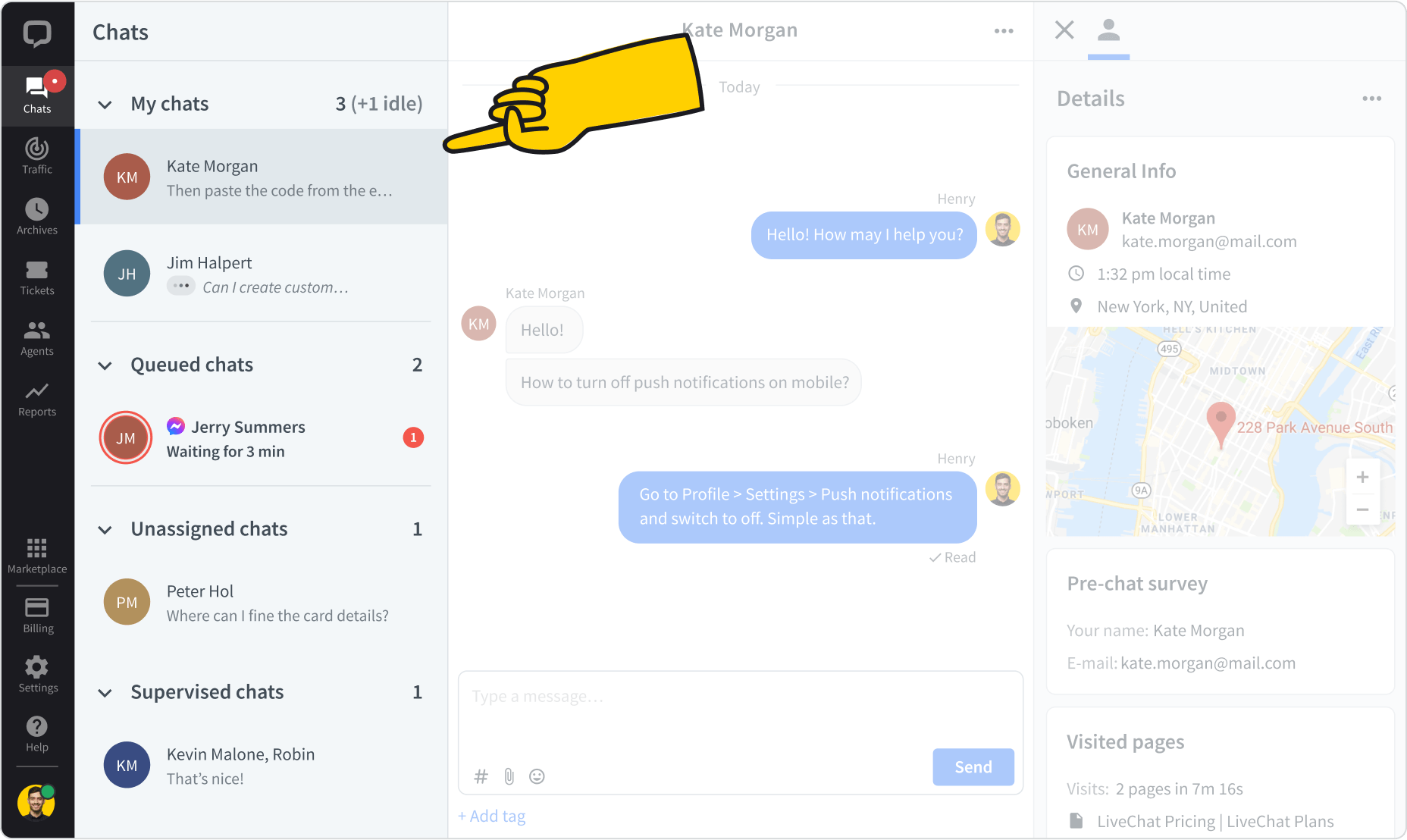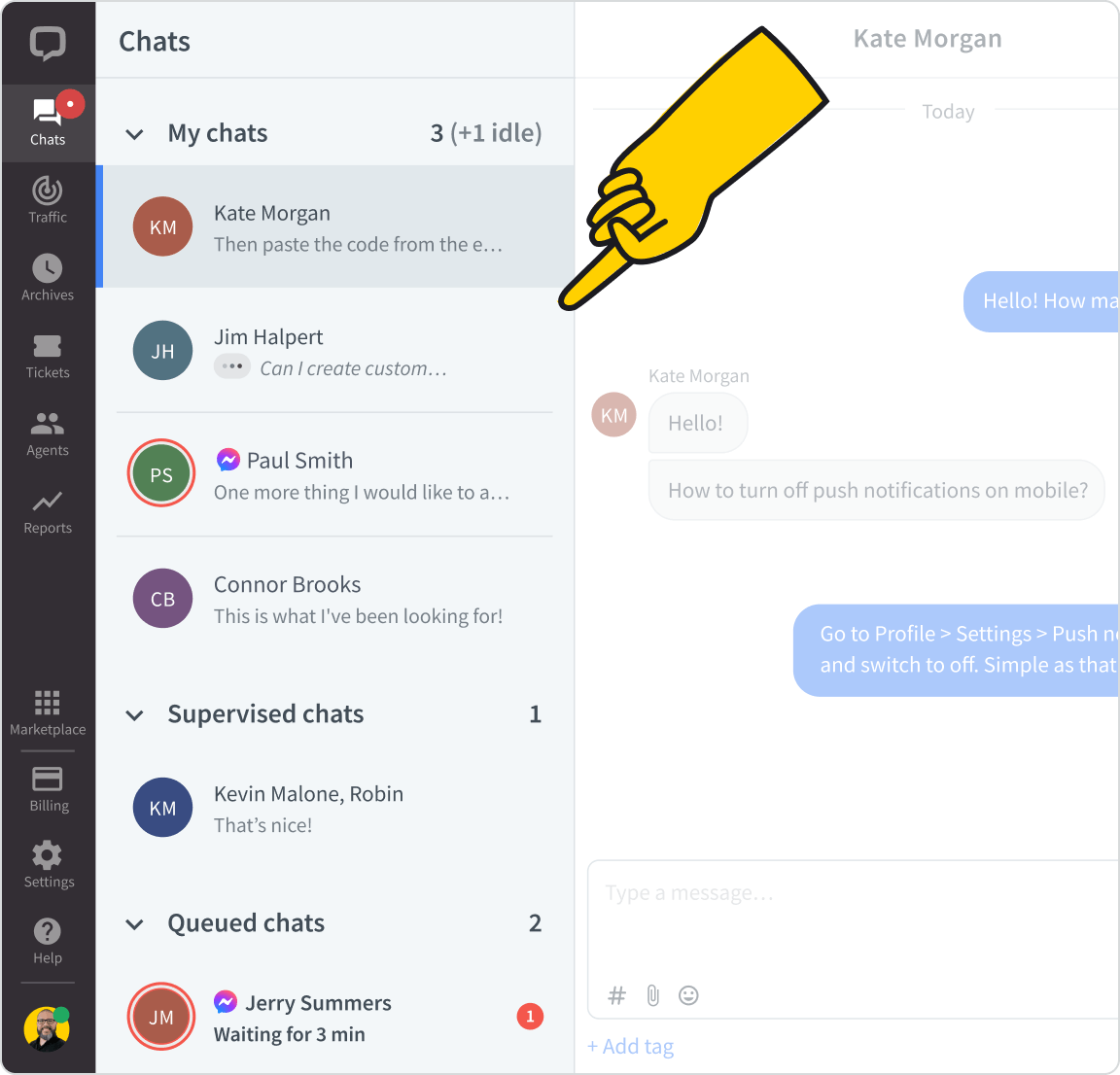 My chats:
My chats are the ongoing chats that have been assigned to you. Make sure that customers don't wait too long for a reply. If they wait for more than 40 seconds, there will be a red rim around their circle. If they don't reply for too long, the circle will be grayed out. Read more about active and inactive chats.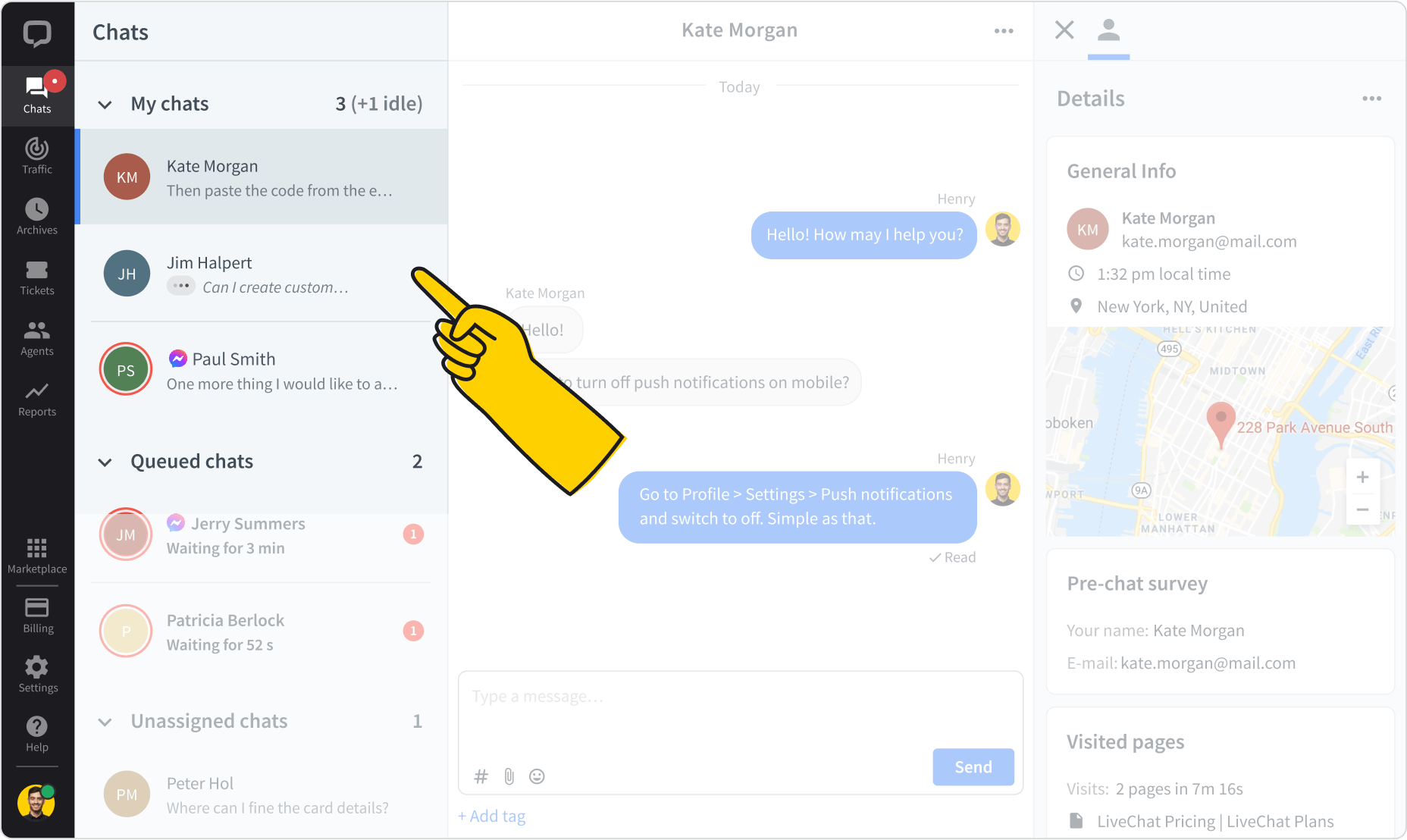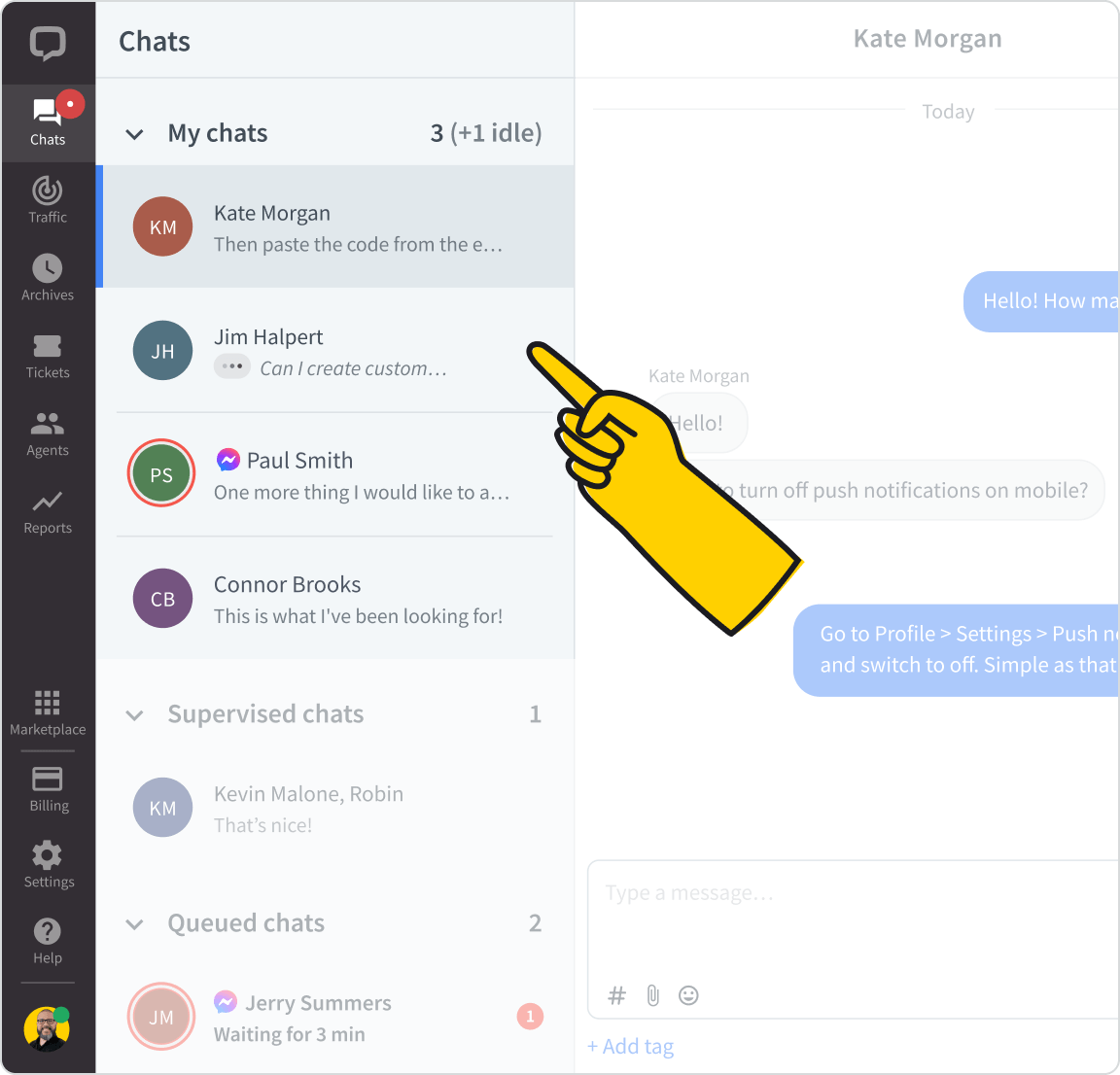 Queued chats:
Queued chats are a list of customers waiting in the queue. Customers are queued for two reasons. One, there are more customers starting a chat than the agents on duty can handle, that is, all the agents have met their concurrent chat limit. Two, the chat routing set up for your team is Manual selection. With manual selection, all of the customers who start a chat begin in the queue. Agents can select one when they're available. Read more about queue configuration.
To select a chat from the queue, click on the chat and then on Pick from queue.
Unassigned chats:
Unassigned chats are chats started by customers when your team was offline, if the availability of your Chat Widget is set to Always. Otherwise, they can be messages sent on Facebook Messenger, Apple Messages for Business, WhatsApp, or Twilio. Ask your team leader if your company uses these options. To assign a chat to yourself, click on a chat on the list, and then click on Assign to me.
Supervised chats
Supervised chats is a list of your teammates' chats you have picked to supervise. You can supervise those chats and see how other agents communicate with visitors. For more details, see the Team collaboration section.
Chat view
This is where you will see the entire conversation with the customer, together with the data the customer provided in the pre-chat survey. If the customer chatted with your team before, you'll be able to see their previous chats when you scroll up.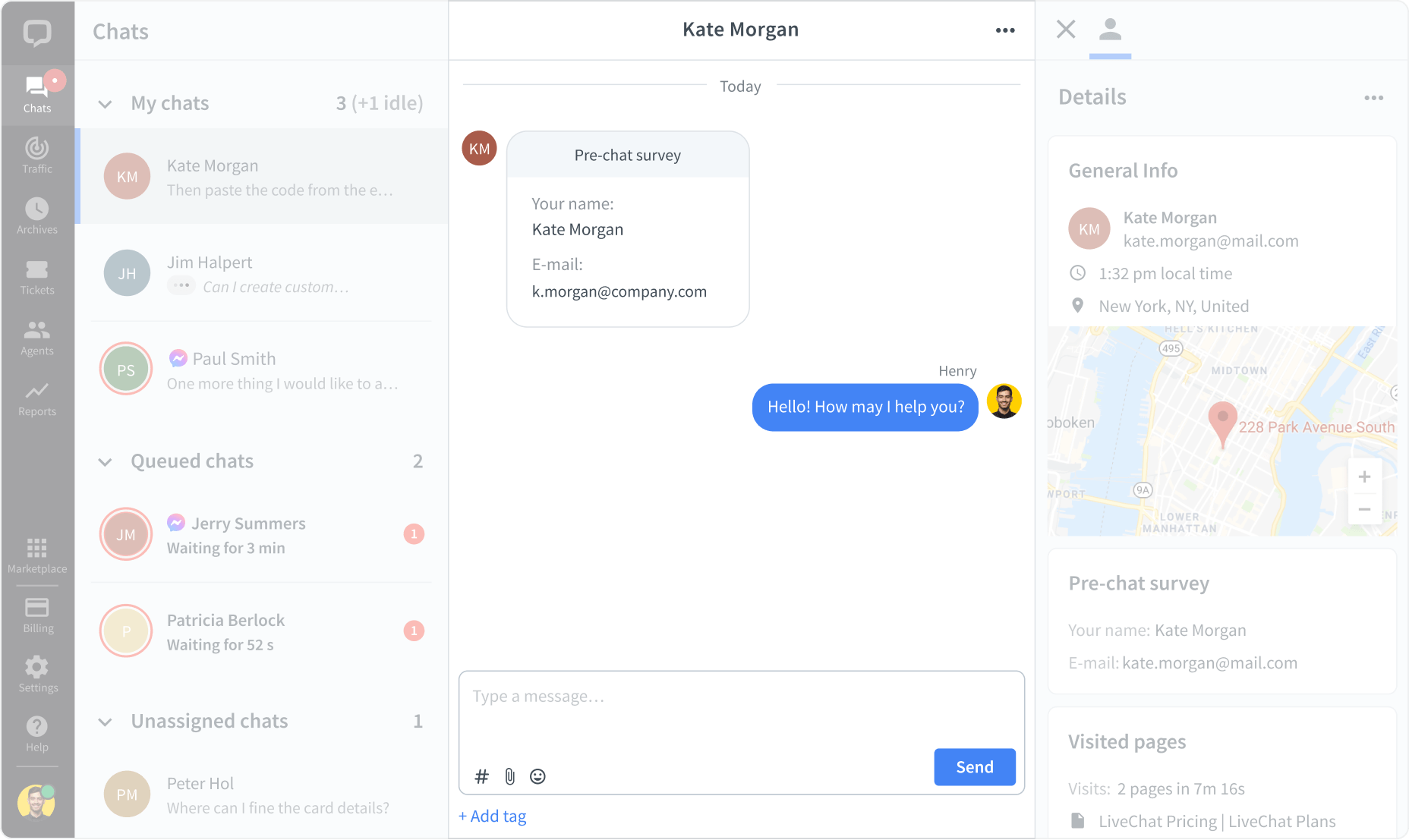 Message area
Here you type in the messages you want to send to the customer, add emojis, upload files, use canned responses and whisper to your teammates.
Canned responses
Canned responses can take your customer support to the next level. Learn all about them in Team collaboration.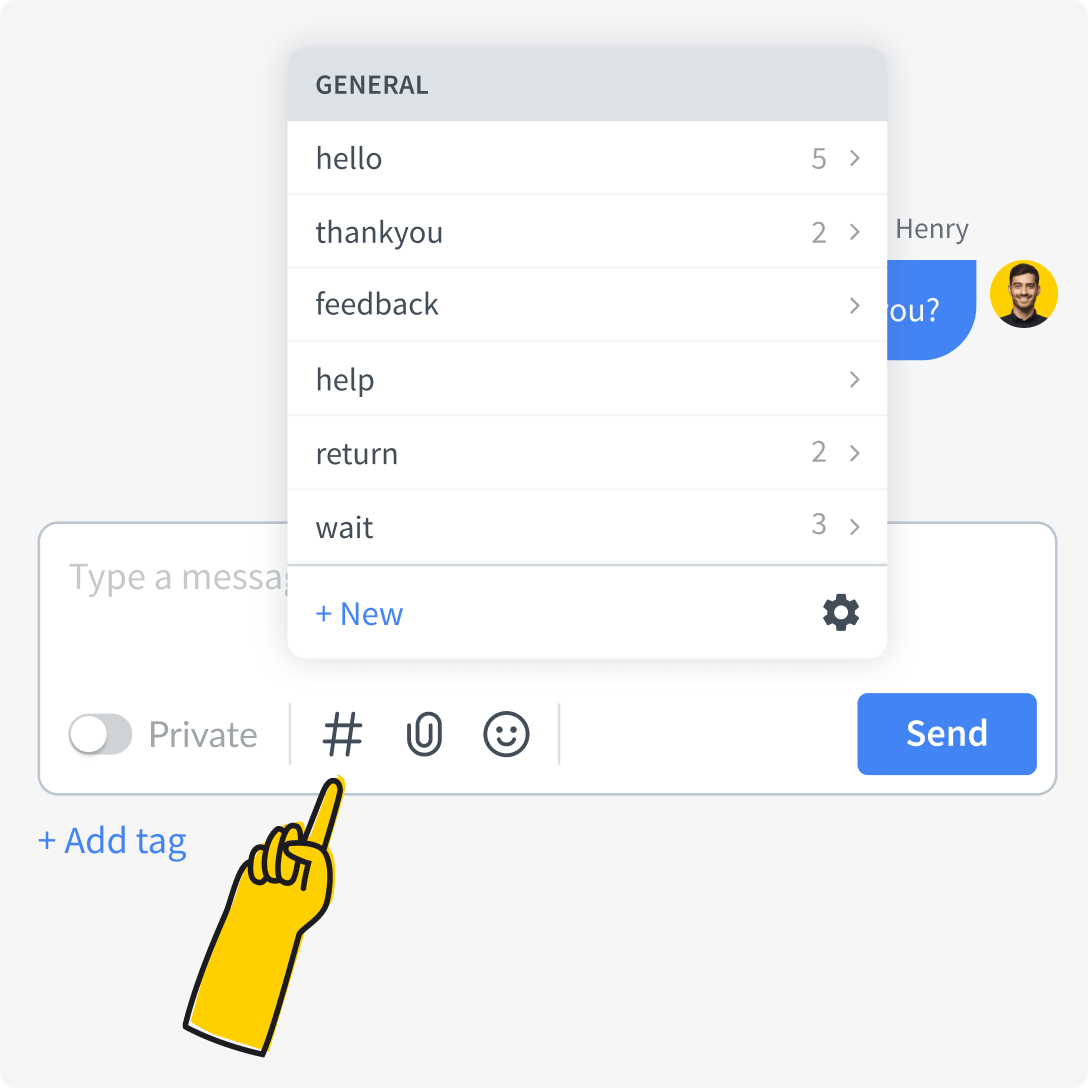 Attachments
If you need to send a file to the customer, just attach it right in the chat. You can upload files up to 10MB to send them in chat.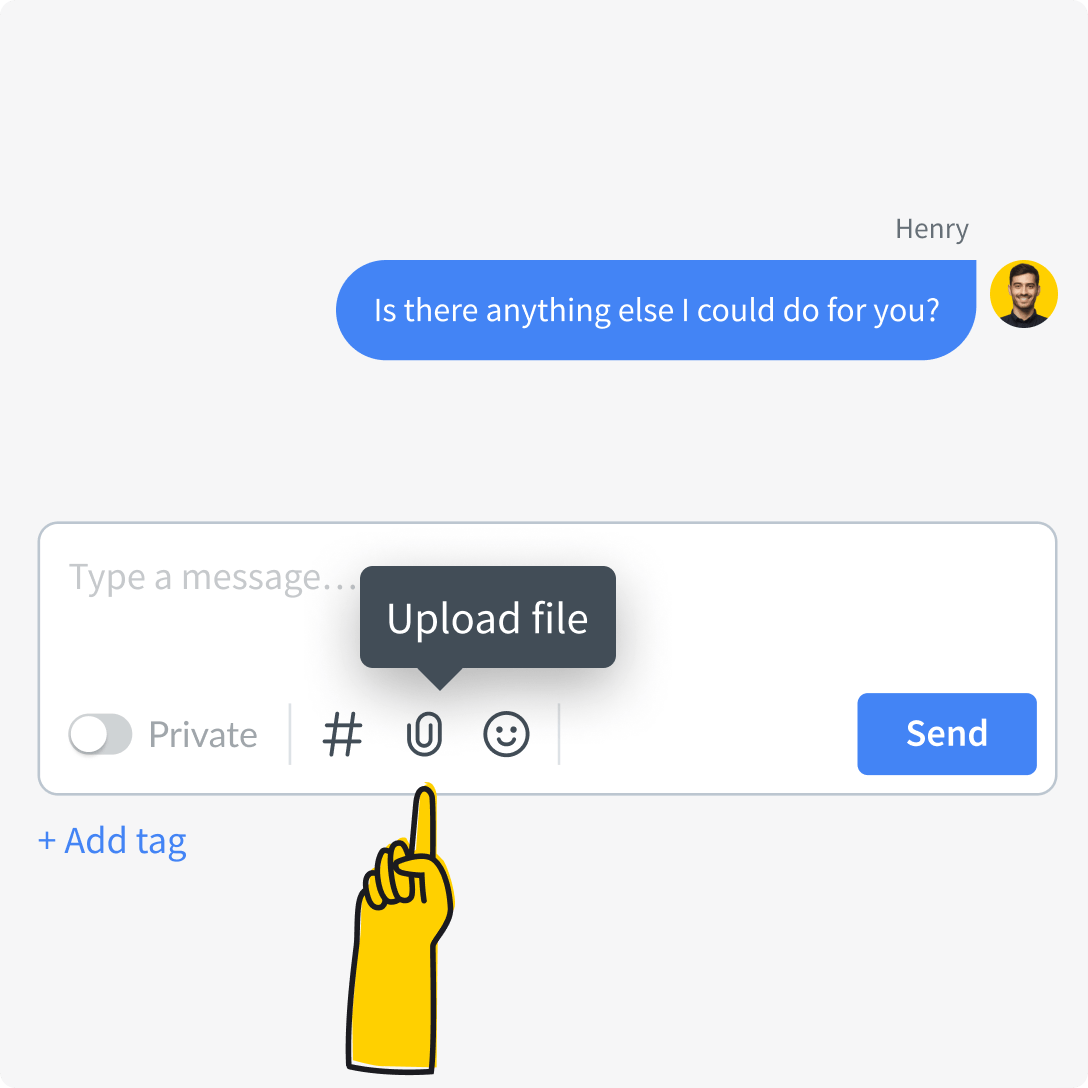 Emoji
One rule of good customer relations is mirroring your customer's language. If they use emojis, be sure to respond in kind using our emoji picker!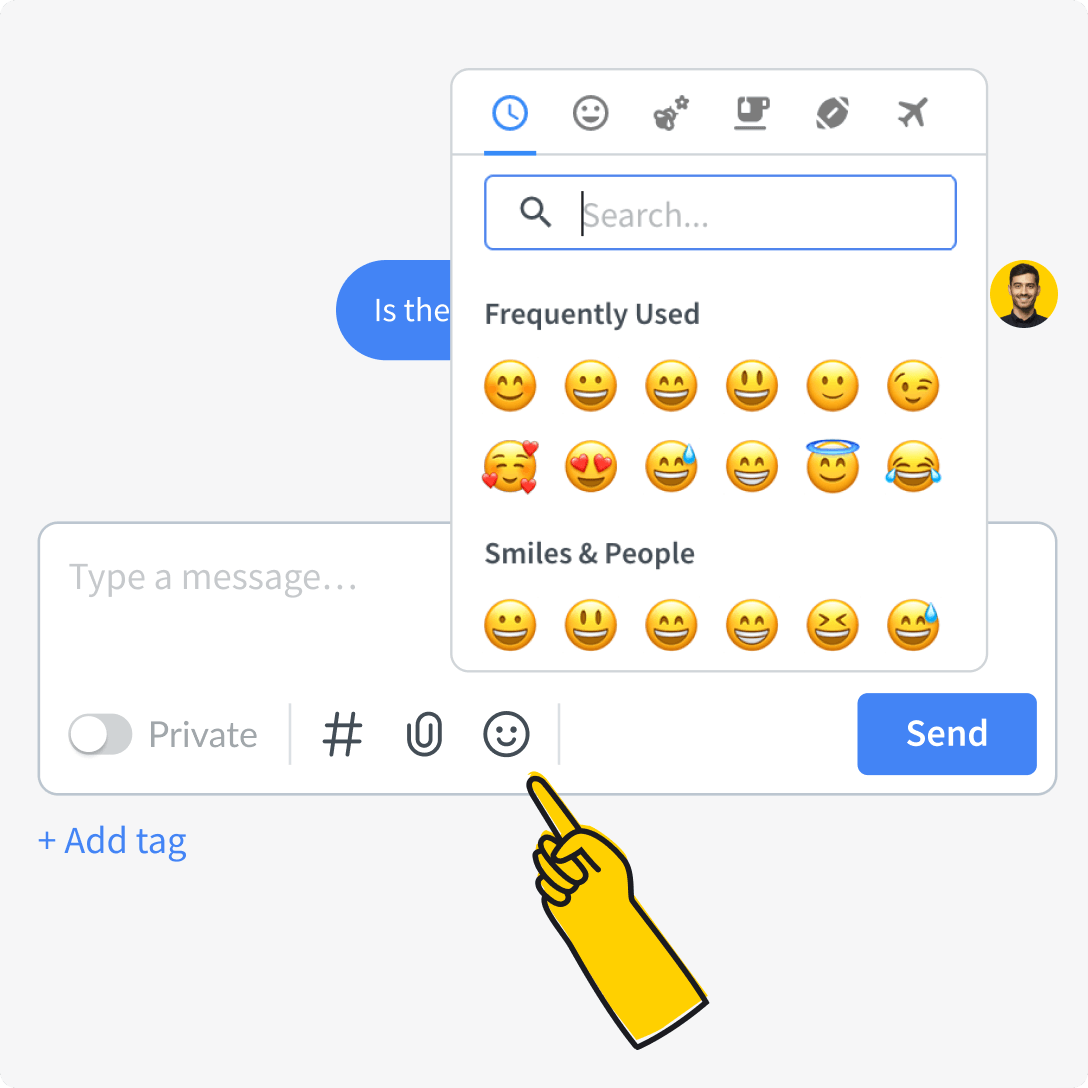 Private messages
When a teammate supervises your chat, you can switch the toggle to Private to send them a message the customer won't see. For more, see Team collaboration below.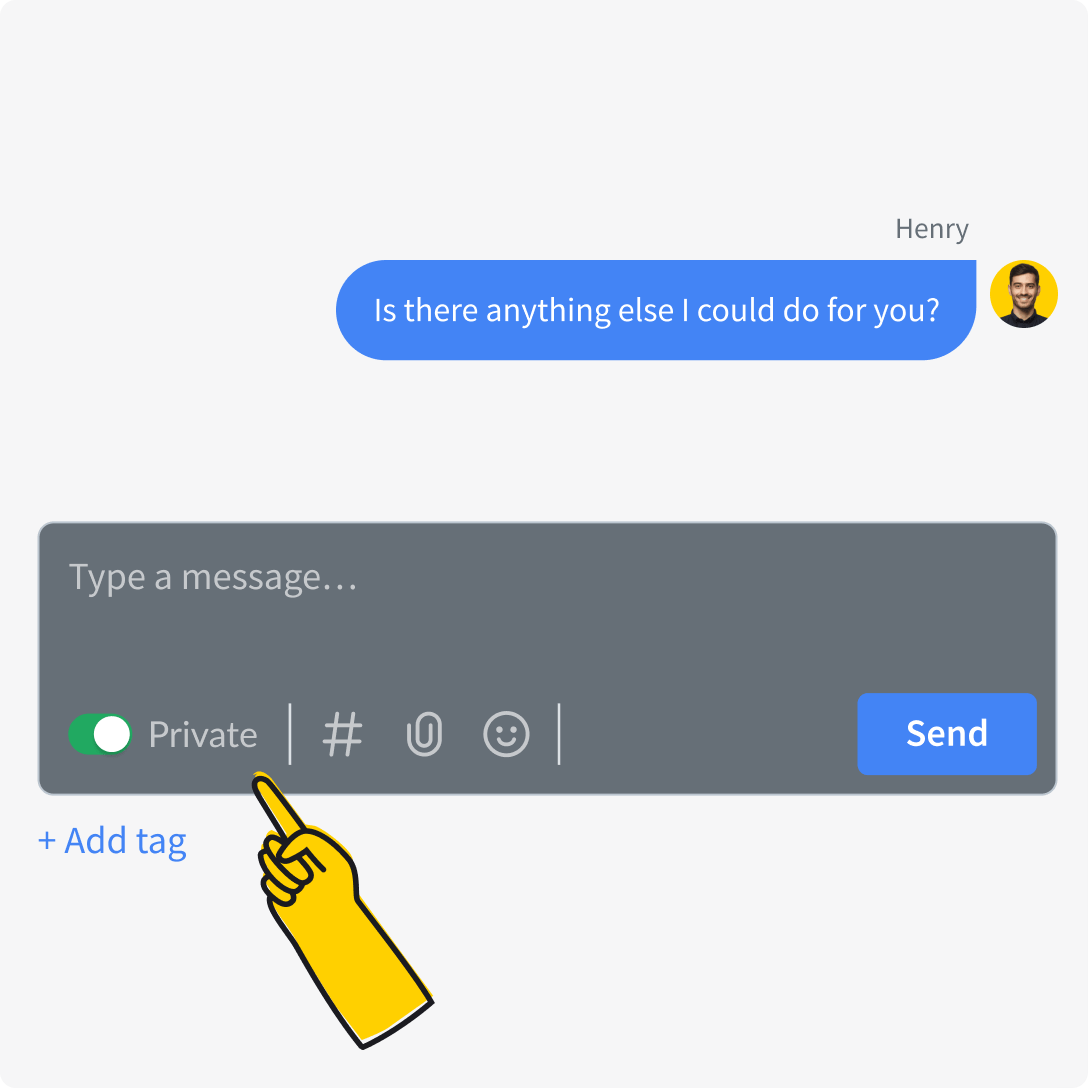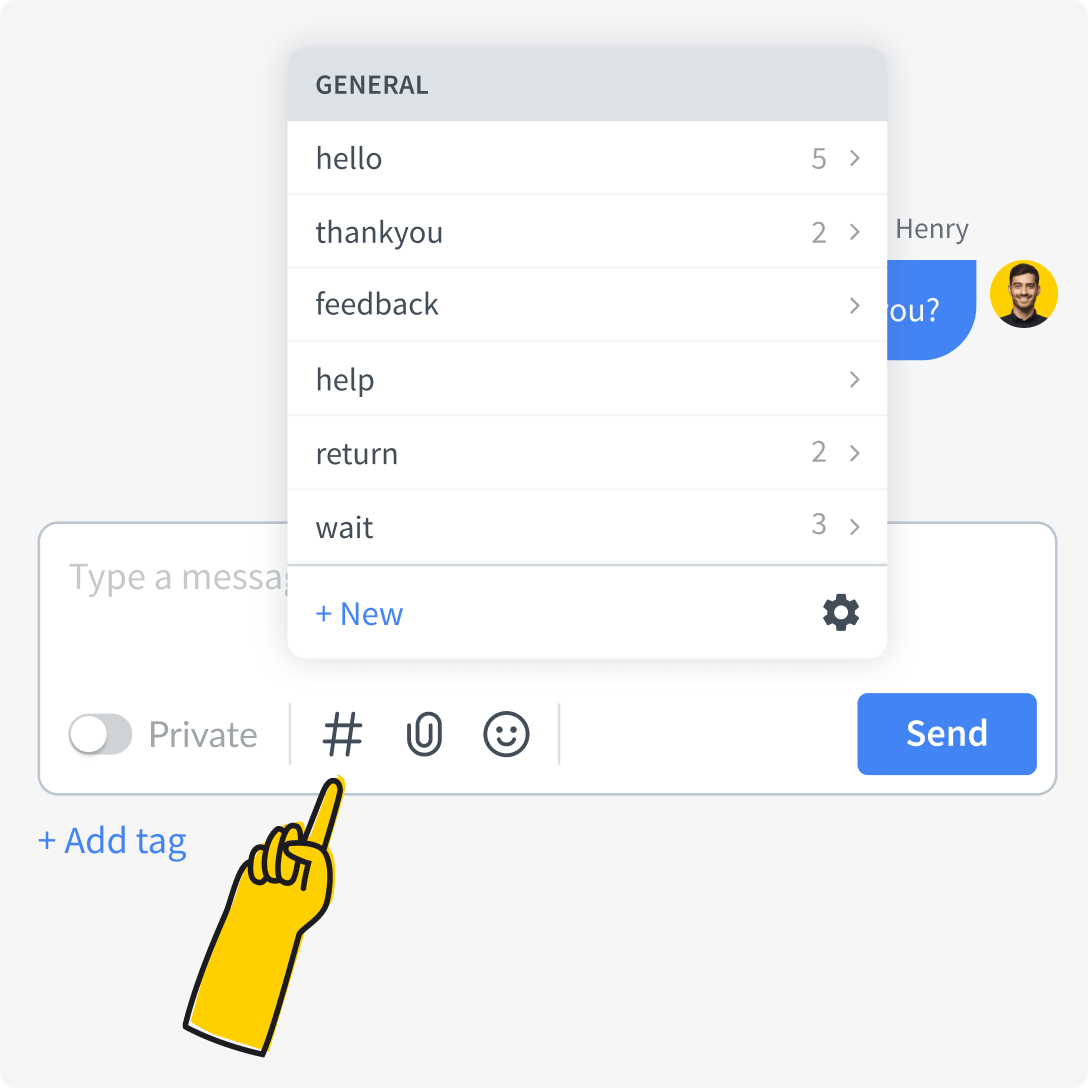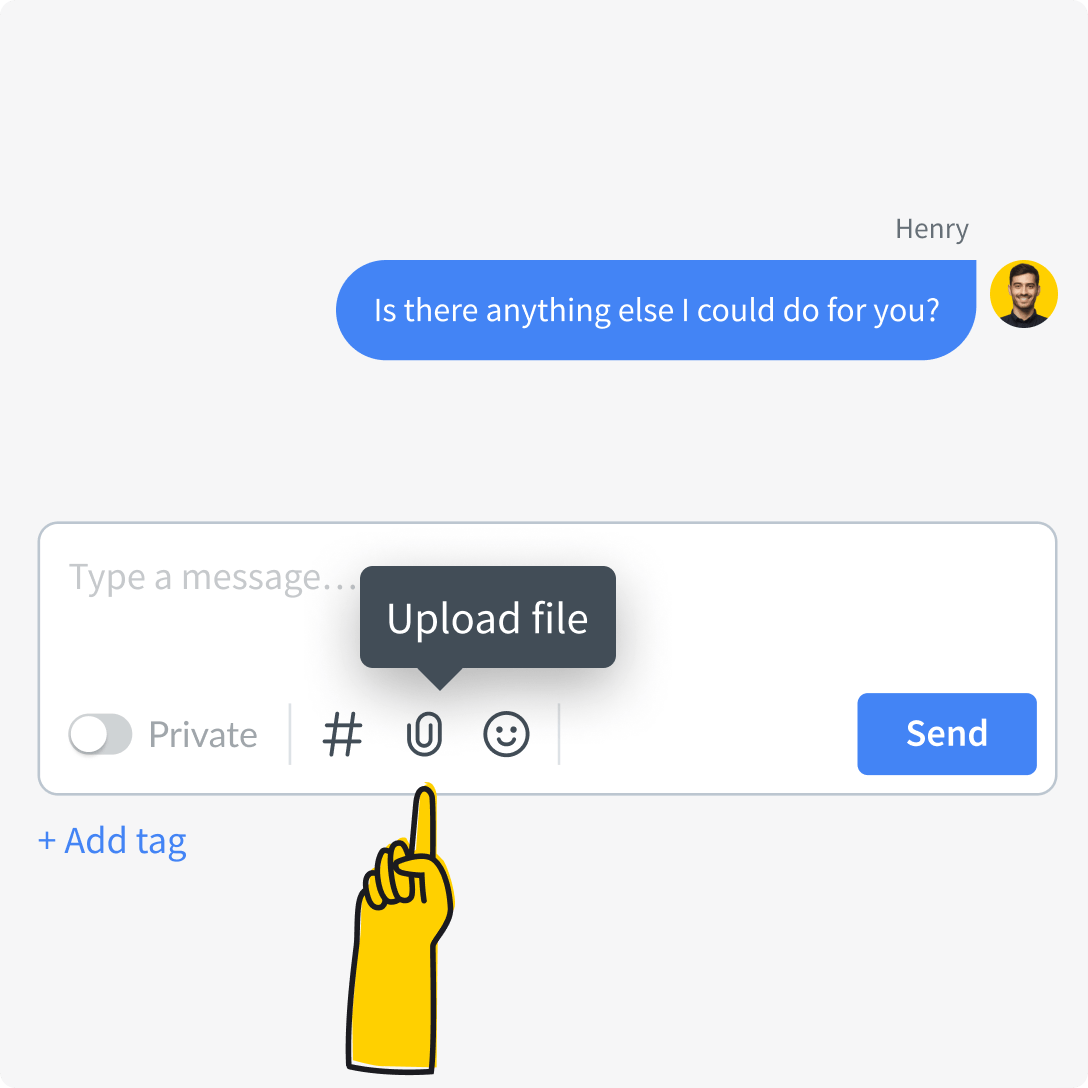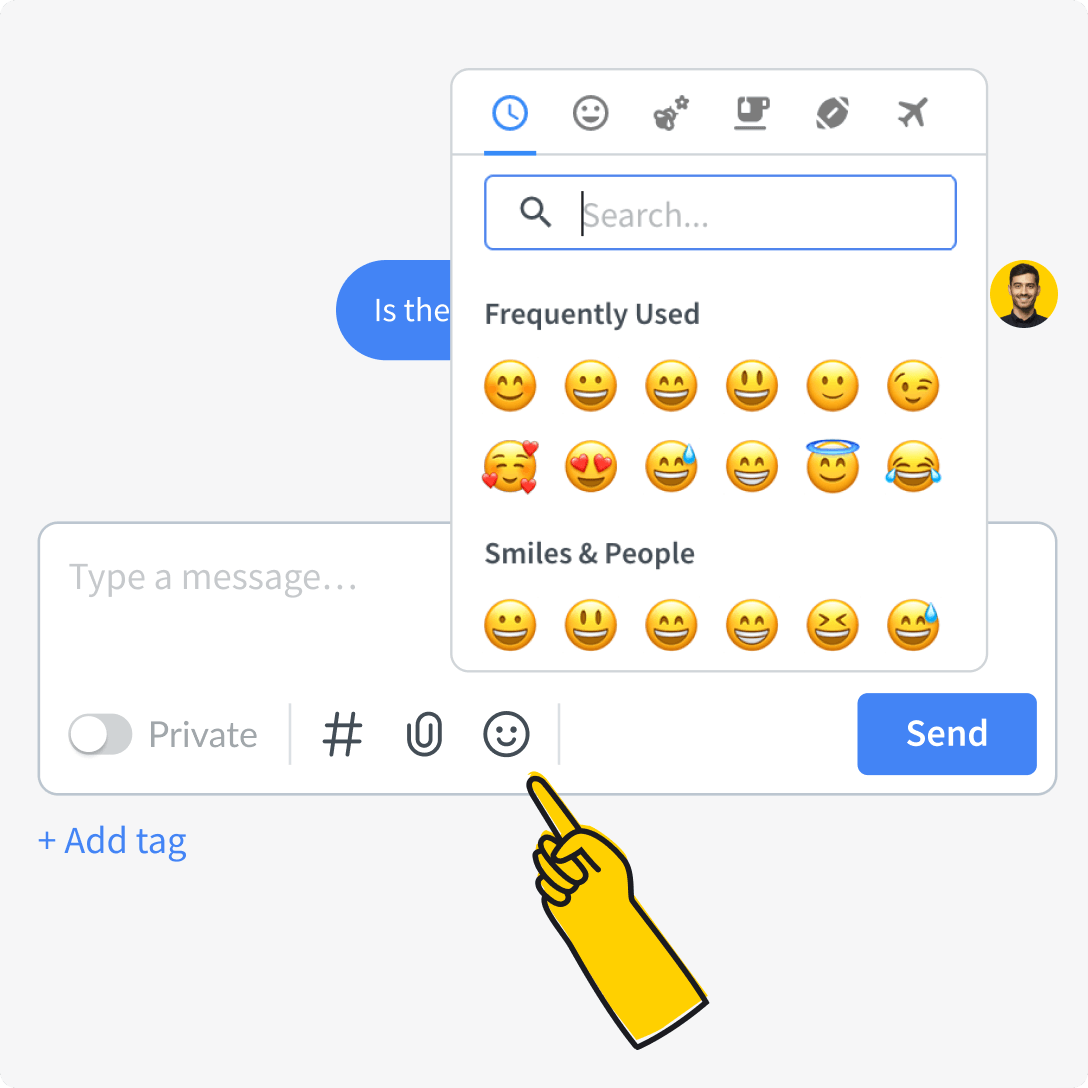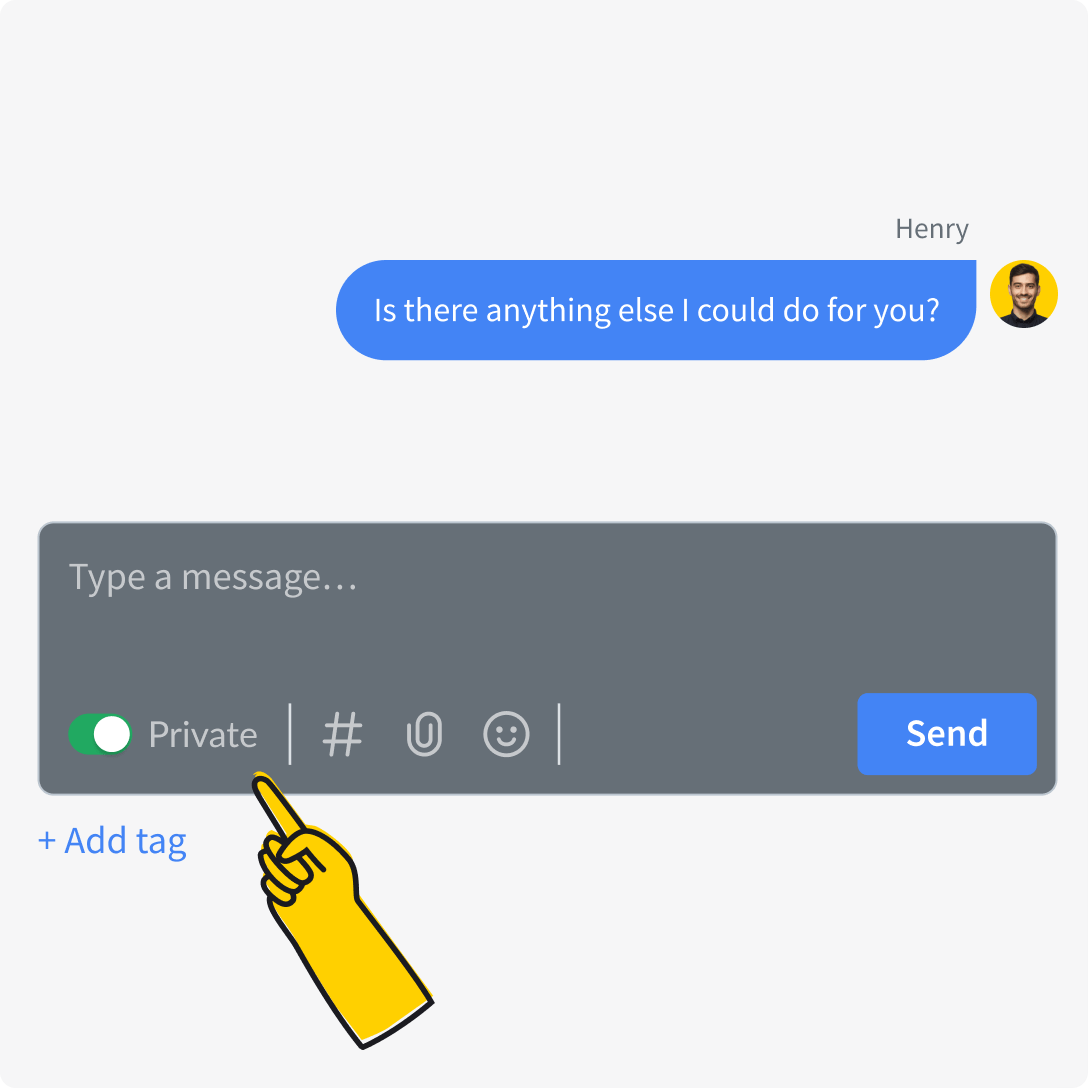 Take individual approach
It's always a good idea to take an individual approach. Address the customer with the name they provided in the pre-chat to make them feel welcome.
Mirror customer's language
Mirroring customer's language goes beyond using emojis. Whether the customer is formal and serious or informal and makes jokes, respond in kind.
Customer details
Here you will find all the information about your customers.
Cutomer details
You can check their email address, location, the page they are currently on, and much more.
Customize data
You can adjust the type of information displayed in this area as well as the order in which particular segments appear. Check how to customize Details.
CRM
You can also forward leads into your CRM or view customer information from your company's CRM, if it has been integrated with LiveChat. Find out more about CRM integrations.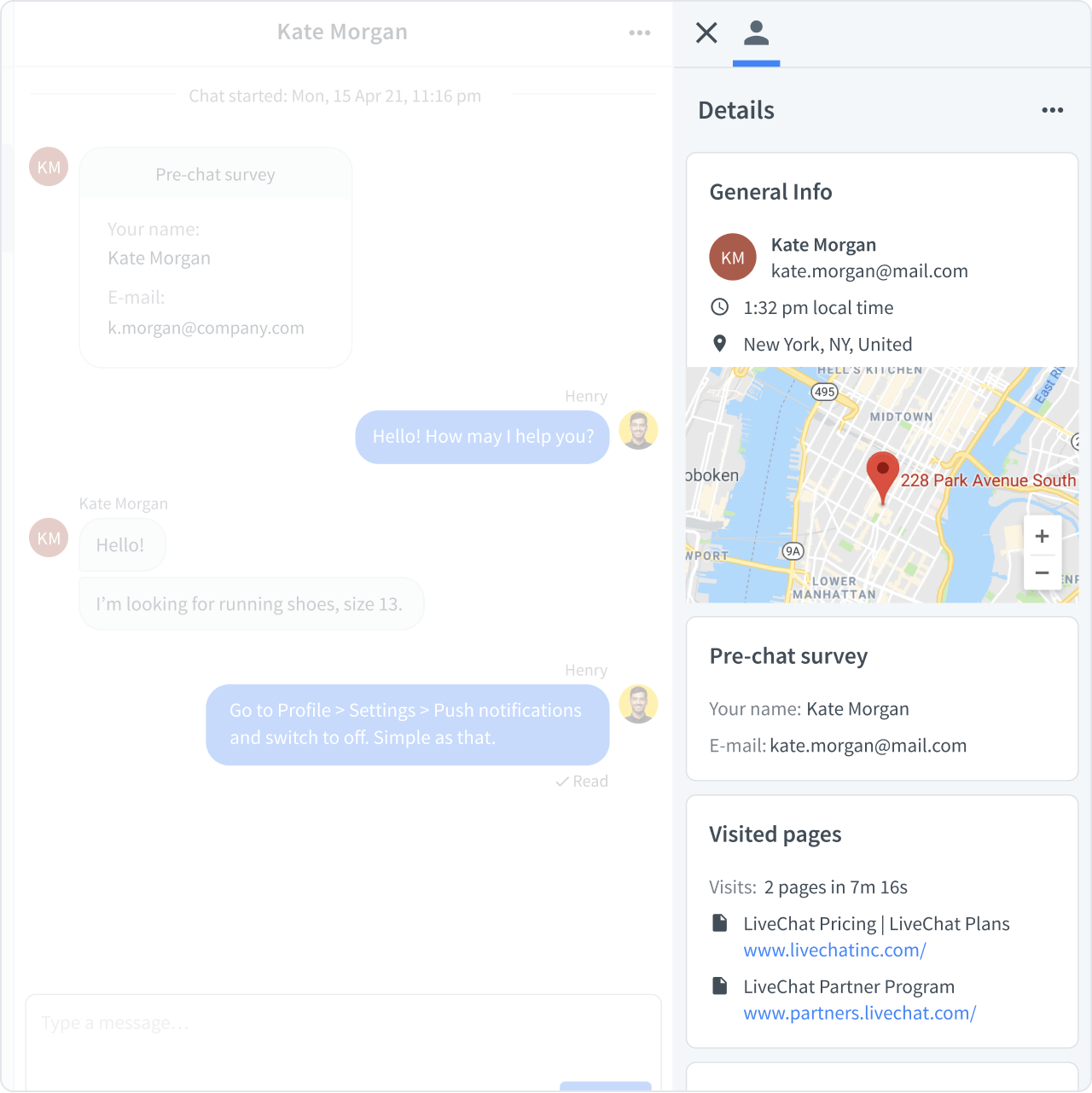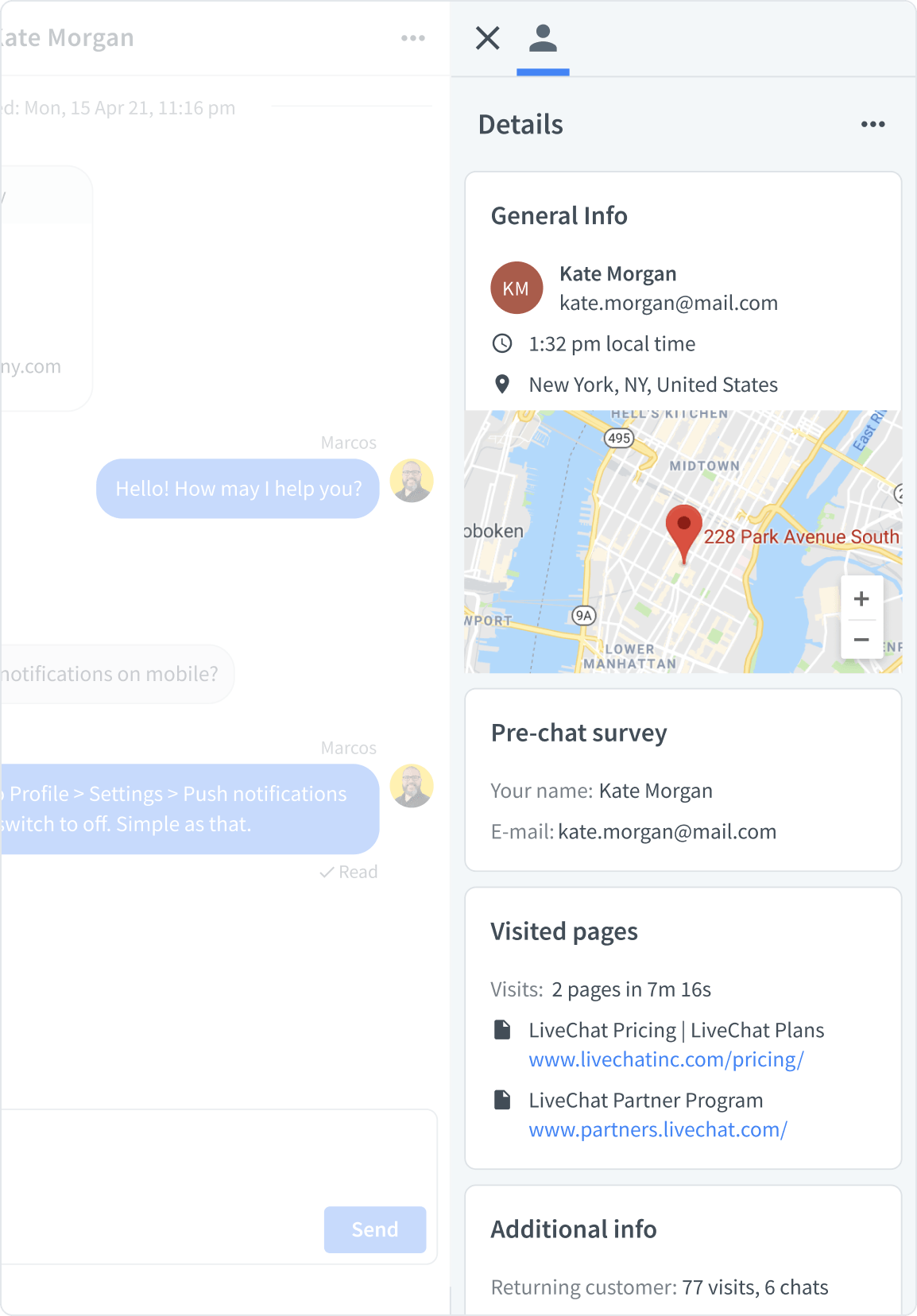 How does a chat end?
A chat ends:
When the customer closes the chat widget on your website.
When they leave your website.
The chat will close automatically when there are no new messages sent in a given time. Ask your team leader how this is set for your team. Learn more about inactivity timeouts.
You can close the chat at your end. Find it on the list and click the in the top right corner. If the chat hasn't been closed by the customer or an inactivity timeout, you'll be asked to confirm closing the chat. Click "Close and archive" to close the chat and remove it from your list.
Tag your chats
Before you close the chat, remember to tag it to let the rest of your team know what the chat was about. Learn more about tags.