Showing top

0

results

0

results found
Showing top

0

results

0

results found
8 min read
Mar 6, 2019
Does social media or the conversations happening around ever sleep? Guess not! According to the New York Times, we spend more than fifty minutes per day on average scrolling through news feeds, chatting with loved ones, posting pictures, liking, commenting and sharing them. Do you have any idea how these activities can have a significant impact on your social media strategy? Yes, more and more companies are doubling down their efforts into social media. The post sums up how social listening can leverage customer conversations.
Companies which do not respond to social media messages can see an increment in customer churn. Because most of the customers are using social media channels and expecting their issues solved within some hours on their social channels as well. This creates another way of losing your customers. You may wonder what is customer churn, you may ask? 50% of customers naturally churn every five years. You can even calculate your churn rate by implementing a formula. Below is the reference image:

All you can think of is keep the churn rate as low as possible to make your business perform in a better manner. In simple words, customer churn is about losing your customer. With such a broad exposure and overwhelming options around, combating churn has become one of the major concerns for businesses these days.
Let's delve into details
Failures happen every day at different levels; uncovering each one of them can be difficult to achieve. After all, not every customer will have time to let you know about their concern, they will just pack their bags and move on. Down below I would like to shed some light on a few factors contributing to the bulk of your lost customers:
Weak customer marketing
Poor customer onboarding
Poor customer service
Lack of communication
Poor sales approach – overselling
Ineffective nurturing/relationship building
So, now that you know the problem; let's shift the focus on the solution. Have you ever come across a term called social listening? Do you think a customer only stops doing business with you because of the price or product? Definitely not! It may also be because they don't feel valued enough. Social listening is a two-step process.
#1 Examine all social media channels and go through all competitors, products, and any keywords relevant to your business.
#2 Analyze that information and think of ways to put what you learn into action.
Reach out to the root mechanism and make a clear understanding of how you can improve the updates in this case for better user experience. You should be quick in responding them back as well. Added below is an example of how We should approach this.
Here's what Apple Support is doing: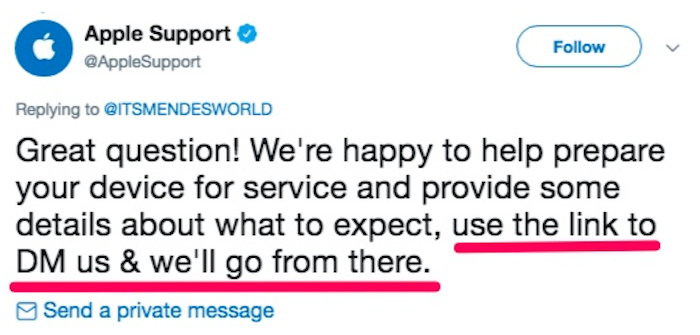 Many of you find the concept much similar to social monitoring. It is not so! Social monitoring is more like a former where you require keeping track of social media mentions and conversations. Social listening involves appropriate actions and responses, finding root causes behind social conversations and implements long-term strategy changes.
Social Listening: Why Does It Matter For Businesses?
I will start by saying if you aren't using social listening in your marketing strategy, chances are it might cost you a significant amount of blind spots. People are talking about you and your brand, you would like to listen - whether they're talking good or bad things. Take a look at the graph below published in Clutch on how we can get benefited from social listening.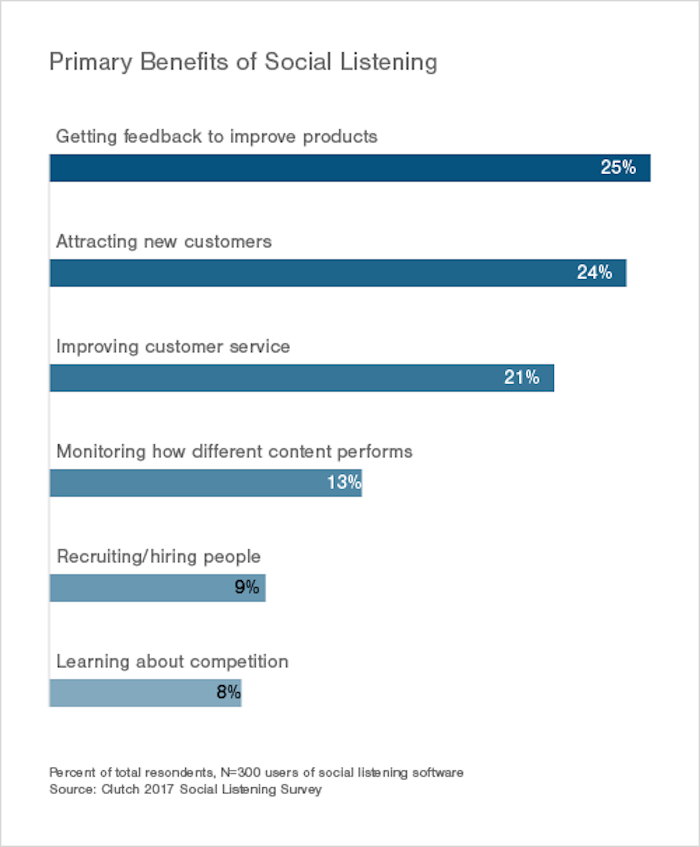 In simple words, as a business owner, I am sure you do care about your customers which means you care about the insights that can be received from social listening. The concept mainly emphasizes on looking forward rather than backward. Down below I would like to mention a few ways through which this technique can make you stay ahead from your competition.
1. Customer engagement
With the help of social media listening, several opportunities can be identified to engage in conversations about your brand. Right from anyone saying how much do they love you to how they enjoy using your product, and the list goes on and on. Customers like when brands respond to them. According to Sprout Social, around 83% of users love when brands join conversations. Social listening allows businesses to craft responses that provide real value. This leads to an increase in brand loyalty as well as customer retention rates.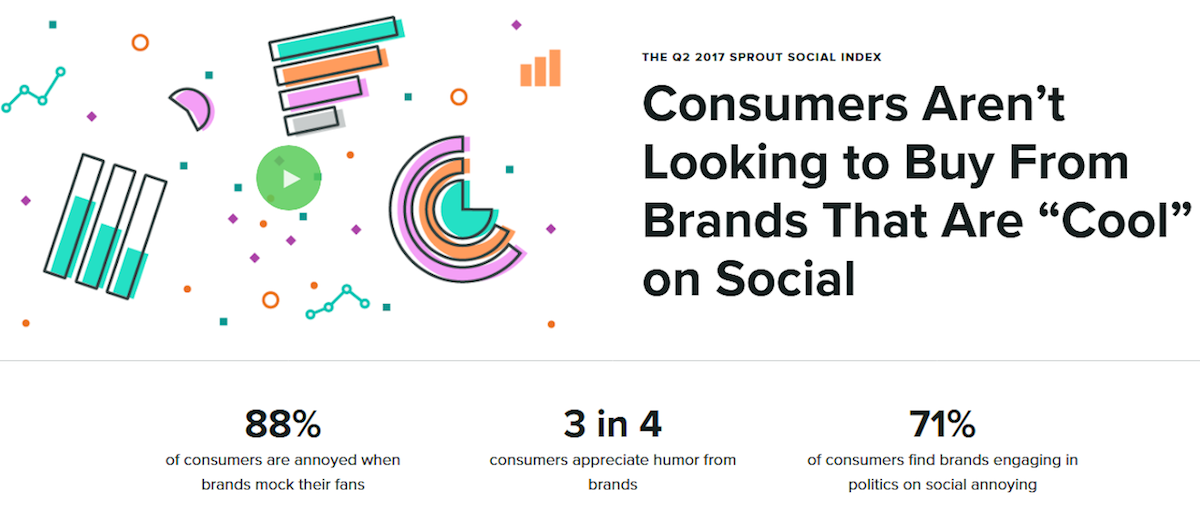 Real time Feedback
Other than engagement, social listening enables you to spot changes in sentiment in real time. This will definitely provide you a sense of what triggered the change. Like if you've responded or addressed the customer issues and just after addressing them you can analyze if they're satisfied or not. Adding an example of How ASOS spontaneous response to a user called Michael to help them in a real-time i.e at the same time.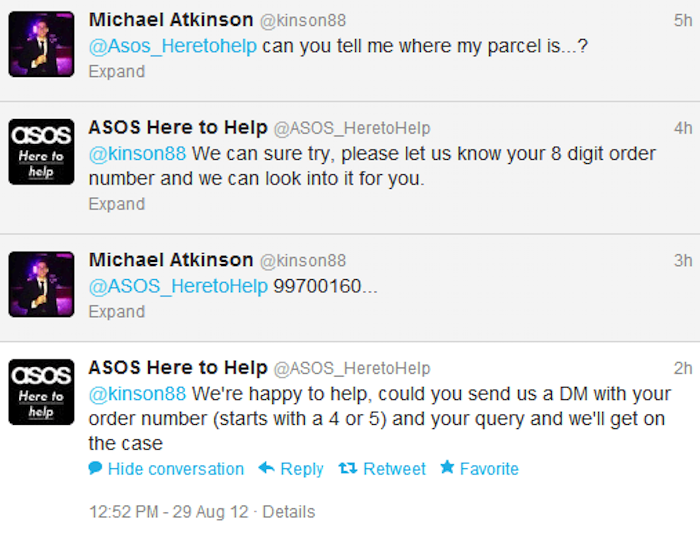 By going through all your responses and feedbacks, you can easily analyze what has gone right or wrong for the user. You'll also find out if they still require support. By doing this, you can get attention from valuable contacts who might not otherwise have engaged with their social accounts.
Learn how people think
As the point implies, the concept of social listening is more than understanding what people say about you and less about what you think about your brand. Simultaneously, also learn what your competitors are up to in real-time. Are they launching new products or developing new marketing campaigns and so forth. Basically, you can find opportunities and threats as they happen, so just plan and respond accordingly!
Social Listening Tools to Use
1. Sprout Social - The social media management software aims to improve your social media interactions with end customers and prospect. Sprout allows to access in-depth data analytics, streamline and scale your engagement efforts, come up with informed strategic decisions, publish content and campaigns, and, most important of all, uncover trends and insights to drive strategic changes.
It may quite interest you to know that Sprout offers Twitter Listener dashboards and reports where you can analyze your Twitter presence to a great extent. Features like real-time monitoring allow you to track direct messages and brand-specific keywords. In addition to this, the platform offers valuable insights that can help you consistently monitor and improve your social strategy.
2. Hootsuite - Another interesting social monitoring and listening platform. Hootsuite helps you in building and growing relationships with social media followers. Which means you can view all messages, comments, and brand mentions on any social channel you prefer and respond via one concise dashboard.
Hootsuite features analytics regarding what's being discussed about your brand, competitors, and your market which can be shared among your peers. This will help you in finding perfect solutions and strategies that fit your business need.
3. HubSpot - Last but certainly not the least, HubSpot allows you to prioritize your social interaction and also connect with all the right people. It acts perfectly as a one-stop solution to create marketing campaigns, share content like blog posts and landing pages to a wide range of channels at appropriate times. Another surprising element offered by the tool is its way beyond social listening. It is a comprehensive inbound marketing software that benefits you to a great extent.
Brands Featuring Effective Social Listening
For Dell, using a single tool won't make any difference, so the company decided to combine tools to overcome the latter. With the help of popular social listening platforms, they developed their own Delta Technologies.
In addition to this, Dell soon decided to establish their own Social Media Command Center to listen to what customers had to say on social media right after buying a product. There was a time when an open-source notebook created by the company caused a lot of adverse reactions. With the help of social listening, the company was able to remedy the situation right away creating more brand loyalty.
Nescafé joined forces with a digital marketing agency to come up with an intuitive social content strategy. Their objective was to increase engagement. As a result, with the help of numerous social listening tools, they were able to create a more relevant content calendar.
According to Cyndi Chin, Senior Brand Manager of Nescafé, in just three months, the number of Instagram engagements quadrupled over the previous quarter, the number of Instagram followers increased fivefold, and the number of brand mentions skyrocketed reaching eight times the previous numbers.
That's a wrap!
More often than not, the customers script the growth story of the brand. Which means maintaining superior customer and user experience (depending on the nature of the website), in a world of insurmountable choice and lagging brand loyalty, is of paramount importance. With less talk and more social listening, you can have the right strategy in place.