Showing top

0

results

0

results found
Showing top

0

results

0

results found
Team management isn't about bossing people around — but you already know that. It's mainly about planning your team's work and unlocking its full potential. Being a support leader is a little like being a coach — a soccer coach, for instance.
First, you plan your team's tactics. The players who are better at attack become your sales agents, while the better defenders become your support agents. You measure your players' pace, meaning how quickly they reply to chats and what they can do to respond even quicker. Then you position your players on the pitch based on where they are the most effective. In between games, you adjust your team's tactics. You watch and analyze games on repeat by reading chat archives.
Now, let's see how this analogy applies to LiveChat Reports and how they can help you plan your customer service strategy.
1. Total chats — your go-to report
Start planning your customer service strategy by checking out the total number of chats you had. See how many chats you had in general and at what point of the week you get the most of them.
Use filters like "date," for instance, to look for trends in how chats change week to week or month to month.
Check the box "24-hour distribution" to find out how your chats spread across a day and night. If you find peak chat hours during the 24-hour cycle, plan your agents' work such that they can focus on customers 100%. Let them do additional tasks later.
During chat peaks, you may need more agents to handle customer cases. How many agents exactly? The staffing prediction report will tell you that.
The Total chats report also includes missed chats, queued chats, and more. You'll also see the Total chats divided into two groups: Real-time chats and Asynchronous chats. The Asynchronous chats group will be empty if you don't use asynchronous mode or integrations like Facebook Messenger, WhatsApp Business, or Apple Messages for Business.
Summary: The Total chats report tells you how many chats you had on particular days of the week and how many agents you need in general.
2. Staffing prediction report — defining the number of agents you need on chat
The Staffing prediction report tells you how many agents you need to handle the highest number of chats at any point of the day. It's calculated based on the maximum number of chats per hour from the last four weeks.
We have 33 support agents — a.k.a. Support Heroes — right now. Here's what Grzegorz — our Head of Support — says about using the Staffing prediction report:
"Let's say I need to know if the shifts we set on Monday are correct. I go to the Staffing prediction report, select "Monday" in filters, and immediately see how many agents I need per hour."
Using this report helps you handle chats and close sales more effectively. You can also make sure your agents don't face too many chats at once and aren't overwhelmed.
"If you want to keep your finger on the pulse of your team's well-being, it's your go-to report. It's proved useful many times when we've asked ourselves, 'Do we have enough manpower?'"
Summary: Staffing prediction tells you how many agents you need in a particular hour. It helps when planning agents' shifts, so they handle the right amount of chats.
3. Response Times report — should your agents reply faster?
Imagine you step into the local store to buy something, and there's no one there to help you. You wait for a minute, then another, and nobody shows up. These two minutes feel like an eternity, don't they? Don't let your customers wait this long on your website.
If you claim your agents are ready to chat, but no one responds to visitors, you'll have to explain the poor customer experience. Check out the Response times report to see if your agents keep up with all conversations.
According to our Customer Service Report, the global average last year hit 45 seconds. How can we respond even quicker? It all starts with better planning. Make sure you staff your shifts well so that your agents don't face too many chats at once. If you're onboarding a new agent, remind them they can set up chat limits to handle no more than three chats at once.
Summary: First response time tells you if agents have the optimum number of chats to handle or if they're handling too many chats.
4. Find out if visitors queue on your website
When your agents can't keep up with the number of visitors who want to start a chat, a queue starts building up. This can lead to an agent's worst nightmare — angry customers.
Look for patterns that'll tell you when your agents will face an increased number of visitors wanting to chat. Then, staff your shifts accordingly at those times. Businesses tend to get many questions at night when no agents are available to chat. To avoid enraging your visitors or missing out on sales, consider providing 24/7 support, adding a chatbot, or implementing a knowledge base that'll facilitate self-service.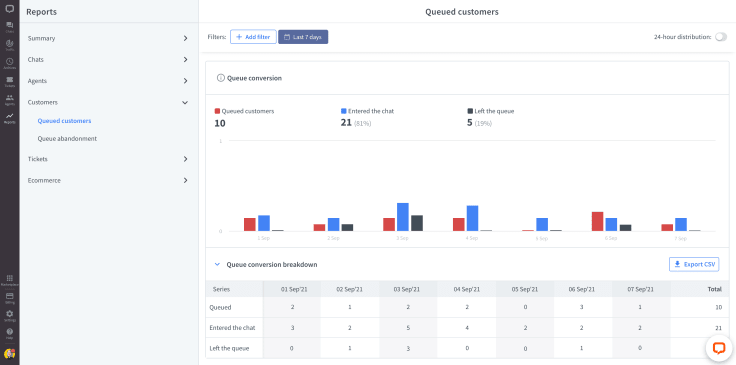 Chat peaks can also be seasonal — think of Black Friday, Cyber Monday, the Holiday season, and the like. If you can't work out your work schedule for those times, consider hiring part-time agents that'll help you make it through rush hours unscathed.
Summary: If your queue starts building up, you have some work to do, like staffing your shifts better or hiring more agents.
5. It all comes down to customer satisfaction
Chat satisfaction is the one metric you should constantly check to see if your plan, strategy, and actions are leading you in the right direction — happy customers.
Go to your LiveChat satisfaction report to check how visitors rate your work. Chat satisfaction is the ratio of the good ratings to the total ratings your agents get during or after a chat. It's a crucial metric for every business. Satisfied customers will always come back, and they might recommend you to their friends.
According to the Customer Service Report, the global average customer satisfaction figure reached 78.5% in 2021. Check yours by using a custom period filter.
Summary: The Customer satisfaction report gives you an overall look at the state of your customer service. You'll see how your agents are doing and if your strategy is working.
6. More key reports you should know about
I've already mentioned the Total chats report above, but we also tweaked three more reports. What did we change? We unified the way we count chat events and made the definitions of reportable events more intuitive and logical. Thanks to those tweaks, the reports now better reflect what happens when visitors chat with your agents.
Take a look at three more improvements that make Reports more accurate and reliable than ever before:
Chat engagement
This report now shows more chats in total by including unassigned and missed chats, painting a more accurate picture of what happens on your license.
Missed chats
Missed chats report includes only the chats that have been assigned to an agent and where the customer sent at least one message. No more unassigned chats messing up your stats — they weren't actually missed chats.
Chat duration
We added a new dimension to this report — the Agent's chatting time — which tells you how much time your agents spend actually chatting with customers. That's on top of the bots' chatting time and time spent in queues.
With more accurate data, you'll get to know your visitors and agents better. Use that knowledge to make your team even more effective.
LiveChat reports? You've got this!
While the primary goal for your agents is to resolve customer cases efficiently, your job as a manager is to focus on the background of ongoing conversations with customers.
This background is everything your agents need to provide stellar service — technical details in the LiveChat app, effective use of the features, and analyzing the data in the reports. Knowing all this, you'll be able to come up with the best strategy for your team.
Good luck with planning your customer service strategy! Remember, if you've any questions, leave a comment or start a chat with our Support Heroes. We're always here for you.