Showing top

0

results

0

results found
Showing top

0

results

0

results found
Human brains are programmed in such a way that they process visuals 60,000 faster than words. If you have ever visited a primitive cave, the paintings on the wall would have fascinated you more rather than the description. That's the magic of visuals. They have always been the most effective story-tellers. No wonder, the love of humans for visual communication hasn't waned with time.
The same concept has led to the advent of visual marketing. To stay abreast with this trend, email marketers have adopted its use in email designs. However, while employing this trick, marketers have to consider the rendering of emails across diverse email clients. Often, a subscriber is unable to view the imagery in the emails. This is because most of the email clients block images by default. To make sure that such issues do not hamper your visual email marketing strategy, you ought to follow certain best practices as discussed below.
Follow a definite visual hierarchy
Your email should be designed in such a way that the subscribers can easily scan and skim through it. Visual hierarchy comes into the picture here. According to a study by Nielsen Norman Group, the human brain scans content in two different ways.
Scanning behavior in blog posts or verbose pages with consistent blocks of images generally takes the F pattern, as shown in the image below.

The other way is Z-shaped pattern, suggested by Neil Patel.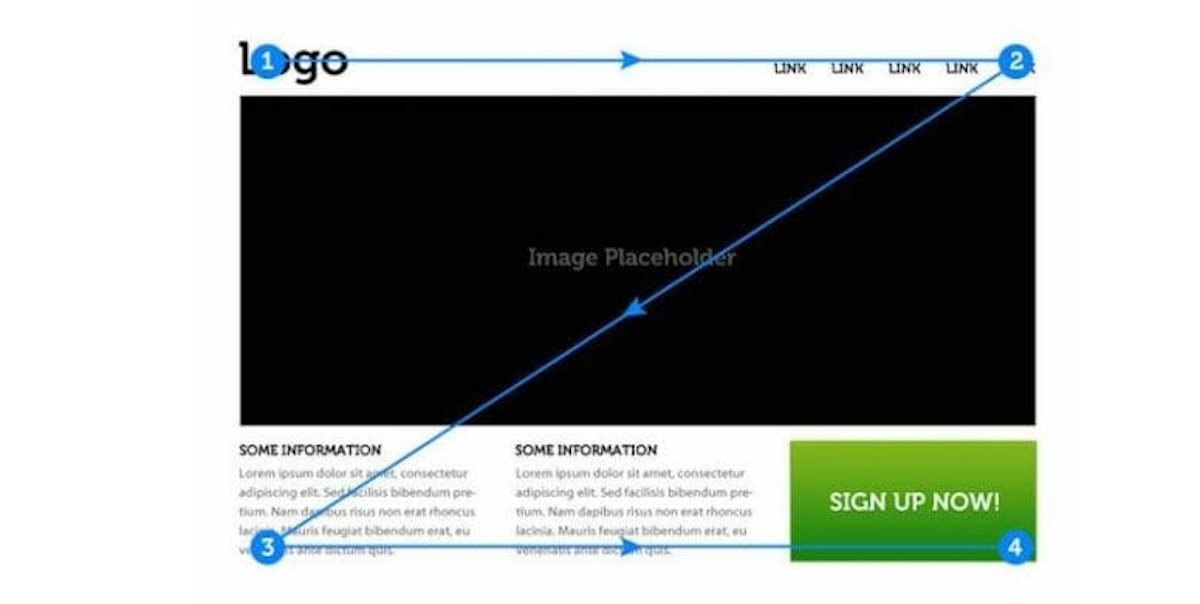 Let's take a look at the email example below and understand it better. The email highlights the most important information at the top. The headline is catchy enough to grab the attention of the subscribers. The flow of the information is maintained in the form of an inverted triangle that features general information narrowing down towards a CTA.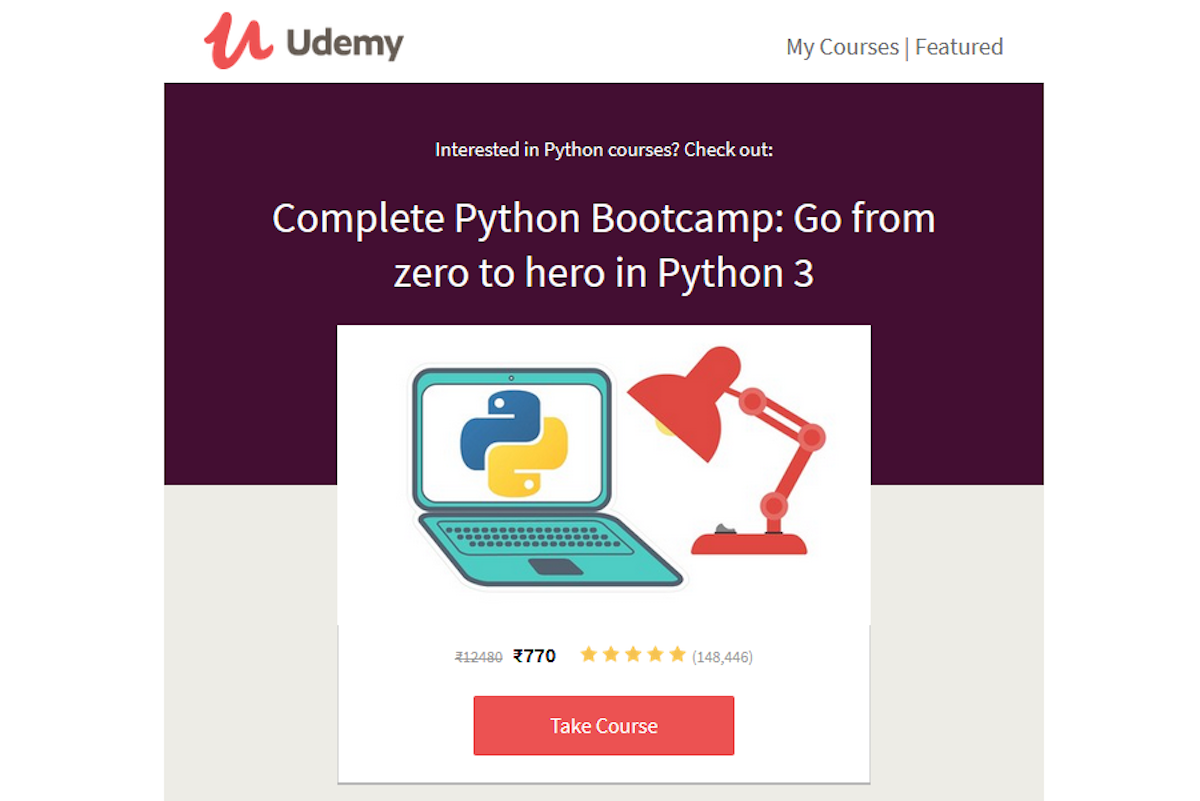 The best method to ensure that you are doing things right is to employ the "squint test". As the name suggests, you have to sit back from your computer screen so that the email is completely and clearly visible. Then, squint at your design and see which elements stand out.
If you want your subscribers to see what you are seeing, then your email design is good to go. If not, you should consider redesigning it.
Use the right colors
Color plays the most significant role in the selection of everyday items. It can convey your message more effectively when done right. While designing your email design, use a few colors that match your brand personality. For example: If you are sending a summer email, incorporate a seasonal vibe like J.Crew does in their email.
Here are some rules that you should follow while selecting the right color combination for emails.
1. Complementary colors: Choose two colors at the opposite positions on the wheel.

2. Analogous colors: Colors adjacent to each other look good together.

3. Triad of colors: Combine three colors that are at equal distance from each other.
Choose the correct font
There are numerous fonts that designers can use in emails. The choice of font depends on the brand personality and the message you wish to convey through the emails. They are broadly classified into four families as described below:
1. Serif font

Serif fonts like Georgia and Times New Roman are most commonly used in emails. They are best used for content that offers actionable insights or benefits to the user.
2. Sans Serif

If the email comprises of short content sections, sans serif font is the perfect choice. Some examples of sans serif fonts are Verdana, Arial, Open Sans, Helvetica, and Trebuchet MS.
3. Cursive

To highlight the email headline or a specific offer in an email, cursive fonts are used. However, it is recommended to use this font wisely as readers take 86% longer time to read fancy fonts.
4. Monospace

Marketers who want to give their email a minimalistic look should go for monospace font like Courier, Lucida Console, and Monaco.
Add a suitable Alt-text for the images
Alt-text is a must for every visual element that you add in your email. This is to ensure that the reader understands the purpose of your email even with images turned off. Always design for "images-off" so that there are no rendering challenges due to image suppression.
Take a look at this email with blocked images. The readers will be able to get the gist of the email even if they are unable to view the images.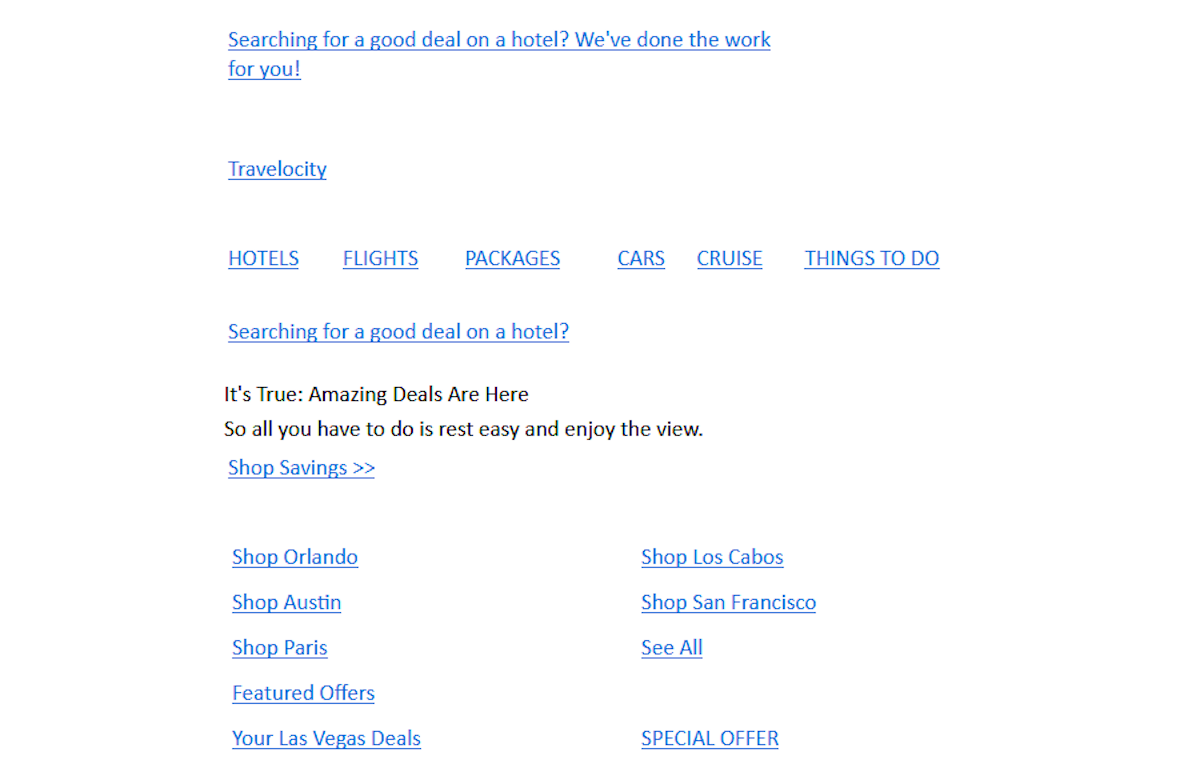 Here's how the original email looks like.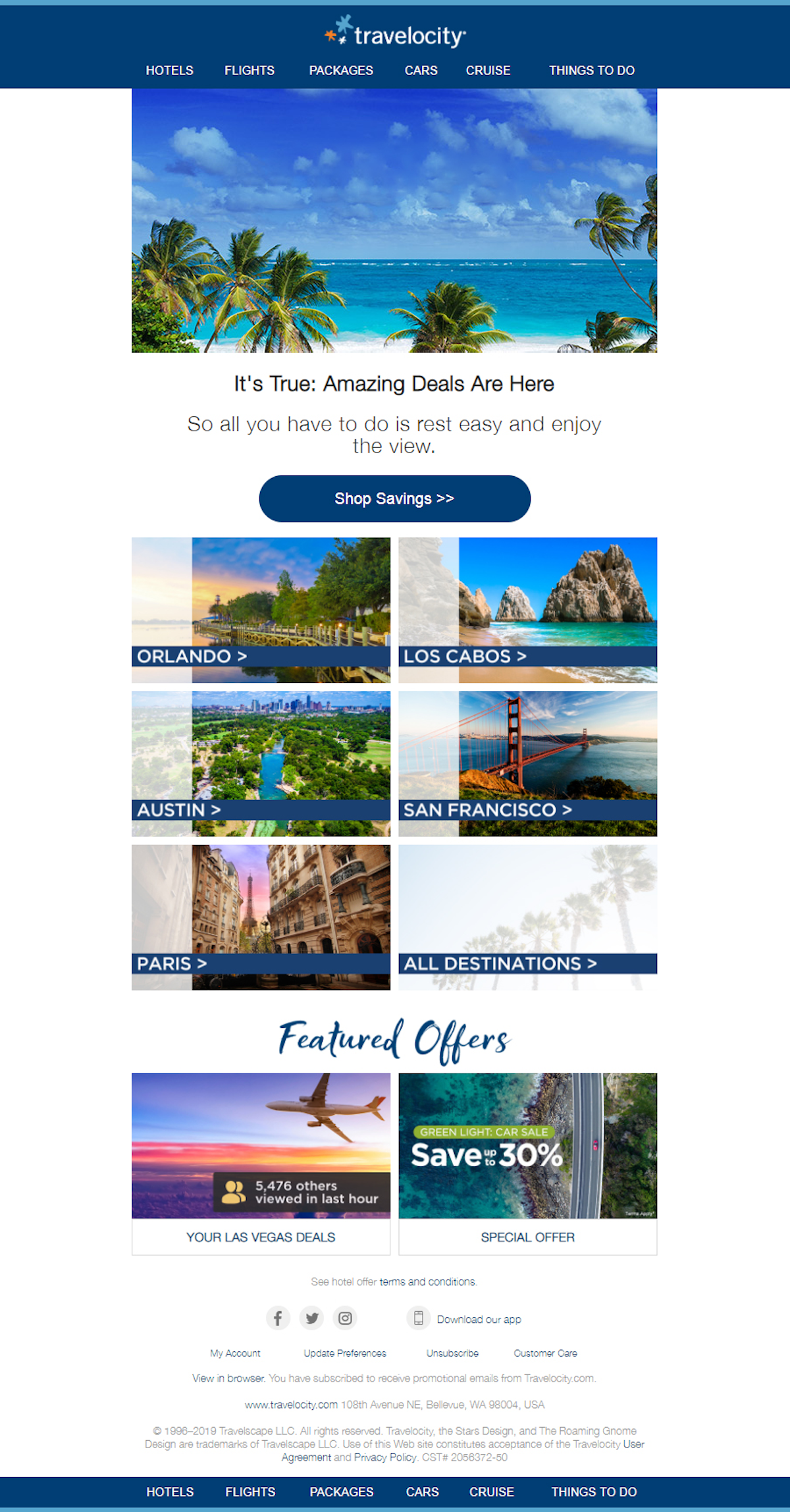 Make correct use of images
Email marketing service agencies strongly recommend the use of original high–resolution images over stock images. Image-only emails are more likely to trigger the spam filters and hamper your deliverability rate. Always maintain the text-to-image ratio at 80:20 to steer clear of getting marked as spam. In case your email is just an image, you can add text like privacy policy, physical address, unsubscribe link, etc. in the email footer to keep the balance between the text and image.
Take a look at the example below.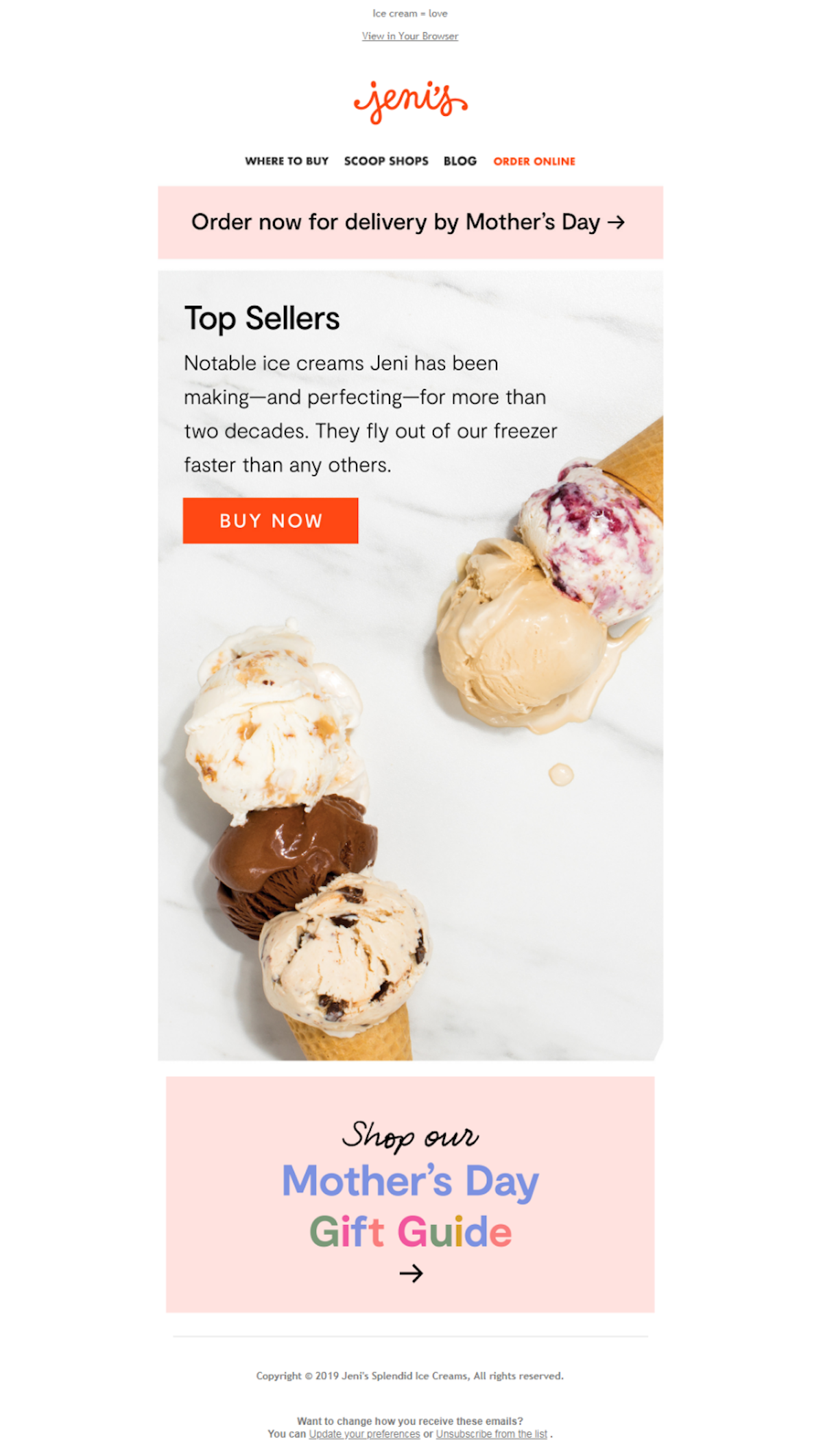 Do not add CTAs in the images as the subscriber will not be able to click on it or take action if the images are turned off.
GIFs should be used judiciously
GIFs have been in use for 5 years and Dell's success story speaks volumes of how effective they are. The brand lifted 109% revenue with the help of a GIF-centric campaign in 2014.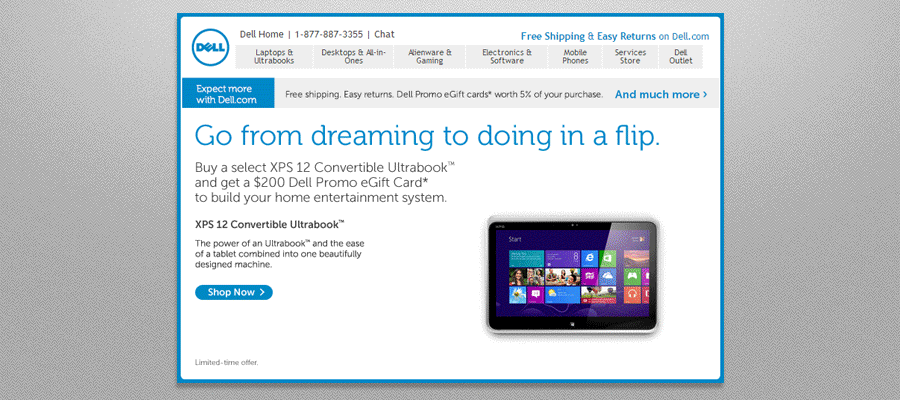 However, if you are planning to send a GIF in your email, you should consider the aspect of accessibility. You should not send automatic or looped animations, blinking objects, and scrolling. It can be distracting for the user. Also, it can lead to epileptic seizures or headaches for some users if the content flashing rate is between 2 Hz and 55 Hz.
Another problem with using GIFs is that it can increase the file size of the email. Therefore, it is imperative to reduce the file size of GIFs or consider using static images instead.
As mentioned in the previous point, do not forget to add Alt-text to the GIF.
Take help of free tools to create impressive visual content
There are certain tools available on the Internet that can help you create awesome visual content for your emails:
1. Canva to design beautiful images for the email campaigns from a huge range of stock images.
2. Placelt to include screenshots of your application, website or digital product to your emails.
3. Graphic River to purchase different visual elements.
We hope you are all set to make your emails more aesthetic and visually appealing with these tips. Do you have any more insights to share with us?
We would love to hear from you.