Showing top

0

results

0

results found
Showing top

0

results

0

results found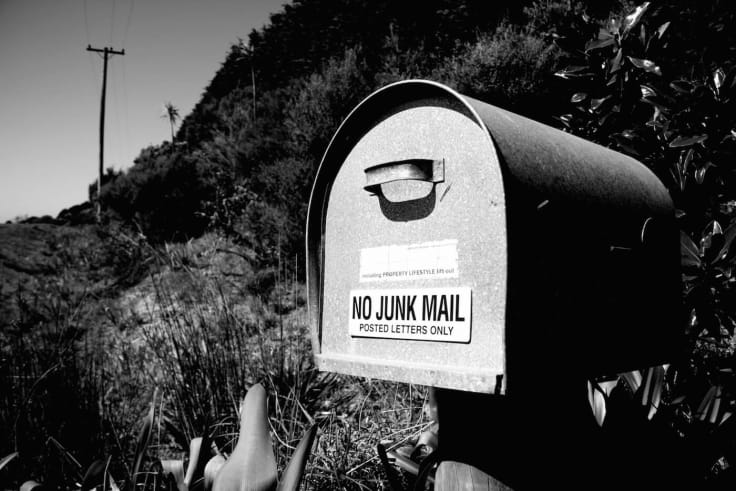 There was a time when email was in its heyday. When not having an email account meant that the world moves forward without you. But then, something has changed. Social media were popularized and outshone other internet communication forms. Professionals started using them as a marketing tool.
And a myth was born that email is slowly dying.
It's true that email communication is quite slow. It takes time before you write a message and receive a response. It's true that there are much faster ways of communication like live chat, for example (you don't have to believe me, you can test it for yourself).
But does it mean that email is useful? That it's old-fashioned and useless?
I hope that you didn't rule out using email in your marketing strategy because it was buried alive.
Superstitions versus facts
Lots of concerns about email marketing originate from the bad press it used to get. Even more from personal experience. We all receive "enlarge" offers, crazy "SALE!!" messages or requests from our royal "relatives" begging to accept their money. It all makes the impression that email cannot be a serious tool for marketing.
Although we are told that email is not efficient, let's not hammer a final nail in its coffin just yet! Email is here to stay, and here's why:
People who buy products advertised through email spend 138% more than people who do not receive email offers,
44% of email recipients made at least one purchase last year based on a promotional email,
70% of people say that they always open emails from their favorite companies and only say they never open commercial emails.
If you create content which will be engaging for your readers, you can turn email into a powerful marketing machine.
Dispelling the myths
If you are not that keen into numbers, there are plenty of newsletter examples that make a strong point for the usefulness of email. Although none of them is perfect (what is?), all of them prove that email can be as attractive and diverse as any other form of communication.
1. Salt House Inn - simple and informative.
This email is lovely and simple at the same time. First thing that jumps off the page is the great design. The pictures may be not too fancy, but thanks to use of Instagram-like filters they make a great impression!
You do not need to spend ages with your graphic designer to have stunning visuals in your email. You can take few photos, pimp them out in a simple program and enjoy awesome pictures for free.
Let's get back to the email's content. Its readers are informed that it is possible to book the room for the next season. There is clear link to pricing and information about local events. Everything is useful and written in a humorous way. There are links to Salt House Inn's social media pages and their home page. It's informative and simple.
2. UrbanDaddy - intense and juicy.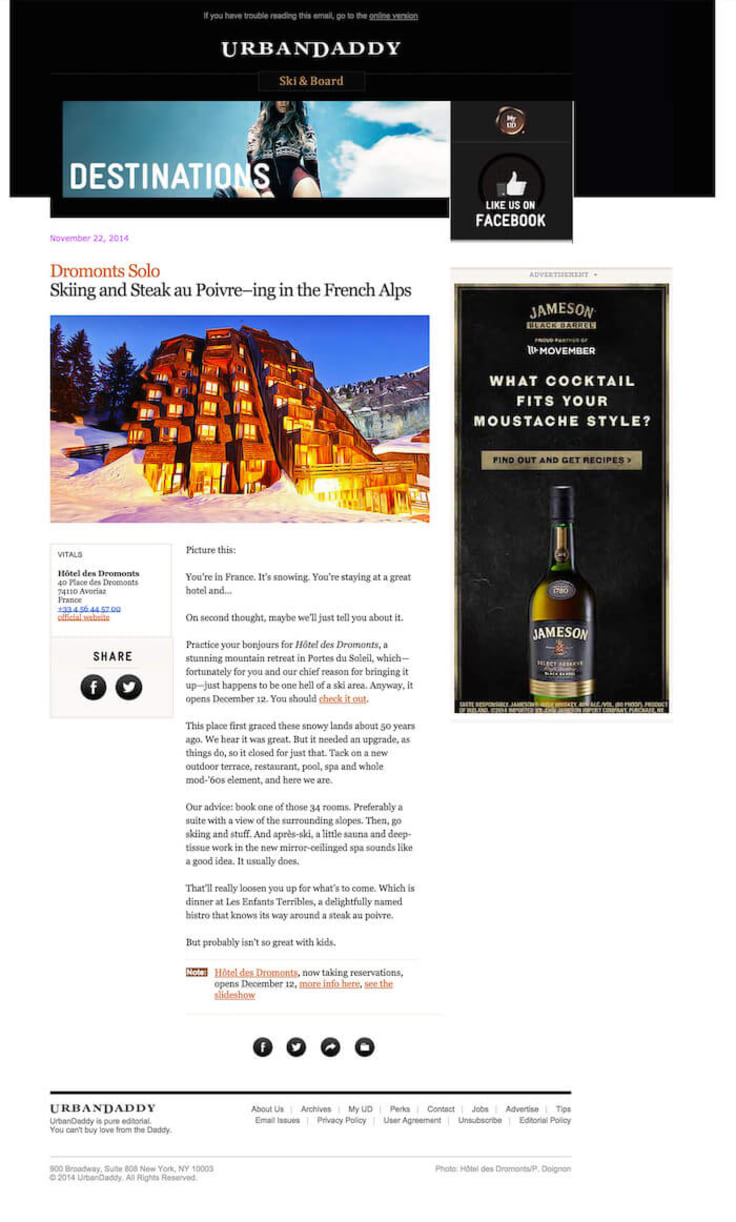 Take a look at this awesome design.
Composition is unconventional: stunning pictures and dark, modern layout. Keeping the ads in UrbanDaddy's dark style was a good choice. Jameson's ad fits here perfectly with its ridiculous, funny question: "What cocktail fits your moustache style."
The title "Skiing and Steak au Poivre-ing the French Alps" is also quite intriguing, isn't it? In the headline, the authors defined what the text will be about, added a drop of humor and made a promise of taking us on a winter journey to France (and having a steak). That's a great introduction to entertaining content.
What I like in this newsletter is that every element fits together. The pictures, colors and texts are full of life and encourage you to enjoy it. Nice job, UrbanDaddy!
3. Medium - minimalistic and useful.
You might wonder why I chose this email. At first, it does not make a great impression. But the secret of this email lies in its usefulness. It's a proof that it is possible to create a successful email without any pictures.
Medium is a blogging platform which became a victim of its own success. It is very popular so there are tons of new posts added to their site every day. Medium had to face the fact that it was difficult for readers to find the best articles. They came up with a solution to send a weekly newsletter with links to their hottest content.
The email's layout corresponds to Medium's website.
Newsletter is minimalistic and contains only text. It's a risky move, but, thanks to the way colors are used and sections divided, the quantity of the text is not overwhelming. The authors did not bother with visual fireworks. They placed a bet on usefulness and fulfilling subscriber's needs. And they won.
Wiping the dust off email
Sometimes I come across articles or blog posts which ask the same question: "Is email dead?" Authors tell the same story and base their assumptions on articles from 2009. Come on! It's 2014 and email is still not dead. Maybe they should stop killing it and give it a break?
The numbers tell us that email is doing great. Marketers are constantly trying to one-up each other at creating better email campaigns. The best of them are even given awards!
Do me a favor: if you see an article about the imminent death of email, don't fall for it. Email is still in its prime and, when put in good hands, it's deadly effective.
Photo courtesy of Gajman via Creative Commons.