Showing top

0

results

0

results found
Showing top

0

results

0

results found
Your marketing emails can be the best friend who shows up with a surprise bottle of wine and hot pizza just when you need it. They can also be the guy who disrupts your dinner trying to sell magazine subscriptions. If you want to fall into the first category, make sure your content marketing is engaging enough for customers to open your emails.
Build Your Foundation by Articulating Your Goal
Every email campaign should work towards a single goal. Try to do too much and things get muddy. Keep a clear and sharp focus instead. It's much better to run multiple campaigns in tandem or even consecutively if you have the energy and resources. By focusing on a single goal, you'll have a much easier time planning and executing the rest of your campaign. Here are some common campaign goals:
Creating interest in a new product or service
Promoting a sale or special event you are sponsoring
Building anticipation for an announcement
Reaching out to customers who haven't engaged in awhile
Making connections with new subscribers
Touching base with customers who have abandoned shopping carts
Spreading the news about contests or giveaways
Once you've established your goal, every campaign decision you make should work in support of that.
Identify the customer segments you want to target
With few exceptions, most successful campaigns won't target every single customer segment. Essentially, you need to answer the question: "who is going to be most interested in and responsive to this campaign?" Sometimes the answer is easy. If your goal is to get people to close sales on their abandoned shopping carts, then your target is, obviously, customers who've not completed their purchases.
In other campaigns, you will have to work a little harder to identify your ideal targets. This is important as sending subscribers irrelevant emails could land your company in their spam filter. Are you targeting people interested in a specific product or category of products? Are you reaching out to customers with an established purchasing history? Is there a specific demographic you believe would be most interested in your message?
Create a Great Landing Page For Each Campaign
Every marketing email should have a call to action that leads the reader to a landing page. That page should be informative and engaging. Just as importantly, it should also be unique. It's rarely a good practice to have a call to action link that takes a reader to a product page or your home page.
Instead, a unique landing page should be used to give further information. It should closely match the email's message, and make it easy for readers to complete whatever action you'd like them to take.
Here is an email from PetFlow: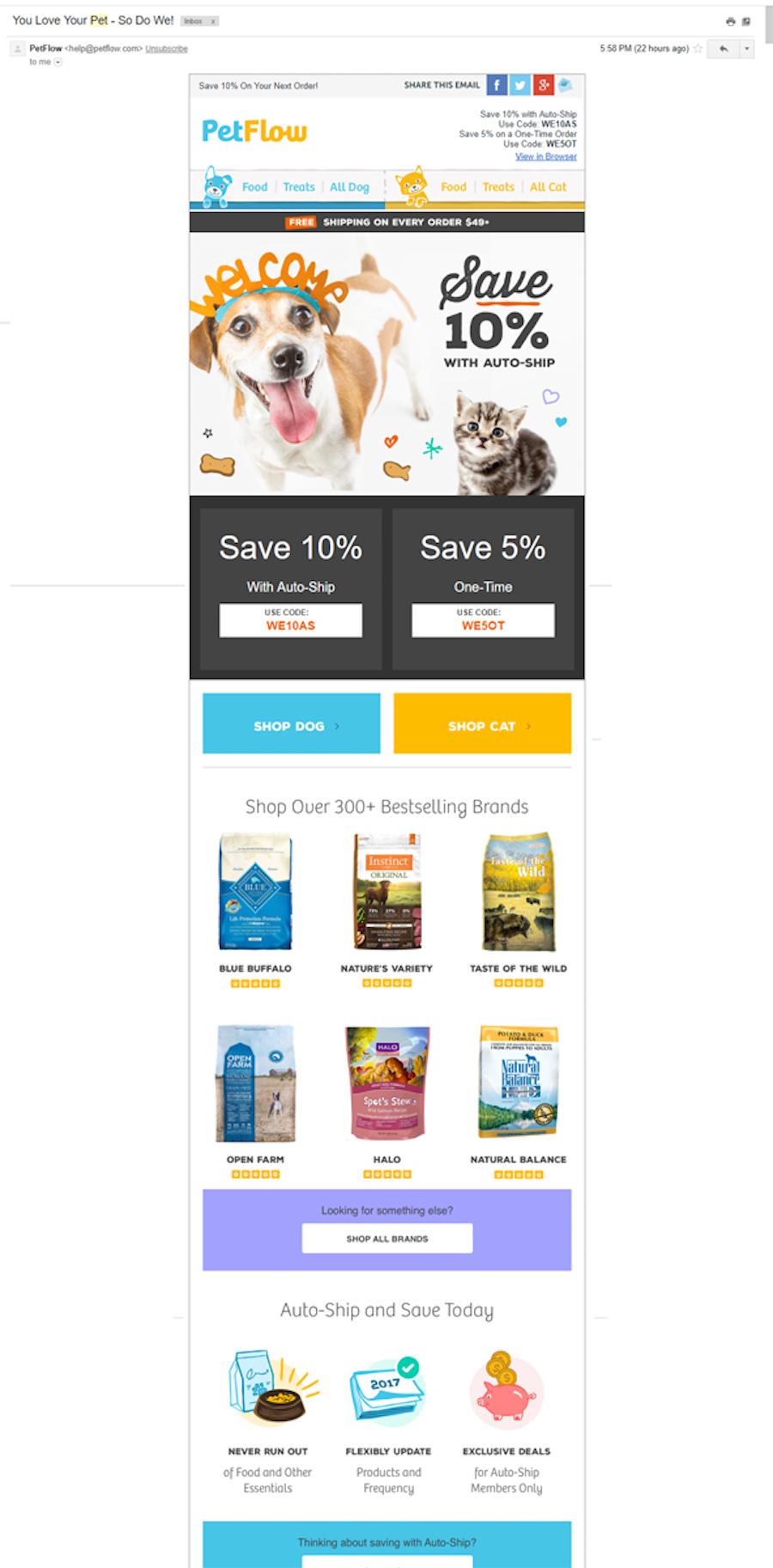 And that's the page I am directed to: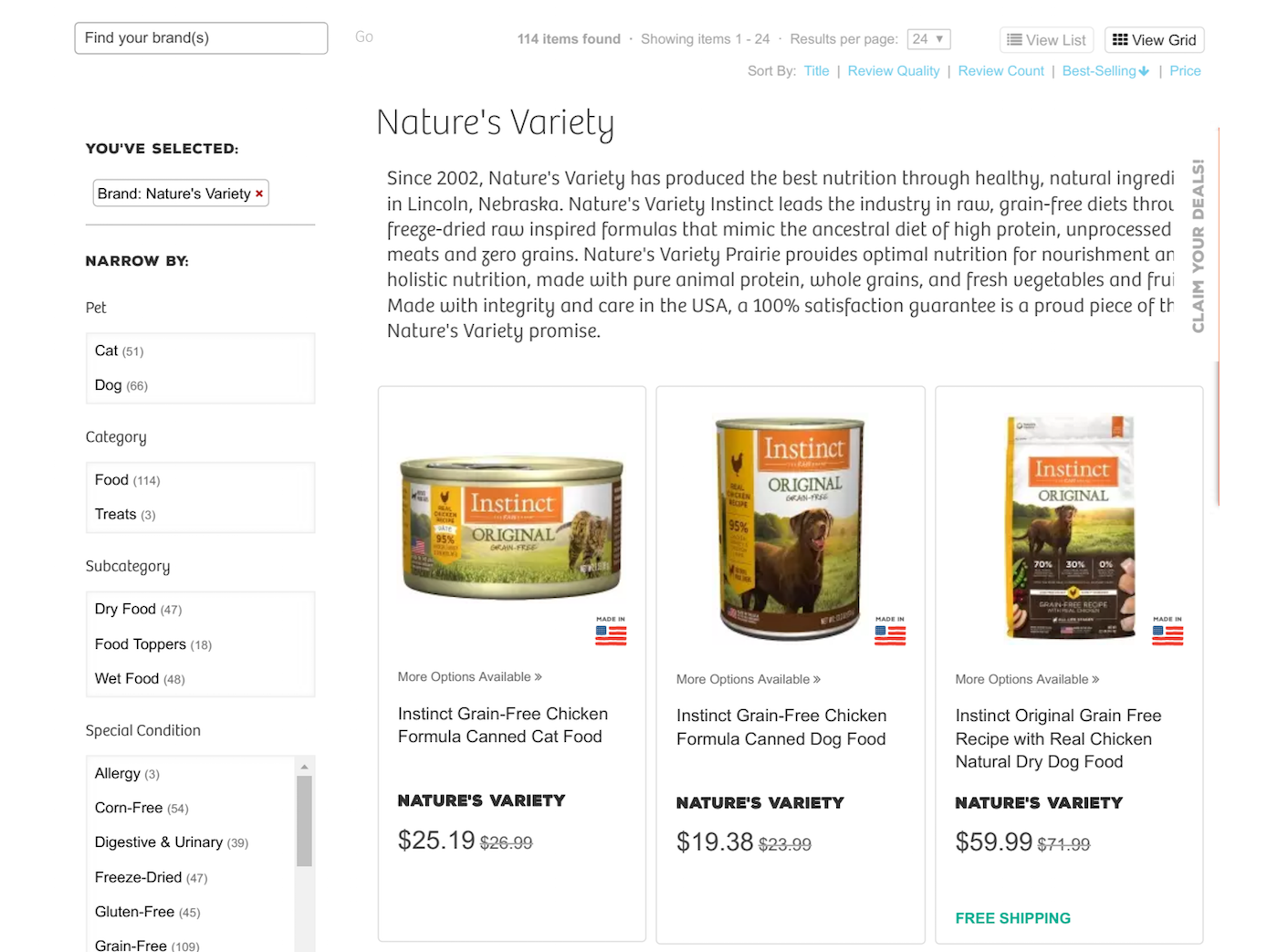 Along with the great choice of top popular products promised in the email I also get the chance to read the history behind them and make sure I get the best quality goods.
Write a great email with a subject line that pops
All of this preparation work is useless without an effective email. Your subject line is key. It's only a few words. How important is it? 47% of recipients use the subject line to determine whether or not they will open an email. This makes this very worthy of consideration. Subject lines should be subject to A/B testing. Campaign managers should consider these as or nearly as important as the email content itself.
Ramit Sethi, an American personal finance advisor and entrepreneur, uses psychology and carefully touches heartstrings of every entrepreneur:
A great subject line will get people to open your emails.
Next, you need a great copy to keep them intrigued. First, keep things short. Always personalize your emails. Never jump into a sales pitch right away. Open with something relevant and attention-getting. Share valuable information. People love information that they can use right away. For example, a small business owner might love a list of the top writing services that offer press release writing. Tell a compelling story. Use visual elements.
Don't try to cover too much. Stick with one or two main points. You don't want readers to become distracted, or overwhelmed with too much information.
Finally, strategically include a call to action buttons in two to three places in your email. Never lead with a pitch and a CTA. However, at least one should be closer to the top. This will allow you to snag the prospects that are quickly convinced.
Decide when emails will be best received
Timing is important. Studies have shown that people are more receptive at certain times than at others. WordStream conducted research on their own data and drew some interesting conclusions. They found that Tuesday and Wednesday mornings were the worst times to send marketing emails. Thursday mornings between 8 and 9 had the best results. Of course, if your audience is largely mobile, you don't have to worry much. The same research shows plenty of activity late in the evening. It may be worthwhile to map out different sending times depending on the device.
Consider using an autoresponder to stay on top of all of this. An autoresponder, as the name suggests automates the sending of emails. It can also be configured to respond to people who hit the reply button instead of clicking your calls to action. A good autoresponder will allow you to create segmented lists of email subscribers. This means you can ensure that your content reaches the people who will be most interested in receiving it.
Another benefit is that you can send emails even when you don't have something to pitch. Sometimes a simple email with nothing more than interesting or useful content such as tips or tutorials contributes to building better relationships with your subscribers. They appreciate receiving information without always being pitched.
Stay on top of your data and don't be afraid to change course
There's a lot of information here. Having said that, there is a missing piece. That is the data you gather using analytics, and how you use that information to improve your campaign. Ultimately, there is no single approach that works. The tips here are based on best practices and are evidence-based. Still, the only way to ensure your campaign will be a success is to continually test, measure, and then make changes based upon those numbers.
Don't be afraid to change course. No campaign is going to be successful because somebody stubbornly maintained the same approach. By being flexible, you are more likely to get better responses from your target audience.