Showing top

0

results

0

results found
Showing top

0

results

0

results found
9 min read
Aug 14, 2019
Everyone has an opinion. Thanks to the Internet, everyone can share what they think in an open forum. Yelp, Google Reviews, Houzz, and more serve as the review platforms for customers of restaurants, auto shops, and home services.
Transparency might be intimidating for small and large businesses because consumers can poke holes in a company's controlled messaging. In fact, most people check Yelp or Google Reviews before eating at a new restaurant. It has become a part of American culture and business owners must consider the importance of what consumers are saying about them—the good and the bad.
But you must proceed with caution. Aimlessly, or worse, angrily replying to customers' online reviews does nothing to benefit a company's image. According to Bright Local, 89% of consumers read business replies to online reviews. This reveals that your current and prospective customers are paying close attention. Read on to find out how to best reply to negative reviews.
Reasons to remove negative reviews
Yes, you should reply to Yelp and Google Reviews. However, there are special circumstances when negative reviews go beyond an unhappy customer. These reviews are often connected to a conflict of interest, use of derogatory language or even unrelated rants.
Fortunately, Yelp and Google reserve the right to regulate inappropriate or unreliable content. Sometimes these extremely negative and malicious reviews violate a company rating policy, which could lead to immediate removal.
Conflict of interest
A review can be maliciously submitted by a competitor in hopes of gaining your customers' business. In order to maintain their status of trust, Yelp enforces reviews should only come from unbiased parties. This is why Yelp will remove reviews that are seemingly from competitors.
In addition to competitors, Yelp classifies friends, family, and former employees as conflicts of interests. Any reviews you notice that are written by these individuals can be removed due to their close connection to the business. Simply flag the review for inspection and Yelp or Google will determine if the negative review is classified as a conflict of interest.
It's also wise to never write your business a review. This can immediately build up uneasiness among your customers and affect your company's image.
Derogatory content
Unfortunately, negative reviews can sometimes contain explicit and derogatory language. This is never acceptable, even for Google! Google's Prohibited and Restricted Content guidelines define what content is unwelcome. A few examples of derogatory content that Google doesn't permit includes harrassment of individuals, harmful threats, and discrimination based on an identify (e.g. race, religion, disability).
If you ever identify derogatory content in a review, flag it for removal and don't respond. Responding to severe, negative reviews could worsen the situation and put yourself in danger. Keep yourself safe by letting Yelp or Google manage the situation.
Additional content that could be removed by review platforms include restricted, illegal and terrorist content.
Tips for responding to negative reviews
Now that you are familiar with some high-level scenarios, let's discuss the negative reviews you should reply to. Google and Yelp won't remove all negative reviews because they wouldn't be accurately serving their users.
Problems and mistakes happen, which can lead to a negative experience for a consumer and negative review for your business. It's unlikely that everyone is going to have a positive experience with your product or service. We all have different preferences and interests, which makes every user's experience unique.
Expect regular negative reviews and be prepared to reply to them. Think twice before disregarding a consumer's business because you could be missing an opportunity to make things right and prove to future customers your customer service quality. Below are some tips with examples to replying to negative reviews.
1. Analyze the problem and apologize
Regardless of your opinion on the situation, apologizing to the customer is fundamental for all your negative reviews. Allocate an appropriate amount of time to fully understand the problem and express your sincerity in a personalized apology.
Telling a customer they're wrong reveals that their feelings and business don't matter to you. This can result in an enraged customer, which can be dangerous if they have a significant influence on social media platforms. Surprisingly, a simple apology is all people need sometimes.
In this Yelp review, the business owner starts by thanking the customer for sharing their feedback and apologizes for the confusion. This will validate the customer's feelings and make them feel heard. The customer seems to have some positive highlights about the business, so there is potential to regain this individual's business.
They also mention reaching out privately to discuss the customer's suggestion, which adds a ton of personalization to this response.
2. Put yourself in the consumer's shoes
It's classic empathy. Most people have at least one negative experience with a business in their lifetime. Whether it's a missing package or incorrect meal order, mistakes happen because we're all human. Some consumers are quick to act on emotions and let their feelings influence an online review.
A general rule of thumb is to not take negative reviews personally. Put yourself in the consumer's shoes and determine how you'd act in a similar scenario. This can help you empathize with a customer's disappointment and generate a more authentic response.
Petco does a good job of showing empathy in their Yelp review responses. Although Petco leadership may not have been directly responsible for the conditions of their reptile environments, Petco recognizes their internal flaw. Plus, explaining the steps taken to solve this problem can strengthen the customer's positive perception of Petco.
3. Avoid arguing online
Sometimes it can be easy to fight "fire with fire". Reading a negative response that clearly is ignorant to understanding a particular cuisine can provoke you to set the record straight. Avoid reaching "attack mode" by arguing on Yelp or Google. This doesn't help your brand's image and can scare prospective customers.
Instead, take a moment to regroup by practicing deep breathing. This can help calm emotions and ground you for an appropriate response. Reading negative reviews is often frustrating and insulting to business owners because their company is their life's work. However, reading negative replies from business owners can be equally frustrating for present and future customers.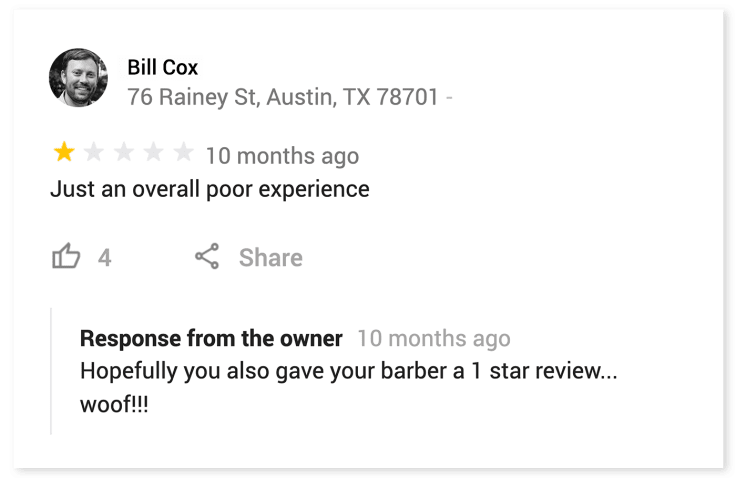 In this example, the business owner unfortunately enters full attack mode by insulting and belittling a past customer. This type of response can easily lead to multiple consumers boycotting your business based on your treatment of people. We recommend avoiding scenarios like this.
4. Present contact info for further support
Many people don't take the time to write negative reviews for minimal issues. Customers that write Yelp or Google reviews generally have a strong emotional connection to their experience. Random rants about small mistakes aren't valued in many consumers eyes, unless it's a recurring situation. This means most of your negative reviews matter.
Determine if a review needs more attention than a simple apology. Include something along the lines of "I sent you a private message to solve this matter further." This shows consumers your company's commitment to customer service and willingness to help beyond a general inquiry page.
In this example, the customer service representative is eager to help solve this consumer's issue. Asking a consumer for their contact information through private messaging helps ensure the safety of the customer and reveals the customer's issue matters.
5. Take action to mitigate the situation
A familiar action to relieve a negative review is including an offer. When acknowledgement, apologizing and showing empathy doesn't win the customer over try making an offer. Esure you stick to this order otherwise the customer may perceive your offer as a bribery. Avoid causing another internal customer service fail.
A common form of an offer that some restaurants implement is complimentary appetizers and desserts. This can welcome the previously upset guests back to your business and give the company a second chance to redeem their service. Ultimately, showing the customer you are willing to take a financial cut to solve their problem can go a long way.
In the example above, the business owner does the opposite of taking action to mitigate the situation. The business owner encourages a previous customer to "skip" on their restaurant next time. This treatment of customers can hurt this company's image and cause a decrease in revenue.
6. Use gratitude as a tool
Start a habit of saying "thank you" to everyone who leaves a review. Why? Gratitude has the power to alter a negative conversation into a positive one. This helps validate your customer's feelings and gives a business the opportunity to make things right. When paired with empathy, you have a recipe for success!
7. Finish with a progress update
Some negative reviews require multiple private messages with a customer. While you and the customer directly impacted know the outcome of the situation, everyone else doesn't. Remember Yelp and Google reviews are a place where some consumers go to find a trusted restaurant, auto shop or maintenance service. Including an update on each negative review with a "resolved" sentence can prove you took action and reduce the risk of losing potential clients.
Tips for responding to positive reviews
We've empathize a lot on replying to negative, but what about the positive? Show your fans you're listening to their feedback by thanking them, highlighting another perk or promoting a customer rewards program.
Give thanks. Saying "thank you" can encourage your fans to post more positive perks about your company. Keep the positive reviews coming with this strategy.
Feature another perk. Use positive reviews to educate your customers on the benefits of your product or service. This can retain customers and market additional services to non-purchasing consumers.
Advertise your referral program. Non-biased positive reviewers are the ideal demographic for a company's referral program. Invest in these people by asking for direct referrals. People who love your company are likely to build the gap between you and their professional networks.
Whether you're in the restaurant business or maintenance industry, Yelp and Google reviews can help you communicate with your customer better. Strategically responding to both positive and negative reviews can increase your company's image and success. Who knew you could gain customers from responding negative reviews?