Showing top

0

results

0

results found
Showing top

0

results

0

results found
Over time you will build up a list of inactive subscribers. These are people who, for a variety of reasons, haven't engaged in a while. It's worth your time to boot up a re-engagement campaign every now and then.
If you go about it effectively, you can re-engage quite a few people and get some conversions down the line out of your efforts. It's also a good idea because once you are sure the subscriber isn't interested, you can take them off your list, tidying up your subscriber list and improving your sender reputation by having less of your emails marked as spam.
Here are nine ways to write re-engagement emails that get results.
Segment your list
Segment your list of inactive subscribers based on their reason for disengagement and how long they have been inactive. You will get a better response rate if you craft your emails based on the group receiving them.
Start by segmenting your list into people who have been inactive for 30, 60, and 90 days. Further segment your list into categories such as: people who have not signed up for a paid account after a free trial, people who have not responded to a free trial offer, people who have browsed your website but not made a purchase, and people who have made one purchase on your website before becoming inactive.
Subscribers will appreciate receiving email that is relevant to them.
Write some good content
"Your goal is to get your recipient's attention again, so put some effort into writing interesting email copy. Remind them why they signed up with you in the first place by showing off the best creativity and style your brand has to offer in your copy and design.
Throw in some self-deprecation or humor for good measure," advises Jennifer Goins, email marketer at Boomessays.
Generally, your tone and message is one of "We miss you," and then go on to the reasons why the customer might want to come back. Your top priority is to stand out in their inbox. You can do so by being fun and interesting – adding in a joke, like Loft in this example.
This example re-engagement email doesn't hold much written content but it translates the spirit of the brand. This is exactly what your users need to feel again in order to re-engage.
Personalize your message
People get a lot of email everyday, so they appreciate it when they receive a message that seems to have been written just for them. One very good way to get their attention is to personalize your email.
Begin by addressing them by their first name. Steps like this help create a bond between the two of you in the customer's mind. You can also show them their past purchases and even make recommendations based on their past behavior.
Figure out what's wrong
People can be inactive for many reasons and none of them necessarily mean that it's your fault. Sometimes they are just too busy with their private lives. On the other hand, their excitement about your brand or website might have decreased a bit.
To figure out what is bothering your customers, set up quick surveys in your re-engagement emails. The questions should be simple but relevant to what you are trying to find out.
After you get the results you can act accordingly. If it's their private life that's been holding them back, maybe you can suggest that they get only the most relevant content tailored to their needs. If their problem is decreased interest, spark their excitement again with great offers, show them all the reasons why they should still be excited about your brand etc.
Eventually, those who want to leave will leave no matter what you do, but there are people willing to take a look at what you have to say and that can be enough to get them back.
Make them an offer
"Give your customer an incentive to come back. Gifts, offers, white papers, and discounts can all help to lure a customer back in.
Not only do discounts and other offers show that you value their business, it is a great way to remind them of some products they've enjoyed and benefited from in the past," recommends Claudia Pike, email marketer at EliteAssignmentHelp.
Reward their attention and time with an offer they'll love. Other types of offers will work better for certain companies, depending on their services.
Consider offering an invitation to an in-person event, membership in your VIP rewards program, or even a free educational course.
Experiment with a series of emails
Think of your re-engagement effort as a campaign, rather than an event. It's best to send a series of three or four emails to your lapsed subscriber.
Experiment with different combinations of offers, copy, and subject lines. Your subject line is very important. Make it stand out by writing it differently than your usual subject lines. Try out different options, using their name, telling them you miss them, and how you want them back.
Change up your design aesthetics and copy. Include a survey. Mix things up and see what works. Just know when to stop. If they haven't engaged after your series then it's time to let them go.
There's a fine line between being persistent and just spamming people. Don't do anything to harm your company's reputation.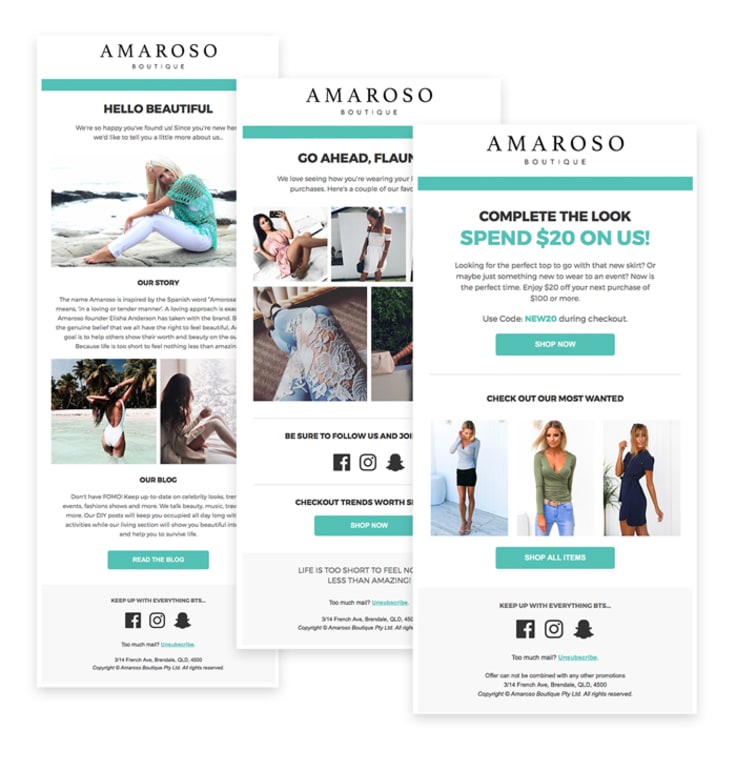 Remind them what they're missing
Remind your subscriber of all the great things they've been missing. Give them an update on some of your new products and features, and what has changed and improved since they were last engaged.
They used your services in the past, so there was something that drew them in. It could just be they've gotten into another habit and simply need a reminder about what made them love your brand in the first place.
Writing a re-engagement email
Writing doesn't come naturally to everyone, so don't be afraid to get some help from the professionals. Here are some resources to get you started:
Look at your data
Hopefully you've won back some of your formerly inactive subscribers, but this isn't your only measure of success. What did you learn? Look at the feedback you received from your subscribers and use it to improve your services. Also look at what strategies were most successful at bringing people back.
What incentives worked, and which segment did they work on? Which email subject lines were the most successful? Collecting this kind of data will make your next re-engagement campaign more effective.
You can start by split testing and proceed with further optimization and updating of your re-engagement and other emails. Always A/B test them and see which target group responded better. With small differences in emails, you'll be able to see why.
Analyze all of the data that you gathered from your subscribers, small surveys they took, their habits on your website, the product they bought etc. All of this will give you an insight into what your audience wants and needs.
Netflix does this all the time, and it does so successfully. For example, by analyzing, it concluded that Adam Sandler movies are unpopular in US and UK so they market it in Latin America, where his movies are well-liked.
Re-engagement emails that get results
When it's all said and done, you'll have to say goodbye to some people. It happens. Email addresses become invalid as people switch jobs, or simply switch email services. There's a lot of reasons a customer might not come back.
But if you put together an effective re-engagement campaign then you can win a lot of subscribers back.
If you segment your list, write good email content, personalize your message, figure out what's wrong, make them an offer, experiment, remind them what they're missing, use online resources for help, and look at your data, you will be able to write re-engagement emails that get results.