Showing top

0

results

0

results found
Showing top

0

results

0

results found
Why Even A-list Online Retailers' Emails Land In Spam – Improve Your Email Deliverability
10 min read
Jul 4, 2018
Email deliverability is one of the most important issues in email marketing. A lot of people might have problems with their email deliverability and not even know about it. In this guide you'll learn how to know if you have email deliverability issues and how to resolve them.
When was the last time you checked your inbox spam folder?
I did a few days ago, and much to my surprise I saw a lot of reputable names there. Many big-gun marketers, A-list copywriters, and prominent online retailers had hit my spam folder. Many of these emails were actually what I would look forward to seeing in my inbox.
If I name these people, you'd say "nooo waaaay that dude is a spammer."
Well, HE IS... according to my email service provider's (ESP) spam filters.
In fact, as an online retailer your definition of an email spam might be different than Gmail, Outlook or Yahoo. That's why, despite all the values you put in your emails, you'd get a very low open rate (because your emails hit the spam folder) or even worse.
The worst case scenario is…
You want to know what's worse than hitting the spam/junk folder? I won't keep you waiting anymore:
Your overall email deliverability might get hurt.
If your emails get to the spam folder, it means your subscriber's list is not in a best condition. This is a serious issue with your sender reputation. You could be flagged as a spammer and get blocked by ESPs.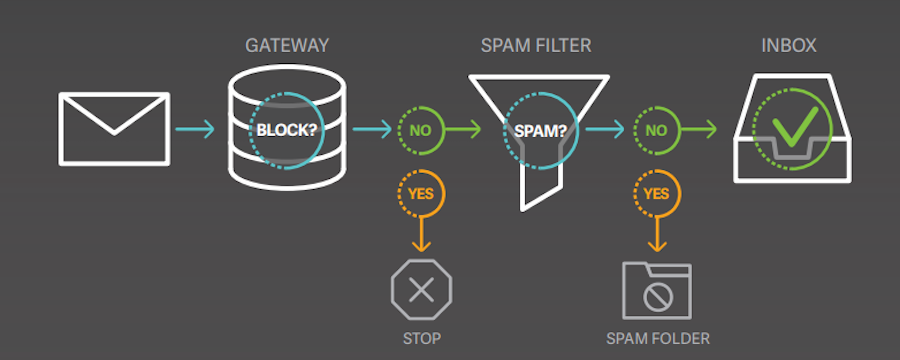 Return Path's 2017 deliverability benchmark report
Check out your sender score to see how close you are to being blocked by ESPs.
The two main reasons of emails landing in the spam folder or even get blocked are low open rates and spammy content. Let's find out more about each of them.
#1. Low open rates
If you have a lot of inactive subscribers in your email list, you're in a big trouble.
Inactive subscribers increase the cost of maintaining a list, skew your numbers, and worst of all decrease your open rate.
Having a consistently low open rate sends a signal to the ESPs that people are not interested in your emails and that you might be spamming them. Overtime, you'll have email delivery issues.
What is low open rate?
Well, it depends on your industry. For ecommerce, the average open rate is %16.75. So it seems that having an open rate of less than %15 should warn you to take action.
Here's what should you do if you have a low open rate.
Cleanse your current list
The first thing you should do is to get rid of your inactive subscribers, that is the subscribers who haven't opened any of your emails in the last three or four months. It might be a hard decision, but trust me -- it's for your own good. Having inactive subscribers in your list would skew your stats, increase the cost of maintaining your list, and more importantly hurt your deliverability.
After cleansing their list, Pipedrive, a sales management platform, could get rid of 83,000 inactive contacts (thus reducing their cost of maintaining a list by thousands of dollars), and reactivate 9,000 of them (thus improving their sales).
Before you embark on the actual process of cleansing your list, you'd better give your inactive subscribers a chance to get engaged with you again. Send them two or three re-engagement emails and remind them that they'll get deleted from the list if they don't take action.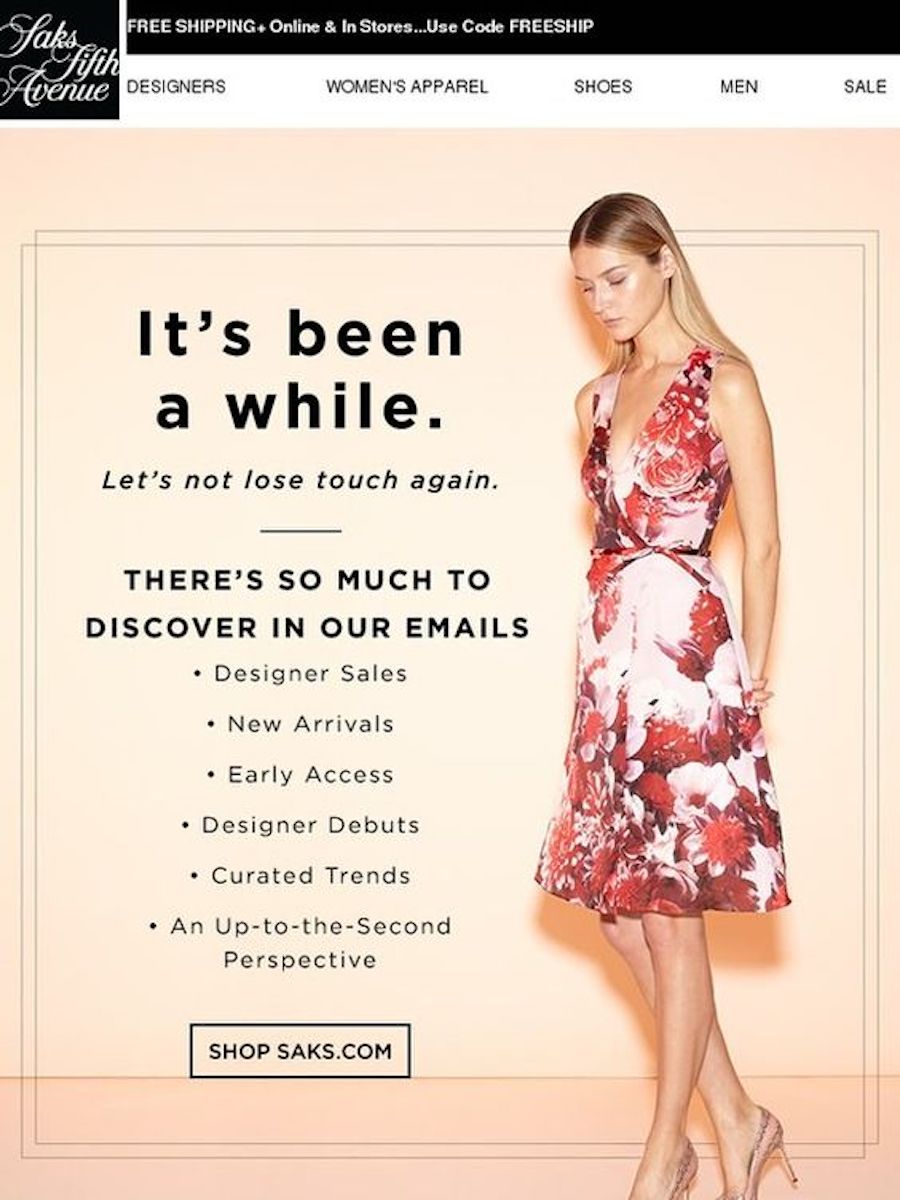 You should also be expecting a huge cut from your list. That's because very few of your inactive subscribers turn into active ones. As for CNET, a tech news media company, they could win back only 9% of their inactive subscribers after sending two re-engagement campaigns. The rest were simply deleted from the list.
The same goes for Pipedrive. From 92,000 inactive subscribers, they could only re-engage 9,000. That's a little less than 10%.
In order to see better results from your re-engagement campaigns, it's a good idea to send two or three of them before you actually delete your inactive contacts. You should do it while sending regular campaigns at the same time.
Build a clean email list
The biggest email marketing mistake people keep making is growing an email list at any cost, even at the cost of tricking people into opting in or buying/renting other people's lists. Using social media contests such as sweepstakes (which offers an expensive prize for subscribing) might not also be a good way to collect emails because people would only be interested in increasing their chances of winning the prize rather than getting value from your content.
The best way to build a healthy email list is providing optin forms and pop-ups with clear messages about what people are going to recieve on a regular basis from you. Free giveaways are also great but you need to make sure you're attracting the right kind of people.
Relying mainly on huge free giveaways would only attract the kind of people that don't care about you but would opt-in any way because it's free. Many of them might not even be able to afford your products.
Generally, giveaways are great only if they are a taste (or tease) of your products. An ebook about SEO techniques and tools might get any company a lot of subscribers but would decrease the health of their list (unless they are an SEO company, right?).
If you're wondering what kind of free giveaway is suitable for your audience, you need to get to know your audience first. Identify their demographic (age, gender, income, etc.) and psychographic (fears, likes, hobbies, personalities, etc.) characteristics and try to help them achieve their goals. As assignmentbro.com explains people are driven by their desire to be transformed from their current state to an ideal state.
Find out what their ideal states are, position your products as a help to achieve their ideal states, and offer a taste (tease or demo) of your products as a free giveaway. If you're offering skincare products, you don't necessarily need to offer coupons or discounts. A comprehensive guide on having the perfect skin (your customers' ideal state) would do the trick. Convince people that being in your list gets them one step closer to having great skin.
Another good way to grow an email list is getting help from people with big lists. Many individual marketers would be happy to mention you or recommend you in their lists in exchange for a little help you do for them. In other words, you can partner with big list owners to take advantage of their list.
Find an industry newsletter, research the type of content that frequently get featured on the list, send the newsletter owner an email and ask them to mention you or your content in their future emails. Using this method Ash Read could get Buffer featured in Pocket Hits and get lots of subscribers from them.
Improve your copy
You need to avoid being associated with boredom at any cost. Because once you are considered boring, no one will open your emails.
There are many reasons for being boring, such as:
You're not addressing the pains your subscribers are going through.
You're not positioning yourself as the solution to people's problems.
You're not unique enough and people don't have a reason to wait for your emails because they already consumed the same content.
You're not entertaining enough. As Ben Settle explains the best way to feed your promotional content to your subscribers is doing "infotainment", a combination of information and entertainment. It means you should find out what's entertaining for your audience and insert it in your email content while at the same time pitching your promotional content. Here's another example by Ben Settle.
Your emails' copy is so important that many people recommend hiring a consultant to help you study your market and write compelling emails.
Apart from low open rates, there is another factor that would turn your good intentions into spam. Your content might not actually be spam but it might contain what spam filters consider spammy.
#2. Spammy content
Spam filters analyze the content of your emails and if they find some predefined spam features, they would consider the whole email as a spam.
Avoid spammy email structures
Some words such as "free", "promotion","buy", or "off" increase the risk of being flagged as spam. Here's a bigger list of the spam triggers.
Emails with a lot of images and a little text or super long emails (generally emails with more than 20 lines or 200 words) might be considered spam.
Emails with weird formatting such as different colors, big fonts, all-caps, too many exclamation marks, etc. are considered spam.
Attaching files to your emails would make them seem more spammy by the spam filters.
Not providing a clear and visible unsubscribing link would increase the rate of spam complaints.
Don't insult people's intelligence
Trust is the backbone on which your business should grow. Without trust, there is no loyalty, no reputation, and ultimately no growth. As the founding father of internet marketing, Ken McCarthy once said: "Trust is like a light switch. And once it's turned off, it's all but impossible to turn that light back on. And it takes one time that insults your reader's intelligence to flip it of."
Some marketers insult people's intelligence by playing any kind of dark tricks on them. For example, they use "Re" or "Fwd" in their subject lines and any kind of catchy (but irrelevant) titles to get their emails opened.
These are some of the most prominent insulting examples from my own inbox:
"Want my website?" (in fact offering to sell his website's clumsy theme).
"I told you not to do this" (I had no previous communication with them).
"Your subscription is expiring" (what subscription?).
Re: your invite
[Last chance] Re: your offer
RE: Join... in London on October 19th - save your spot now!
I can't express how frustrated I get when I see such emails in my inbox. Send me a few clickbaits and I'll doubt whatever claims you make anytime anywhere!
If you're wondering what makes a clickbait title, here are some cases:
Deceptive about who the email is from: "Did I leave my jacket at your place?" seems to be from a friend, but it's not.
Deceptive about previous email exchanges: the blatant "Re:" type.
Deceptive about urgency of a message: "Urgent – Update your information" from your hosting company gets you to click on it just to find out it's a promotional email.
Deceptive about action taken by the subscriber: "Your Reservation Confirmation", "About your order", "Thanks for your order!" could get a click, but if they're promotional, they're deceptive.
The question remains: how should you write email subject lines that are both attention grabbing and honest?
There are two things you need to do:
Be relevant – it's still the key: mentioning a person that is familiar for your subscribers, any new projects they might be working on, the problem they're facing (and how to solve them), would make your subject line more relevant. Subject lines such as "we both know [a person]" or "A word on your [name of the project]", or "How I lost your Sperry's.. and apt. And why you should meet with me" still rock.
Use your industry's hottest news to get your emails opened: if a personality, product, number, practice, etc. is trending in your industry, why not use it in your subject line? It will pique the receiver's interest and get a click. Some examples are "Facebook dropped the ball - we picked it up", "The new Salesforce feature rocks but here's the catch", "AI helping you get more leads?".
Passing the spam filters
If you don't want to hit people's spam folder you need to avoid these two scenarios:
1. Getting consistently low open rates.
2. Sending spammy content even if you have good intentions.
And generally, as a rule of thumb, you need to avoid anything that could associate you with a spammer. Maybe spend more time and money on designing a professional website. According to GoodFirms's web design research, "if your conversion rate is low and and bounce rate is high, be sure that you're in sheer need of redesigning your website".
If you think that spam filters are a joke, you need to know that you might even be blocked right at the gateway by email service providers if you don't take the spam issue seriously.
Hopefully, this guide will help you improve your email deliverability, pass the spam folder, and get your promotional emails opened and read eagerly by your subscribers.