Showing top

0

results

0

results found
Showing top

0

results

0

results found
9 min read
Aug 29, 2018
Are autoresponders underrated in marketing strategies? They are not so-much underrated as they are underused. Plus, they have had a bad rap because of the number of spammers who have perverted their use. There is no need to believe the horror stories you read about autoresponder companies and their tools because most of the popular bulk emailing companies now follow very strict rules.
For example, companies such as MailChimp, iContact, Constant Contact, Aweber, etc., demand that users build their email lists with double-confirmations to ensure that their services are not blacklisted by Internet service providers and online watchdogs.
Using an autoresponder to simply tell people you are out of the office, or to confirm purchases is silly when they can do so much more, such as:
Confirm purchases – Cross-promote your other items on the same email
Confirm delivery dates – Offer discount codes for future purchases
Acknowledge a query request – Show people what you have to offer this month
Acknowledge a complaint – Direct people to your own curated opinions page*
Newsletter signup – Display membership perks and paid perks within the same email
Online account signup – Display membership perks, paid perks, and promote your products
Comment submitted – Cross-promote based on the page where they made the comment
Product wish listed – Send an email showing upsells, additional products and bulk deals
Follow-up email from you – Ask the for opinions and offer rewards for them posting reviews
Birthday emails – Send out surveys within the email to harvest information about the user
Incomplete checkout – List the items still present in the shopping basket and offer incentives to complete the checkout
*Why have users voice their opinions/complaints about you on your own opinions/thoughts forum? Because it is better that they complain publicly on pages you control rather than them running off angrily and complaining about your company on review websites where their opinions can do the most damage.
DotMailer is a mediocre autoresponder; but their workflow planner highlights the way you should be exploiting your autoresponder. The very idea that your auto-responder is for simple tasks such as welcome emails is silly. Look at how far the autoresponder in the screenshot is exploited after the first welcome email.
Auto-Response email example
This Staples email is part of a promotional set that is sent every 6 months to people who have purchased in the last 13 months, but who have not responded in any way to their monthly or bi-monthly discount codes and offers. The advert is in shocking red, and most importantly, it doesn't show the free coffee machine.
If the recipient is interested, then he or she is forced to follow the link to the website, and the recipient isn't left with a negative impression if he/she isn't interested in the coffee machine. If the recipient most likely has some sort of business budget for stationary, so may be tempted to bring his/her purchase of bulk goods forwards to make it up to £200 to get the free coffee machine. Plus, the advert it nicely targeted since it is quite common for people who work in offices to be fond of coffee.
Improving your autoresponder effectiveness – put your analysis in context
Below is an image showing screenshots of what you see when you use the HubSpot bulk emailer and autoresponder. As you can see, it looks glorious, it is very user-friendly, and it doesn't take much to comprehend what the metrics mean due to the way they have been processed and how they are displayed.
Despite the fact there is nothing wrong with the professional and expertly-devised way that HubSpot displays its metrics, it doesn't take context into account, which means it can be as damaging as it is fruitful.
For example, let's say you created the most perfect auto-response email for when people buy grass seed. Maybe your purchase confirmation also includes exclusive offers on lawn mowers. Your advertisement may be perfect, but your metrics show a rather low conversion rate. You may be tempted to blame the ad, but the time of year affects when people buy lawn mowers, and many people who buy grass seed will already own lawn mowers. You need to put your metrics into context before you blame your autoresponder advertisements.
For example, Bid For Writing offers deals to students, but students around the country have different exam times, different coursework deadlines and even different semester schedules. That is why some email ads appear to work well in some areas and not in others; it isn't due to the adverts, it is due to the fact that students in different areas have different academic schedules.
Common autoresponder mistake – setting your follow-up email interval too short
Let's say that your autoresponder is triggered because somebody signed up for an online account with your company. The autoresponder sends out your activation email, and after the activation link is clicked, another email is sent out that welcomes the user to the newsletter and if you take the advice from this article (listed earlier), then you will also "Display membership perks, paid perks, and promote your products" within the same email.
You now have to decide how long you wait before you send your first promotional email. Some people make a mistake and set the interval to be too short.
The fact is that you need to allow your recipient to cool off a little. The chances are that they have just spent time researching your company, your services, and your products. If they bought, then good, and if they didn't then they are not likely to change their mind within a week. You need to give them almost a month to forget about you a little bit before you send them any type of re-engagement email. The image below is from Aweber, and it shows an autoresponder with a 21-day interval setting.

If your next email is too soon, then your recipient will disregard it because they conclude that it has nothing new to tell them. Wait 21 days, and your recipient will still recall your brand, while also being detached enough from your content to consider re-exploring what you have on offer.
Auto-Response email example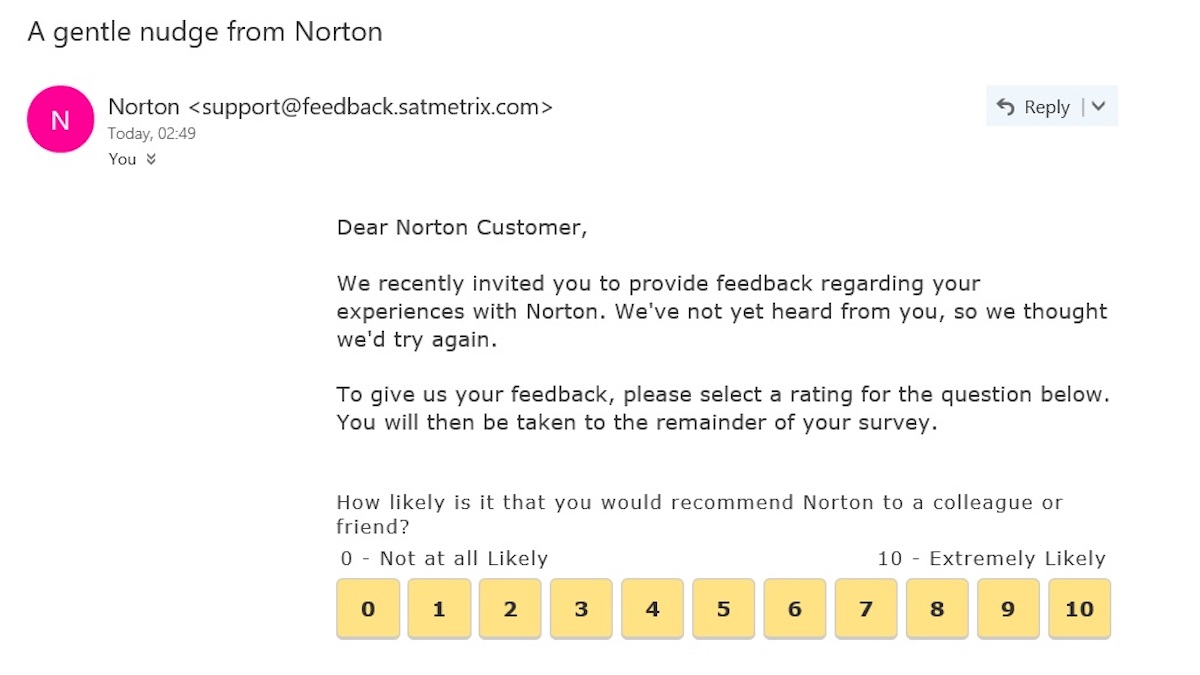 The image above is part of the Norton Internet security marketing campaign. It looks like a simple feedback routine, but it is actually a trust-building exercise that the sneaky Chinese company Symantec-Huawei often pulls with its products. Five months before a user is due to resubscribe, a feedback form is sent out, and each month the user is reminded about it until he or she gives his or her opinion.
This email is part of their market research (obviously), but it is also a trust-building exercise based on the theory that if you get a customer to agree they like your product a few times before they are set to renew a subscription, then getting them to resubscribe when their subscription ends is far easier.
Improving your autoresponder effectiveness – take the time to segregate based on actions and conditions
If you are only using your autoresponder to send confirmation emails or out-of-office emails, then you are wasting your time. If you are adding people to single email lists and you are sending the same emails to everybody, then you are not using your autoresponder to its full potential.
Segregate your email list based on the actions of your user. You set the conditions, and then your autoresponder separates your email list into different groups. The example in the image below is from AWeber. People who buy a blue bike are put into the blue-bike-buyers' email list. People who buy a red bike are put on the red bike list.
It may seem like a silly to separate your email list out based on the color of the bikes customers purchase, but a person with a blue bike may be more interested in buying a blue helmet, blue pads, and a blue backpack, than a person with a red bike. Sending the blue-bike buyer a bunch of offers for blue products may create a higher response rate.
Common autoresponder mistake – setting birthday responses incorrectly
Having a birthday email automatically sent out to your users is a great way to stimulate sales with the use of "Birthday discounts," but some companies send out the message too soon because they think the user will buy themselves a present for their birthday.
What you need to do is send the message on the day of the birthday (because it has more impact), and the aim is not to have the person buy themselves a birthday present, but to have them spend their birthday money that they received from other people.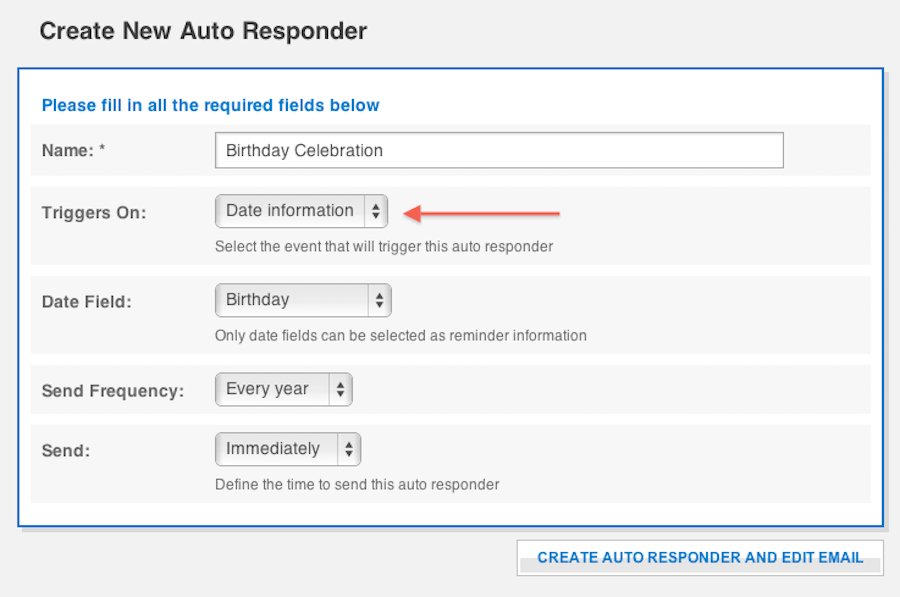 The screenshot above shows a function from the (so-so/unimpressive) autoresponder called Octeth. It shows in simple terms how you can set a repeating birthday email to your customers, and the best thing about birthday emails is that they can be generic. Besides separating your demographics into male and female, your emails can mostly all say the same thing. You may even give the same birthday discount codes so that you may track the popularity of your birthday discounts.
Auto-Response email example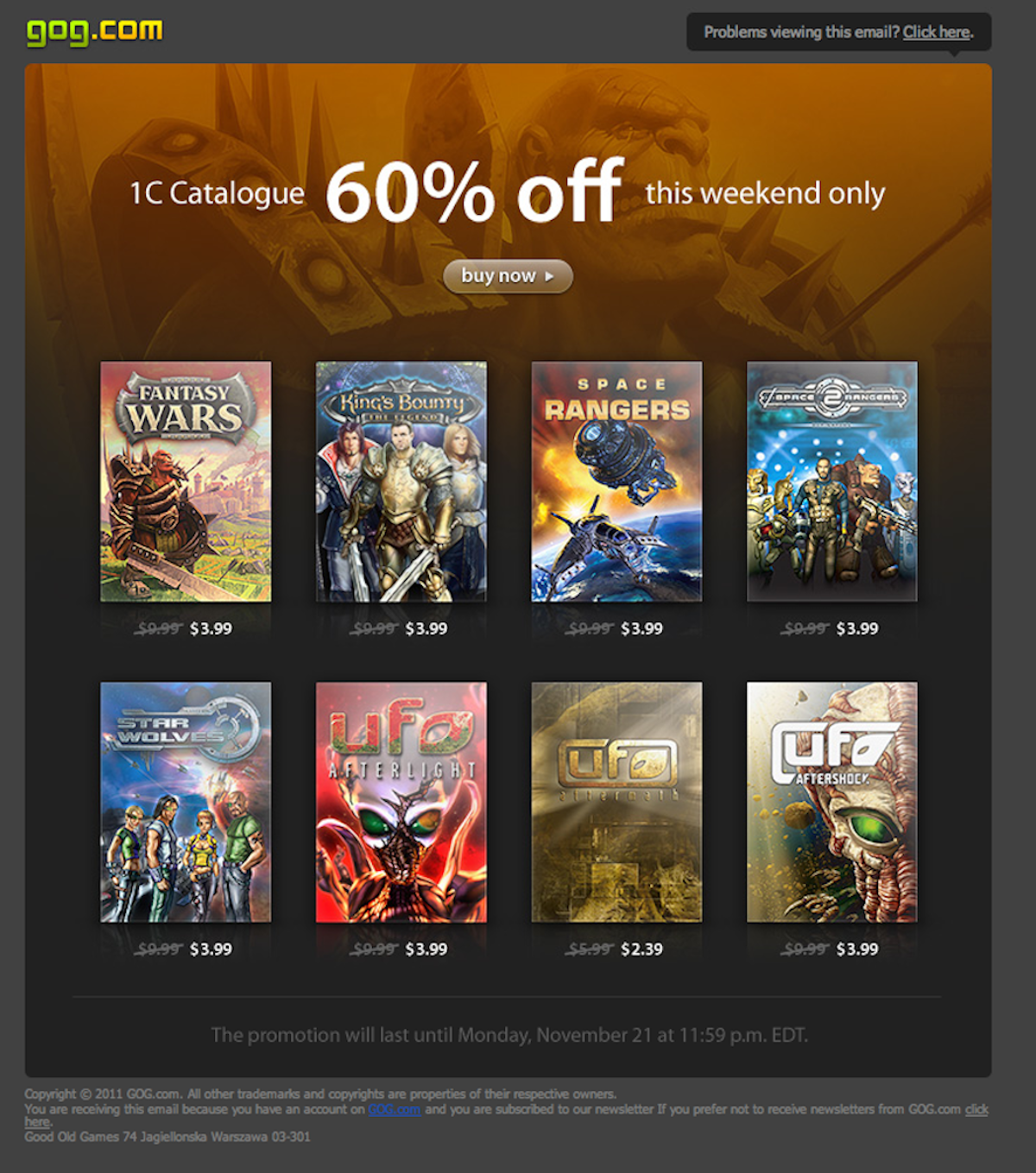 The GOG.com method is so effective and simple that people forget how difficult finding a "sample" email marketing method is. The bold and strong border helps draw the user to the lighter colored images. Imagine how ugly it would look if the border were black, and imagine how lonely each image would look if the background was white.
GOG sells PC games, which is an industry where the cover helps sell the contents, (a bit like the movie/DVD world). Luckily for GOG, all they need to do is send out a weekly newsletter showing their largest discounts, and tie each discount to a pretty picture representing the game. GOG backs this up with truly massive gaming discounts, so users are often intrigued by the percentages, and yet each user has to click the adverts to actually see the price, which gives GOG another shot at a conversion via the landing page on which to sell the game.
Are you under-using your autoresponder?
There are plenty of conditions and online actions you can use to prompt automatic email responses, and this article has covered quite a few of them, so how would you like to experiment? Some companies are using actions within apps as reasons to send automatic emails, and some are using a combination of online activity and readable cookies to prompt emails. Revisit your autoresponder campaign and consider if you are exploiting it to its fullest potential.
You may have tried autoresponders and bulk emailers in the last decade and may have been put off by the way they all look like accountancy programs from the Atari era, but things have changed significantly these day. As the GetResponse screenshot above shows, operating an autoresponder is almost self-explanatory. The most popular auto-responders are so intuitive that simple experimentation will teach you most of what you need to know.
If you liked this post, you might also check out 4 Out Of Office Messages That Work When You Rest.