Showing top

0

results

0

results found
Showing top

0

results

0

results found
The beginning of October marks a special time in the calendar for every customer service agent — Customer Service Week. Since 1992, when the U.S. Congress proclaimed it as a national event, it's been celebrated worldwide to show appreciation for people who serve customers.
Customer service organizations like PACE promote Customer Service Week not only to recognize the commitment and efforts of CX teams. They also want to show how crucial the well-being of support employees is for customer satisfaction and how to improve it. They advocate for technologies and strategies that make the work in customer service more rewarding and, in the end, effective for businesses.
I think that customer service associations have it right — neither your support team nor clients can be happy if you don't use the right strategy and customer service tools. Therefore, in this article, I'll focus on customer service automation and chatbots as they're now essential for any business that strives to deliver effective support.
What is customer service automation?
Customer service automation refers to solutions like automated workflows, chatbots, voice bots, or knowledge base software that help businesses improve customer service operations. Automation can resolve CS queries with little or no human help.
By implementing automated customer service, you can:
deliver faster support services.
fight agents' fatigue and increase their morale.
minimize the risk of human error.
maintain a consistent tone and voice in your brand communications.
lower the cost of customer interactions.
shorten the first response time.
What's crucial while implementing customer service automation is to strike the right balance between using AI and human involvement. Only then can your company boost agents' effectiveness and your customers get the service they need.,
Let's dive deeper into customer service chatbots and how they can benefit your customers and live chat support team.
Benefits of adding a customer service chatbot to live chat
1. Answer questions after hours
You've probably already heard that customer expectations are rising. The fast adoption of technologies and the pandemic intensified this global trend. Customers want you to offer personalized service and answer their questions via their preferred channels — usually right off the bat.
Using live chat and messaging apps can help you meet these rising demands. The chat option on a website lets the client connect with your customer support team immediately and on the go. It can spare them cumbersome attempts to dial a phone number, or find a cozy place to talk, or write lengthy emails that go back and forth. To back up my point, 80% of ecommerce customers are satisfied with the customer service they obtain via chat.
Modern live chat applications are convenient for support teams as well. They let them chat with more than one person at a time and access the chat history if the client used a chat before. Thanks to that, customers don't have to repeat themselves endlessly, and the customer experience is better.
However, not every business can afford 24/7 live chat support. Staffing the year-round service might be costly, especially for growing ecommerce companies. Besides, some support managers don't want their team to work on New Year's Eve or during the football championships they have been waiting so long for. If you're one of them, you might benefit from using a conversation service bot.
A chatbot is customer service software that can help you automate customer support when your team is off. Data shows that in the United States in 2021, chatbots helped human agents to handle around 17 million chats, which make up 28% of all customer support chats.
How do you use a chat bot?
You can train your bot to answer the most common questions and resolve simple problems that don't require human attention. Following this strategy can give your team a break and lower your support costs.
But what if the customer's problem goes beyond the chatbot's scope? How can a chatbot be of use then?
In that case, the customer service chatbot can, for instance, qualify a problem and schedule a call with an expert who can provide a resolution. You can use a dedicated integration that lets you connect your bot platform with Google Calendar or Calendly.
Moreover, if you use live chat together with help desk software, you can use a customer service chatbot to create a ticket that your human team can resolve once they're back to work. Although the client will have to wait for a resolution, they won't the hassle of finding your support email or visiting any other contact page. The chatbot will create a ticket once the user provides their email address and explains the problem.
Lastly, if you offer in-store services, you can use a live chat bot to schedule appointments at your facility. It'll let you save time to devote to your clients instead of organizational work.
2. Improve your first response time
In June 2022, the average first response time in the United States reached 40 seconds. The same metric measured in 2021 (45s) and 2020 (48s) shows that support agents respond to customer questions faster every year.
Without a doubt, the more demanding consumers are dictating the rules here. This group includes Generation Z, which now makes up around 7.3 million full-time workers in America. The research shows Gen Z, also called digital natives as they don't know the times before the Internet, is much less forgiving than their predecessors. It expects brands to address their issues immediately. Using live chat software is inevitably one of the easiest ways to meet their demands.
Turn Gen Z visitors into customers.
Free 14-day trial Omnichannel messaging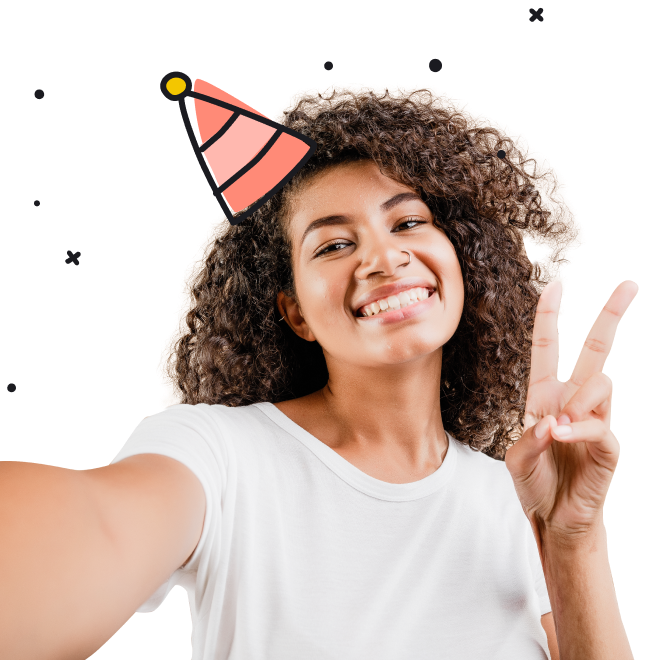 If your ecommerce customers wait in a queue because your team finds it difficult to provide speedy resolutions, you can start using a support bot to speed up your service.
The customer support chatbot can become an additional agent working alongside your team. Its strong point is that it can chat with multiple customers simultaneously. Thanks to that, you can use it to resolve simple issues faster and shorten your queue waiting time.
At the same time, you can take the mundane tasks from your customer service agents and let them focus on more challenging and expertise-driven tasks.
3. Offer self-service for customers who expect it
As long as a chatbot is helpful and quick, people will use it to solve problems. That's especially true for millennials who love immediate feedback. The trends show that they're willingly using chatbots as they offer the instant gratification they are looking for.
Gen Z is following in their footsteps. They're even more comfortable with the chatbot technology as it allows them to solve their problems independently, which is what they value.
Adding a customer support chatbot to your live chat service lets you satisfy customers who like self-service. Overall, you can spend less time answering questions and get happier customers.
At the same time, you can offer a chat transfer to a human agent for customers who can't resolve their problem by using a chatbot or those who don't want to interact with it. This way, you give the customer the flexibility to solve their problems the way they want.
4. Improve job satisfaction and lower employee turnover
Customer service agents face many daily challenges at work — from handling chats with angry clients and serving several customers at once to not knowing the answer. Your support team knows it best.
If you run an online business, you should make the extra effort to learn about your support team's pains. They might lead to employee turnover if you don't address them. That's true especially now when people are more eager to switch jobs.
Why should you take it seriously?
In 2021, the market crashed with the "Great Resignation," or as others call it, the "Big Quit" — the trend where employees started to leave their jobs en masse.
Researchers say that the pandemic and severe lockdowns significantly influenced this trend. The heavy workloads that came with remote work were a struggle for many. In effect, people started to think about how their job impacts their physical or mental health.
In November 2021 alone, 4.5 million American workers submitted their resignation forms. Elise Gould, the senior economist at the Economic Policy Institute, said, "I certainly think that the pandemic has led many people to reevaluate their work and their priorities and what they want to do" (Statista).
But the stakes are higher. The data shows that customer service teams suffer from employee turnover more than others.
According to the United States Bureau of Labor Statistics, an average support agent stays on the job only for 12 months. They also leave their employer twice as much as their teammates in other departments. The average turnover in support services reaches 45%. 😥
These stats might look gloomy for someone responsible for a support department. Indeed, you can't address every issue that makes your agents send a CV to your competitor.
However, you can certainly take good care of the areas within your power. Using a chatbot to complement frontline customer interactions can help you with that. Here're a couple of examples to show you how.
Chatbots can help fight boredom at work.
They can answer repetitive customer requests so your agents can focus on more exciting or challenging tasks.
Moreover, instead of hiring an agency, you can ask your team to collaborate and build your customer service chatbot. This way, agents can break away from their typical tasks and acquire new skills. They can create a bot from scratch by following video courses or, they can use ready-to-use templates to build chatbots faster.
Chatbots can respond to spam questions and clients who confuse you with another provider.
This way, your support agents won't have to waste their time on tasks that don't develop their skills or don't let them build a relationship with customers.
Customer service automated bots can take customer complaints or returns and hand them over properly ordered to your support team.
Thanks to that, you can limit the number of interactions between customers and agents that might turn into difficult conversations and harm your team's job satisfaction. In the U.S., around 1 million employees are absent from work due to stress burnout every day.
Don't wait — ramp up your customer support
Customer Service Week is a great occasion to reward your customer service reps for their commitment. But your gratitude doesn't have to end there. Using the right strategy and robust automation tools can make both your support team and customers happier longer than just one week a year. And yes, customer service chatbots can help you with that.
Would you like to integrate ChatBot with LiveChat? Follow our installation tutorial and automate your customer service without coding.