Showing top

0

results

0

results found
Showing top

0

results

0

results found
Necessity is the mother of invention. But sometimes the solution to a problem already exists. It takes the right problem to bring that solution into the spotlight. Here are three short stories of how the COVID-19 pandemic has increased demand for niche products and services.
Heavy lifting – Antonov Airlines cargo
Passenger airlines are grounded, but cargo aircraft continue to fly supplies all over the world. This turns out to be a problem if you want to order a large amount of medical supplies from across the world for immediate delivery, which many government officials are being forced to do. Most standard cargo aircraft are already booked for other purposes.
Enter Antonov Airlines and its fleet of giant cargo planes, including one colossus, the AN-225 Mriya. The Mriya, 'dream' in Ukrainian, was supposed to carry a Soviet spaceplane in the late '80s. The spaceplane didn't pan out, but since then, the one existing AN-225 has carried heavy and awkwardly sized cargo, such as large turbines and generators. Its extra cargo capacity is also a great way to get a lot of something across the world quickly, which is  So even though it's expensive to operate, many are now willing to pay the premium for such a service to quickly get medical supplies where they're needed most.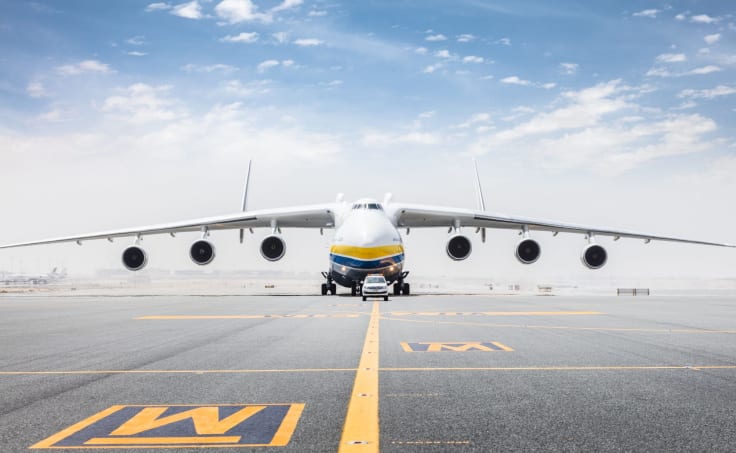 Mriya is also very photogenic. When it landed in Warsaw on April 14, crowds gathered to watch. A Polish newspaper dryly noted that the "police were understanding" despite the restrictions on gathering in public. Not only does the colossus bring needed supplies, it also puts on a good show.
Mriya usually flies around 20 missions a year. This year, it could fly that many in a few months.
Wrangling old code – Legacy computer systems need a helping hand
COBOL used to be a popular programming language. In a sneaky way, it still is. Because some back-end systems in banking and government haven't been significantly updated for decades, COBOL programs still do a lot of crucial work.
One such system in particular, unemployment benefits in New Jersey, recently made headlines because it was not doing its job. As reported by the NPR Planet Money podcast, record unemployment filings meant the code needed some work to respond to the higher demand. Luckily, there are contractors that specialize in COBOL. Enter the COBOL Cowboys. The Texas company offers the services of hundreds of COBOL specialists from around the US. They're sure to have their hands full herding legacy systems through the COVID-19 crisis. It's not just New Jersey's local government that is seeing new usage patterns for its computer systems.
Another dimension – The latest 3D printing business model
Remember 3D printing? In 2013, many expected it would bring in an era of inventors prototyping and perfecting innovative products from their garage. That didn't happen. The technology also hasn't drastically changed how design and prototyping are done at large manufacturers, another prediction common at the time.
That sounds disappointing, but the technology is steadily maturing and finding its place in garages and businesses. One concept, 3D printing as a service, has been gaining steam recently. Many companies, such as 3D Systems, have been doing such work for over a decade. Bigger players are starting to enter the market as well. HP has made news recently by offering production of medical gear through their 3D printing service. With the publicity boost now, 3D printing providers might be able to create enough demand to finally deliver on at least some of the original 3D printing hype.
Many niche services experiencing increased demand will probably go back to being niche after the COViD-19 crisis. But some, like 3D printing as a service, could keep some of the momentum the crisis has given them.