Showing top

0

results

0

results found
Showing top

0

results

0

results found
11 min read
Dec 3, 2015
The way companies and customers interact with each other gets more and more interesting each year.
The times when you could contact a company on a single channel only are long gone. Now, a customer contacting a company can pick any channel and expect the same level of service thanks to multi channel customer service.
The growing number of mobile users (more than desktop now!) opens up new avenues for marketeers to reach a wider audience. However, it also leads to new support difficulties for companies.
For example, in the eyes of a typical customer, a company and its support is always available. They can always leave a message, for example by leaving a post on Facebook. And they also expect an answer.
It doesn't matter that the customer asked the question from a gas station, in the middle of the night while waiting for their car to refuel. If a contact option is available on the website, they will expect an answer.
The typical company's perspective can be quite different.
The management sees their support channels as several separate entities. Some channels phone are accessible only during the day and offer 'leave a message' options during the night. Other channels like email, help desk or social media are used to collect enquiries 24/7 but those enquiries are answered only when the agents are in the office.
From their point of view, customer service is available at different times, on different channels to a different degree.
This difference in perspective can lead to a poor customer experience. The customer, who is now returning home from the gas run, will soon check their Facebook inbox for a return message. The message that won't come until next morning because the company haven't assigned anyone to social media channels.
Even if the company offers overnight support using a channel like live chat (you can try using ours, for example), it wouldn't matter because the customer may not know about it or he may prefer to use Facebook.
To avoid that, the company needs to adapt. It needs to reorganize its support to be more like what the customer expects it to be. And it can achieve that by going for the multi channel customer service approach.
Here's what you need to know about multi channel customer service to make it work it for your company.
1. Offer choice in multi channel customer service
If there's one thing that could help you quickly understand why multi channel customer service is important for customers it would be choice.
Customers choose which channel they want to use to contact a company. It's a bit like a box of chocolates – they wouldn't really work if you had only one type of chocolate in them.
The choice is everything here: if the customer wants to start an enquiry via email, follow up on Facebook and send you additional data on chat, let them.
The customer is always contacting a company. They don't know that you have two separate teams working on your chat and with your emails.
Make sure that these teams know that the customer used several channels and what information they provided. The worst thing you can do here, is to take away that choice and force the customer to use one channel only just because it's 'more convenient' for you or because you don't want to 'repeat' the communication.
Multi channel customer service is all about choice.
2. Provide channels your customers want
Which channels you should go for? Well, the simple answer is: the channels your customers want to use. You can't always know that or be 100 percent sure about it. However, you can get a pretty good idea which channels they want to use from customer surveys (if you run any) or because they will simply tell you about it on other channels.
Certain channels like email, phone or social media are simply expected from a company these days.
Here's a list of the channels you can cover:
Phone

One of the oldest and most popular forms of getting something sorted. From customers' perspective, this can be the easiest way of getting help. It's not the most efficient though and usually requires a dedicated IVR system to work well.

Email

The 2nd biggest channel. It's now hard to find someone without an email account. Easy to use and, apart from the initial input, doesn't require much time from the customer.

Live chat

If the phone was the king of real-time customer service, live chat would be next in line as it quickly grows in popularity. It's more efficient as one agent can service several customers at a time.

Help desk

Email's younger brother. The help desk is basically email customer service in the form of tickets with additional tools that speed up the case resolution.

Self-service

The most cost-effective way to help customers. Once you set up a knowledge base article or an FAQ, it can help countless customers. Apart from the occasional update, these materials don't require any attention from agents.

Social media

The new kid on the block. As soon as brands started appearing on social media, customers started using them to post complaints and get product-related problems sorted.
Additionally, there are other options that are 'mutations' of these channels, for example a video chat (live chat + video conferencing) or Skype (chat + phone + video).
If you manage to offer decent support on these 6 channels, most of your customers should be able to pick their favorite channel when contacting you.
3. Treat your individual channels as a whole
No matter how many channels you support, it will be all for nothing if there's no exchange of information between the channels.
Let's say that our gas station customer decided to follow up after receiving an answer on the next day. He's now at his house, sitting on the couch and browsing the web on his laptop. He decides to access your live chat to check up on his case.
More often than not, the customer would have to go through the motions and explain the whole situation again. There are a few reasons why this happens:
a company has separate teams working on different channels and there's no communication,
the customer information is not stored or exchanged between various channels,
agents don't check previous contact history for clues.
Sometimes, even after accessing the same channel, the customer needs to explain their situation over and over again. We all know the stories of customers who had to describe their problem with every following call, just because they got a different agent on the line.
If customer information is not shared between channels, it completely ruins the point of offering multi channel customer service.
To share customer information, you need to hook up a CRM system to your customer service channels.
This can be either a dedicated system like Salesforce or Highrise that's integrated with your other tools or a built-in component of the the tool you are already using to cover the channels, e.g. the way LiveChat shows ticket information during chats.
When it comes to communication between your agents, we can't recommend Slack enough. Slack is a neat alternative to long email threads. It will nicely complement the shared information and provide a way to notify people about tougher cases.
4. Don't offer channels you're not good at
This may look weird in an article on multi channel customer service; especially after reading that you should have the customers' favorite channels covered.
Let me explain.
In a perfect world, you would have all the tools and manpower you need to cover all the channels. However, it may be difficult to offer all channels immediately.
You could begin with the easier channels and work your way up to the tougher ones.
Phone support is probably the most difficult channel you can have. It requires a dedicated IVR system and a group of agents to cover all the calls. Since the communication is one to one only, it can be also hard to staff.
A more efficient option, the email, requires a lot less effort than phone. The communication doesn't happen in real time, so you can have agents working on several cases simultaneously.
The downside is that it's quite slow. The fact that communication is not instant often means that agents will feel that they can postpone the reply. It may not be perfect, but it's a lot more manageable than phone.
Live chat is the king of efficiency when it comes to contacting customers in real time. A skilled agent can keep up with several chats at the same time (you don't have to believe me, sign up for a 30-day trial and test for yourself).
Social media support can be as quick as live chat but agents may often have to direct the cases to other channels because some things like credit card information can't be discussed when everybody's looking.
Support on social media usually requires a dedicated agent or agents that would monitor the situation and quickly respond to new enquiries.
Many companies set up social media accounts because "everybody else has them" and then can't keep up with the volume of questions or ignore them altogether. If you plan on using social media for business, you have to be prepared to respond to customer service cases there.
The most efficient form of customer service is self-service. The initial cost of producing self-service materials is quickly diminished by the return you can get. Each customer who can find help on their own means one less contact your agents need to answer.
Some companies play it smart by steering customers to self-service materials. The offer to help through live chat or help desk is extended only after the customer has already seen the self-service resources.
You can do this by making your knowledge base and FAQ more easily accessible and by offering live chat, phone and email only after someone has exhausted self-service options (for example, by issuing a customized chat invitation).
5. Get a centralized knowledge base
A knowledge base will often help the customer find a solution that normally would have to be suggested by an agent.
Imagine how many cases could be resolved immediately if there was an article in your knowledge base that would answer a popular question.
Instead of leaving you a message and then following up, the gas station customer could simply look the answer up while waiting for his car to refuel.
And, according to Salesforce, a lot of customers seem to go for the self-service option first!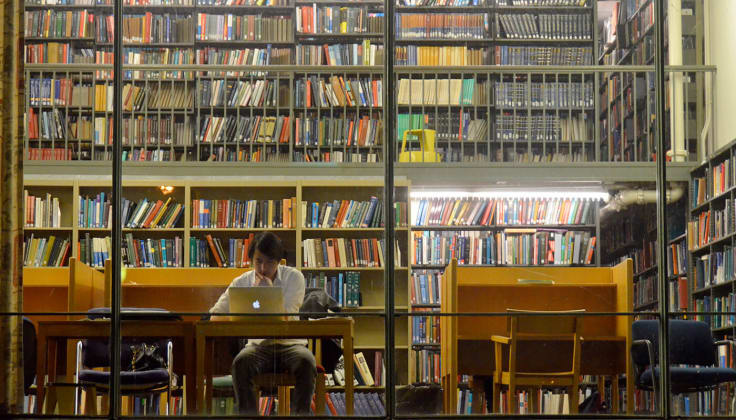 Setting up a knowledge base in definitely an investment. But it's the closest thing to getting something (infinite amount of potential questions answered) out of nothing (bar for the initial cost of writing a KB article).
A knowledge base can also act as a source of information for agents. They can use it to quickly check the information on a particular aspect of your product or service. It's also a great resource for newbie agents that simply don't know everything by heart (yet).
6. Tying agents to one channel is a bad idea
Just as customers like to use different channels, agents also need to switch it up from time to time.
Agents who constantly work with one channel only run the risk of quickly burning out. The monotony of answering only calls or only emails will work against their effectiveness.
Having agents work simultaneously with, for example, chat, email and social media also makes your multi channel customer service more flexible and resilient.
If all agents handle all your channels, nothing will happen when one calls in sick one day. However, when you have dedicated agents (one for email, one for live chat, one for social media etc.) and somebody can't get to work, your support falls apart. Agents who normally only answered emails have to now answer calls, which is a whole nother animal.
Don't rush it
This is the biggest piece of advice you can get when it comes to multi channel customer service. It will bring your support to a whole new level but it has to be flawless.
Make the change gradual. Integrate more and more channels into your support and make sure that good customer service is available on all of them.
You want to reach a state when the customer contacting a company can get an answer no matter which channel they pick.
What's more, they also should be able to freely switch from channel to channel without having to repeat any information.
Change all the "Could you explain your situation again, please" situations into "I see that you already tried that, let's try this instead."
And the next time the gas station customer comes to any of your support channels, be able to provide an update on his case before he even asks for it.
Photos courtesy of David Joyce, Tim, David Lofink and Chris Devers via Creative Commons.