Showing top

0

results

0

results found
Showing top

0

results

0

results found
10 min read
Jun 3, 2019
Live chat is a great way of increasing customer engagement and boosting website conversions. When used well, it can enable you to offer excellent customer support, save yourself time and money, and increase your bottom line.
That said, many businesses are routinely making the same mistakes in their live chat. Mistakes which can damage their brand and lose valuable customers.
I'll run through 9 top fails you too might be making, and show you how to fix them right away.
1. You're making the customer work too hard
Let's face it, live chat is meant to make your customer's life easier. But if you give them an over-complicated process for accessing it, you're asking too much.
Some businesses demand layer upon layer of information before they offer their clients an agent. Great for data-gathering; terrible for customer service.
Having said that, it's no bad thing to ask your customers for a few details before you get going. In fact, gathering the first name, location and email address can help you to provide a more personalized experience.
The problem comes when customers have to fill out an endless list of fields before they get to speak to an agent.
The solution:
Work out in advance what you need to know about your customers. Think beyond the chat itself. If you have integrated your live chat with your CRM, website or email tool, then this information can help you provide a long- term experience for your customer.
However, keep the information to a need-to-know. Don't ask for information that you'll never use, or you're just adding extra barriers between you and your customer.
2. You're making your customers wait too long
Research shows that live chat is the preferred medium of customer support.
Based on the 2019 Customer Service Report by LiveChat, the average first response time on chat was 48s. It's 3s better than the year before. Companies should try to be above that average.
Making your customers wait will damage your business. In fact, research carried out by Forrester and Amex showed that 20% of Generation Z (people aged 16-22) would stop using a brand if their live chat responses were too slow.
Time really is of the essence in live chat, so why are so many businesses getting this wrong?
The answer is that they are spreading themselves too thinly. Either they're claiming to be available when in fact they're not, or they have too few agents to deal with the volume of requests.
The solution:
Only set up live chat if you know that you have the resources to provide a high quality service. It's better to offer email or telephone support, than to offer poor quality live chat.
3. You're too automated
Automation in business is usually positive. It saves time, money and creates uniformity and consistency.
Some businesses make the mistake of thinking that their customers want an automated style from their live chat support, that it would provide their customers with a more consistent and controlled conversation.
This couldn't be further from the truth. Online consumers are surrounded by automation, and when they reach for live chat for support, they are craving a personal response. Often they've come to live chat to get a deeper level of help than the basic response that a robot could provide.
The data backs this up too. A study carried out by Ovum and Oponium has shown that 52% of consumers viewed a business more favorably when the customer service was more personalized.
The solution:
Use templates with caution. Whilst a script can help you to stay consistent and relevant with the support you're offering, you don't want to be giving robotic, generic advice.
Instead, separate out the repeatable questions that can be answered simply into a section which you can use a chatbot or an auto-response to deal with.
For everything else, produce flexible scripts that can be used as a basis for more personable interactions from your trained and experienced agents.
To personalize your chat further, you can use avatars (little image icons of your customer service reps) along with their first names. Don't use stock photos or made up names, as these are easily sniffed out as fake.
4. You have untrained staff
It's a mistake to think you can get away with low investment in live chat agents. It's likely to damage your brand if you hire agents that don't have the in-depth knowledge of your business and products or the experience to be able to give full and flexible support.
Hiring the right staff is the first point. The second is training them properly and regularly.
The solution:
Spend time recruiting the right people to handle live chat, and until you have found the right agents, don't make your live chat available.
Hire people with proven customer service skills and personality that fits your brand.
Secondly, make thorough training a priority at the first instance, and refresh training at least twice a year or whenever you have a product or process changes.
5. You're missing peak chat times
In an ideal world, you'll have agents working around the clock to provide 24/7 support for your customers. But this is not always possible, especially for growing businesses where cash flow is tight.
But businesses often make the mistake of providing the same standard hours - the 9-5 time slot, where live chat is covered, but not necessarily in demand.
If you're a global business then you could be receiving the majority of support requests from overseas at 3am, and, if you don't have your live chat up and running at those times, you're missing a valuable opportunity to help your customers with a purchase.
The solution:
Your first step is to identify the peak times you'd expect to receive the most requests for support. If you already have LiveChat on your website, go to the Reports section and choose "Chats" in the sidebar. The number of chats shows how many chats you get in general and at what point of the week you get the most of them. What's also useful is 24-hour distribution where you see the hours of the day when you have chat peaks. It's all so you can plan your agents' shifts better with the Staffing Prediction report.
You'll also need to consider which calendar events will affect your customer service needs. You'll probably need extra agents available in the run up to Christmas, and on other events relevant to your niche.
Next step, you need to work out a human resources plan to ensure that you have the appropriate cover for those peak times, and reduce or cancel resources at times when support requests are least likely.
When you can't provide live chat support, direct your customers to a resource area or FAQ page on your site so they're not totally left in the dark while you're offline. Better still, provide live chat at your busiest times and then switch to chatbot support for the rest of the time: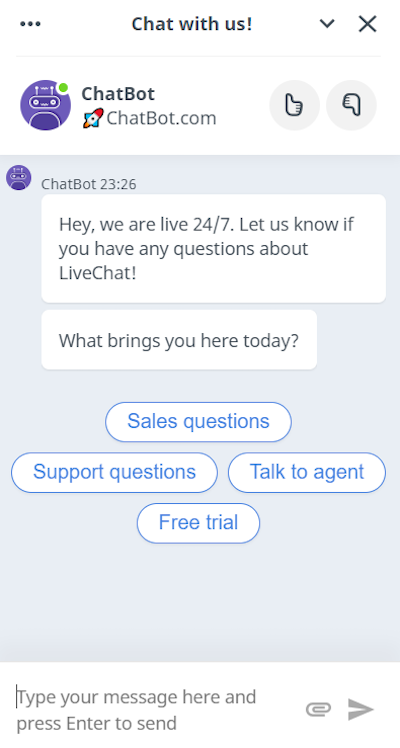 6. You value quantity over quality
2019 Customer Service Report by LiveChat demonstrates that while consumers prefer to get their requests dealt with quickly, they still value quality over speed. This is where businesses need to strike a balance between providing a thorough support experience, but in a relatively quick turnaround.
Some businesses get way too confident and try to handle more chat conversations than they can provide value to. This is where cutting and pasting goes awry, chats are mixed up, or customers are left hanging while other customers are dealt with.
The solution:
Your first step is to prioritize quality over quantity. While you're starting out with live chat, put aside targets, until your agents are confident dealing with chats and are delivering a high standard.
Next, acknowledge that each of your agents will have their own limit of how many chats they can handle before customer service is negatively affected. You can start to develop targets with each of your agents, but keep these realistic.
7. You're data-spilling, and creeping out your customers
With LiveChat, you can gather information about your customers, sometimes even sensitive information.
Knowing this is privileged so it doesn't need to be repeated back to the customer.
As a customer, when you get a sense that the customer service agent knows things about you that you hadn't realised you'd told them, it all gets a bit creepy.
The solution
First of all, be completely transparent about the data you're collecting from your customers, and only ask for information that will benefit them and the service you provide them.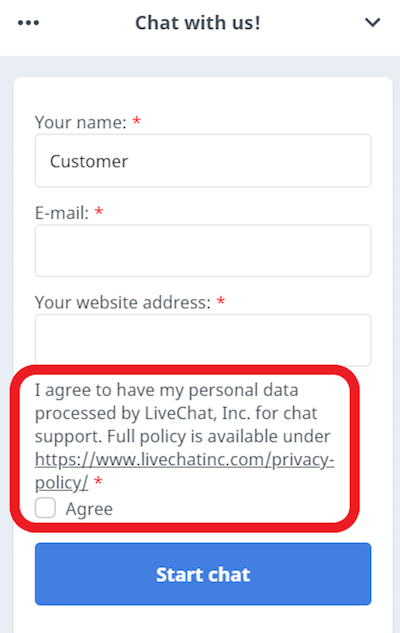 And use your data knowledge for good reason. For example, if it would be beneficial to know your customer's purchasing history so that you can recommend products, then fine, ask for it.
But don't be tempted to offer your customer a recommendation based on their buying history and then tell them that's what you're doing.
8. You're missing opportunities to be helpful
The priority of your live chat is to provide helpful assistance to your customers.
But there are usually opportunities within the chat to go the extra mile and provide proactive solutions rather than just respond to each question with a single response.
The opportunities within this tactic can also benefit your business too, allowing you to upsell or cross-sell when appropriate.
Let's say your customer came to you on live chat asking about a product that's "sold out". When the customer asks if you can reorder it for them, you know you can't because you've discontinued the product and you're about to launch the mark 2, superior version in a few weeks' time.
Here, you have two options. Either you could reply "no", and the conversation is over. Or you could tell them about the upgraded version that'll be available soon and, if they sign up to your newsletter, they'll be updated about its availability over the coming weeks.
You could also tell them about similar products if they can't wait that long. Either way, you're grabbing the opportunity to keep the customer engaged and interested, rather than shutting them down with a literal and unhelpful answer.
The solution:
The only way you can address this issue is to prioritize agent knowledge and training. Keep them updated on stock changes when they arise, and train them to recommend similar items.
Your agents should be trained to listen to your customer's specific needs and find the right solution for that issue.
9. You fail to follow up after the chat has ended
Following up with customers after messaging on live chat is often overlooked by businesses.
Yet, your follow up is a prime opportunity to reinforce a positive customer experience, and further nurture your customer's loyalty.
And there's nothing wrong with using live chat as a lead generation tool. When used effectively, it can provide you with an excellent starting point from which to open up an ongoing conversation with your customer, providing valuable information and support throughout their sales journey.
The solution:
Integrating your live chat with your CRM solution is the best start to provide great support. You can also integrate your it with your email marketing solution so that you can automate follow-up mails, providing relevant added information and assistance.
Learning from your mistakes
As with most sales and marketing tactics, there's nothing wrong with making a few mistakes. After all, it's only when we make mistakes that we can learn and improve.
When it comes to live chat, what works for one business might not work for another. The best thing you can do is to regularly monitor and measure your live chat activity, and take a step back to see what's not working.
Only then can you start addressing what's wrong and continue to provide the best live chat support for your customers.