Showing top

0

results

0

results found
Showing top

0

results

0

results found
Building the perfect customer service team is a challenge. While interviewing potential hires, there is a lot to cover, ranging from technical knowledge to soft skills. Moreover, the recruitment process does not end after the final handshake – it is the beginning of a journey. Join me for a little case study with LiveChat's CCO Piotr Bednarek and learn how to assemble the perfect team of live chat agents!
A note before we dive in deeper: don't worry if your team counts dozens of agents already or not a single one. The skill of effective recruiting is a virtue developed constantly over time. Always be ready for a quick expansion of your team.
What defines every agent?
While there are many industry-related skills every agent has to acquire, there are some ground rules applicable to every company in the customer service world.
Technical skills
It is pretty obvious that a live chat agent has to be efficient with computers. But what does it actually mean and how to evaluate it beforehand?
One of the most important factors in the online customer service is response time. Our recent report shows that there is direct connection between First Response Time and Customer Satisfaction.
The lowest response time, the better customer satisfaction – Customer Service Report 2015
Typing speed matters. The computer keyboard is the bottleneck of communication. An agent who needs to particularly focus on typing is more easily distracted, does not have enough attention for the customer and usually gets frustrated under the pressure of concurrent chats.
All this influences the customer happiness and eventually leads to unsatisfied customers. To learn more about the skill of typing, I developed a little tool called Typing Speed Test. It allows you to quickly evaluate the typing skills of potential hires, but also helps to improve them with a little practice.
The ability to type quickly and accurately is just one of the technical traits that matter. Almost every company has to maintain a customer database, which is usually formed with typical office software or more sophisticated systems. Your perfect agent has to feel comfortable with computer interfaces and web services.
TIP: Canned responses & keyboard shortcuts. It is also important your agent is familiar with the idea of keyboard shortcuts. There are loads of helpful tricks that can speed up communication over chat – take a look at LiveChat's canned responses. Also, did you know that CMD (CTRL) + Backspace removes the whole word? Learning this and many more keyboard shortcuts can drastically improve the response times.
Customer service soft skills
Apart from technical efficiency, there is a number of qualities that describe perfect live chat agents. Our friends from The Chat Shop are experts on that matter:
Above all, the number one skill we look for in good customer service team members is a total commitment to the customer. It sounds simple, but you have to have people that really care about the outcome of a situation for the customer they're serving.Jonny Everett, The Chat Shop
For more detailed information you should check out Jacob's post, who did a great job describing all the customer service skills your agent needs.
TIP: An easy way to remotely get the general idea about your hire's personality is to ask them to fill out a personality test. As an experiment, we recently introduced the 16personalities project to our Support Team – the results seem to be pretty accurate, so it can be a decent tool when you want to get to know a person a bit better.
What defines your agent?
If you want your recruitment to be successful, you need to define what you are looking for. I asked Piotr Bednarek, our CCO, to learn more about LiveChat needs – he was kind enough to share some of his insights.
Industry-specific characteristics
Every industry has its particular customer service needs. In retail industries agents should feel comfortable with pitching your products. Companies offering professional services should provide their customers with competent support. There is no ultimate prescription for the perfect agent – focus on the skills that are most important in your line of work and look for them in potential hires.
Company-specific traits
To learn what will make your customer service outstanding, you should pay great attention to your customer satisfaction levels. Establish what makes them happy and create your own characteristic of a perfect live chat agent. Keep this image in mind while writing the job offer, but at the same time try to be open for fresh ideas. Remember that a new agent is not only a company resource, but also an addition to your team. Let them feel that way!
In LiveChat, we treat every new recruit very seriously. For Piotr it is truly important that he or she feels as a part of the whole company:
How close is your team to the core of your business?
Piotr Bednarek: The Support Team is kept in a constant loop with other teams. For us the communication and feedback flow within the whole company is extremely important. We are a team of 18 customer-service-oriented people who enjoy seeing our customers' businesses grow with the help of our product.
Team-specific skills
As a leader, you want your team to be highly effective and consistent. One way to accomplish this is by choosing the people that simply fit in. If you feel that a recruit has certain anxieties about their new workplace, make sure to encourage teamwork and friendly attitude. A customer service agent job is emotionally demanding. Even the most experienced representatives may need a helping hand.
5 stages of agent recruitment
The usual recruitment process consists of 5 separate stages. Let's go through them together and find out what is worth paying particular attention.
Stage one: The Job Offer
That's a truly important part of the recruitment process. Not only it is meant to grab the attention of your potential hires, but it also shapes the very beginning of the relation. If you are lucky enough to already have coworkers around, ask them for proof reading – it's important the job offer shows your appreciation towards workers.
When creating the agent job offer for your customer service team, make sure that:
all the essential skills are included into the offer,
the responsibilities are explained clearly and attractively,
include all the necessary terms and regulations,
there is room for your hire's input.
What else can you include in the job offer?
Piotr: It is extremely helpful to extend your application process with additional tests – it simply saves your time. Go for Typing Speed Test or Personality Test and you will know much more about your potential hire upfront.
Stage two: The Applications
After your offer goes public, there hopefully will be CVs flowing in. Now it is time to pick up the ones that seems to be most fitting for the job. Solid points would be experience in fields of customer service, direct relations with people and voluntary activities.
Don't worry if there is not enough applications. You can always reach out to your friends or share hiring information on social media. There are also Agents and Expert Marketplaces to choose from. If you are in the hurry, go for a hunting! With the growth of your team, it is going to be easier: many of the hires come from recommendations.
Stage three: The Interview
The crucial part of the process – the exchange of first impressions, building the trust and engagement. As romantic as it sounds, it is down to the ground truth: both sides are equally involved.
There are a number of ways to run an interview. Try to focus on your goal: you are looking for a perfect agent for your company. Go gradually from general requirements through industry-specific requirements and close with company and team related tunes. Seek for signs of passion and engagement in hobbies, interests and social interactions. It may sound trivial, but you need a person who is ready to truly commit into helping your customers.
Did you learn to notice any "red flags" during interviews? What are they?
Piotr: I've had the chance to interview quite a few people (maybe 50 by now), so I've learnt how to spot things that are hard to get passed. I have little patience for candidates who have not done any research about the job they are applying for.
It is also worth to determine the priorities for your hires by letting them ask questions. Find out how much do they know about your company and product, and whether they are willing to learn more. Don't play if you don't want to be played. Being honest and straightforward is always the best strategy.
Do you prepare for the interview or improvise?
Piotr: There are a few quick customer-service-related questions I like asking during the interview. And, they usually give me a solid background of the candidate. However, I tend to improvise sometimes; especially after hearing stories of people dressing as Medieval knights, witches and so on. 'Fantastic people...' I think. 'Tell me more...' I say.
Feel free to use these customer service interview questions during your next interview:
When was the last time you encountered bad customer service? Could you think of ways to improve it?
Have you worked as customer service representative before? What made you satisfied and what made you feel bad during this experience?
What is your recent achievement or important moment in your life that you are proud of or happy about?
Did you hear about our company/product/industry before you applied for a job?
How do you react to rude and inappropriate questions from customers?
What do you do when asked questions you don't have answer to yet?
How would your previous experience be helpful working as a live chat agent?
Does the way of communication (chat, phone, in person) make a difference for you?
Stage four: The Trial
This is the most important stage for the new employee: It's the time for them to ask questions, gather experience, bond with the team and acknowledge responsibilities. Make sure your recruit does not get lost and is motivated.
Frequent evaluations in form of the short talk will help both you and your hire to keep on track. Take a few minutes to go through your hire's chats and tickets, try to figure out the potential problems. There are number of metrics worth looking up – check out our recent Customer Service Report.
When the trial period is over?
Piotr: Here at LiveChat, it takes up to two full-time weeks of customer service training to decide if we're going to hire someone, or not. If we find a candidate who is right for the job, there are two more weeks, during which they pretty much just do our regular work with supervision. It usually takes two months to grow from zero to a Support Hero.
TIP: When you are expanding your agents team it is a good idea to assign a work buddy (an experienced agent) to a recruit. This way you also strengthen team bonds.
Stage five: The Work
Wohoo! Your recruit turned out to be perfect. What should happen now?
How do you keep agents motivated / in shape? Do you use the carrot / stick method?
Piotr: We talk. We talk a lot, and share feedback. It's as simple as that. And, as for the "carrots", sometimes I bring a bunch of carrots, peel them and share with the team. We love carrots at LiveChat.
Once the contract papers are signed, it is easy to forget about your newbie. Don't you even dare! Piotr can sleep well and joke about the carrots, because our Support Team is a team of outstandingly passionate people – they are absolutely engaged with their jobs. But life is not always that perfect!
LiveChat Support Heroes at their finest
Make sure your team has ways to evolve and improve their skills. Be flexible as a leader – let your agents pick up different fields of customer service to explore. Experiment with new tasks, create possibilities to shine and provide challenges. It is not the carrots what motivates passionate people!
Does the recruitment process ever end?
We believe that recruitment is a continoues proccess. You should always be ready to expand your team of agents.
Does the recruitment process ever end? When do you need to hire another agent?
Piotr: It does not. We're constantly growing, changing and evolving. And because of that, we always have some spare CVs around.
It is a popular scenario, where people start as agents and end up promoted to other teams. Make sure the ways of promotion are wide open and that nobody is stuck at carrier dead-ends because the lacks in staff.
Need more?
Still craving for more knowledge? We got your back. Check out our ebooks on creating and managing Support Team.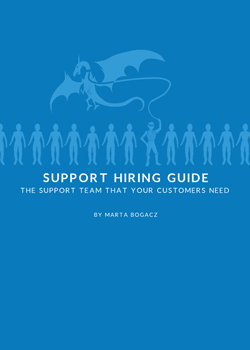 Support Hiring Guide
The first step to providing great customer support is hiring great people with the right skills and motivation. This guide will help you find them.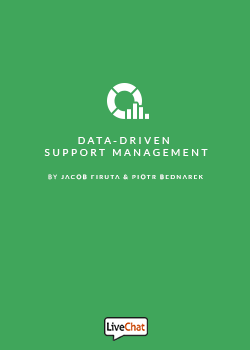 Data-Driven Support Management
You don't have to guess when managing your customer service. LiveChat offers loads of valuable customer service data. See which metrics count, what do they mean and how to track them.
About the Expert
How long do you work as a CCO? How many agents have you recruited and what did you learn from them so far?
Piotr: I've been a CCO for 3 years now, and during that time I've recruited more that 30 agents. I can say that they are all great, that everyone is different. Just look at their hobbies and interests!
How big is your team, how many chats do you handle every day?
Piotr: Our CS team consists of 18 people: 15 of customer service agents and 3 dedicated dedicated programmers for tier 2 technical support, 2 customer success managers. The team answers around 800 chats and tickets combined on a daily basis.