Showing top

0

results

0

results found
Showing top

0

results

0

results found
The days when you could only call a company are long gone. Support provided via various communication channels like chat, email, phone and social media sites is a must today.
This shouldn't come as a surprise. After all, you should provide the kind of help your customers expect or want to use on their preferred communication channels. When you provide several contact options, customers can pick the one they are most comfortable with.
Let's take a closer look at companies that not only offer contact via chat and phone but also keep a high quality standard on both these communication channels.
Phone, meet chat
Depending on the circumstances, your customers will have a preferred method of contacting you. A part of your customers will look for a short but definite solution that a phone call can provide. Another group will prefer the immediacy of chat and will love to have it around at all times when browsing through your website.
The challenge here is to provide several alternative communication channels that can work well together.
Providing more communication methods was the reason (mt) Media Temple, a top-notch hosting provider, decided to add live chat feature to their site. Even though their live chat started off just as an alternative to phone support, it grew to be the most popular of the communication channels used by (mt) Media Temple's customers. Now, chat accounts for 60% of all their contacts with customers.
Another example of a company that uses phone in tandem with chat is Warby Parker, a popular eyewear retailer. They believe that providing another channel of communication will make it easier for customers to contact them. The extra convenience turns into higher satisfaction ratings. Here's how Mara Castro, Director of Customer Experience at Warby Parker, describers their chat support:
"Phone and email are still the most popular ways by which customers can reach our team, but it's definitely been a helpful mechanism for those that prefer an alternative."
Productive coexistence of communication channels
When your agents work simultaneously on both phone and chat, it's easy to mess up the workflow on one of your communication channels by interruptions from the other. No matter how well trained an agent is, nobody can keep up with several chats and a phone call at the same time.
To counter this, you can try introducing rules or standards for your customer service agents. For example, Warby Parker has a 6 second phone pick-up rule. Thanks to this rule, customers never have to wait to get a question answered.
To ensure the quality of their chats and phone calls, Roku, a leading TV streaming platform, doesn't allow agents to handle more than three chats at the same time. Even though all agents are assigned to chat and phone duty, they don't do it at the same time.
Hooking up phone to chat
One of the most creative ways to ensure high quality while providing support via two communication channels (chat and phone) was devised by Fresh Ideas, a curtains and blinds retailer from Coventry, UK. They use LiveChat on their online shopping cart through the brand Fashion Interiors.
Jez Brooks, eCommerce Development Manager at Fresh Ideas, describes how they used LiveChat's API to fuse their chat and phone to ensure that agents don't have to split attention between chats and calls:
"We run a busy online shopping cart selling products that can be quite complex to the general public and have to provide support based on high quality customer service training. As a result initial trials of chat software highlighted that our agents struggled to balance even 1 chat conversation with constant telephone & email enquiries coming through due to the complexity of the queries. We needed a system that allows our agents to provide quality and dedicated customer service to each of our customers."
Fresh Ideas prepared a simple system that changes the LiveChat status of agents currently engaged in a call. This way, agents can give the calls their full attention:
"We wrote a script to hook into our existing telephone architecture to call to your API to set each agents status to away or online according to whether they were on the telephone or not. If all agents are on telephone calls, then the LiveChat is not shown to customers who aren't currently engaged in a conversation with an agent."
These statuses decide which agents receive chats. Agents with the 'Accept chats' status will keep receiving chats and those with the 'Don't accept chats' status will stop receiving them. By setting up their phone – chat interaction like that, Fresh Ideas makes sure that good customer service is available for their customers.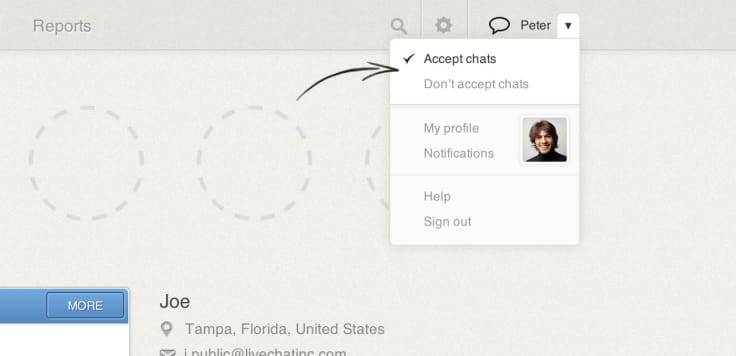 What's your take on the communication tandem?
We'd love to hear your ways of providing both chat and phone commmunication channels open while keeping high quality standards. Do you have some kind of guidelines for your agents to follow or maybe you use technology to join these two together? Heck, maybe you use both?
Feel free to leave a comment under this post to provide your suggestion. We'll feature the best entries in our upcoming LiveChat Customer Satisfaction Report for 2014.
Photo courtesy of Servicio Nacional de Turismo via Creative Commons.