Recently posted
Do you like our posts? You might also like our product.
Give LiveChat a go during a free, 14-day trial.
Brought to you by LiveChat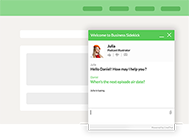 LiveChat is an online chat solution for your website, social media and apps. It is used by businesses to help customers in real time, improve customer support and close more sales.
Get knowledge to your inbox
Sign up and be first to know about our blog posts!
Write a guest post
Interested in publishing on our blog? Check out the requirements and have your guest entry published within several days!