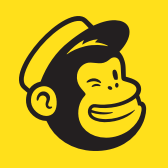 Mailchimp Newsletters
The Mailchimp & LiveChat integration will help you expand your newsletter audiences at the push of a button.
No additional forms are needed! All of that will let you reach out to many users with your campaigns and gain more clients.
Mailchimp is a marketing automation platform that allows creating, sending, and analyzing emails and ad campaigns. It provides an array of pre-made templates and helps to automate your campaigns. For example, it lets you send messages with a discount if someone abandons a shopping cart on your e-commerce.
Apart from the email features, the platform enables you to recapture the attention of people who leave your website - wherever they go online. It lets you serve ads on Google Display Network, Facebook Ads, or Instagram.
Key Features
Lead generation in the chat widget
An interactive and automated message that collects customer's email without starting a chat.
Benefits
Automatic lead generation
You don't have to send anything to your customers. Mailchimp targeted message will pop up automatically on the site pointed by you in the configurator.
Show it at the right time and place.
Set up the Mailchimp targeted message on your most popular articles to grow even more subscribers.
Ratings & Reviews
How would you rate this app?
Tutorial & Support
To get help and support
contact
. You can also suggest improvements or request new features in the upcoming versions of Mailchimp Newsletters.