You have installed LiveChat on your website, yet chats are not pouring in. Fear not, there are a number of things you can do quickly and easily to fix that. By increasing the visibility of the chat widget on your website and meeting your customers where they are, you can get those numbers up. 
1. Create a chat widget that's impossible to miss
Grab your visitors' attention while increasing user response with an eye-catcher that is easily customizable, retina-ready, and responsive. You can make use of LiveChat's targeted messages.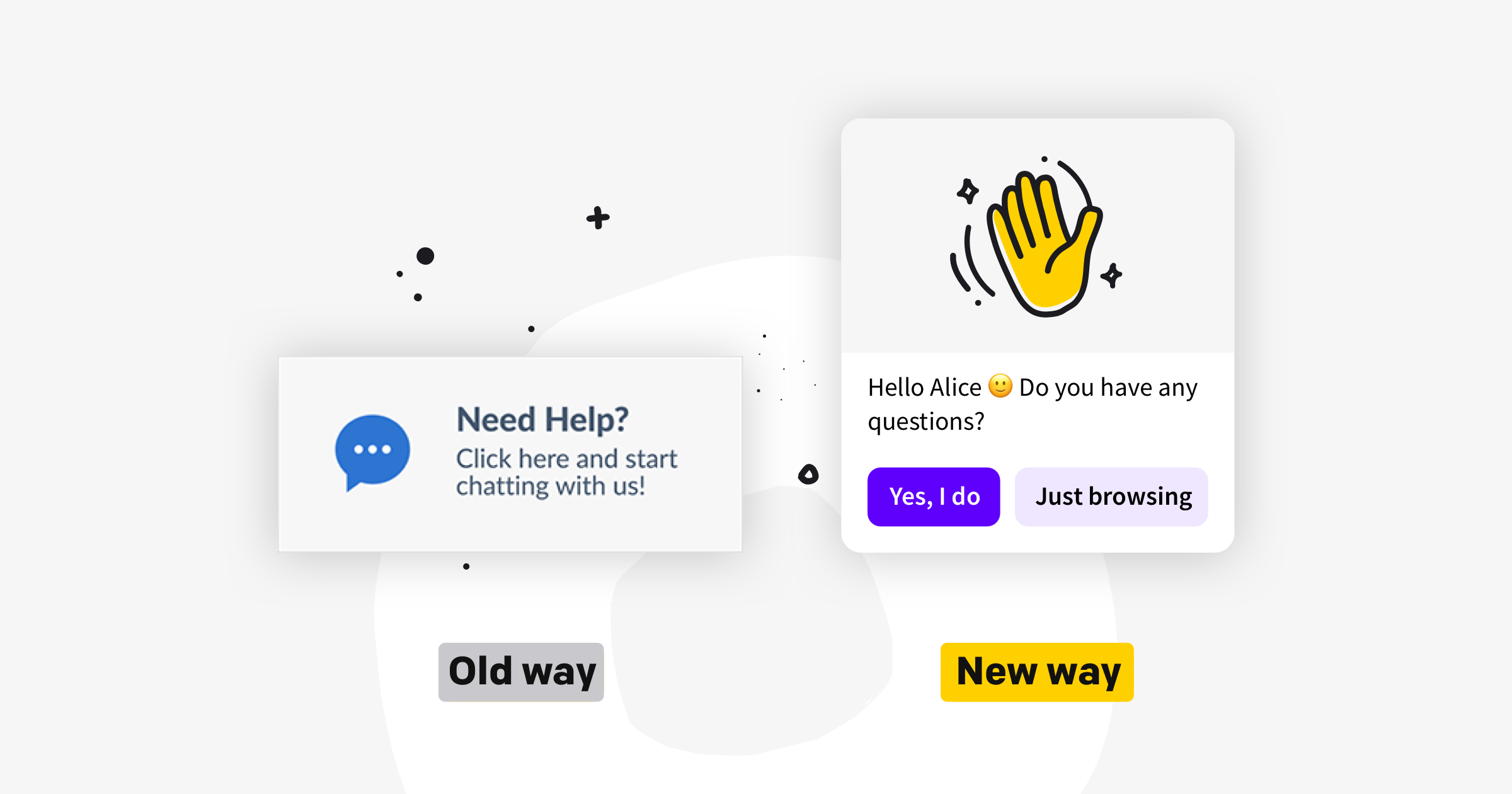 Set up your eye-catching targeted message, and check its performance in Settings>Engagement>Targeted messages in the LiveChat Agent app. Test different kinds of images, colors, and action buttons to see what converts best.
2. Improve chat UX with accessibility 
You want your customers to have easy access to the chat widget on your website. LiveChat Chat Widget is fully keyboard-accessible, accessible to text to speech readers, and all default colors have a contrast score of 4.5 or higher. This means that customers who are visually impaired or have diverse accessibility needs can just as easily start a chat with your team. Read more about the accessibility of the LiveChat Chat Widget.
3. Stay open and be available
Switch your availability to always., so that customers can start a chat and leave a message when they like. Your agents can then pick it up whenever they start their shift. Use the Chat availability report to see when the majority of customers come to chat with your team to best optimize the agents' shifts.
4. Use many languages
Make customers feel welcome in their native language. Provide service in their preferred language with Message Translator integration. You can reduce operational costs by not needing to hire a team of multilingual reps. The integration detects and translates both your team's and customers' messages in real-time.
Read about our customer who used Message Translator to
reach a whole new segment
of customers.
5. Integrate LiveChat with messaging apps
Make sure your customers can reach you where and when it is convenient for them. If they are in the US, they most likely will be on Apple Messages. Outside the US, they are very likely to be on Whatsapp or Telegram. Use integrations like Apple Messages for Business, WhatsApp Business, or Telegram. DM apps integrated with LiveChat allow your customers to start a business conversation in a way that feels familiar and convenient, and your team to have all communication in one place.
6. Add a chat logo to your communication and social media
Add a chat page link to the footers of your emails, newsletters, and social media posts, so that your audience can engage with you as they interact with your content. The chat link allows them to start a chat immediately, which builds trust.
7. Join LiveChat with social media
If you have an SM channel like a Facebook page for your business, make sure to integrate Facebook Messenger with LiveChat. This way you'll be able to handle chats from your Facebook page in the LiveChat Agent app, and have all your communication in one place. If you get contact requests via Instagram DMs, let your team handle them in LiveChat as well as with the Instagram for Business integration.
8. Place the chat widget on all pages
You should add LiveChat to all your product pages to ensure your clients can reach you whenever they need help. Chat on all pages is like a helpful shop assistant that will go out of their way to help in your customer's purchase decisions. Recreate that feeling and answer questions on all the pages of your website. 
9. Make your chat widget visible
Customize your chat widget to stand out on your website. Make sure that the customers know it is there if they need it. Read more about the customization options of the LiveChat Chat Widget, and go to the LiveChat Agent App to customize yours now.
10. Provide the human touch
Customers appreciate seeing who they're chatting with. Add photos to your team's agent profiles. You can also pick a photo from our gallery of default faces.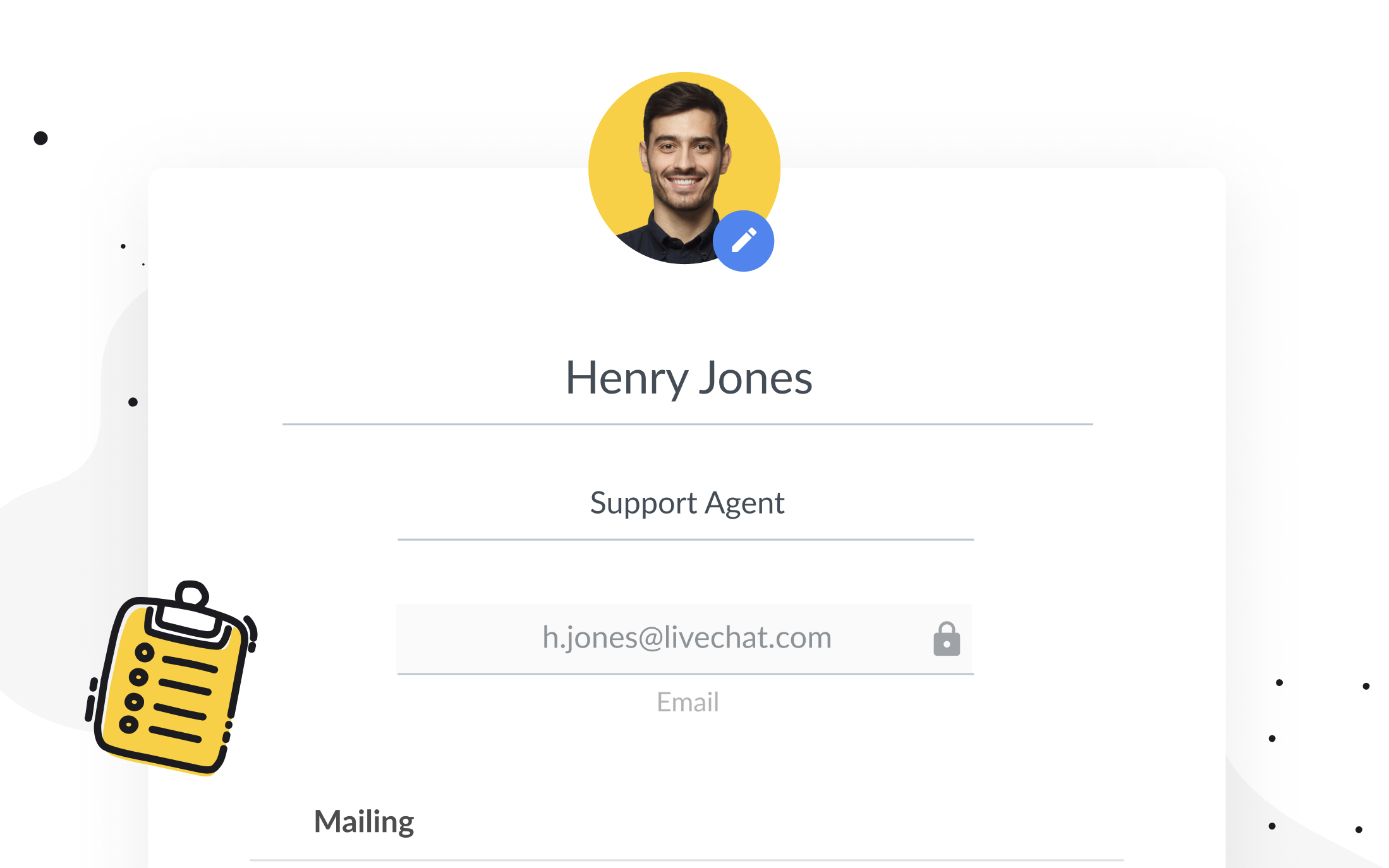 11. Be online - don't make the customers wait
For the times when your team is online, make sure that there are enough agents to handle the volume of customers on chat. In LiveChat, you can use the Staffing prediction report to figure out how many people are needed to handle the traffic. Read more about staffing predictions.
12. Get rid of pre-chat forms
Deleting entry forms depends on your business goals. Disabling the pre-chat form eliminates one extra step for your customers to start a chat. Another way to shorten the distance is by eliminating all unnecessary fields and only marking the data processing field as required. Pre-chat forms are a great way to ensure lead quality and gather customer information, but they are not indispensable. You can gain all the information you need while they are already chatting. 
13. Connect customers with the right department
With Routing rules, you can direct chats to different teams. Let customers on FAQ pages start a chat with your support team and hook up customers on product pages with your sales team. Here's how to do it.
14. Encourage contact - be proactive
Set up proactive chat invitations with a delay, so that when the customer hesitates on a product page, they will see an automatic message nudging them to start a chat. Studies show that customers who chat - convert. Check how your invitations perform in Settings>Engagement> Targeted messages in the LiveChat Agent app. Experiment with different looks and conditions to see when your customers are more likely to start a chat. Apart from welcoming the visitors to your store, these automatic invitations (we call them greetings) can be used to generate leads, automate targeted marketing, guide customers around your website, schedule appointments, and more.
Finally, evaluate and iterate
Whether you're just starting out, you're looking to switch your support or sales from phone to chat, or you just want to see a higher volume of chats to generate more leads, these small changes will help you achieve your goals. Once you implement them, check the performance of the chat widget and your team in Reports in the LiveChat Agent app. See how they can help you improve chat quality.