At LiveChat we know that making the Chat Widget accessible to all visitors to your website is key. That's why we've made the Chat Widget WCAG compliant.
Increasing accessibility means expanding the reach of your products and services. This improves not just the number of chats, but also chat satisfaction. No one would intentionally make their customers jump through hoops to get in touch, and we've just removed another hoop between you and your customers. This is just good business.
What is WCAG?
Web Content Accessibility Guidelines help companies make sure that their web content is accessible to everyone regardless of their access requirements. There are 12 guidelines organized around four principles: Perceivable, Operable, Understandable, Robust, also referred to by the acronym POUR.
Perceivable
Make sure that the content of your website can be perceived with more than one sense. If it is visible, make sure it can be audible. If it is audible, make sure it is visible, e.g., add subtitles to video materials with voice-over or dialogue.
Operable
It should be easy for every user to navigate your website, and your user interface (UI) should be aimed at this goal. Make sure there is an option to access elements of your website with a keyboard in case some of your customers are not using a computer mouse or other pointing devices.
Understandable
Make the content and navigation of your website easy to understand. Make your copy straightforward and to the point, avoid jargon or long, complicated sentences. Structure the elements of your website in a natural and logical way to ensure accessible navigation.
Robust
Make sure your website is designed and developed to work in various browsers. Test it on different computers, tablets and smartphones, as well as various browsers. Make sure it's compatible with different assistive technologies.
LiveChat's mission is to break down barriers in communication. We always aim to improve the end-user experience and help you reach more customers.
What have we done to make the LiveChat Chat Widget WCAG compliant?
The LiveChat Chat Widget is compliant with the WCAG 2.1 AA standard. The Chat Widget and targeted messages are now
fully keyboard-accessible, which means that customers don't have to use a mouse or touchpad to interact with the Chat Widget; they can access all its elements via a keyboard. Your browser does not support the video tag.

accessible to text-to-speech readers, which makes the Chat Widget accessible to visually impaired customers. Your browser does not support the video tag.

all default colors that can be customizable have a contrast score of 4.5 or higher.
Our VPAT (Voluntary Product Accessibility Template) can be viewed here.
How to make your Chat Widget WCAG compliant?
The great news is, you don't have to do anything. We've done all the necessary back-end changes to ensure that the widget is keyboard accessible and text-to-speech reader-friendly. What's more, we've made all the default color settings WCAG compliant by default. If you are using any of our default theme colors, you don't have to do anything.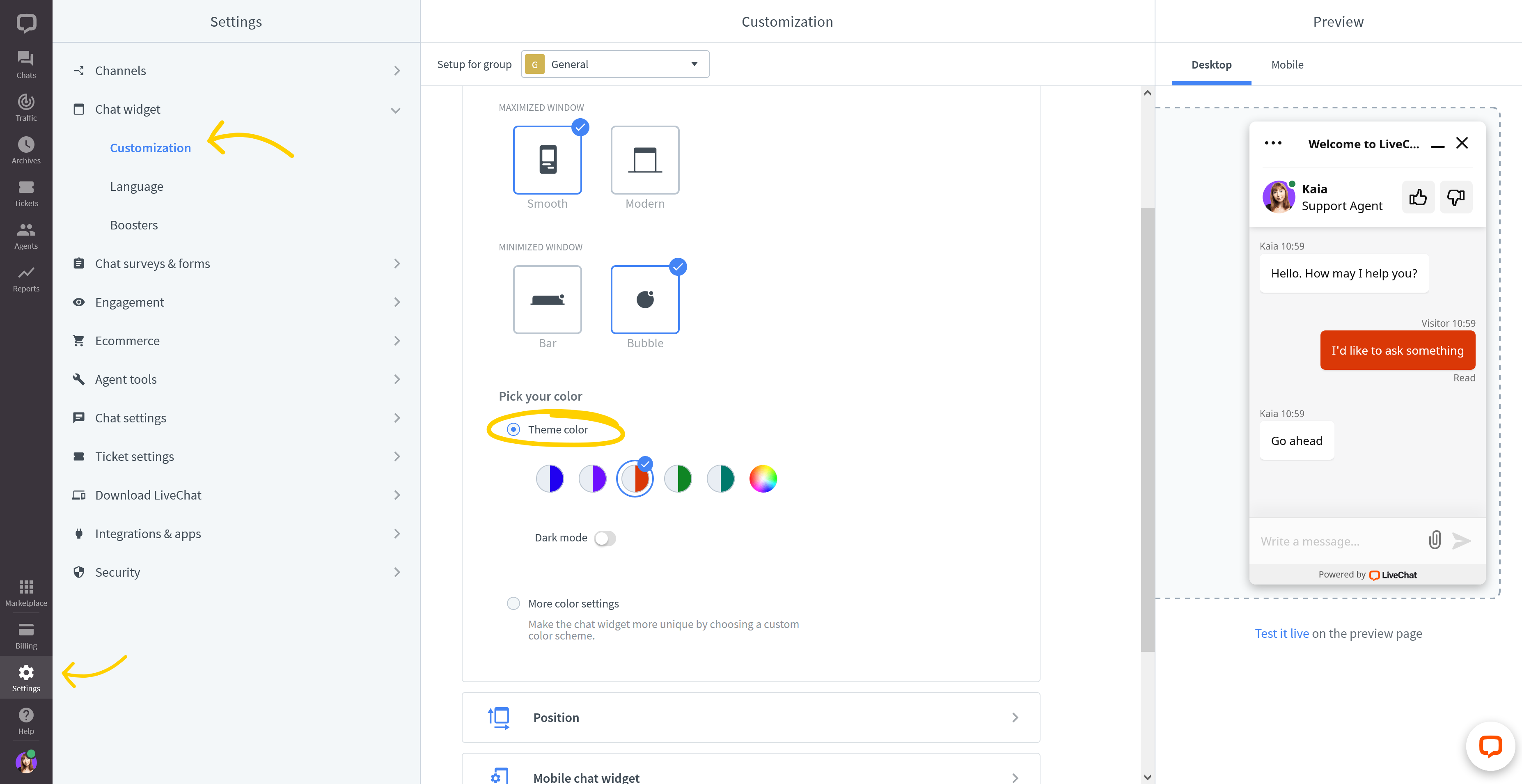 If you have used the More color settings option, make sure to follow the guidelines for contrast.