Showing top

0

results

0

results found
Showing top

0

results

0

results found
To the novice advertiser, it might not seem like SEO and paid search (PPC) have a lot to do with each other. After all, PPC is all done through Google Adwords, while SEO is an all-encompassing process that takes weeks and even months to yield results.
alt
In reality, the two are practically made to work hand in hand. The data and insights gained from one can prove invaluable for the other. Bottom line: if a company is running both PPC and SEO campaigns, there's no reason not to have them work in tandem.
So how can you create the synergy that will take your campaigns to the next level? Before we can talk about that, we have to go over why this integration of campaigns is so crucial.
Why Integrating SEO and PPC Campaigns is Ideal
One of the most common misconceptions that comes up time and time again in digital marketing is the idea that spending money on paid search ads is just a "band-aid" that you can pull off once you've attained solid organic rankings.
It is NOT TRUE!
It's easy to understand the appeal of cutting costs, and it's also easy to see how this misconception could arise. After all, your goal is to appear on search engine results pages (SERPs), and once you've gotten your organic rankings high enough, you can do that without spending money on ads, right?
But what's a more preferable situation: To have the top ads OR the top organic listing, or to have the top ads AND the top organic listing?
It's the latter, and for two reasons.
It allows you to dominate both areas of SERPs, and
having a strong ad presence serves as a backup should your organic rankings suddenly take a hit. This can happen fairly easily in the event of an algorithm update or if your site suffers an unexpected technical issue.
In short, by diversifying your traffic, it's easier to recover if you suddenly find that the traffic from one particular source has taken an unexpected hit.
Best Practices in Integrating Paid Search and SEO
So how DO you get your paid search and SEO to work together, outside of taking the people who manage each one and forcing them to share a desk?
Consider Aesthetic Positioning For PPC Ads
Paid ads' encroachment on organic listing real estate on SERPs has been pretty widely documented over the last year or so. In fact, it's not all that uncommon to see pages like the one below, where you can't even see the top organic listing until you scroll down a bit.
This is a perfect example of a situation where cutting ad spend after attaining high organic rankings could drastically reduce your overall clickthrough rate for those queries. Be sure you're aware of how Google displays ads for your primary keywords.
Use PPC to Test New Organic Keywords
Here's a keyword research tool you're probably not using to its full potential: your Google Adwords account. Surprised? You shouldn't be.
Ranking highly for a new organic keyword takes quite a bit of time and effort. So why not see if that keyword is even viable before putting in all that work? By creating a new landing page and running ads on the keywords you hope you to rank for, you can see just how well those searchers respond to you. Now you have real, actionable data that you can use to inform your organic efforts.
Rely on Adwords to Gain Insights on What Converts
In the era of not provided, getting accurate organic query data for your site has become increasingly difficult. Sure, you can cross-reference your Webmaster Tools queries and your top organic landing pages in Google Analytics, but even that can only go so far towards telling you which queries are actually converting.
This is where Adwords comes in. With much more precise query data, you can gain a better understanding of which keywords are converting well. This can help you determine your most valuable keywords, and also determine where your limited SEO time is best used.
Identify Competitors Using PPC Reports
So far all we've really looked at is keyword data, but AdWords can help your SEO in other ways as well. The Auction Insights report in particular can provide you valuable insight into potential competitors, both on the organic and the paid fronts. This handy report shows you how your campaigns performed compared to other advertisers bidding on the same keywords, and if you sort by "Overlap Rate" (see below) you can see just how often you and each competitor's' bids...well….overlap.
While this is obviously great insight for paid search, this can also help you with your SEO. Go through this list and see if there are any competitors that you weren't already aware of, and then take their sites URL and plug it into a tool like SEMRush. You might find some new keywords you didn't know you should be going after!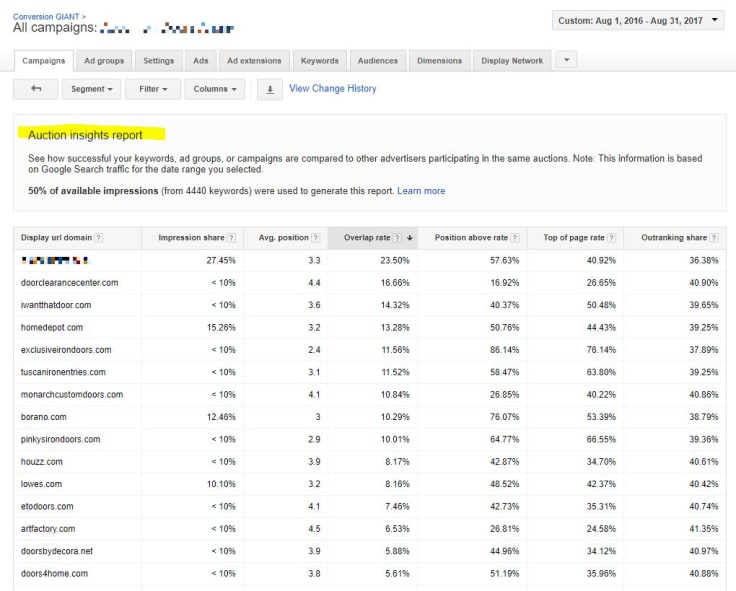 Optimize Your Organic and Paid Ad Copies
For all their differences, paid ads and organic ads are actually more similar than you'd think. Text ads, in particular, have all of the same elements as organic listings (see below). Title tags and meta descriptions are essentially the headline and ad copy of the SEO world.
With that in mind, you can use paid ad listings to test potential SEO copy, and vice versa. If ads with particular copy are getting better CTR than the rest of your ads, consider editing your organic elements to reflect it. Inversely, if your organic listings are getting great CTR and your ads aren't, consider editing your ad copy to match your organic listing.

Consider Seasonality when Planning Your Campaigns
Just like in any marketing campaign, seasonality is a major factor in both PPC and SEO. Fortunately, but combining organic and Adwords data, you can maximize your understanding of your business's uptimes and downtimes.
A major key to understanding seasonality is knowing when your relevant search terms are at their most popular, which is most easily accomplished using Google Trends. That data can then be used to plan your content strategy (blog posts, landing page content, etc) for your SEO campaign. You can then increase or dictate your ad spend for each keyword accordingly.
So What's Next?
These points clearly show how you can effectively leverage your SEO efforts with the help of your paid search campaigns and vice versa. Your Adwords data can give you insights into what converts so you can implement the same insights into your organic search campaign.
You can even test out your keyword ideas on your PPC ads to see if they convert before you use them to optimize your organic content. In short, you shouldn't be focusing your efforts solely on one type of search campaign.