Showing top

0

results

0

results found
Showing top

0

results

0

results found
9 min read
Dec 16, 2016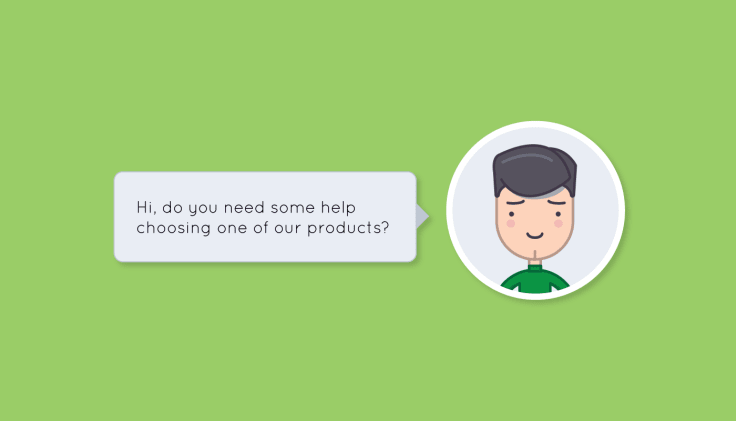 When you hear about live chat, you probably think it's the tool customers use when they have a question. That's true, but that's just a part of it. You need to think of live chat used in a more proactive way. The way in which you first write to a customer and offer help, while they're browsing your website.
Let me compare it to the offline world. Imagine you're a clerk in a fashion store, a customer enters your store and you greet them by saying: "Hello, let me know if you need anything." A customer immediately knows you're there for them and they can reach out to you with any questions.
After a customer spends some time in the store and you can see that he or she is looking through shirts, you offer assistance: "Can I help you finding the right size?" You provide customers help the moment they might really need it, so they are more likely to accept it.
You can do the exact the same thing on your website. You can use the information about customers' geolocation, the page they're browsing, or their behavior (like abandoning a cart before finishing the order) and start a conversation with them.
How to start a conversation with a visitor on your website?
Let me tell you a little bit more about starting a conversation with visitors and encouraging them to chat.
You can set up an automated and customized message that starts a chat with visitors. At LiveChat we call it a greeting. Other live chat providers designate it as chat invitations or triggers.
Here's an example of a basic and very popular greeting that often displays after a visitor spends 20 or 30 seconds on your website: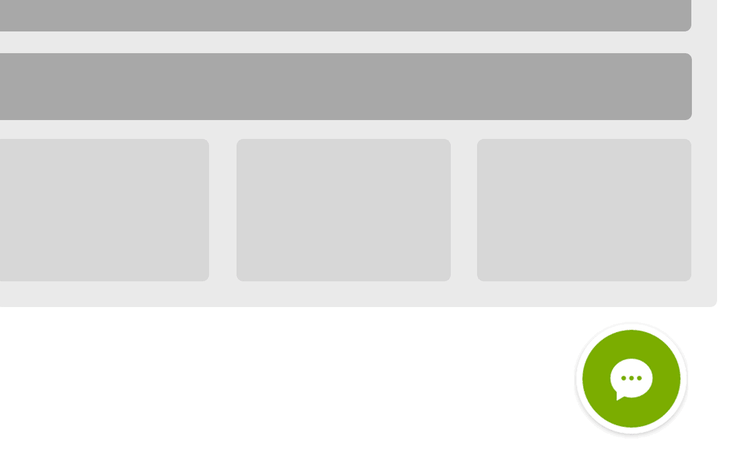 A correctly set up greeting reaches visitors at the right moment with a contextual message encouraging them to start a chat with you. For example, when a visitor is looking through your products, you can simple ask them:
When a visitor replies to your message and you are not at a computer, there's no need to worry. You will get notifications from LiveChat about a new conversation, so you won't miss any visitors who might need your help.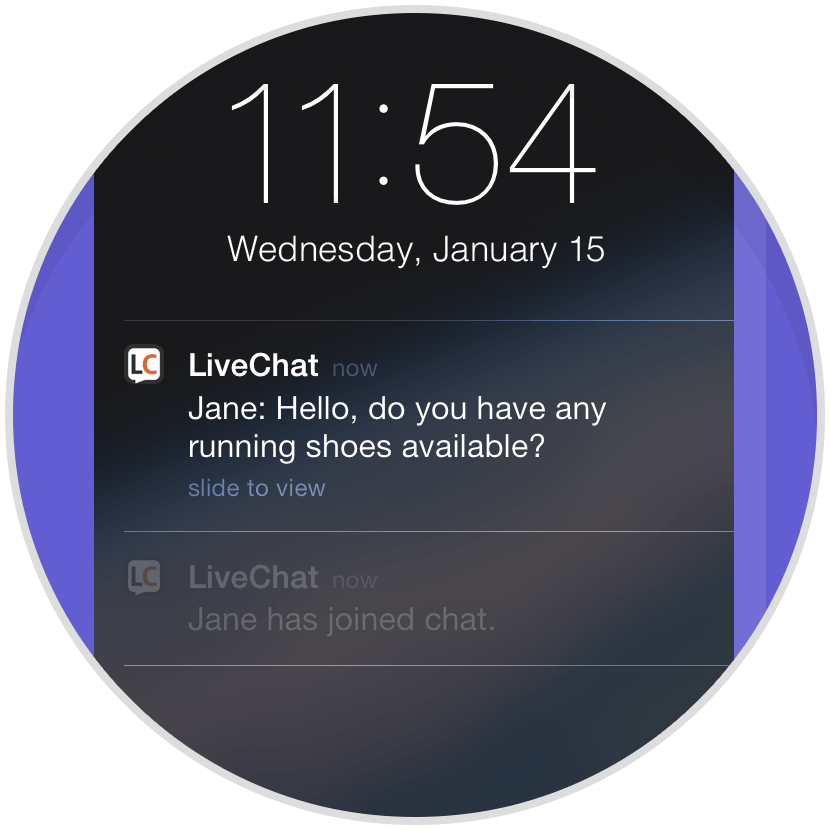 There're also greeting reports which will let you know how effective particular greetings are and which one you should change.
Why it's a good idea to set up customized messages?
1. You engage your visitors and turn them into customers
Greetings (customized messages that start chats with visitors) are one of the most effective ways of engaging and converting website visitors.
They increase the number of chats up by to 80%. When people on your website are first time visitors, they see a lot of information which probably is confusing. When you start a chat with them, you give a sign that you're ready to help them whenever they need.
According to our report, visitors invited to chat are 6.3 times more likely to convert into customers than the ones who don't chat; 61% of those customers convert within the first chat.
2. More chats mean more sales
With greetings you will have much more chats. Once you ask visitors if they need help or what problems they encountered, they're more likely to share their doubts with you. By chatting you display these doubts, help them in whatever they need and in a result, guide them to sale.
3. You offer help even if you're not at the computer and that means zero missed opportunities
It's impossible to offer contextual help without constantly watching a customer, either in real life or on your website. LiveChat offers website monitoring and based on the information about visitors and their behavior you can set up the most popular messages which start a chat with them. This way you make sure you don't miss any opportunity. When you're not at a computer, you still greet customers and offer them help. Just make sure, you're logged into the mobile app.
4. You offer personalized help which means higher customer satisfaction
You can personalize greetings for customers based on their actions on your website and information you have about them.
For example, you can set up customized greetings for visitors from different countries, or for returning visitors and tell them it's nice to have them back on your website. Once a customer feels that you already know something about them, they perceive your company in a better way and their experience is more pleasant.
I will explain types of greetings we have at LiveChat and give you some ideas for creative messages that you can use to start a chat with visitors. Of course, you can also test it for yourself, by signing up to our free, 14-day trial.
Customized messages to start a chat with visitors
Basically, at LiveChat you can create a few types of greetings: for a visitor who spent some time on the page, for when the visitor looked up a specific search keyword, for first-time visitors, returning visitors and for visitors from specific countries or cities. In addition, you can set up greeting on specific pages, for visitors arriving from a referring page, or in sync with your code or API.
Here are popular use cases for greetings:
1. Welcome messages to first–time visitors
Let's say a customer spends a lot of time on your website without taking any action. You can start a chat with them in real time and find out if there's any additional information they need, or if they need some help with placing an order. This way you let them know where and how they can ask you a question.
Ecommerce Website that offers jewelry

"Hi, are you happy browsing or do you need some assistance?"
Web Hosting Website where you can create a blog

"I see you're interested in creating a blog. I would love to help you get started. Do you have any questions?
Travel Website where you can buy a trip

"Hi, I see you're looking at a trip to Mexico. Let me know if you have any questions while planning it."
Human Resources where you can apply for jobs

"Hi, Let me know if you have any questions about how to use our service or get someone to review your resume!"
Education Website where you can apply to college

"Hi, thinking about applying to XYZ college? I'd be happy to answer any questions regarding the recruitment process."
By starting a chat like this you let visitors know you are there in case they have any questions. Without it, they could just leave and start browsing other website. Who knows, maybe other websites have better offers. But when you catch visitor's attention and start talking with them, you have better chances to guide them to sale. And if they don't feel like chatting with you – at least they know you're there to help.
2. Engaging returning visitors
It's basically good to set up a greeting for returning visitors. When you greet returning visitors, they are more likely to remember you, show interest in your brand and engage at a higher level.
You can set up something like this:
"Hi, welcome back on our page. Looking forward to answer any of your questions."

"Hi, so we meet again. Are you sure you don't have any questions?"
Or if a customer visits the same website with shoes, you can go with something creative and personalized like:
"Still undecided which pair to choose? Let me know if I can help!"
3. Reduce cart abandonment
If you have an ecommerce store, you know people often abandon a cart. The same applies for the travel industry and choosing a trip. Or in case of human resources, if visitors are filling out a job application and drop it along the way. To avoid that you can start a chat and offer them guidance through the whole process of ordering or filling out a form.
Ecommerce

"Hi, I noticed you haven't finished your order. Do you need some help?"
Web Hosting

"We know, programming isn't easy, that's why we offer free help right here in the chat :). Let us know if you have any doubts."
Human resources

"Thanks for taking the time to fill out an application. Please let me know if you have any questions about the form, or if you run into technical difficulties."
4. Offer help on the pricing page
Visitors stuck on the pricing page may consider a purchase, but they're not sure which option to choose. If a visitor decided to leave at this time, they might never come back. Reach out to them proactively and erase their doubts. Otherwise you will miss an opportunity.
"Hey, would you like to talk about our products?"

"Hello, can I help you in picking up the best suited plan for you?"

"Hello, please let me know if you have any questions regarding our pricing."

"Still not convinced? Let's talk about it!"
5. Open chat on "contact us" pages
Customers landing on the contact us page want to speak to you. Why don't you meet their needs and start a chat?
"If you prefer typing more than talking on the phone, just drop a line here."

"Hi, chat is the easiest way to contact us. Don't wait any longer!"

"Hi there! We can't wait to start talking to you. Do you have any questions about our products or features? I'd be happy to help!"
These are just a few out of many examples. You can set up tons of greetings, and they are mostly limited by your creativity.
Creating greetings in the LiveChat application
Creating a chat greeting is a simple and quick process. Follow the steps below to create your first custom greeting:
1. Go to the Greetings section of your LiveChat panel.

2. Click on Set up more greetings. A list of available greetings will come up.
3. Decide which greeting you want to set up, create a custom message, save changes and you're all set!
If you don't have the LiveChat application yet - try it for free.
Make browsing easier for your customers
Remember, when people first come to your website, they see a lot of information at once. Sometimes, it makes them feel confused. Why don't you make their browsing experience easier by greeting them, so they know there's a helping hand they can reach out to whenever they need.
So, go on, set up your own greetings, trigger more quality chats and help your customers buy more of your products and services.