Showing top

0

results

0

results found
Showing top

0

results

0

results found
6 min read
Nov 21, 2016
In my latest post I wrote about why customer service is important, in this post I would like to tell you how you can take advantage of a personalization to create an even better customer service experience.
Let's start with what customer service experience is. In simple words, customer service experience refers to managing customers and satisfying their requirements. It's the outcome of the total sum of customer interactions within your organization.
One way to improve your customer experience is to personalize your product and service as much as you can. It's definitely worth it. A study by Digital Trends showed that 73% of customers would rather buy from businesses who personalize their experience.
Here are 5 things you can do to personalize your product and service to create a better customer service experience.
#1. Browsing your website
Once a visitor comes back to your website you can start by serving them a welcome back message: "Hi, welcome back, what can I help you with." At LiveChat it looks like this: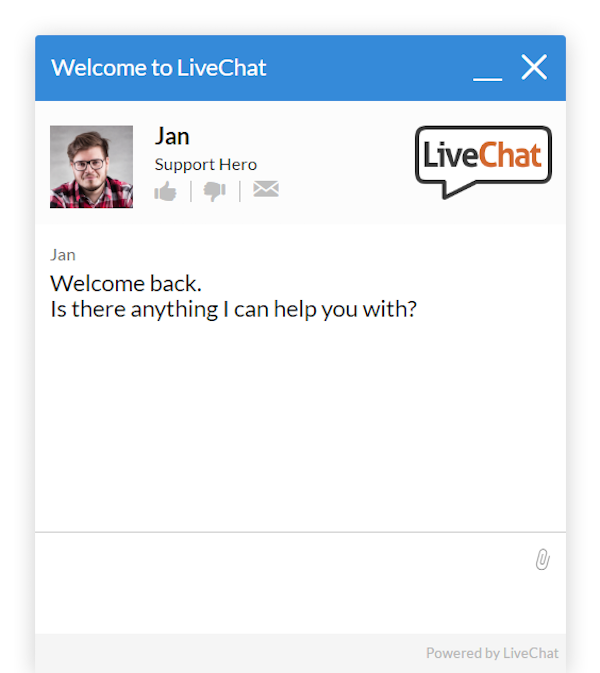 You can also personalize content and language for returning visitors. Let's say a visitor "A" came back to your website. Last time they were here they clicked on "XYZ," so you can present them personalized greeting, content and offers, focused on "XYZ" right away. By doing this, you improve your chances of having this visitor stay on your website, because right from the start you're showing them what they want.
For example Asos, an online clothing retailer, has an unique "Complete the Look" feature. Once a user adds something to his or her cart, ASOS recommends other products that match with the item. A shopper who originally only wanted trousers may end up purchasing an entire outfit. Smart move Asos!
#2 Branding the Company
One way to personalize your company is to make employees visible on your website. This way customers can identify themselves with you and they know who they're buying from.
When somebody wants to know more about the company what do they do? They go to your website and click "About us" or "Company." When all you have there is dry content about your company's history, that's rarely interesting. The same applies to showing pictures of your office without a single person in it.
What is missing on this kind of websites are employees pictures and description of their jobs. Without it, the whole experience is pretty bad.
It would be perfect if you could create a "meet the team page" where you show all of your employees and write a few words about them and their jobs. If you need a little inspiration, you can take a look at how these creative companies did their team pages, even with over 100 employees: The Most Creative Meet the Team Pages.
#3 Personalizing a product
If you have an online store or you provide SaaS software, the customer's journey with your product begins with setting up an account. That's the moment you can personalize.
Besides setting up one particular person, that will later guide a customer through the product, you can also focus on personalizing the product itself.
For example, in the LiveChat app you can change the look of the chat window so it better fits your website. You can also personalize greetings, so they better apply on different web pages. Here's the example:
Letting customers personalize your product creates a great experience. There's nothing better than using a product perfectly matched to your needs, right? Your customers think the same.
#4 Communicating with customers
I think casual communication is the best way to talk to customers. After all, that's how we talk to people we know and feel comfortable with. And that's how you want to make your customers feel. So loosen up a bit and use natural language. Use the same tone on chat, in emails and on your social media to keep the communication smooth.
The next step is to make the communication more personal. Since email is the best way to contact customers, it's a good way to start.
Long time ago, at LiveChat, a part of our past we would like to forget, we were sending blog emails with notifications about a new blog post. We didn't personalize it much. I mean not at all. The email was sent from a general company address (a sender was called "LiveChat Blog") and once a subscriber opened it, they saw an excerpt of a blog post. There was no introduction, no personalization to a customer. This email was generated automatically after we published a blog post on our blog and we didn't have any impact on it.
Once we realized the key to success in communicating with customers is personalization, we changed the whole system. We started to send emails from our own addresses. Now, our customers get emails from Olga, Justyna and Jacob. And the content inside is pretty unique. It quickly explains what you will find in a blog post.
In our case, we noticed an increase in click rates of almost 100%. I guess people feel more curious and comfortable when they get emails from a particular person not a company.
#5 Giving recommendations
According to research, 45% of online shoppers are more likely to shop on a site that offers personalized recommendations.
Netflix definitely knows about that.
They don't have a slogan, they also don't focus on a genre. They recognized that video personalization was critical to creating an engrossing user experience and they went for it. As Ted Sarandos, Netflix's head of content summed up: "Our brand is personalization." Is this a reason for their success?
If a family has a Netflix account, each member can have their own profile. Depending on the content they saw before, Netflix algorithms recommend new movies and shows the user will probably like. It means, each user's homepage is personalized and every time they enter Netflix, they can enjoy new content. Obviously, recommendations for parents and children are different.
To make the navigation easy, users can scroll either horizontally to see more videos or vertically to see more rows and themes. This kind of personalization makes the product nice and exciting to use. It improves user experience and makes people want to use the product more. I just wish they would offer a trailer option for all their movies.
https://www.youtube.com/watch?v=hqFHAnkSP2U
Better customer service experience
Personalizing products and services means that customers have incomparable better experience while shopping at your store. And better experience means higher sales without a doubt.
Since you're a customer yourself, think about your own background. Focus on providing better experience and the sale will increase.