Showing top

0

results

0

results found
Showing top

0

results

0

results found
5 min read
Sep 7, 2017
Does using images on your site really boost conversion?
Short answer — YES, it does. But there's more to this story than meets the eye.
For one, it's not enough to slap pretty pictures on your site if they're only around for decoration. According to eye-tracking studies by the Nielsen-Norman Group, "users pay close attention to photos and other images that contain relevant information but ignore fluffy pictures used to 'jazz up' web pages."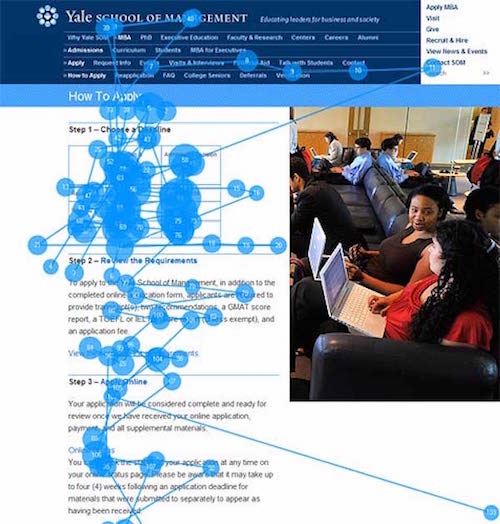 Likewise, any old photo won't cut it — image size, image content and photo composition all make a difference. For example, 37signals (now Basecamp) discovered that adding a picture of a person to their site increased product signups by 102.5%.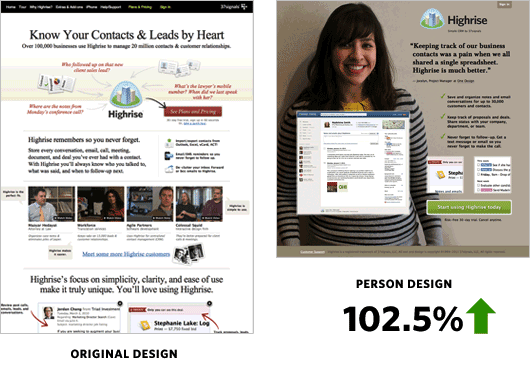 Meanwhile, a Marketing Experiments case study reported that a genuine photo of a company founder outperformed its stock photo alternative by 35%.
Finally, sometimes images might even reduce conversion, depending on how they're used. Much to their surprise, coupon website ICouponBlog discovered that removing the security badge from their site resulted in a 400% increase in conversion. This finding completely contradicts other cases where security badges increased conversion, revealing just how important it is to ensure every page on your site is designed for its purpose.
Let's explore how you can boost conversion rate using images, and how to maximise your site's potential by choosing better, more relevant and more appropriate visual content.
Hero and feature images
A hero background image that matches the product message and works well with the key calls to action.(source: shorthand)link
A hero, or feature, is the first thing your visitors see when they hit your site. It gives an immediate impression about your product, service or brand, and should be considered a valuable marketing tool that can influence your audience's decision to take action.
Whether it's on your homepage, a product page, your About section or a blog post, your choice of hero image should:
Be relevant to your offerings, brand or page purpose. For example, choose high quality destination photos to help sell tour packages.
Enhance your CTA (calls to action) to direct the user's attention. Your images should work with other elements on the page, rather than compete with them.
Reflect the outcome of following a call to action. "Lifestyle" imagery, for example, may not directly show a product or service, but can hint at the benefits available to a buyer after they take action.
Reflect your brand or campaign personality and values. This gives visitors a consistent message about who you are and what you stand for, thereby improving your site's credibility.
Balance visual quality with a small file size. AKA: optimize your images. A poor quality hero may be quick to download but will fail to highlight the attractiveness of your product. On the other hand, a high fidelity image may be enough to close a sale, but only for users who stuck around to see it.
Destination photos on Mates' Escapes make good hero images for travel brochures.
Appropriate "lifestyle" imagery on Bid4papers hints at what consumers can expect after ordering.
Artistic images of models are often expected of high-end fashion brands as Zara.
Product shots and product placement
According to a 2009 study in the Journal of Consumer Research, shoppers who physically touch products in a store end up willing to pay more money for it. This comes down to the "endowment effect": the feeling that something is worth more if you own it.
Suzanne Shu, the study author, told TIME magazine: "When you touch something, you instantly feel more of a connection to it. That connection stirs up an emotional reaction — 'Yeah, I like the feel of it. This can be mine.' And that emotion can cause you to buy something you would never have bought if you hadn't touched it."
A combination of product shots and lifestyle imagery from Ikea to showcase storage furniture.
Sellers who do business in competitive online marketplaces like Etsy know firsthand the value of a good product shot:
Of course, when you do business online, your customers can't touch a physical product. This is where product shots come in. High-quality images of your products offer visitors a feast for the eyes and the imagination — the next best thing to a tactile sensation.
So, what makes a good product shot?
Photo quality. Like with hero features, consumers may be less convinced by images that appear too blurry, washed out or riddled with artifacts.
When explaining lengthy or nuanced concepts. Recipes are a great example. With the aid of pictures, visitors can easily tell if they're using the right ingredients and following the method correctly.
When explaining complex ideas or procedures, like a project lifecycle, decision-making process or order fulfilment process.
When catering to people with varying needs. Pictures, done right, can transcend language, making your message more accessible to a wider audience.
Every page of your website should have a goal
Like most things in life, picking images for your website isn't a 'one size fits all' deal. The good advice you'll found out there might not be the right advice for you.
Before settling on the visuals that impact your site's conversion, you'll need to consider the purpose of every page and how it can serve your goals and those of your users.