Showing top

0

results

0

results found
Showing top

0

results

0

results found
Gone are the days when there were doubts if SMS marketing was even legal. Marketing boards all over the world choose to make SMS marketing legal. Why? Let's face it — for the express purpose of increasing customer loyalty. If you don't use SMS marketing legally or you don't use it at all, this post is for you. We will overview the concept of SMS marketing and the best practices for 2022.
I'll show you why SMS marketing is worth a shot and how to make it legal and effective. Keep on reading for more insights, or go straight to the end of the post to find the table with acts to make SMS marketing legal in the US, the EU, Australia, and the UK.
What's SMS marketing?
SMS stands for short message service. SMS marketing is a set of techniques a company uses to reach their customers with short texts sent to their mobile phones.
Quite often, SMS marketing is mixed with close-range marketing. That's why it's important to understand the correlation between these two terms. One can say that SMS marketing is one of the instruments in the close-range marketing toolkit.
Of course, there are other instruments in close-range marketing. The list of these instruments includes:
"Close range marketing" is an umbrella term for various communication tools. You should use close-range marketing to get in touch with your customers to the fullest. The more channels you use to communicate with your customers, the better results you get — both now and in the long run. That's you should consider incorporating SMS marketing into your general marketing strategy. Make SMS marketing legal and effective alongside other communication channels to succeed quickly.
There are many advantages to making text messaging legal and productive.
Customers are asked for permission to send them text messages in most cases. It means that the target audience of your SMS marketing campaigns is already interested in your services.
It takes seconds to read a text message, so they're essential for announcing the best deals, hot offers, and sales.
You don't need to have the fortune to make SMS marketing legal. You do need a reasonably priced provider for SMS services and a database of your customers. As a text message consists of only words and no imagery, you won't have to pay extra fees for web designers or photographers.
Despite the obvious pros of SMS marketing, there are a few cons one has to be aware of:
A text message constraints creativity. You have to deal with the character limit of 160 symbols per message. It's also technically impossible to add eye-catchers to your text. Instead of animations or call-to-action buttons, you need to work on quality content.
With SMS marketing, you have one shot per offer. Your customers won't tolerate the same text message twice, will they?
However, certain features can contribute to the growth of the SMS marketing legal potential in the nearest future.
Why choose SMS marketing?
The most obvious reason to go for SMS marketing is the constant growth of the number of mobile users. Of course, modern mobiles can be used not only to receive text messages but also to browse the web and social media. However, there is a difference between the number of mobile users and a number of mobile social media users. People who own a mobile are more numerous than those who use mobiles for social media purposes.
In other words, SMS marketing seems to be a more effective tool than social media marketing (SMM).
There is one more important aspect that predetermines the success of SMS marketing. This aspect is the amount of time people spend with their mobile at hand. According to the Global Digital Future in Focus 2018, people use mobiles longer than desktops when online. An average person spends twice as much time browsing the web on mobile compared to a desktop. In the long run, people tend to view their mobiles as essential tools they use to manage their daily activities.
Apart from purely technical reasons to go for SMS marketing, there is an emotional aspect too. As Forbes reports, people prefer text messages to emails or social media marketing.
The overwhelming majority of customers think that SMS marketing is a preferable communication channel with an organization. More than 75% of all interviewed customers confess that they would rather read an SMS than an email. More importantly — about 70% of the interviewees consider an SMS a positive means of attracting their attention. These stats prove that you should do your best to make SMS marketing legal to beat the competition and stay ahead in your market niche.
Best Practices in SMS Marketing
Now that you know what SMS marketing is and why it is worth trying, it's high time to look into best practices in text messaging. To begin with, let's list the most important features that all great SMS marketing campaigns have in common:
An easy way to opt-out. Be explicit about opting-out procedures. Use prompts like "Text STOP to unsubscribe," "Reply Y if you want to receive messages from [a company]," or provide a link to an FAQ page. Otherwise, your messages will be marked as spam and blocked right after the first SMS.
Rewards. A customer's phone number is a valuable piece of information. To get one, make sure you have something special to give in return, like a generous discount.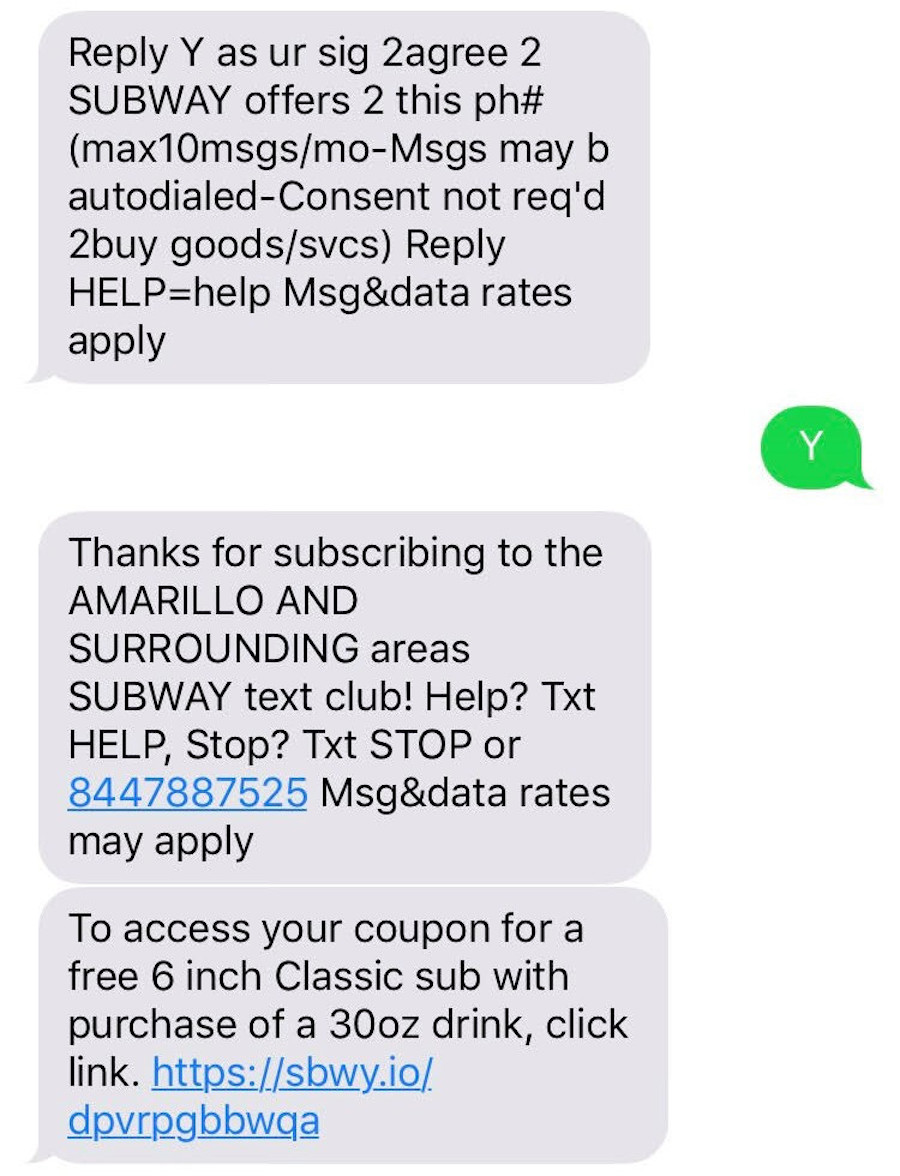 (Source: Neil Patel)
Regular messages. By saying "regular", I don't mean a daily messaging routine. Stay in touch with your customers once or twice a month tops. This is enough to keep your business recognizable without crossing the line.
Unique content. Don't duplicate the content you share on social media and newsletters in a text message. The uniqueness of SMS marketing lies in the immediate reaction of your target group.
Appropriate feedback. Make sure that you have enough staff to manage the prospective responses of clients.
Customer segmentation. It won't hurt to add a personal touch to the 160 symbols. Start an SMS with the first name of a client. Take into account the time and the place of their latest purchases. These small details can go a long way in increasing customer loyalty.
SMS Marketing Legal Requirements
In the table below, we summarized the information about the key regulatory acts and documents that can help you make SMS marketing legal in many countries across the globe:
Table 1.
SMS Marketing Legal Requirements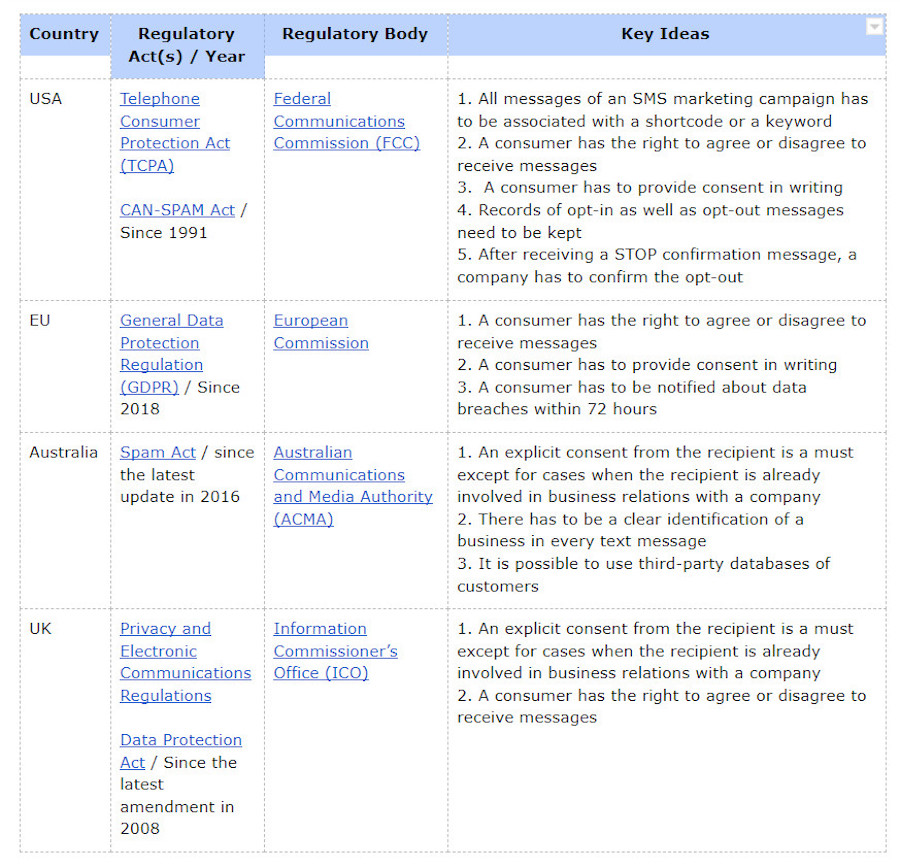 Perspectives for SMS Marketing
Modern SMS marketing seems to be more customer-oriented than ever. The regulatory acts above make SMS marketing legal in numerous countries. All of these acts emphasize the imperative character of personal privacy and sensitive data protection. When implemented and followed properly, these documents can stimulate the customers' trust in text messaging and result in the increasing growth of SMS marketing within the next few decades.