Showing top

0

results

0

results found
Showing top

0

results

0

results found
Cart and checkout abandons are the biggest cause of lost revenue for any ecommerce store. Depending on your industry and the time period you review, you'll see an average cart abandonment rate of around 75%, according to Barilliance. This can be even worse, with mobile cart abandonment rates over 80%.
There are many reasons why people abandon. The most common is usually that shipping is more expensive than they thought. However, it could also be that they have a problem creating an account to complete their purchase or they just have a concern that they need to be resolved before they can be comfortable moving forward.
There's only so much you can do with your website messaging and experience to combat cart abandons. At a certain point, you need to engage directly with visitors to help them move forward with a purchase.

Engage with website visitors
Live chat is the best way to engage in real time with website visitors. It gives you the ability to speak directly to visitors and answer their questions. Using live chat strategically, you can connect with visitors as they start to have issues that will lead to abandons and save a lot of them.
To be clear, we're not talking about exit-intent chat invites.

At best, exit-intent pop-ups convert at around 9%, and the average for most is around 3%, according to Sumo.com's analysis of nearly two billion pop-ups.
That means between 91 to 97% of the visitors that see an exit pop-up do not convert.
This is because they've already mentally abandoned and you were trying to interrupt the process of them leaving.
Rather than relying on exit-intent popups to stop someone as they're leaving, we're talking about engaging with visitors on live chat before they start to think about abandoning. From there, you can save a lot of these sales. Based on analyzing a sample set of ecommerce stores across a wide range of industries for visitors that started checkout, abandoned, and then engaged with live chat, we saw an average conversion rate of 18%.
The best approach for saving abandons is to predict that someone will abandon before they realize it. Then, engage with them to address whatever concern is going to cause them to abandon. You can do this by leveraging Google Analytics to see the patterns of why people abandon and then use live chat to spark up a conversation at the perfect time.

At HelpFlow.com, we provide 24/7 live chat teams to over 100 ecommerce stores.

We have produced over $100 million in chat revenue for our clients and analyzed the best approach for conversions across millions of chats.
Driving sales with live chat by saving cart abandons is a big part of the value we provide for clients, but you don't need to use a live chat team like ours to drive results for your store.
In this post, we'll dig deep into how this process works so you can use it in your cart recovery strategy.
Let's get into it…

How to predict checkout abandons in advance
In order to engage with visitors before they start to abandon, you need to be able to predict that someone is going to abandon. This might sound like rocket science, but it's actually less complicated than you'd think if you leverage the data in Google Analytics.

Google Analytics already tracks a wide range of information about every single website visitor.

It tracks which pages they visit and how long they spend on each page.
You can even configure it to track activity within a page, such as scroll depth or clicking on elements within a page (images, etc.). You can leverage this data to see the most common activities that visitors do before abandoning.
First, create a segment that shows data for only visitors that abandon. The specific settings will vary based on your shopping cart, but they should be configured to track visitors that started checkout but did not complete it.
For Shopify:
For Magento:
Then, analyze the browsing and behavior of these visitors. The exact behavior to analyze will vary depending on your store and the number of products you sell. It usually means analyzing the number of products they review before abandoning, the specific products they review that tend to lead to abandons, or inter-page activity that leads to an abandon.
Below are a few examples of reporting features with Google Analytics that may be helpful.

Behavior flow analysis

This report shows the flow of how people end up abandoning. By filtering down to the highest volume paths, you'll gain insights into where the biggest dropoffs are.
Content drill-down report
This report is helpful to see the most popular pages visited by people that end up abandoning. While your most popular products for sales on your website might be clear to you, your top abandoned products can become a big revenue-driving opportunity.
Top exit pages
This report enables you to see which pages cause visitors to exit. By narrowing down the visitors in the checkout, we can see that visitors attempting to enter a discount is the biggest source of exits. Engaging live chat based on a failed discount code would help save a lot of these sales.
Once you've identified some patterns in Google Analytics, it's helpful to get a direct view of visitors as they browse the website before they abandon. Visitor recording tools, such as Lucky Orange, are great for this. You can segment to see screen recordings of visitors that ended up abandoning checkout and rapidly review their browsing behavior recordings to identify patterns.

This process takes a lot of time and also a willingness to analyze data. Still, it can provide incredibly insightful information that you can use to predict if someone will ultimately abandon. Once you know the most common browsing behavior that leads to an abandon based on hard data, you just need to track when someone meets that criteria and engage them before they abandon.

Proactively engage before they think of abandoning
Now that you know the patterns that lead to abandons, you need to set up proactive chat invites to engage with someone who looks like they will abandon soon.

While you won't be able to set up automatic chat invites for every possible pattern that you identify within Google Analytics or screen recording tools, you can engage with many of them.

For example, if you realize that someone that views at least three products but doesn't move into the checkout process is likely to abandon, you can configure a greeting rule to engage with these visitors.
Or maybe you realize that someone that does two or three product searches but doesn't end up clicking through to a product is likely to abandon. You can configure a greeting rule to engage with these visitors also.
Lastly, if a visitor is in the checkout process but then backs out of it, that's something that is relatively easy to track. Consider a greeting triggered for visitors who have moved to checkout and then moved back out of the checkout process.
We analyzed our client base to identify baseline automated greeting rules to engage with visitors most likely to abandon across a wide range of stores. By analyzing the flow of traffic through the sites based on the number of pages viewed, we were able to see that the largest dropoff happens between the third page view and the fourth page view.

We also identified the average session duration of 120 seconds. By configuring a greeting to appear outside of checkout for visitors that have viewed at least two pages and have been on the site for nearly 120 seconds, we can be confident we are engaging with visitors that are likely to abandon.
Below is how to configure this within LiveChat.com: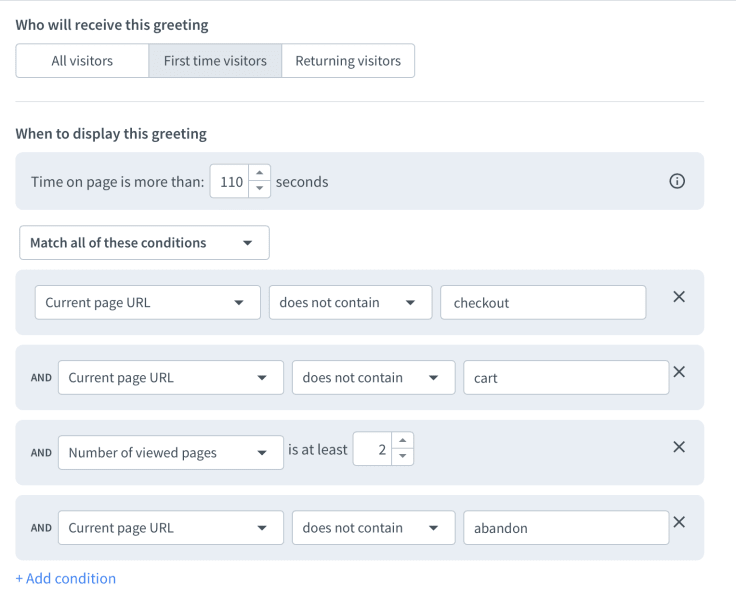 These are rules you can use to automatically engage with visitors that seem likely to abandon. But, to truly engage with everyone, you'll need more than you can do with standard greeting rules. It's best to set up an alert system that notifies you of visitors likely to abandon so you can manually invite them to chat. This gets a bit technical and depends on your website, but you can drive many results if you get this right.

Configure Google Tag Manager to track browsing behavior and site activity in the data layer of Google Tag Manager.
Then, set up a rule system that analyzes that data for visitors. This is where you can get very granular on how to define if someone is likely to abandon.
Once your rule system identifies somebody likely to abandon, you can send an alert to your team to manually invite that visitor to chat. The alert can go through Slack or even your team's web browsers. By including information about the visitor's page activity, geographic location, or other identifiers, your team can quickly find that person in the list of visitors in LiveChat and invite them to chat.
What greeting message works best?
The overall strategy here is to leverage data to predict that someone will abandon, and then proactively engage with them. Most people focus heavily on the wording of the greeting, but the timing is what matters most.

With that said, there are a few best practices to ensure the wording of the well-timed greeting performs well:

Do not use personalization, such as product page, "welcome back", etc. It can get creepy, and it subconsciously causes people to realize the greeting is automated.
Don't add promotional offers, like "do you want a 10% off coupon?". Again, that feels automated.
Ask a direct but open-ended question. Something simple like "Do you have any questions I can help you with?" leads to a yes or no.
But getting more granular to match what's actually on their mind, while keeping it high level, is the most powerful. For example, if you sell many types of signs for businesses, you could say "Are you looking for an indoor or an outdoor sign?". That leads to an answer to the question much more often than "No thanks, I don't have any questions."

You can use this to spark up a conversation that builds rapport while also gathering other valuable qualifying information.

Once you've built up a rapport and have an understanding of their needs, you can either close the sale with a specific product or, in this case, move into the design consultation phase.

Now that you see how to maximize engagement with visitors on the website, let's shift our focus to visitors that slip through and abandon.

What if they abandon? Supercharge cart recovery emails with chat

You'll be able to engage with a lot of potential abandons using the process above, especially if you use a sophisticated agent alert system. But you're never going to be able to save everyone at risk of abandoning. Certain people will ignore the chat, and certain people are going to abandon without having alerted your system.

You can use email to contact people that abandoned the checkout process if they provided their email in checkout or are already in your database. You're probably already using cart recovery emails, and, if you're not, you should be. They work incredibly well.

Klaviyo analyzed over nine million abandon cart emails and saw an average revenue per recipient of $5.81 each!
Your exact campaign will depend on the product you sell, your discounting strategy, and a few other factors. But the best campaigns are typically two to three emails long with some sort of coupon incentive to push the sale.
Although these campaigns work, they miss a critical detail that would drive more conversions. People don't need reminders or discounts to complete a purchase. Questions stop them from buying, and cart recovery reminders and discounts don't address these questions. At least not in an interactive way.

There's no better way to answer visitors' questions on a website than with a live human response that quickly addresses their concerns. But live chat is not something that should only be used on the website. You can integrate it into your cart recovery emails to spark up live conversations from static emails.

Here are the basics of how this works:

Send your cart recovery emails as you currently do, but add live chat as a call to action. For example, something along the lines of "Have a question? Click here to chat with our team."
When the visitor clicks the link, the website opens with their order prepopulated, just like a standard cart recovery email. But, by tagging the link, you can automatically open the chatbox and be connected to an agent directly from the email click.
This enables the agent to answer the visitor's questions and close the sale much of the time.
This small change to your cart recovery sequence can significantly increase conversions.
What to do now?
Cart abandons are a massive problem, but this is a problem you can solve or, at least, make a big dent in.
We've covered a lot of sophisticated approaches in this post. To simplify, here are the basics of what you should pursue now:

Identify the navigation flow in Google Analytics that most commonly leads to an abandon. This is probably based on the number of product pages viewed or search activity without moving into the shopping cart.
Configure greetings in live chat to appear to visitors that fit these criteria so you can answer their questions.
Add live chat as a call-to-action in your cart recovery emails to give recipients the ability to get their questions answered.
At HelpFlow.com we provide 24/7 live chat teams to over 100 ecommerce stores. The first step we take with anyone considering live chat is to go through a deep strategy call with our team. On the call, we'll analyze the number of visitors abandoning different parts of your purchase process and how to best save them.
Even if we don't end up working together, you'll get a ton of value by going through this process because we have worked with so many stores. Feel free to reach out to us today to schedule a call.
Happy chatting!