Showing top

0

results

0

results found
Showing top

0

results

0

results found
8 min read
May 2, 2017
Imagine going to the movie theater to watch the newest blockbuster, except when you get there, instead of one screen, there are five — all playing different movies. You'd have a hard time focusing on the movie you came to watch. That's exactly what navigation links do to landing pages — distract prospects.
I say that because only 16 percent of landing pages are free of navigation links.
Landing pages are the best marketing asset to build a lead generation funnel and create a great first impression. LPs are designed for conversions — if done correctly. On the contrary, the website homepage and product pages are more for a prospect's browsing experience that can help you sell your product online.
But if your landing pages aren't optimized they won't achieve your desired results and you'll be wondering why they're one of the most important components in digital marketing today.

So let's take a look how you can use tried and true landing page best practices to optimize your company's landing pages for maximum results.
Focus on one offer
A true, dedicated landing page will be so focused on converting visitors on the goal that no other offers will be available. And yet an astounding 48 percent of landing pages contain multiple offers.
For example, if your landing page is focused on persuading prospects to sign up for a free trial, but you have links to an e-book offer on the same page, your landing page isn't focused on one offer.
Take a look at this demo landing page from data management company, Domo. The video and form are the centers of attention, but with too many links in the header and footer, not all of the visitor's attention is focused on requesting a demo:
Do yourself and your campaign a favor, eliminate potential distractions so that when prospects arrive on your landing page, they're focused on one thing: your offer.
Provide a great user experience
It can be easy to forget that your landing page is ultimately about providing a smooth, consistent experience for prospects whether that be from paid search, email marketing, social media, etc.
Companies do this through tactics like message matching and making good use of white space. Let's take a look at how companies are providing a great user experience with their landing pages.
Message matching
Message matching is when an ad or other marketing material share consistency. This can be through matching text, color schemes, or matching images.
The Comcast Business ad below was seen on LinkedIn and once clicked, sends users to a Comcast Business landing page. Notice that the ad uses the same $34.90 promotional offer. This consistency makes prospects more comfortable and increases the likelihood of them redeeming the offer: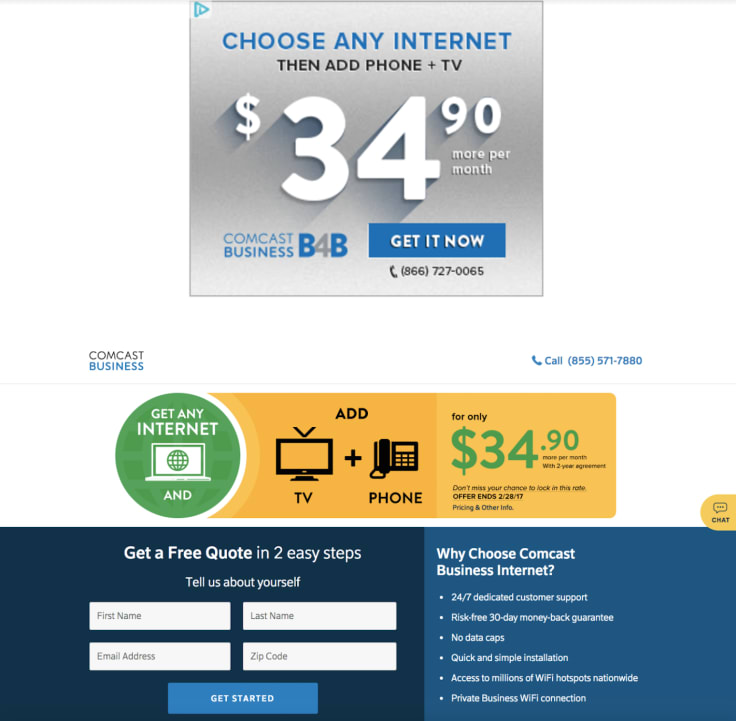 White space and visual cues
Ever walk into a cluttered department store where the sections all seem to overlap one another? It was probably difficult to find what you were looking for wasn't it? The same effect can happen on landing pages.
White space (a.k.a. empty space or negative space ) improves comprehension and clarifies relationships between elements. It doesn't have to be white, but it should be used judiciously on landing pages to draw attention to certain elements.
Salesforce uses white space on their Wave Analytics Demo landing page. The white space surrounding the smartphones and the form help each element breathe more and helps direct the gaze of the prospect toward the form.
The arrow pointing next to "First name" also acts as a visual cue, implying that visitors should complete the form: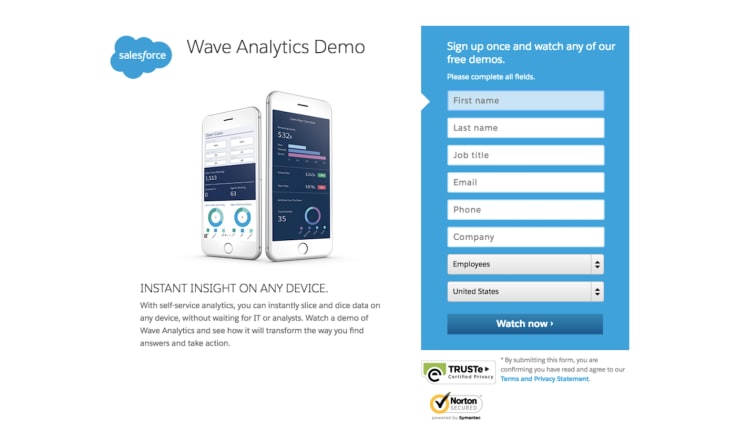 Design with a purpose
Landing page design is an art form and your goal is to push visitors towards what you want them to see, like a CTA. It's the designer's job to influence the actions of visitors by using repetitive patterns to manipulate the way their eyes move across the landing page.
This is often done through the Z-Pattern or the F-Pattern.
The Z-Pattern places critical elements at particular areas on the landing page. The visitor's' gaze begins at the top-left of the page and moves towards the right in a horizontal line before dropping diagonally leftward. The visitor's eyes then move right again, forming a second horizontal line and a "Z" pattern, like this:
On the other hand, pages with the F-Pattern influence visitor's eyes to move horizontally from left to right across the top of the page. Then, downward vertically and over to the right again in another horizontal line. This pattern does not have to be a strict "F" with two horizontal stems, it can continue to repeat down the page.
To demonstrate, here is an example of an F-Pattern design from Fleetmatics:
Include the right elements
Simply having a strong landing page layout isn't enough. You need the right elements that will catch visitor's attention immediately, keep them engaged on the page, and convince them to convert. Here are the essentials that make your landing page irresistible to your prospects.
Headline
This is one of the most crucial elements because it's the highest on the page, is the largest font, and should grab attention the visitor's attention upon arrival. Headlines are so important that five times as many people read the headline as the body copy.
Directive Consulting knows that optimizing paid search campaigns is more than just generating traffic. With their headline, they tease visitors into watching the short video and ultimately redeeming the free search assessment: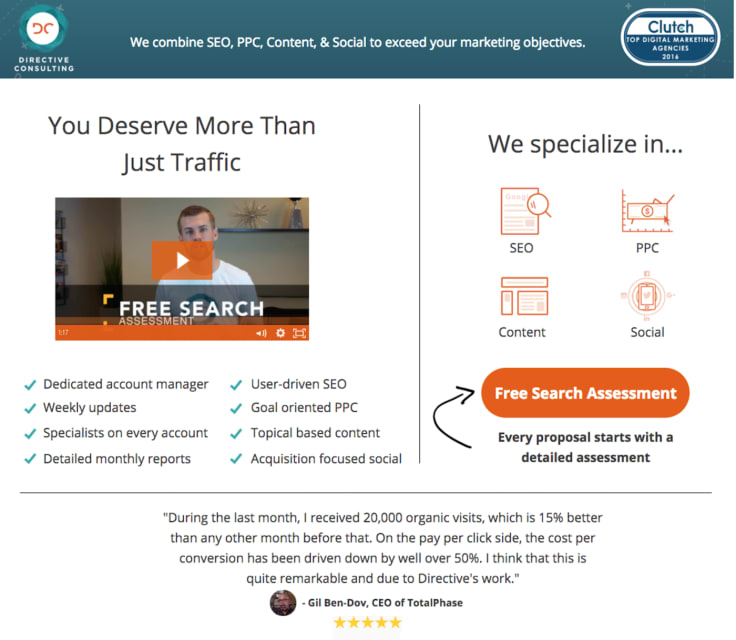 Add some urgency
Fear of missing out is real and is a great psychological tactic to influence visitor behavior. The best way to do this on landing pages is with a countdown timer because it shows that time is running out.
Exact Data knows this all too well as they use urgency with a time-sensitive discount offer. The countdown timer is strategically placed near the CTA so visitors know that their price will increase if they do not act quickly:
Relevant image
When choosing a landing page image, you want to highlight your offer while adding human appeal. Stock photos are okay as long as they portray your product or service being used and don't show cheesy expressions. This isn't to say that illustrations are to be avoided, just have them be related to your offer.
Take a look at this landing page from NewsCred. Although you can't see the person's face, the image implies the person is developing a content strategy:
Copy
Remember, your landing page visitors are not on your page to read. They're on your page to solve a problem they're experiencing and determine if your offer is the solution.
To keep them engaged and take away the most important information, use minimal copy and bullet points whenever possible. Bullet points help eliminate the need for blocks of text and help visitors scan the page quickly to evaluate your offer (see Directive Consulting example above).
Form
Forms are an indispensable part of any landing page because they are how you capture prospect's information. The longer the form, the more friction you create because in general people hesitate to provide too much personal information. Unless you are marketing to prospects further down the funnel, keep your forms fairly short.
This form from an Exact Data landing page is a good example: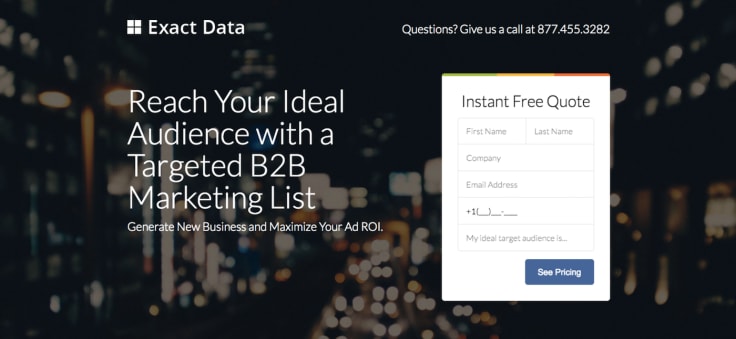 CTA
Along with forms, the CTA button is without question the most important element because it is where the conversion happens. A best practice when designing CTA buttons is to have them contrast with the page. Adobe's color wheel is a great place to start. Simply choose a color that is opposite your landing page color.
What often gets lost in the shuffle is the CTA copy, so much so that personalizing CTA copy can increase conversions by 31 percent. Instead of personalizing CTA copy, too many marketers are writing "Submit" or "Finish form." Let your CTA copy express the benefit of the offer.
Hootsuite executes the color scheme and CTA copy perfectly with their free trial buttons:
Trust badges
A study from Actual Insights found that 61 percent of respondents didn't complete a purchase because a trust seal was not present.
Strategically placing trust seals near CTAs can give prospects the confidence they need to convert. Here's a Qlick landing page using customer logos as a way to persuade visitors to download their software:
Social Proof
Social proof comes in many forms — testimonials, social media shares, case studies, videos, and more. Videos are a great way to showcase social proof and have proven to increase conversions by as much as 86 percent. However, video testimonials aren't required for testimonials to be effective.
This landing page from Freshdesk demonstrates social proof in a few ways:
This combination of testimonials and customer logos are effective because they:
Put a face to the name and briefly explain their experience
Show total number of customers
Use customer logos
All three provide the necessary credibility and instill trust in visitors for them to convert.
Start optimizing your landing pages today
Are you using landing page best practices when creating your pages? Maximizing your landing page also means providing a quality user experience and keeping prospects focused on a single offer.
So how will you optimize your next landing page? Let us know in the comments!