Showing top

0

results

0

results found
Showing top

0

results

0

results found
8 min read
May 3, 2019
Brands are nothing without a social media presence. None can stand to miss the opportunity to interact and engage with their customers and generate massive profits in turn. 2019 is here to inspire us.
Social media campaigns are there to peak the brand's revenue through creative and attractive opportunities for their customers. From big fishes to small ones in the market ocean, the holiday or a special event doesn't slip away quietly.
Each brand is out there to sync their holiday campaign with ardent strategies and (not to mention) the desire to spearhead the competition.
You've got to stay alert, and you've got to keep your eyes open if you're up for a dive into the social media marketing stream.
Taking a cue from these trendsetters isn't a bad idea, so that's why we listed a few social media campaigns that are the thundering 2019 with inspiration from the above.
As for the key takeaways, we'll mention those for your convenience as we go. Stay tuned to fuel your passion for 2019!
Shutterstock's new ad campaign
With more than 225 million images, +12 million video clips, and tens of thousands of music tracks – all contributed by more than 550,000 contributors across the globe – Shutterstock announced its first brand marketing campaign in 6 good years.
The new ad came with a tagline "It's Not Stock, it's Shutterstock!" that is designed to deliver the message of the company's unique content. The campaign is also based around the idea of adding over 1.5 million multimedia to ensure each customer enjoys fresh content every time.
Key Takeaway: Keep your content fresh if you want your audience to keep happy. The diversity and the variety of content will hold the customers satiated for as long as you keep adding the new bits.
Adidas. New sneakers. Snapchat
Snapchat has done wonders for many. Using the platform's most famous show called Fashion 5 Ways, Adidas rolled out its old'n'gold sneaker, Flacon 5. It's a show where you can swipe up to buy the product. And the result? Adidas broke the sales record and sold all the stock within 6 hours.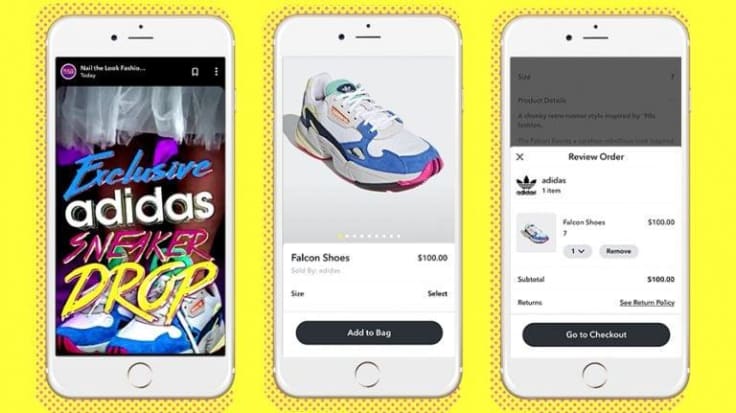 Key Takeaway: As a small business, you can use the power of social media to list your products and add in some creativity from your head. Just make sure it responds to what your customers want. Use marketing tools, because, without these, none can conquer the digital world.
HSBC isn't an island – it's part of something far far bigger
HSBC is a UK-based corporation that's upfront to support the notion of unity after the Brexit haul. The ad campaign presents a simple, straight, and clear message to the audience about the different nationalities residing in the UK and how it influences their way of life.
It aims to grab the attention of the people by highlighting the reasons to be together. However, there are always some gray areas for you to look out.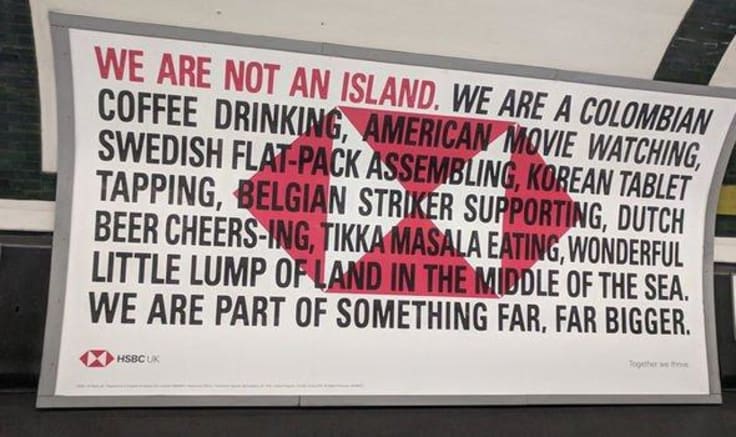 Key Takeaways: The campaign is bold and large, but here are a few things to consider.
The ad copy for HSBC supports the current situation of the country's political state, which can be viewed as a positive perspective. You can use a similar approach to refer to a hot button and gain the audience's attention.
While it motivates and appreciates diversity, there is some vacuum when it comes to banking with them. As a small business, you must align your business with the situation, without being over-promotional or over-enthusiastic. Maintain the balance and watch out your step; it's a tricky one!
Applebee and the tantalizing ASMR
All the favorite social media channels are brimming with ASMR videos, all due to their quality of producing the soothing feeling via sounds and responses. Applebee published a video ad featuring selected meats on a grill and concentrated on the sizzling sound that came from its cooking.
This ASMR goes on to reach over an hour's length to showcase the gentle cooking process of the meat, hence buzzing the market with its mouthwatering features.
Key Takeaways: There are a few ideas to notice here as well:
ASMR is moving at a moderate pace, which is why your brand needs to combine the power of ASMR with your product's launch
If you're launching a product in the food industry, your audience will find the sounds highly appealing to their appetite.
You can also use videos for
Taking an abstract approach to your social media campaign will also help you get recognized.
Sergio Rossi and 150UP pair up for the social thrill
Sergio Rossi is an appreciated handbag and shoe designer where 150UP is a creative agency focused on branding. What a pair they'd make for a powered social media visual campaign! Both started a campaign to launch a pop-up store in Los Angeles.
The duo featured an ankle-strap sandal and a stiletto pump covered with five inspirational keywords strength, power, kindness, sharing, hope – all these concentrating on women empowerment in the modern world.
Key Takeaways: There are three main ideas to learn from here.
First, you can pair up with a partner whose business stands in line with yours but isn't a competitor.
Second, don't launch many products all at once.
hird, focus on the characteristics of your primary customers and create strategies and products to highlight those features. It will help you communicate with your customers better!
Eating the Instagram posts with Heinz
Talk about ASMR, and there you have the opportunity to order the same food on the Instagram post you saw just now. Heinz Brazil ditched the hunger barrier with their unique idea of presenting food-on-demand service in 2017. The app used the geolocation feature and serves gourmet burgers from Underdog Meat & Beers's chef Santi Roig.
Key Takeaways:
Heinz is essentially a condiment company that partnered with a sister business to make the Instagram post edible. Using this mutual business tactic, you can partner with another industry to create magic.
Taking a different approach to market your product on social media is the necessary rule to stay in vogue. You have to create the edge about you by figuring out what social media and its features work for you.
Exploring the BMW with Snapchat's AR advertisement
Before the launch of their latest model BMW X2, BMW thought of something different. The company teamed up with Snapchat to take their product sneak peek to the next level by using the AR lens feature from the social media.
A 3D car was developed in the augmented reality to give the feel of the product because it looked 'too real.' the users can also interact with the vehicle by changing its colors, viewing it from different angles and play games with it.
Key Takeaways: Here's what you can learn from the BMW and Snapchat collaboration:
You can use Snapchat's AR lens to give glimpses of your product when it's still in the manufacturing and development stage.
When ready to hit the market, you can integrate other features, like games, filters, and geotagging, to drive engagement and pique consumer interest.
WWF up for saving #EndengeredEmoji
Using hashtags to reach out to your audience is one of the vital tactics, but WWF took it to a whole new level. They wanted to protect the endangered species and the idea to raise funds for that came from Twitter hashtags.
However, these hashtags weren't your ordinary ones; these were 17 emojis of endangered animals. Every use of any of these hashtags will generate funds for wildlife protection. As cool as it seems, it's even for a more significant benefit!
Key Takeaway: If you're running a small-scale non-profit or a business, this strategy can come in handy. You can use specific keywords and hashtags to keep pushing the bounds of your reach and generate sufficient income. Moreover, you can use a cause or an event as a hashtag to gather your audience's interest.
Trade social media posts with Marc Jacob's Daisy
This one is indeed a stellar campaign built on social media posts only. Where businesses meet and plan their mutual relationship, Marc Jacobs did something unusual by setting out a mutual-benefit campaign that geared to a more user-centric approach.
To get a free sample of the brand's daisy perfume, all you have to do is share daisy-related posts on social media.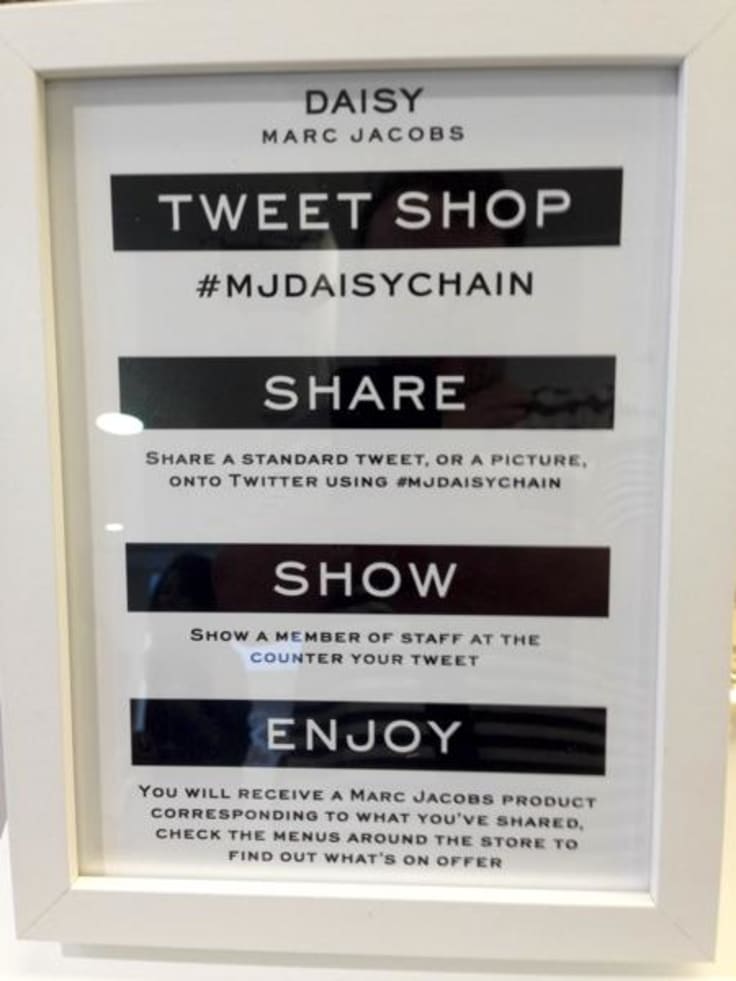 Key Takeaway: Following the footsteps of Marc Jacobs, you can also unleash your creativity to grow your customer base. This offer stirs up the consumer interest when it's linked to the idea of receiving rewards in exchange of posts.
You drive the customer interest, allow your audience to interact keenly with you, and boost the flow of your revenue. In such a case, it's a win-win for everyone!
Is your business going to be the next social media sensation?
Businesses come and go and sometimes get buried under the pressure of the piling market strategies. The key here is to hook to your creativity to avoid the burial. Your creativity counts more than anything else, but if that falls short of inspiring you, you must keep searching for inspiration. Who knows what gems you discover under that pile?
In this post, we covered some highly appealing social media campaigns from 2019 and before. Thanks to the trending social media campaigns which awake us from dreaming old in this modern era.
These must serve to inspire you and unleash your potential at using business tactics as well as the social media platforms.
Keep experimenting with different ideas and let others talk about you in the upcoming campaign buzz!