Showing top

0

results

0

results found
Showing top

0

results

0

results found
16 min read
Mar 29, 2022
According to research by Salesforce, 67% of customers admit that their expectations of receiving a good customer experience have increased drastically. This clearly shows the growing importance of effective customer success management. Not only does it help to retain high customer satisfaction and loyalty, but it also reduces churn. Simply put, prioritize the success of your customers, and the rest will follow.
In today's article, I am going to discuss the following:
the differences between customer success, customer service, customer support, and account management,
the main benefits that good customer success management brings,
tips on creating an effective customer success strategy,
the main customer success metrics to focus on.
Let's get right to it!
What is customer success? Key differences between customer service, customer support, and account management
Before I take you through the ins and outs of customer success, here's a pop quiz for you! How does customer success differ from customer service, customer support, and account management? When it comes to drawing the lines, things can get tricky as all three terms are often used interchangeably. So, here's our take at LiveChat on how you can look at each.
Customer success definition
First things first, let me start off by clarifying the definition of customer success.
Customer success is the effort a company puts into making sure that customers get the most out of their service or product. Simply put, the goal is for clients to see that it pays off to stay with a brand. An effective customer success strategy leads to a number of benefits, such as:
improved revenue,
higher customer loyalty,
lower churn.
I'll discuss these and other perks further in this piece. Now, let's see how customer success differs from each of the other business areas.
Customer success vs. Customer service
At LiveChat, we define customer service as the overall connection a brand creates with its clients. It begins when a person becomes aware of your brand's existence and ends when they forget about you (a dreadful turn of events that this article will help you to avoid!). Customer service is built through all your communication and actions. From sales and marketing copy, all the way through to 1:1 interactions with customer-facing teams.
How does it differ from customer success? Here are the top differences and overlaps:
Customer service acts as a background for all customer relationship initiatives. Customer success uses customer service insights to learn how to help clients reach their goals.
Customer success circles around "what can we do for our clients," while customer service focuses on the "how do we help them get there" part.
Both customer success and customer service are cross-functional. However, they have different goals. Customer success requires a cross-team strategy, where each department uses its resources to help clients achieve success. Meanwhile, customer service is about making sure all client interactions are as good as they can be at each step of the customer journey.
While neither customer success nor customer service have anything to do with customer acquisition directly, they can result in customer growth. Both shape your brand image and nurture trust. If a customer sees that you deliver on your promises and make them successful, high chances are they'll spread the word about you!
Customer success vs. Customer support
Customer support is a term used to describe the actions client-facing teams take to help customers with their queries. It circles primarily around ad hoc help (so, a customer needing assistance ASAP). Here's a breakdown of how these two disciplines differ:
Customer support is reactive and operates at a per-user level. Think of it as your frontline. Your support team members hear out each customer and provide solutions to their problems. Meanwhile, customer success is a much broader discipline. It's built around a number of proactive measures, such as:creating customer relationship strategies,
analyzing customer feedback, on-site behavior, product usage,
finding ways to exceed client expectations and avoid the same issues in the future, etc.
To measure how effective your customer support and customer success strategies are, you reach for different metrics. In the case of support, you can launch a customer survey in your live chat after each client conversation.

Meanwhile, customer success requires a deeper dive and a mix of data. Some of the recommended metrics are Customer Lifetime Value (CLV), customer retention, Customer Satisfaction Score (CSAT), and Net Promoter Score. We discuss them in detail further in this piece.
Customer success and customer support teams can help each other out. Customer success can aid support teams by providing higher-level data, context, and procedures needed to solve a given issue. Customer support, on the other hand, fuels the customer success strategy by giving data on customers and their behavior. A win-win scenario!
Let's now break down the similarities and differences between customer success and account management.
Customer Success vs. Account Management
The aim of both of these disciplines is to keep customers and build long-lasting relationships. However, the key differences are as follows:
Account Management relates to a limited number of accounts. Each Account Manager has a set number of customers they serve. They go above and beyond themselves to keep each of them happy and grow revenue. Customer success is about making all clients happy, not just the accounts assigned to each manager.
Not all companies engage in Account Management. Some businesses assign Account Managers to premium accounts only (i.e., clients who cross a threshold like gross revenue). This also means that, unlike customer success, Account Management often steps in later in the customer lifecycle.
You measure Account Management differently than customer success metrics. You evaluate the former mostly on a per-account basis. So, for example, you calculate the CLV for each account versus an average for all clients.
All seems much clearer now, right? Perfect, let's continue!
The main benefits of Customer Success
Now, time to discuss some of the top customer success benefits!
Improved customer loyalty
There are many reasons why customers decide to switch products: not seeing any value in them is one. You might now be wondering, "How is it possible? I designed the product specifically with their needs in mind!" The truth is, clients need to know how to use it to understand how the product will help them with their goals. Otherwise, they will view it as redundant or not good enough, which will lead to brand switching.
On the other hand, if customers are happy with your product and are able to achieve their objectives, they'll have no reason to swap it for an alternative! Especially, if you make sure that the learning curve is soft. The more complex your product is, the more time and effort you should put into educating your users. I promise it will pay off, as the more attached to your product or brand your customers become, the higher their loyalty.
This brings me to the next point.
Higher revenue
An effective customer success strategy positively impacts loyalty, which translates into higher revenue. How so? It's quite logical: If users are satisfied with your product, they are more willing to upgrade to a higher package. They already know that the product meets their needs, so the risk is minimal while the trust is high. Selling to loyal customers is a great opportunity for a revenue boost as they're simply easier to sell to!

Source: Unsplash
What's more, satisfied customers are more likely to recommend you to their friends and family. And since word-of-mouth recommendations bring in 5 times more sales than paid media, there is a lot to fight for.
Easier forecasting thanks to customer success metrics
Access to customer success metrics helps businesses more easily predict and plan for the future. For instance, if you regularly measure customer satisfaction you might notice, for example, that your CSAT score in Q2 is lower than it was in Q1. Based on this insight, you can assume that some customers will not extend their contracts. If you identify customers who've given you a bad CSAT score, you can reach out to make amends. However, if the damage has been done, then you can proceed to Plan B: acquiring clients in their place.
Knowing the status of your relationship with clients will help you to:
better plan your budget, including marketing, hiring, etc.
set your sales targets, to make up for lost clients,
re-evaluate your customer success strategy and come up with new ideas for client retention,
better plan your product roadmap.
We will discuss customer success metrics worth tracking later in this article.
Lower churn
One of the most important customer success benefits is churn reduction. If you have a good customer success strategy in place, you'll be able to:
teach your users how to effectively use your product, which will help them meet their objectives and see value in it,
continuously monitor customer success metrics and spot any drops in customer satisfaction,
identify the reasons for client dissatisfaction and address them to prevent customer churn.
Customer success management — tips, strategy, and best practices
Enough theory, time for some practice. Here's how you can make your customer success management more effective.
Have a customer success team in place
While customer success is a team sport, it's vital to have someone owning it. For this reason, it's worth hiring a customer success team. They will be directly responsible for making sure that your customers are proficient at using your product. And if someone experiences any issues, they'll know whom to turn to for help.
Since your customer success team is the face of your brand, it's crucial that they are well trained. After all, they'll pass on their knowledge and expertise to your customers! A dose of empathy is equally important, especially when dealing with an agitated or upset customer.
Make sure everyone is responsible for customer happiness and satisfaction
As mentioned in the previous point, the entire company is responsible for keeping customers happy. If you make it the sole responsibility of your customer success team, then you won't be able to maintain a high CSAT. Imagine a scenario where someone from your sales team holds a demo call. To seal the deal, they make promises that the company won't be able to deliver on. Even though your sales team managed to acquire a new customer, the client churned as their expectations weren't met.
Maintain regular communication with customers
Keeping in touch with your clients is key for good customer success management. You can send them news about any product updates, and check in occasionally to see if everything is OK. Don't wait for customers to get in touch when they have a problem. Try to prevent problems from occurring. After all, customer success is about proactivity.
Give your customers the opportunity to contact you via different channels, like email, chat, or via social media. Since most clients expect to receive an answer immediately, it's worth investing in a chatbot. If your customer success team is unavailable, it will at least inform customers that someone will attend to their query shortly. A chatbot by LiveChat will not only transfer chats when necessary, but it will also pass on help tickets and integrate with Facebook Messenger.

Source: LiveChat
Measure NPS, CSAT, and CES regularly
It's good practice to regularly run NPS, CSAT, and CES surveys to monitor how customer satisfaction changes over time. You'll be able to spot any drops and investigate the issues before they result in a churn. Ask your clients to fill in your NPS survey at least once a quarter to verify your overall customer satisfaction levels. You can also use it to evaluate any changes to your product or processes — for instance, onboarding. We explain customer success metrics further in this article.
Create an onboarding strategy
Make sure that your customers know how to use your product effectively from Day One.
Depending on your business, you could consider any and all of the following:
a virtual product walkthrough that helps users navigate through your site,
sending an email sequence that encourages customers to explore your product and keep coming back,
a live chat/chatbot window in the corner as the client visits specific web pages or parts of your digital product. This way, your customers will know you're always just around the corner in case they need you.
Bear in mind that customer success requires educating your clients even after onboarding, which leads me to the next point.
Educate (and update) your customers regularly
Make sure to catch up with your clients after every major change and after the introduction of any new features. For example, if you engage in rebranding, put out an announcement beforehand. And if you introduce a completely new service or product, consider organizing online training or a webinar.
Also, regardless of any changes, it's worth emailing tips and ideas on how they can use your product. The more problems your product solves, the more likely it is that users will stay with you and recommend you to others.
Sell to the right customers
In order for your customer success strategy to be effective, it's important to gain clients who understand what your product does (and who needs it). For this purpose, it's worth building a so-called ideal customer profile. It's a concise overview of your target client's key characteristics, goals, and marketing tactics that appeal to them. It's simple: If you communicate your product's benefits to the right people, you'll be able to prove your value. And this means higher loyalty and customer retention!
Make your customer success strategy a cross-team effort
Each team needs to know how they are expected to contribute to your customer success strategy. It should be built on the basis of internal knowledge exchange. What data can your product team derive? What common topics have customer support noticed recently in their discussions with clients? The more customer data you can collect, the better view you'll have of their goals and challenges.
Monitor your customer success data (and act on it!)
Lastly, you need a way to measure how effective your CS strategy is. Speaking to clients via chat, looking at their purchase history, and scheduling a call are all good tactics. However, they're only good as a starting point; you'll also need quantifiable methods.
With that in mind, I'd like to dedicate a whole section to the top customer success metrics worth tracking. Let's get to it!
How to measure customer success — 6 top metrics explained
Customer lifetime value (CLV)
Customer lifetime value is the expected total revenue that one customer will generate throughout the business relationship. To calculate it, detract the cost of acquiring the customer from the revenue they brought in. Keeping track of your CLV will not only let you identify your most profitable customers. It will also help you spot sales channels with the highest conversion rate.
If you notice that your CLV is low, it can mean that your customer success strategy needs further work as your clients see no value in the product and decide to churn. Maybe your onboarding process isn't effective enough, or you lack one completely?
Customer retention
This customer success metric relates to the company's ability to maintain their customers over a specified time period. To figure out your customer retention rate, first decide on the time period you want to measure it for — a month, a quarter, a year. Then check:
how many customers you had at the start of that time period,
how many customers you had at the end of that time period,
how many new clients you acquired over that time.
Detract the number of clients you acquired during the specified time frame from the total number of customers you have at the end of that time period. Next, divide it by the number of existing customers at the start of the period and multiply it by 100.
If the retention rate is high, it means your clients are satisfied. If you measure it on a quarterly basis, then you can check how any changes to your product or processes impacted it.
A great way to increase customer retention is to implement a self service knowledge base. It will help you harness your knowledge management and make it easier for your customers to find solutions to their problems on their own which will help with retention.
Repeat purchase rate
The repeat purchase rate represents the percentage of customers who return to your store to buy more products. To calculate it, divide the number of customers who have bought from you more than once by the total number of customers and multiply it by 100.
Net Promoter Score (NPS)
One of the best methods of checking how loyal your customers are is by calculating your Net Promoter Score.
You ask clients, "On a scale from 1-10, how likely are you to recommend us to friends & family?" People who give you a bad (i.e., 1-6 score) are your detractors. 7-8 answers come from neutrals, while "9" and "10" respondents are known as promoters. You subtract the percentage of your detractors from promoters, and there it is: your NPS score. To check whether you have a good score, it's worth looking into your industry standard online (or, better yet, checking your competitors' scores, if available).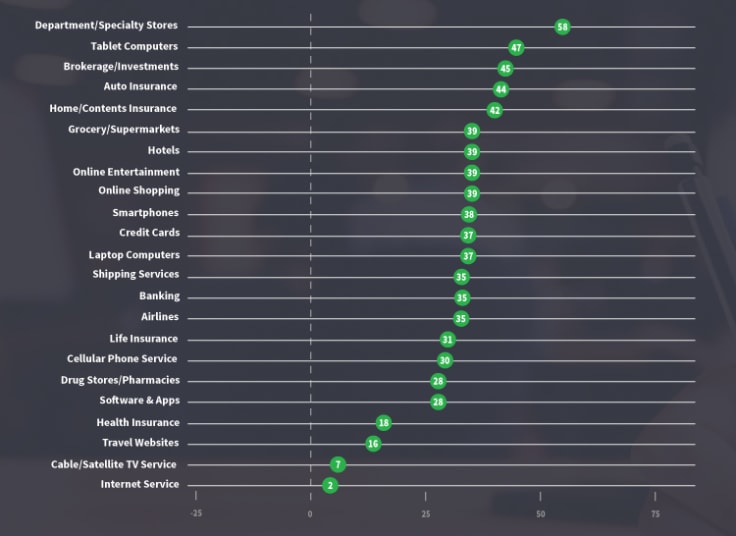 Source: NetPromoter
Customer Satisfaction Score (CSAT)
Customer Satisfaction Score, as the name suggests, is a metric that lets you assess your client satisfaction levels. You run a survey and ask customers to give you a score on a scale from 1 to 5 (where "5" is the best score).
You then calculate your average for all responses. CSAT can be a great source of inspiration for Customer Success improvements. You can reach out to unsatisfied respondents and ask them about the problems they're encountering. Do the same for those who gave you a "4" or "5", and you'll learn about what people love about you.
Customer Effort Score (CES)
Lastly, I also recommend calculating your Customer Effort Score (CES). You can set a survey to pop up on your site after a client finishes a user journey or process (for example, payment). Ask them, "How easy was it for you to finalize X?", and give them a closed list of options, from "very easy" to "very difficult." If a number of customers report difficulties with a process, then the Customer Success team needs to step in and investigate the issue. This way, you'll be able to spot any usability glitches, bottlenecks, or missing features that are important for your customers.
Paving the way towards effective customer success management
There are a number of reasons why it's worth engaging in customer success. Among others, it lets you improve your service, boost your customer retention rate, and become better at revenue predictions. Suffice to say, your customers' success is closely linked to that of your own brand!
To create an effective customer success strategy, make sure to:
create an onboarding process,
collect feedback to improve your product roadmap and CX,
get internal buy-in from all departments. Customer success is a joint, cross-company effort, and all teams can contribute to it!
Ready to build your own customer success management strategy? Good luck, and let us know how it goes!