Showing top

0

results

0

results found
Showing top

0

results

0

results found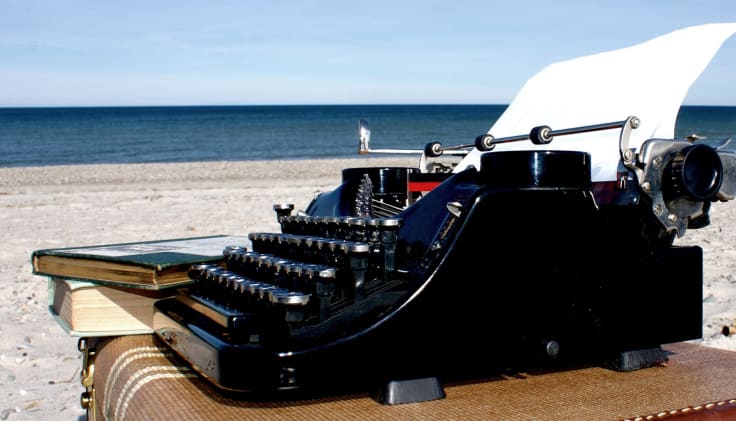 Content converts. Good content converts better. Content creation is key in moving your customer from interest to taking a desired action. When you are successful in getting a potential lead to your landing page, it is the content on that page that will eventually determine whether the lead will convert. As much as 96% of visitors on your site are not there to buy. So to convert even a fraction of this number is an important task that can be achieved by awesome content on the site.
Let us take a look at 4 strategies to create content that converts.
Content creation is not about quantity
There is always this perennial act of balancing between quality and quantity of content. Arguably, you need both to achieve success. But there are a million things that come in the way of your content creation that prevent you from achieving that elusive balance between quality and quantity.
But while you set out to become an authority and position yourself as a thought leader and enhance your brand's reputation, you need to start saying no to content that does not support company strategy.
An argument in favor of quantity would be that for your content to perform well online, you need to produce it on a large scale consistently. The more frequent your content creation is, the more you keep your audience engaged. The frequency of content creation can also help with your search engine rankings.
But, churning out mediocre content has its own downside. Low quality content will be less appealing to your audience and it will start eroding your credibility. So as long as you create content regularly, it is always worthwhile to give prominence to quality and sacrifice quantity. This will increase trust in your brand and attract audiences towards it, eventually increasing conversions.
The following points will be helpful in achieving quality content creation:
Is your content original? Even if the topic idea is covered by other articles/blog posts on the Internet, can you add something unique to it? An insight, an experience, a different perspective, a unique angle?
Is your content backed by research, facts, surveys, reports? Content that is backed by research from credible sources gains authority.
Have you double-checked your facts, spellings, grammar? Citing wrong facts and writing content that is replete with spelling mistakes and bad grammar is a huge turn-off. Make it a point to check and re-check the facts and manually check the content to find any typos and grammar mistakes that have not been flagged by Spell Checker.
Have you over-used CTAs, promotions and advertisement in the content? You have written content that has to convert. But over-use of call-to-actions and over-promotion might actually dissuade your readers for buying. Your content needs to educate and help your readers solve a problem.
What is the quality of reading level? Use the kind of language a fifth-grader will easily understand. Avoid using vocabulary that is difficult for the average reader to understand. This will also help your content rank higher as Google rewards content that is easier to read.
Know your target audience
Even before the first word has been written, you need to be perfectly sure about the audience you are writing for. Understand your ideal customers and what excites them. There are different ways to research your audience. If you are a startup, this would be difficult as you might not have a clear idea of who makes up your audience.
Interviews are a good way to research target audience. The toughest part is finding willing interviewees. One way is to send surveys to customers who have just made a purchase and ask them if they would like to be interviewed. Once you have a sufficient number of people who are ready to be interviewed, you can set up a webinar or even a personal meet-up, if that is possible. During the interview, make the audience comfortable and ask open-ended questions.
Social media is a fantastic way to gather valuable information on how you are being perceived and what your target audience looks like. Use social monitoring tools to track your brand mentions and see what people are talking about your brand. Sending short surveys to your followers on social media platforms can also generate useful information. By finding click-through rates of your content assets, you can know which pieces of content are being shared the most by people. This can also help you understand more about your target audience.
After you've completed this research you can use the information for two things – create ideal customer personas. This can be something like: Jack is a 30-something IT consultant who started his own consultancy a couple of years back and loves finding new tools to help increase his productivity and also likes to keep track of the latest tech advancements. You will also find a lot of ideas for content creation this way.
One thing that you should acknowledge, and is common across different customer mindsets, is the psychology of instant gratification. We want things in this instant. We don't want to wait for a bigger prize tomorrow or a week away. We want it today. We want it now. And this psychology can be used perfectly in content to drive conversions.
Take a look at this example: Shopify's landing page makes full use of this psychology. It gets to the point when it asks users to "Try Shopify free for 14 days."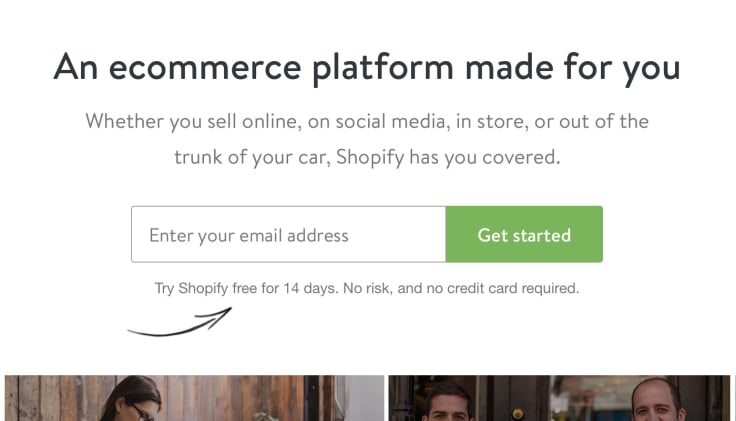 Instead of harping on its features, it simply tells you that it is "an e-commerce platform made for you." Also look at the strategic use of the word "free." This is double whammy (as explained later)!
Use persuasive words in content creation
The content that converts has to be persuasive. But content can be made more persuasive by using certain power words. These aren't magical words that somehow elicit a strong urge to buy whatever that you are selling. They are simple words of the English language which, when used in the correct context (and not peppering your entire content with them), can make a huge difference to the copy.
A word that denotes personal identity has to be the most powerful word there is. "You" is a clincher. When you use the word "you," you are actually communicating directly with the person reading your copy and not to any faceless entity. A better alternative is if you can use the person's name. Then you have a winner!
The other rock star word is "free." Well, this might seem a no-brainer, but it is interesting to know a bit of psychology and some seriously interesting research to prove our love for "free." In a real-life experiment, Dan Ariely asked a group of people to choose between a 1 cent Hershey Kiss and a 15 cent Lindt truffle (at about half its original value). 73 % of the respondents chose the Lindt truffle as they perceived it to be a steal at 15 cents per piece (the Lindt truffle is generally regarded a superior chocolate).
Now in an interesting twist, when Ariely called a different group and asked them to choose between a 14 cent Lindt truffle and a FREE Hershey Kiss, guess what the majority chose? The Kiss, of course, with 69 % respondents choosing the free option. The psychology behind this phenomenon is called "loss aversion," our dislike of losing out on things.
A surprising entry in this list is the word "because." The reason for it is rooted in a primal principle of human behavior that makes us find reason behind what we do. So when you ask for a favor from somebody, you are more likely to succeed if you give them a reason (no matter how flimsy it might be).
In an experiment mentioned in the book, Influence – The Psychology of Persuasion by Robert Cialdini, a person tried to cut through an office line at the photocopying machine and responses were observed from the people already in the line. When the person said that he wanted to Xerox 5 pages and that would everyone please excuse him, 60% of the people allowed him to cut in line.
When the request was tweaked to whether he could use the Xerox machine because he was in a rush, a whopping 94% people allowed him to cut in line. Although everybody is, apparently, in a rush, the fact that the man gave a reason satisfied the basic human principle of finding a reason and people allowed him to cut in line.
Even when the man asked if he could use the Xerox machine because he wanted to make copies, 93% people allowed him to cut in line. As earlier noted, however flimsy the reason, people will respond if you give them a reason.
But beware. Overuse these words in your content creation proceess and you will soon find (often painfully) that they can very easily become unpersuasive.
Content creation is about wrwiting sticky copy
According to Joanna Wiebe, copy that sticks is the one that "halts you, holds you in place and makes you pay attention." No topic under the sun is boring. It can be made exciting and readable (even shareable).
According to Wiebe, certain topics are extremely sticky. Some of these are money made/lost, the fall of someone great/terrible, crisis averted, public fights and unbelievable results achieved.
Tips and ideas to save money is the biggest incentive a copy can give to its readers. Dissected to its core, each product or service eventually helps the customer "save money." If this primal need of humans is tapped, using sticky words like "moolah," "cash," "dinero," etc., readers will take notice. A sticky topic is "sticky" only if the copy is sticky. You need to grab attention with words. For instance, instead of writing plainly "Save time and money with our amazing product," you can write "See how our clients saved $432,111 and 146 working hours in six months!"
The use of unfamiliar words, interesting analogies, unusual-looking words, non-offensive slang words and variations of curse words are usually attention grabbing and make up part of sticky copy.
The copywriters at Apple havemastered the art of creating sticky copy. They begin with "one big idea" that grabs all the attention. When they introduced the iPhone 5, they used the tagline – "The biggest thing to happen to iPhone since iPhone." Now who wouldn't stop and pay attention to that? Some people will say that Apple had no clue about what made iPhone 5 special and hence they used a general tagline. But people who know the history of the brand know what iPhone did to the smartphone industry (it literally created it). So if something is better than iPhone itself, it HAS to be big!
Another tactic they use is the use of short, broken sentences. Take a look at this:
It's our thinnest display ever.
And it's the first of its kind.
And that's just for starters.
They've even made use of one-word sentences to create a sort of rhythm in the reader's mind.
All-new Lightning connector. Smaller. Smarter. Durable. Reversible.
The use of sound bites – easy-to-remember and easy-to-quote pieces of information – is central to Apple's copywriting. They either present information in groups of threes or contain repetitions.
Everything you need. Everywhere you go.
The thinnest, lightest, fastest iPhone ever.
Key takeaway on content creation
Content marketing is successful only if you create content that converts. Content creation that produces successful copy is both an art and a science. It deals with human psychology and what will trigger buying instincts. Conversion-focused writers will test new, bold ideas. They will use conventional wisdom and yet not be bogged down by the weight of it. They will think out of the proverbial box and create exciting copy that "sticks" and converts.
Photo courtesy of Karen Cox via Creative Commons.